February 15, 2013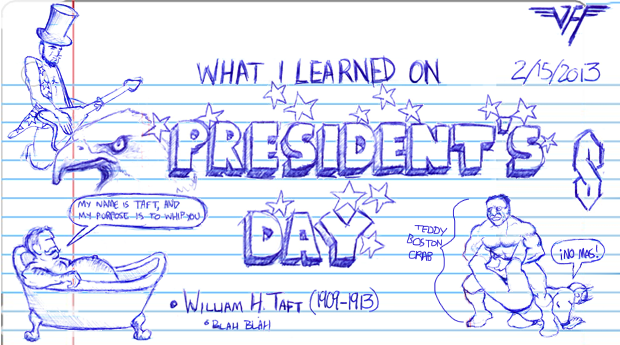 There's a famous anecdote about President William Taft that claims his father was once viciously slandered by a gossip publication when the future president was a young man. The editor of the publication in question had managed to dodge every libel lawsuit that came his way for his misdeeds, to the point where people in the community had more or less given up on preventing him from printing falsehoods. That is, until Taft approached him one day in defense of his father and delivered an awesome, movie trailer-worthy line:
"My name is Taft," he said, "and my purpose is to whip you."
Then he pummeled the guy so badly that the editor fled town in terror the next day.
I know, I know. Violence isn't the answer and we know that now. But that is a COOL story with a powerful message about standing up to bullies. In fact, it's just one of many things that we all stand to learn from the amazing and fascinating men that have served as President of the United States.