How a Brand Rivalry Helped Soda Take Over the World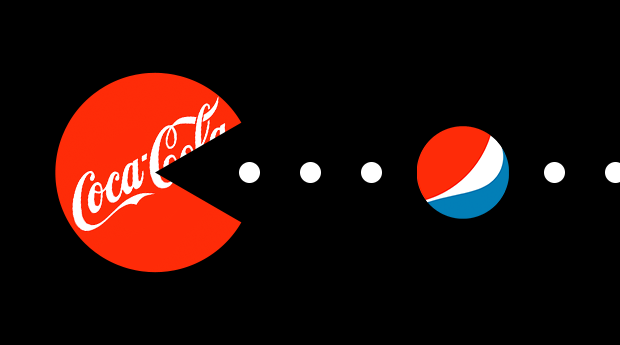 Twenty cents.
That's how much actual product is contained in a 20oz soda. About twelve to fifteen cents worth of syrup, a few ice cubes, water, and a burst of carbonation. Depending on whether you're drinking out of a glass at a restaurant or a paper cup from a fast food joint, the actual price can fall anywhere from fifteen cents to a quarter.
When I first learned this, I was infuriated. A 20oz bottle of soda costs about two dollars at a gas station. A fountain soda to go with your meal-deal runs somewhere in the dollar-and-change range, while a cola at a sit down restaurant can run you as much as three bucks. We're talking about a markup of anywhere from 300-600%! With these kinds of margins, soda is easily one of the most profitable food and beverage goods on the planet.
Soda is so profitable that it actually shoulders the weight of a number of more volatile industries – think about how movie theaters, restaurants, gas stations, and sporting stadiums actually make their money. A place like Chipotle can give you a fantastic deal on a burrito full of a dozen different organically farmed ingredients because you're paying $2.25 for a cup of, basically, ice water. A movie theater can live with shelling out over 80% of its ticket sales to the movie studios because you're in there paying $4.00 for a medium drink to wash down your popcorn, which is one of the few foods even more heavily marked up than soda. Gas stations are largely at the whim of oil companies when it comes to profiting from fuel, and though they get away with some pretty clever pricing ploys, they make most of their money from – you guessed it -- soda and other concessions.
If you spend too much time digging into these numbers, you start thinking most businesses are basically just a front for their soda operation. You start thinking that everything that exists in this world is just a way to get people to buy more soda. You start thinking maybe your mechanic is really just a guy who owns a vending machine and fixes cars on the side.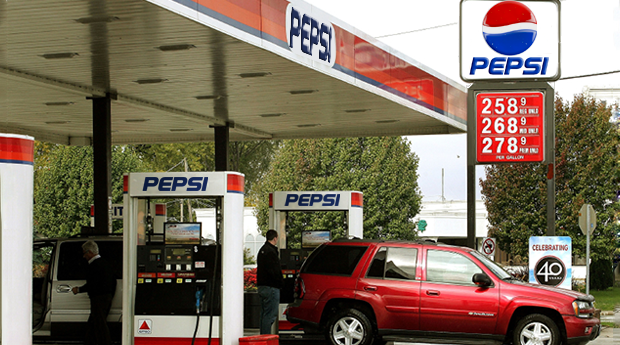 At the end of the day, though, you can't help but be impressed. The fact that anyone was able to build a multi-billion dollar industry out of a product we really don't need deserves a round of applause. And while a lot of subtle factors played a role in this coup, you have to look mainly at some key branding decisions that helped turn cola into an empire.
The Rivalry That Started It All
If there are two names associated with soda, it's Coke and… Diet Coke -- the two most popular non-alcoholic beverages in the world. Pepsi doesn't make the cut. Not anymore (although Pepsi still does quite well for itself, especially when you factor in it's salty snack division, Frito-Lay). There was a time, though, where Coke vs Pepsi was the biggest brand rivalry around. And the way in which this battle between two behemoths played out, in my opinion, set the stage for soda to ultimately take over the world.
For a little context on competing businesses, though, we can turn to the story of Best Buy. Once the largest electronics retailer in the country, Best Buy started getting hammered when people realized they could get all the same products online at a better price. They started getting killed by "show-roomers" who would come into the store to browse and ask questions, then go home to buy from Amazon. Initially, they handled this new competition, frankly, pretty poorly. They cut prices, but they could only go so low, needing to keep up significantly more overhead than online retailers. As recently as 2012, Best Buy was completely tanking. Circling the drain. They were done for.
But with a new CEO came a new strategy called "Renew Blue". Renew Blue meant price-matching, sure, but it also meant overhauling the Best Buy brand. They signed exclusive partnerships with Microsoft, Google, and Samsung, bringing kiosks and product experts into the stores to help shoppers. They improved store layout by re-emphasizing departments like appliances and mobile, areas where shoppers need more help, and cutting back on music and DVDs. They added value to the in-store experience and helped re-establish Best Buy as the place to make an informed electronics purchase. These days, Best Buy's stock was hovering not too far from its 5 year high before a disastrous holiday season. The chain may ultimately be doomed, but at least it's putting up a valiant fight – one not pinned on racing Amazon to the pricing floor.
Choices, Choices
Pepsi and Coke faced this same dilemma, back when they were still on even ground. Let's be honest, Coke and Pepsi really can't differentiate based on the taste of their soda (ever take the Pepsi Challenge?) so they had the choice of either competing on price or competing on brand. Choosing brand was the best decision either of them ever made.
Instead of driving prices, and profits, into the ground until one of them could no longer keep up, Pepsi and Coke poured their dollars into branding and ad campaigns. They had to find a way to turn their cola into something more than just sugar water. And as their separate brands evolved, that's exactly what happened.
Coke launched the "Things Go Better with Coke" campaign. Pepsi countered with "You've got a life to live, Pepsi's got a lot to give". Pepsi signed celebrities like Britney Spears, Beyonce, and Madonna to help its beverages become larger than life. Coke brought on big names like Whitney Houston, Christina Aguilera, and Taylor Swift. And back and forth it went.
Thanks to iconic ads like Coke's "Mean Joe Green" spot and Pepsi's "Power of Suggestion", suddenly, soda wasn't just something kids got at the pharmacy with their allowance anymore. It became a necessity every time you sat down to watch a movie. It became a pick me up on a dreary day. It became something for parents and kids and designated drivers to drink at sporting events. It took some time, but soda eventually became a part of our culture – something that made us feel good somehow.
This wholly unnecessary product became something people had to have. So much so that only God knows how much we'd be paying for a movie ticket or a burrito or a ticket to a football game if business owners weren't able to cash in on our love for cola.
The Lesson
So many brands make the mistake of identifying price as a main differentiator, especially in the face of stiff competition from an industry rival. In these cases it's easy to overlook, but impossible to overstate, the power of brand.
Brand is the way your company and product make people feel. And branding is hard. It takes tons of work and patience to earn consumers' respect. It happens through respectful advertising and content creation and customer service and a million other touch points along the way. Slashing prices is a great way to get a quick win, but ultimately it devalues your entire operation in the eyes of your customers.
We'd never pay $3.00 for a Coke if it didn't mean anything to us and we'd never break the bank for a Pepsi if we weren't conditioned to think that drinking one would somehow enhance the fun of a given situation. It's part of why you don't see restaurants offering anyone fountain RC Cola or any of that stuff you see in bins at the dollar store. We've seen it at its lowest point. We're not going to suddenly pay top dollar for it just because we're sitting down to a movie.
But Coke and Pepsi, they're different. We've seen the cinematic and sometimes emotional commercials. We've seen the celebrities guzzling it down. We've seen the billboards. This is the good stuff. And, damnit, we'll pay whatever it takes to get our hands on it.