Articles written by
Stacy Sutton
December 14, 2016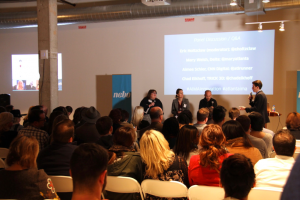 As 2017 approaches, it feels like we're finally at the doorstep of a future we've imagined for decades. Virtual reality and augmented reality are gaining popularity with major brands and are poised to make big changes to the way we interact with the world.
At the AIMA Innovation special interest group, held at Nebo on November 16 and moderated by Eric Holtzclaw, attendees got to experience these innovative technologies firsthand as digital pioneers from CNN, Delta and TRICK 3D spoke about how they are engaging with customers and growing their audiences using augmented and virtual reality.
Didn't get to attend? Don't sweat it. Here's our recap of what went down at the event.