Marketers: Adapt or Die! 6 Key Takeaways from ClickZ Live NY (Part 1)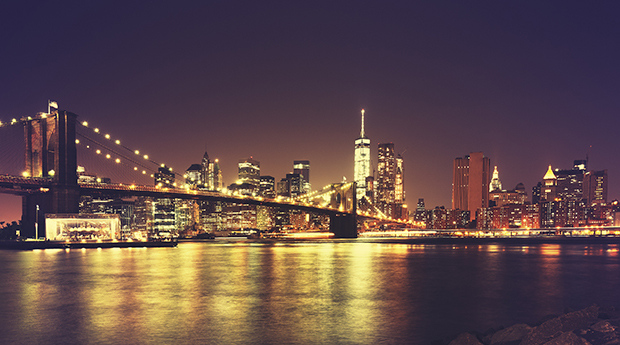 There's no denying that technology and our culture have shifted tremendously in the past decade or so. The impending arrival of the Internet of Things and the rise of mobile and wearables means we're always on, always connected, always able to gratify any whim or answer any question with a few clicks. There's more everything out there—more videos to watch, more information to consume, more groups to join, more spotlights shining on events happening on the other side of the world. And everything's evolving at a faster and faster pace.
As a consequence, our habits and expectations have changed. Heck, we have changed. The old models of marketing and advertising are gasping their last breaths while new business models, new approaches and new mediums are taking off.
Companies that don't adapt to these technology and cultural shifts will die. Maybe not tomorrow, but I'd start administering last rites soon.
Which is essentially what ClickZ Live's conference in New York last week had to say. The conference boasted an impressive array of speakers from quite diverse industries, yet several clear themes emerged. These themes may look familiar to marketers, but whereas they used to be talked about as something to strive for (with only a rare "real life" example cited), they are now becoming a means to survive and thrive in today's world.
I'll cover the first three themes today and an additional three next week.
Theme #1: Find Your People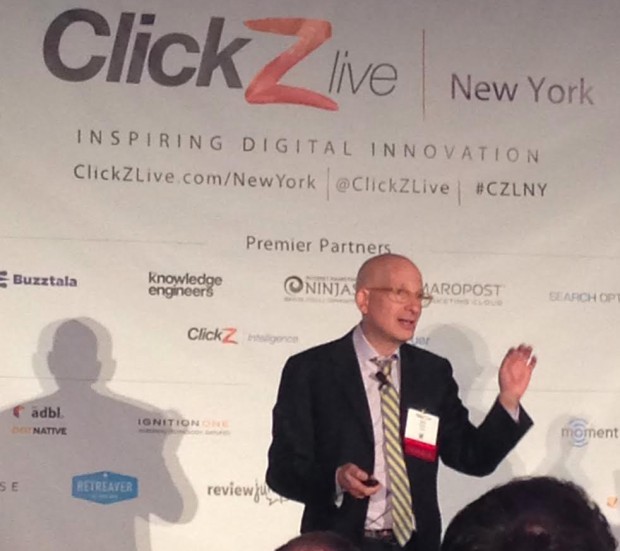 Seth Godin, one of the keynoters, advised companies to market to the "weird people on the edges." He showed a traditional bell curve, representing the American people 30–50 years ago. The vast majority of us used to be in the middle, consuming the same media and buying the same brands.
Seth asserts that this bell curve has gotten flatter. There are more of us on the edges, more diversity, fewer of us in some hypothetical, unified "mass." Keynoter Peter McGuinness, CMO of Chobani, concurred. He said, "Never market the middle; the middle is boring."
One of Seth's books, "Tribes," asserts that the most basic, fundamental human need is to belong to a group of people. Our tribes used to be our family, our work, our neighborhood or our house of worship. Now, tribes are everywhere, and they form around movements, which means the brands that stand for something—the ones that start a movement themselves—find themselves with a tribe who is dedicated to not only buying their product, but living their message day in and day out. They rally behind this brand and their story.
Take Nike, for example. They're a primetime brand with a huge tribe. If you're a fan, you might even get a tattoo of the famed swoosh. However, New Balance customers probably won't ink the New Balance logo on their arm. See the difference?
In the Zulu language, there's a concept of "Sowubana," or "I see you." Everyone wants to be seen and understood. From a marketing perspective, this includes both consumers and B2B buyers. When you truly understand and connect with an individual in your tribe, they'll respond. Chobani uses the example of their "Chobaniacs"; one third of new flavor ideas come from them.
What is marketing today? "People like us do things like this." That's it. Find your tribe, connect with them, commit to them, challenge them, and create a culture.
Theme #2: Stand for Something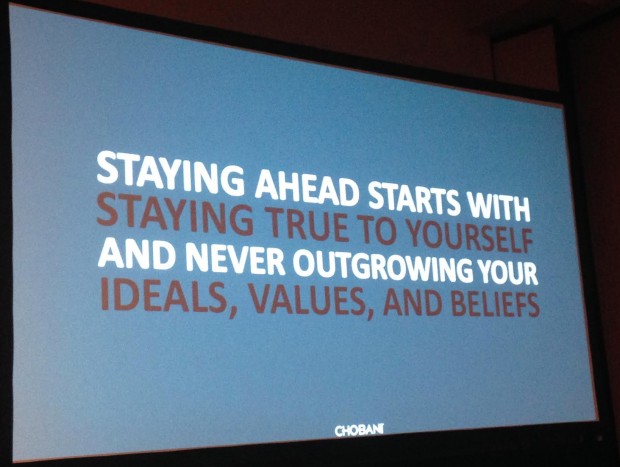 Just as marketers should aim for the "weird people on the edges," they shouldn't be plain vanilla themselves. If they are, they won't survive. Today's consumers don't want to support boring or selfish companies. They want to support businesses that have a conscience, that have a point of view, that are human. As Seth Godin says, "Be interesting, bubbling, alive and generous."
Chobani does "heart first marketing," saying that people are looking for a brand that has a heart and soul. Millennials in particular expect the brands they interact with to be aligned with their ideals. In fact, according to Horizon Media's Finger on the Pulse study, 81% of Millennials expect companies to publically commit to good citizenship. Did you catch that? They don't want brands to do this; they expect it. Millennials are holding brands to higher stands, which means putting your money where your mouth is and taking a human-first approach. TOMS shoes is a perfect example of this.
Companies need to do this in an authentic way, of course. In this day and age, transparency is required, and faking a purpose or cause won't work. Businesses that have a true passion will attract those that are like-minded. "Profit-for-purpose" is the new standard.
Theme #3: Go Beyond What's Expected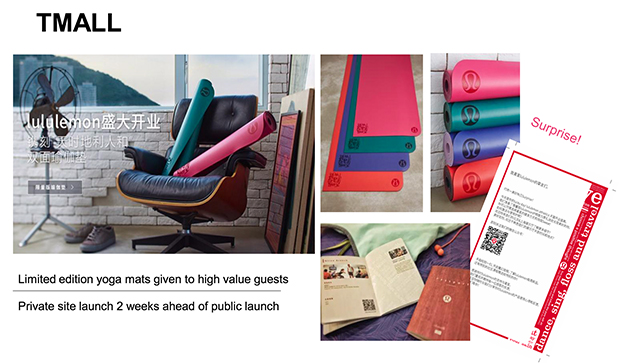 At least three speakers in the track I chaired ("Engage & Convert") used the phrase "surprise and delight your customers." Rebecca Marstaller, Director of Digital Initiatives of Lululemon, gave the following example:
She partnered with local gyms to identify Lululemon customers that "sweat" (AKA work out) the most. These weren't necessarily the customers that spent the most money. Rebecca mailed them each a box with a new Lululemon outfit, a gift card for a workout and a handwritten note. Talk about heart-first marketing to your tribe! The response was overwhelming, as you can imagine.
But going beyond the expected isn't always about sunshine and flowers and feel good. Sometimes, it's about stepping up and owning when you mess up. Chobani had a crisis a few years back when a batch of their all natural, no preservatives Greek yogurt was recalled due to mold. Not only did they address the situation as all smart PR and social media folks would, but the CEO of Chobani hand-wrote apology cards to the customers that had reached out.
Dorothy, you're not in Kansas anymore. What do today's booming brands, such as Facebook, zipcar, TED, Kickstarter, Instagram, Spanx and AirBnB have in common? They weren't built with traditional advertising. It's not enough to send email blasts. It's not enough to use a one-size-fits-all approach. Brands that make it take the time to know their customers and go above and beyond to make sure they are surprised, delighted and cared for. Survival of the fittest meets capitalism here, and companies must embrace change.
Next week I'll cover the last three themes of ClickZ Live NY. See you then!