How Will Augmented & Virtual Reality Change the Human Experience?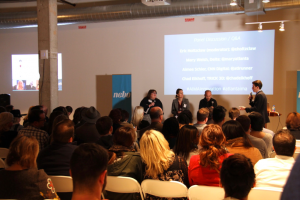 As 2017 approaches, it feels like we're finally at the doorstep of a future we've imagined for decades. Virtual reality and augmented reality are gaining popularity with major brands and are poised to make big changes to the way we interact with the world.
At the AIMA Innovation special interest group, held at Nebo on November 16 and moderated by Eric Holtzclaw, attendees got to experience these innovative technologies firsthand as digital pioneers from CNN, Delta and TRICK 3D spoke about how they are engaging with customers and growing their audiences using augmented and virtual reality.
Didn't get to attend? Don't sweat it. Here's our recap of what went down at the event.
What are Augmented Reality (AR) and Virtual Reality (VR)?
Before we dive into how these companies are exploring AR and VR, it's important to understand the differences between the two platforms.
If you've ever seen gamers or techies with headsets strapped on, then you've seen virtual reality in action. VR has the power to truly immerse users in another world. It's the ultimate empathy machine, allowing us to walk the proverbial mile in another person's shoes.
Meanwhile, the most successful augmented reality technology to date is Pokemon Go. AR transposes images and information onto the world around us, enhancing our experiences. Unfettered by the immersive headsets of VR, AR allows us to more freely share those experiences with the people around us.
What do these two technologies have in common? Both are being used by forward-thinking companies, with an eye toward more innovative use cases down the road.
Delta: Connecting With Customers & Creating Efficiencies
AIMA's first speaker of the night was Mary Welsh, manager of visual content at Delta Air Lines. Welsh stressed that at Delta, it's important that VR experiences are never just "innovation for innovation's sake." All of their virtual reality endeavors are carefully designed to add value to the customer's experience, as well as to the company.
Welsh listed three reasons Delta has been investing in virtual reality:
To connect with customers.

Delta already has virtual aircraft tours available for customers to explore.

But, one day, imagine spending your flight immersed in a VR experience of the city you're about to visit, learning more about the sights you can explore once you land.

Cost savings and internal efficiencies.

One new airplane seat costs around $100,000 to make and $10,000 to take on the road to show to a customer. Using VR allows customers to view seats and is exponentially less expensive.

Training.

The team is currently exploring VR as a means of training more efficiently, while increasing memory retention. There are dozens of different aircraft specs that Delta's crew needs to know and they're constantly being modified and improved. Instead of taking an actual aircraft out of commission for training purposes, using VR could be a

faster and more cost-effective method.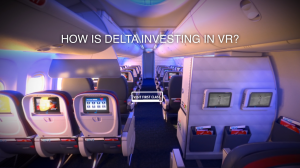 You can check out Delta's VR cabin tour here.
CNN: Taking The Story Deeper
Next up was Aimee Schier, executive creative director for CNN Digital. Schier spoke about the five main ways that CNN currently uses VR:
Live events
Breaking news
Rare access (like a NASA launch)
Human stories
Travel and adventure
In their foray into VR, CNN has supplied reporters around the world with 360 degree cameras to capture news and stories that allow viewers to feel like they're part of the action. They've also created a Google Daydream app for VR news stories, which can be downloaded here.
As Schier noted, VR is more emotive and immersive than a written narrative.There's an opportunity to be everywhere, including places that are hard to get to. Immersive VR experiences can deepen understanding beyond the written narrative, or even photos or regular video.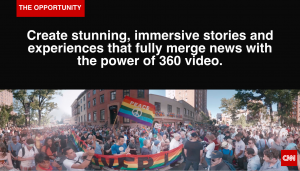 TRICK 3D: Creating New Worlds
Chad Eikhoff, founder of TRICK 3D, has been telling stories for well over a decade. In traditional filmmaking, the two most critical components have traditionally been character and plot. With the emergence of VR, world is also a key component in bringing stories and experiences to life. Chad and his team at TRICK 3D leverage their storytelling roots and new technology know-how to place some of the world's best-known brands into VR in meaningful and beautiful ways.
Chad pointed out that while today the vast majority of our digital experiences all require a window, a screen, a frame of some type, the evolution of augmented and virtual reality will make it so that we're interacting with our digital assets in a screen-less, 360-degree way.
TRICK 3D showcased Floorplan Revolution at the event using the Samsung Gear VR.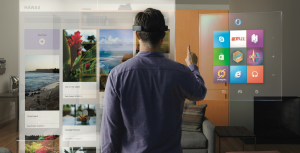 For marketers, the opportunities to overlay information onto brands and products are endless.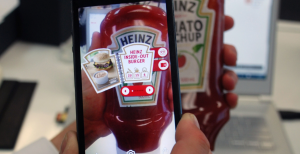 Potential Pitfalls
AR and VR are still quite nascent, so all possible drawbacks and downfalls aren't yet known. That said, three potential drawbacks were discussed at the AIMA event:
People's brains store VR experiences as if they were real memories. This is a potential ethical dilemma that hasn't yet been explored.

Less seriously, people tend to miss shared experiences, as VR especially is a solo act. Perhaps down the road, families will be able to share a single VR experience, together, at the same time.

Audience members reported trying VR or AR one time and then moving on with their lives. In order to keep audiences engaged, companies will have to keep getting better at providing content that people actually want to see. The bar will continue to get higher.
Featured Gadgets
Attendees tried out these innovative technologies first-hand, exploring VR experiences by Delta, CNN, TRICK 3D and the event sponsor, Nebo. While CNN demonstrated their VR app on the Google Daydream headset, Samsung Gear VR headsets were used to show a short VR horror film by Asher Emmanuel of Nebo Agency. You can find Asher's short VR horror film on YouTube, where it can be viewed in 360 degrees on a standard computer or with a VR headset.
What's Next?
We've only just begun to explore what's possible with virtual and augmented reality. It's impossible to predict which industries will be disrupted, as well as what kind of benefits the technology will offer humankind.
With the ability to virtually travel anywhere in the world, will people want to get on a plane and go there in person? Mary Welsh from Delta thinks so. The ability to get a taste of what's out there may inspire more people to travel.
It may also inspire more people to get their news from traditional media outlets, according to Aimee Schier of CNN. While social media has become a common news source for many, VR may be able to shift this trend as the immersive experiences her team is creating helps draw in new audiences.
As marketers, it's exciting to think of the ways we can use AR and VR to connect with prospects and customers. But arguably what's more rewarding is dreaming of the ways these technologies can benefit humanity. Chad pointed out that VR is being used now with some hospital patients, giving them the ability to be taken somewhere more pleasant than their hospital beds. In one study of people undergoing painful skin grafts, 70% of those that were able to be immersed in VR reported experiencing less pain.
While AR and VR currently raise more questions than answers, marketers are encouraged to begin experimenting with these emerging mediums now. As Mary Welsh said, "The learning curve is so steep — dive in now! We all need to help each other and get smarter together."
To see more of the event, check out our video recap below.