Marketers: Adapt or Die! 6 Key Takeaways from ClickZ Live NY (Part 2)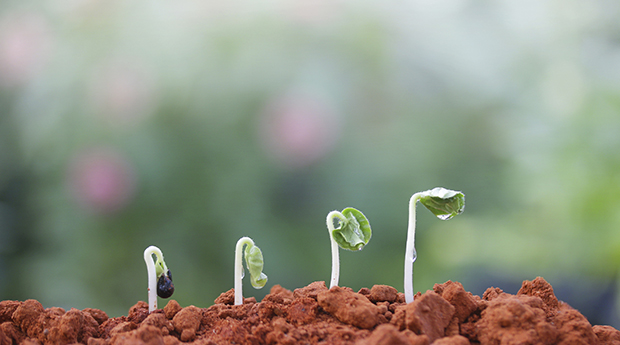 Last week, I covered the first three overarching themes I pulled from ClickZ Live's conference in New York. Here are the last three.
Theme #4: Break Through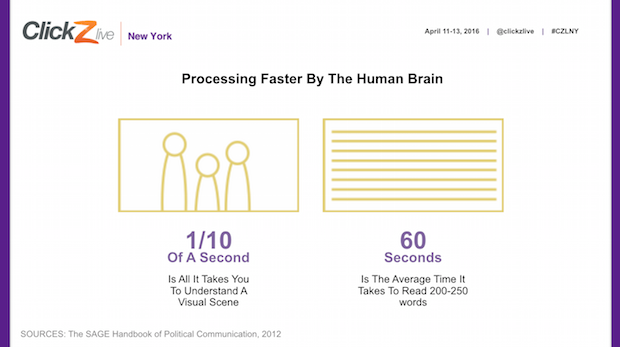 With consumers bombarded by thousands of marketing messages a day (while they're multitasking on three screens at the same time and have a goldfish-like 8 second attention span) how can a brand break through? Those that are surprising and delighting their tribe (as I discussed last week) have cut through the clutter, but there are other, more scalable, methods too.
Rachel Gogel, Creative Director of the New York Times' in-house T Brand Studio, spoke of the importance of visual storytelling. It takes a human about 1/10th of a second to understand a visual scene, but around 60 seconds to read 200-250 words. We are visual beings, and as much as we may joke about the use of emojis bringing us back to communicating through hieroglyphics, visuals are often preferred over written text. (And yes, I get the irony of this being a written blog post!)
We are visual beings, and we are also emotional beings. The content that grabs our attention, that moves us to take action, often appeals to our emotions. Think about what you share on social media – it's likely something that makes you happy (hamster eating tiny burrito) or that makes you angry (cue anything political). In order to evoke emotion, you're going to have to take risks, be edgy, and push the envelope.
Mike Rothman, Co-Founder of Fatherly, has identified four emotional pillars and strives for each of their site's videos to hit at least one:
• Aspiration -- sharing this will help me set my personal bar higher
• Inspiration -- sharing this will make me feel magnanimous
• Competition -- does this person think they're better than me?
• Humor -- this makes me laugh
We are visual, we are emotional, we are wired for stories. The messages that people actually want to consume often tell a story. John Baker, CMO of JWT/Mirum, recommended using programmatic advertising to serve up sequential creative to specific communities, even across channels. Label creative #1 as such, so people know to expect the rest of the story in creatives #2, #3 and #4. People will notice.
Reaching consumers in real-time is also more do-able than ever before. Jonathan Attwood, CEO of Fospha, spoke about real-time personalization on a website, tailored to each visitor's unique behavior. Reaching them when they're in the right frame of mind to engage with your brand and responding to what they're doing will help you break through.
However, all of this isn't to say death be to long form content. If it's unique and valuable to your tribe, they'll appreciate it and engage with it. As Jason Miller, Group Manager of Content Marketing and Social Media for LinkedIn, said, "If you want to own the conversation, write the damn book about it and give it away for free!"
Theme #5: Innovate, Iterate, Fail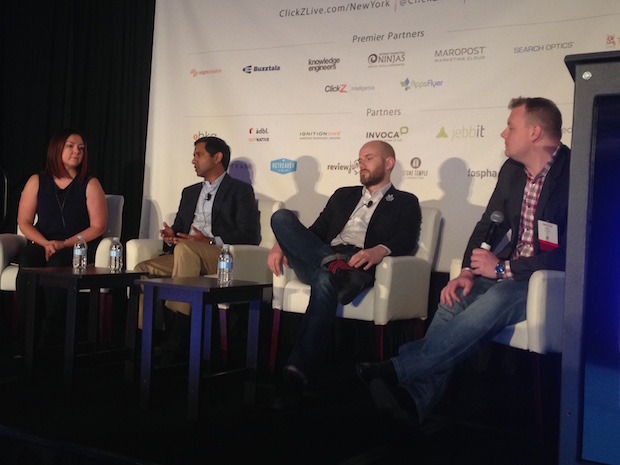 "You're either the disruptor or the disruptee." Vivek Shah, CEO of Ziff Davis.
Back in the Don Draper days of advertising yore, it might take a year or two to be able to measure a marketing campaign's impact. Today, that time period has been shortened to days or weeks. We learn faster, so we adjust faster, and that's good. Brands that are still doing things the same way they've been doing them for decades will be gone.
With the technology that exists now, there's no excuse not to innovate, iterate, adapt. Companies need to be nimble, be agile, take risks, and as cliché as it sounds, fail fast. Several ClickZ Live speakers gave examples of failures that were learned from – and celebrated – at their organizations. This included Lululemon, whose short-lived partnership with AIR MILES generated revenue but confused their target audience because it wasn't relevant to their core business.
Seth Godin laughed about the early (printed) book he wrote about the Internet, which only sold around 1,000 copies at the same time Yahoo was being launched. Rachel Jo Silver, Director of Social Marketing and Content for Birchbox, was brave enough to confess that a YouTube series starring her ("OMG with RJS") was a total flop.
Trying something new and failing should be celebrated. If it isn't, your organization won't try anything new and will be in danger of stagnating. "The person who invented the ship also invented the shipwreck," per Seth.
This doesn't mean falling victim to "shiny new object syndrome." Dawn Winchester, Chief Digital Officer for Publicis North America, noted that experimentation and piloting is super important. But not everything will make it. Ask if a new technology is tied to the fundamental business strategy, and look for true growth trends during your test.
Theme #6: No More Silos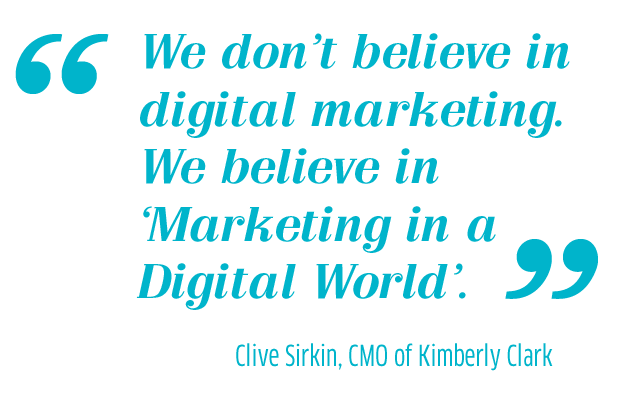 Our old artificial constructs of traditional vs. digital marketing, global vs. local, person vs. brand, are falling by the wayside. As our society and culture get more complex, ironically, there becomes more overlap, more fluidity, and more synergy.
As Clive Skirkin, former CMO of Kimberly-Clark, said (and John Baker quoted at the conference), "We don't believe in digital marketing. We believe in marketing in a digital world."
Traditional and digital marketing have become "tradigital." Sree Sreenivasan, CEO of the Metropolitan Museum of Art, spoke about the Met's "Digital Underground" effort, which provides enhanced, digital content about exhibits for museumgoers.
Or, if you prefer this term, physical and digital marketing have become "phigital," according to Peter McGuinness, CMO of Chobani. As he says, we live in a multidimensional world where all the borders are porous. The company often makes physical contact with people and then creates digital content from it, such as meeting customers at their new Chobani SoHo Café and turning those photos into Pinterest pins.
We also heard the new buzzword "glocal" (global + local) from John Costello, President, Global Marketing & Innovation, Dunkin' Brands. While Dunkin' Donuts and Baskin Robbins are well-known brands globally, corporate supports franchisees in their local markets. Lululemon also does a superb job of managing "glocal." Last winter, the global HQ's directive to local stores for holiday décor and promotions was "Give presence. Your colors are black and white." This allowed each store to tailor their approach to their local culture while still maintaining a unified brand theme.
In Closing
Lisa Baird, CMO of the United States Olympic Committee and "Team USA," unwittingly tied up all six of these themes with a bow. She gave the example of the USOC's recent digital documentary series "Olympic Hometowns in America." It focused on the wrestling culture in Iowa City prior to the U.S. Olympic Team Trials that were held there. With this effort, the USOC found their tribe, stood for something, surprised and delighted them, broke through the clutter, innovated, and embraced "tradigital." This is digital micromarketing at its best.
Are any of these six themes brand new concepts that we've never heard before? No, they really aren't. But this time, they weren't presented as ideals to strive for, or future trends. They're mindsets and methodologies that real companies are embracing and using today. Marketers that want to continue to survive and thrive should take note.