July 13, 2009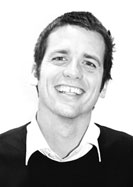 Helge Tenno is an agency friend at Screenplay. He writes a compelling blog called 180/360/720. Last week Helge published an in depth slideshow detailing his thoughts on the future of digital marketing. I thought it was interesting and was lucky to catch Helge online just before he left for vacation.
Introduction: What makes you tick? Where do you work?
• I believe I represent two things: the first is an extreme passion for combining knowledge and finding ideas in different places, then putting these ideas together in order to understand stuff in new ways. The second thing is that I always question the status quo or the accepted idea. If everyone else believes something is true, there is an even bigger reason to challenge it. We often fall into these cultural traps and are way more likely to accept the status quo, or even a flaming new thought, than challenge it.
• I am currently working as a Strategic Director and Digital Planner at an interactive communication agency called Screenplay in Norway. We are a small company working directly with media companies, media agencies and brands in order to make marketing a better place. This is exciting and challenging as Norway has one of the most advanced and innovative digital populations in Europe; however, at the same time our businesses and brands have one of the youngest marketing cultures and some of the most conservative approaches to technology and digital.