Inside the PPC Mind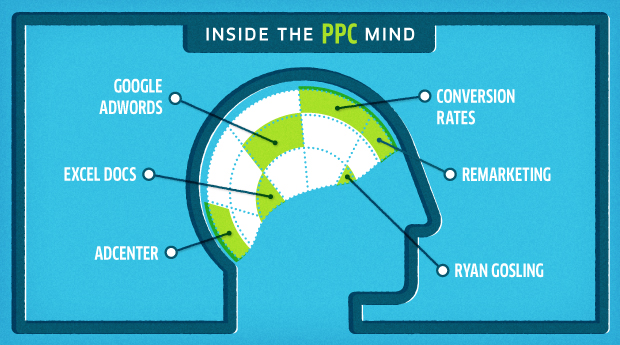 We love our PPC team, and just like our last post that gave you a glimpse into the SEO mind, we wanted to similarly take you inside the minds of the "pants to their suit jacket" - PPC specialists.
Colleagues
Designers - People who make landing pages - and ads.
Web Analysts - Truly amazing people. The salt of the earth.
SEO Specialists - Our closest yet most distant peers that focus on traffic and rankings too much.
Developers – Really smart colleagues who can do magical things with landing pages and tracking. A fickle and odd bunch, though – typically have to approach with coffee and donuts.
Copywriters - Fun peers that can write web copy but for some reason can't write PPC ads.
Media Buyers - Unfortunate souls trapped in the 90s.
Account Planners - Well-meaning colleagues that take 6-8 weeks to give me the insights my keyword research already uncovered.
Tools of the trade
Google AdWords – The most amazing marketing tool ever invented that slightly tortures me by changing every week.
Excel – Also one of the greatest tools ever.
PowerPoint - Necessary tool for those who don't comprehend my spreadsheets.
AdWords Editor – What happened when Google AdWords and Excel had a baby.
Bing - Ugly step-sibling of Google that I'm forced to play with and be nice to sometimes.
Yahoo! - Old friend that I don't really miss.
Remarketing – One of my most effective tools but often misunderstood and abused.
SEO - When done right, helps my remarketing campaigns.
Facebook PPC - Cool in theory but weak in reality.
LinkedIn PPC - Sort of cool just not enough volume.
Google TV Ads (Managed through AdWords) - So much promise but ignored and misunderstood by everyone... including Google.
Display Ads - Great concept but only when buying and managing through Google.
Match Types – One of my favorite tools in the PPC toolkit, but it'd be a better tool if Google didn't keep changing match type definitions.
Reports - Mechanism to give clients a chance to voice their unrealistic expectations.
Websites
Website - A collection of PPC landing pages.
Landing Page – Sacred holding place for "calls to action."
Call to Action – The meaning of life.
Site architecture - Visual hierarchy of PPC landing pages.
Wireframe Process – Very important deliverable – a chance to make the calls to action really prominent before designers get involved.
Contact Form – Duh, arguably the most important page on the entire site.
Confirmation Page – A page that holds all of my conversion codes that consistently gets updated, thereby, changing or removing my aforementioned conversion codes.
Reporting
Conversion Rate - How I measure myself.
Multi-Channel Attribution - How I wish I measured myself.
Impressions - Useless metric I wish I could leave out of reports.
CTR - Metric to show how great my ads were.
Quality Score – Something that Google really doesn't even understand.
Avinash Kaushik - Someone I wish I could take to all client reporting meetings.