Why Pinterest Should Be Your New Advertising Bestie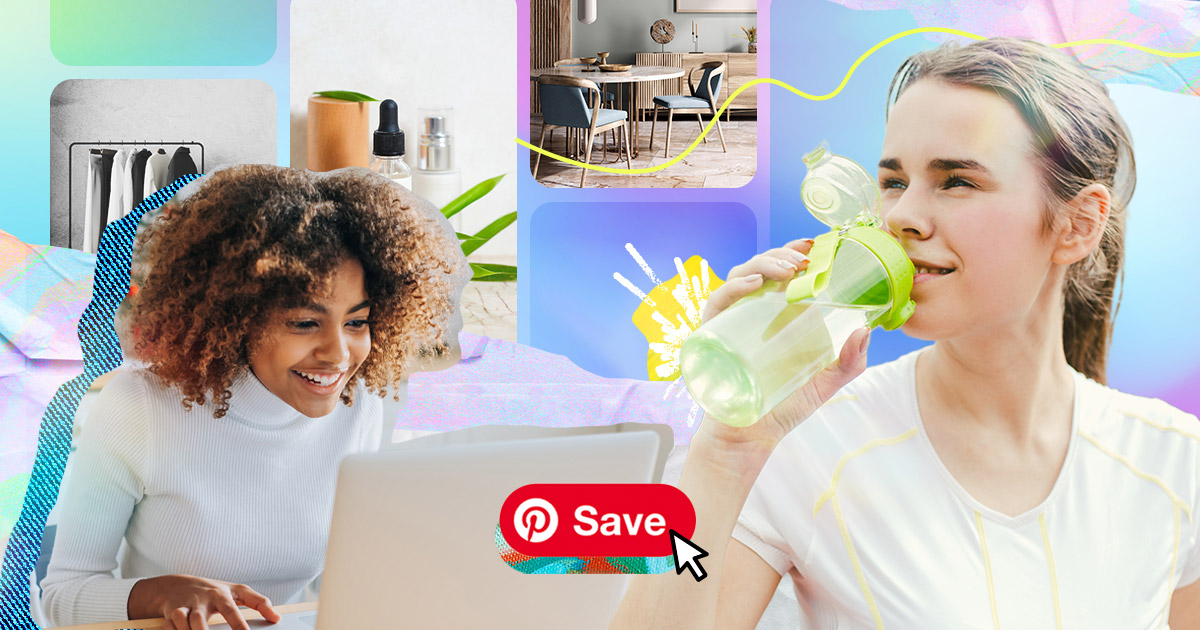 You've been on Pinterest, but have you been on Pinterest lately? No, I don't mean for finding your next sheet pan meal, but for the purposes of advertising. Pinterest was born as a source of inspiration, but it has evolved since the days of saving that *perfect* Polyvore collage for your totally fetch outfit. Pinterest is now a place where organic content can enjoy a long life and sync with paid efforts to create a full-funnel strategy on the platform. In short, it's time to meet your new advertising bestie.
Pinterest for All
Pinterest is often thought of as a place to research your next travel destination, find home decor inspiration, learn the latest fashion trends, and discover recipes from long-winded SEO-minded bloggers. The platform shines in those areas, but it is not limited to only those.
Everything starts with organic on Pinterest. Unlike other social platforms where dark ads can be run alongside organic content, Pins on this search-based platform begin as organic Pins and can be added to paid campaigns. To follow suit, let's look at the tools Pinterest provides to inform organic content.
Pinterest Predicts is a unique trend forecasting tool with categories ranging from fashion to celebrations to processing your feelings. Pinterest has predicted these trends with 80% accuracy for three years. As is often said in company content, Pinners are planners, so thinking ahead (like Christmas in July ahead) is a great way to set your brand up for success on the platform.
The platform's Trends tool, which was expanded last year after its initial release in 2019, is best for keeping a pulse on more specific trends happening in real-time. With various filtering options for what types of interests or keywords are relevant to your search, as well as demographic data, Trends allows you to easily find hot topics that are meaningful to your brand. You can see the weekly, monthly, or yearly percentage changes in search history patterns for specific keywords.
Tools of the trade are important for a strategic approach, but Pinterest is also just…joyful. 8 out of 10 people who use Pinterest say that it leaves them feeling positive. A recent study shows that a positive environment is impactful for users throughout the funnel - from awareness to increasing the likelihood of a purchase. Have any blue-themed platforms made you feel positive lately? Precisely. A key preserver of this joyful environment is Pinterest's stance as a political Switzerland; political ads were given the boot on the platform in 2018. As a bonus for advertisers, this means you won't have to deal with fluctuating costs and performance during election season.
Why Advertising on Pinterest is a Slay
SPEAKING OF ADVERTISING, let's get into it. So, maybe your brand doesn't fall into one of those categories listed at the top and you've written Pinterest off as not being a relevant platform (big elephant tears). Perhaps it's time to reconsider.
Because Pinterest is search-based, it functions differently than other social platforms. While you might post something on the feed of Facebook or Instagram and it will be lost in the content swirl, the foundation of search (particularly keyword targeting) on Pinterest gives content a longer life. This is especially potent when thinking about the investment required for high-quality content and how fleeting the social landscape is becoming.
Advertising on Pinterest is also affordable. Pinterest drives a 2.3x more efficient cost per conversion than ads on other social media. Even with a small investment, your brand can realize results that move the needle, particularly for awareness and traffic efforts. And again, even after the campaign is over, the residual effects of that content can drive results.
With captivating Pins linking to content on a blog or webpage, Pinterest can give a boost to website traffic. This is a win on its own but it can also bolster retargeting audiences across other channels, especially in light of diminishing targeting options on many platforms (I'm looking at you, Meta).
And last but not least, it's time to go shopping! Perhaps an obvious choice when thinking of advertising on Pinterest, Shopping is a valuable tool for e-commerce brands of all kinds. If you have a business with inventory, you can connect your catalog and advertise on Pinterest.
Pinnable Content Ideas
A Picture Is (Still) Worth a Thousand Words
Static imagery is still relevant, dare we say, effective, on Pinterest. Many of the other major platforms have fully committed to a video-first priority with content, causing image-based content to plummet in engagement. However, for campaigns optimized for conversions on Pinterest, images are the recommended content type, and the other campaign objectives perform well with images too.
Examples: A Perfect Pairing | A Practically Paw-fect Partnership
Good Ideas for Idea Pins
Idea Pins are sort of like Pinterest's version of Stories - multi-slide content with the option to add links and descriptions. The nifty thing about Idea Pins, however, is that they don't disappear - they will stay on your brand's profile like other published content without the added step of highlighting or saving them. If your business has a blog or website with a lot of rich info, Idea Pins could be a great way to share small, simple pieces of it in an engaging way. Stories content for other platforms could also be shared on Pinterest as an Idea Pin (dimensions are the same and your design team will thank you).
Examples: Canva's On-Point Idea Pins | Inspiration for Perspiration
A Video Is Worth…
More than a thousand words? Video has not killed the image star on Pinterest, but the platform is certainly a video destination with Pinners watching approximately 1 billion videos a day. I don't know if you've heard, but the word on the social streets is that video will be a big deal. Video assets can bolster engagement on Pinterest, especially in the form of a Video Pin linking back to a website, as well as dedicated campaigns optimized for Video Views.
Examples: Going Green with Gigs | Banking Outside the Box
Pinterest is more than just a platform for fashion brands and food bloggers. Advertising on Pinterest can be incorporated as an impactful part of your brand's media mix from the upper funnel down to conversions, as well as produce positive results for consumers, metrics, and even employees using the platform. We love an uplifting bestie and Pinterest is ready to accept your advertising friendship bracelet!