Yacht Rock Friday at Nebo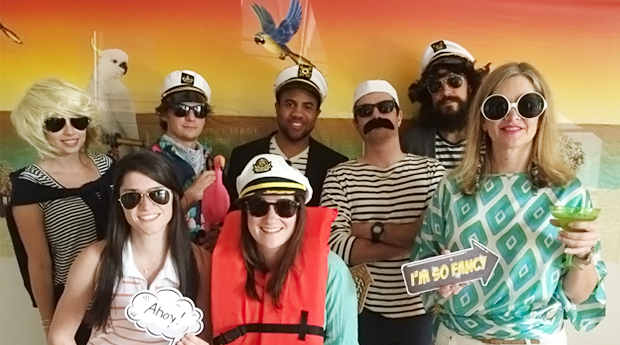 The email went out Monday a week ago:
"As some of you may have heard, we will be switching it up this year and celebrating the start of summer not with a pagan sacrifice to an ancient, profane god, but with Yacht Rock Friday aka 'Smooth Grooves and Booze' aka 'Adult Contemporary Christmas' aka 'Johnny's Ramadan'."
Yes, Nebo had gone the way of Erik Estrada and begun pining for the 70s. For two weeks, anticipation built as people got super stoked on some soft rock. In that time some of us even went to a Hall & Oates concert. Others were, understandably, pretty confused.
For the uninitiated, Yacht Rock is a neologism created to refer to that magical time of the late 70s and early 80s when the gods of white loafers saw fit to bestow mankind with the smoothest music ever written. It was a strange, wonderful age marked by blazers, beards and sexually ambiguous album covers.
Yes, back then real men sailed shirtlessly together and sang in girly falsetto voices. From "What a Fool Believes" to "Steal Away" (No those aren't the same song. Robbie Dupree is just a shameless prick), the AM stations were teeming with anthems to lost love and easy living—NO NOT G.D. JIMMY BUFFETT. I'm talking Loggins & Messina busting out straight banger after banger. I'm talking Christopher Cross back at it again with the smoothest song ever written.
From Florida to California, whether you were sailing away to Key Largo or drinking whiskey and wine in a Western bay (my personal go-to karaoke song, though probably a little too early and too soulful to be considered proper yacht rock), everyone was getting in on the act. You know that well respected folk singer Al Stewart who was known for the hauntingly beautiful song "Year of the Cat"? Yacht rocked! You know that band Ambrosia, who mostly made crappy prog rock? Yacht rocked three times! Even Barry Gibb's homunculus of a brother broke himself off a piece of that sweet sweet cheeva. You can be sure, if you were haulin oats down the waterway 40 years ago, you would have been cooking out one of these jams.
[Truth be told, although Steely Dan is often included in Yacht Rock playlists, they are clearly several leagues above the panoply of soft rock recording artists of the day. Just watch this dissection of possibly my favorite Steely Dan song to glimpse the scale of their genius. But I digress.]
The term "Yacht Rock" comes from a YouTube series dating all the way back to 2005. It tells the completely made up story of the real life incestuous recording scene of late 70s soft rock acts like Kenny Loggins, Michael McDonald and Christopher Cross. Everyone makes an appearance—even guitar legend / missile defense consultant Skunk Baxter. They're the reason the Yacht Rock phenomenon even happened. They're the reason for the renewed interest in Hall & Oates and their recent tours. And they're well worth a watch.
Nebo gets smooth
Nebo basically used this theme as an excuse to dress like an idiot and drink Malibu Pineapple Rum. White pants and captain's hats were encouraged. All day long we've been letting the smooth sounds of the 70s and 80s carry us leeward to a little place called Chillsville, USA.
We'll also be doing some karaoke later in the day once the daiquiris and wine coolers work their magic, and we've got a costume contest and photo booth. We might even go to Bed Bath & Beyond. I don't know. I don't know if we'll have enough time.
Yah mo b there with bells on. Yah mo drink a lot of High Life…Yah mo stare into the abyss.
Yah mo the abyss might to stare into me…
And once again, two seconds into the first Jimmy Buffett song, YAH MO B UP IN YOUR BUSINESS PUNCHING YOU IN THE CHEST.