What's New in SEO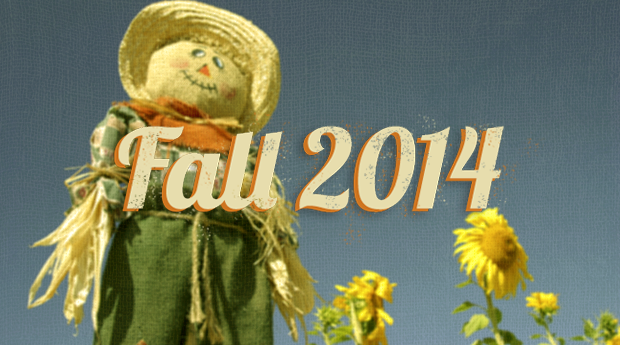 Search engines are constantly making improvements to ensure users are met with quality results. As algorithms are updated, ranking factors change, and guidelines become revised, it's imperative that SEOs stay apprised of these changes. As we transition from summer to fall, there have been significant updates; so we're recapping the major changes for you to stay on the top of the latest SEO happenings!
Algorithm Updates
While webmasters everywhere are anxiously awaiting a Penguin update, Google has actually been rolling out an enhanced Panda algorithm. Pierre Far of Google announced September 25th that the improved update would help identify low-quality content more precisely. This means we should be seeing quality, smaller sites ranking higher in the SERPs for relevant queries. Google Panda 4.1 impacts about 3-5% of queries, and sites that were impacted by Panda 4.0 are begging to see a recovery in organic traffic as the update rolls out.
That doesn't mean a Penguin refresh isn't coming, though. With no updates in over a year, it's imperative that Google update the algorithm so Penguin-impacted sites that have resolved any issues can rebound. Google's John Mueller has confirmed that engineers are working to speed things up with an update that would help Penguin refresh faster. While there has been a lot of speculation that a Penguin refresh is coming, Google has not officially announced any updates yet.
Google Drops Authorship
After three years of testing, updating, and experimenting, Google has finally decided to end Authorship.
SERPs With Authorship Markup:

Without Authorship Markup:

John Mueller officially announced the end of authorship on August 28th, citing that the enhanced listings weren't quite as useful to users as Google anticipated, and could even be distracting to the actual results. This doesn't come as a huge surprise considering Google dropped authorship images in June, and the entire process proved pretty easy to spam as we saw sites markup everything from products to homepages with authorship.
There is, however, some suspicion that Google's removal of authorship wasn't as user-focused as they claimed it to be. With SEOs suggesting removing authorship photos increases the click-through-rate of ads, most users would argue that not having photos and authorship bylines does impact the clicks on the remaining elements of the results pages.
Regardless of the motivation behind removing authorship, Google has said that if you have authorship markup on your site it won't hurt to leave it. They'll continue to expand their support of Schema.org by showing rich snippets for supported markup and Google+ posts from friends will remain a part of the SERPs.
The New Search Box
The Search Box is a cool feature Google has recently rolled out that's definitely helping ease the pain of losing authorship.
In the past, when a user would search for a specific company Google understood that the user wanted to see results from that site only. Google would display added site links as well as a smaller search box that would allow users to perform site: searches within the search results. For example, if you used this search box to search for computers on Microsoft.com, you would be taken to the results page for [site:microsoft.com computers]: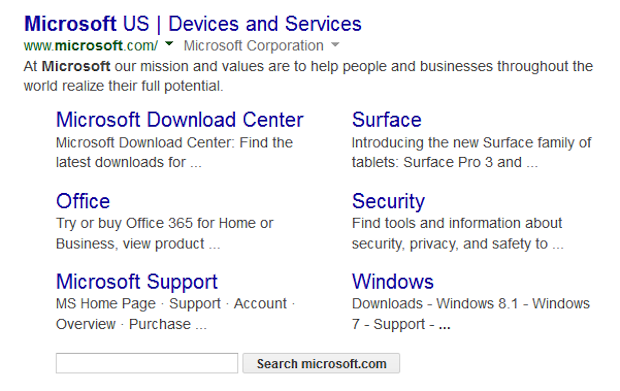 Now, the search box is located directly under the first result and allows users to perform a full Google search.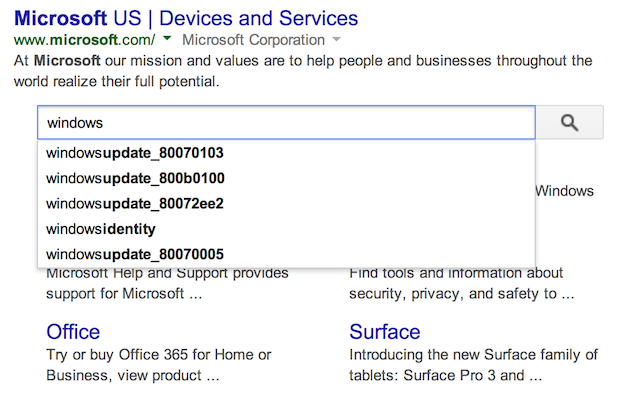 Whether or not you have the search box for your site is up to Google, but Webmasters can utilize the schema.org/SearchAction markup to specifically ask Google to send users to the internal site search rather than another search results page. As long as your website has a working site-specific search engine, you can take advantage of this additional markup. While adding the markup does not guarantee you will see a search box, it will benefit those that do have the search box with the additional traffic.
Also, the new autocomplete functionality allows you to gain added visibility into what users are searching for on competitor's sites. For SEOs this information can be extremely valuable when developing keyword themes or new content strategies.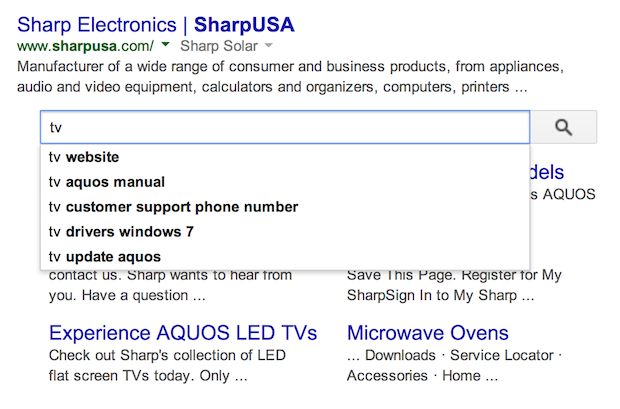 Google Turns 16

On September 27th, Google turned sweet 16! In the last 16 years Google has definitely changed the internet, becoming more than just a search engine giant with innovative platforms like Adwords, Gmail, and Google Chrome. Today, we see Google integrating even more into our lives with self-driving cars, healthcare innovations, and projects to bring the internet to everyone. It will certainly be exciting to see how Google continues to impact our lives over the next 16 years and beyond.
HTTPS as a Ranking Factor
On August 6th, Google announced that they will now use HTTPS as a ranking signal. While it's always been rumored that Google preferred secure sites, this is the first time Google has officially stated that having a secure site is going to be a lightweight ranking signal (affecting fewer than 1% of all global queries).
There are a few benefits to migrating your site to HTTPS outside of a rankings boost. You could see more accurate referral data because any HTTPS site referring traffic to your non-secure site will have the referring data stripped, causing traffic to appear as direct. HTTPS also adds a level of security to any site by verifying the server, preventing site hacks and encrypting all URLs (which can protect browsing history).
If you're considering making the move to HTTPS, it's important to know that there are a lot of moving parts during the migration. You could accidentally block important URLs, forget to update vital meta tags, or incorrectly implement your SSL certificate causing users to receive a warning that your site is insecure. Migrating to HTTPS can also cause speed issues, and there are the additional annual costs of the SSL certificate.
Since the ranking update impacts such a small portion of queries, many webmasters who are migrating their sites are seeing little to no changes in rankings. In fact, some are seeing rankings decrease due to mistakes made during the migration process. While most sites have decided to remain unsecured, this is definitely an update worth monitoring. Google states in their announcement that they may strengthen the ranking signal of HTTPS over time to encourage all website owners to switch from HTTP to HTTPS, so this could be a move that all webmasters eventually make.
Search Engine Penalties
During August and September, Google and Bing continued to take action against spam by dealing out penalties to sites that were participating in black hat SEO tactics.
Blog networks, in particular, have continued to be a major focus throughout 2014 for Google. We won't soon forget when Google took down MyBlogGuest during the spring of 2014, and ever since then Google has been relentlessly penalizing and devaluing blog networks. The month of September was no different as Google sent out hundreds of manual action warnings to sites participating in blog networks.
In addition to penalizing sites with links from blog networks, Google also quietly updated their Webmaster Guidelines to include "low-quality guest blog posts" as being a violation of the guidelines.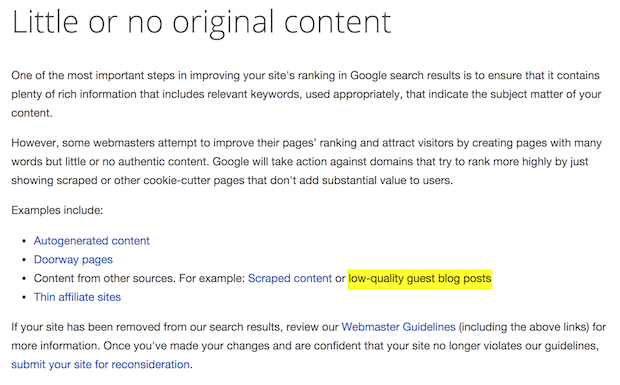 Bing has also cracked down on spam, removing 130 million URLs from their search engine for keyword stuffing. This update was pretty huge, impacting about 5 million sites total and 3% of search queries. Bing even called out specific sites that were impacted, which were clearly spammy with URLs including cheapviagrausa.com and gmailloginsigninup.com.
Whether you're part of a link network, comment spamming, keyword stuffing, or executing any other negative SEO strategy, if your end goal is to generate a large amount of links in an easy way, you can expect to eventually see a penalty. Original content that speaks to your audience will always win in generating organic, high authority links to your site.