What's New in SEO: Doorway Pages, Mobilegeddon & the Search Analytics Report
Because of the ever-changing dynamic of the SEO industry, it's crucial for SEO practitioners to stay up to date on algorithm changes, adapt to new best practices and evolve our strategies in response. Here's a recap of some of the most recent major SEO happenings as we transition from spring to summer.
An Update on Doorway Pages
On March 16th, Google redefined doorway pages by expanding the criteria that results in a page being labeled as a "doorway page." We knew that doorway pages were clearly a form of Black Hat SEO, but most SEOs associated the idea with cloaking. Our definition was "a webpage that's keyword-stuffed and designed solely for search engine spiders." In fact, any page that can be perceived as existing solely for search engine rankings could be labeled as a doorway page, even if it's designed for users as well. This includes location-specific pages, duplicate aggregations of products and other substantially similar pages.
Thus far, we haven't seen a huge impact from the doorway page update but we do know that the algorithm is live and updating regularly. John Mueller and the rest of the Google team plan on cracking down on doorway pages that continue to rank well to identify why this is. Sites that are continuing to use doorway pages should either revise damaging content or expect decreases in rankings.
The Not-So-Apocalyptic Mobilegeddon
Along with the first official announcement that mobile searches now outpace desktop searches came Google's Mobile Update, or as the web referred to it - Mobilegeddon. This algorithm update was unique because Google not only warned everyone about the future occurrence, but they also announced the exact date that the update would transpire. Due to the changing digital landscape and mobile search continuously rising this shouldn't have shell-shocked everyone quite the way it did.
Essentially, sites that are optimized for mobile will most likely rank higher in mobile search. It's more important than ever to migrate your website to a responsive design and ensure that users can easily navigate through the website on their mobile devices. It's absolutely worth it to utilize Google's Mobile Friendly Test and fix any issues on your site because mobile search will only continue to increase.
UX is NOT a Ranking Factor for Desktop Search
We all assumed it was. User experience is one of the main components of the Mobile Friendly Update and there have been tons of articles over the years advising on usability and claiming that user experience was a direct on-page ranking factor. However, user experience is not a ranking factor for desktop currently. We can thank Gary Illyes from Google for letting us in on this.
@ToriCushing @jennita @dr_pete On mobile, sure, since UX is the base of the mobile friendly update. On desktop currently no.

— Gary Illyes (@methode) May 12, 2015
While it's interesting and obviously something to consider, we must not forget that sites should be designed for the user first. User experience may not be a ranking factor now, but as forward-looking SEO practitioners we should be investigating possible ways to measure UX factors and preparing for the day that it becomes part of search engine algorithms.
Search Analytics Report
Google recently replaced the Search Queries report in Google Webmaster Tools with the Search Analytics Report. This report provides a lot of the same information as the old Search Queries report, except the data is more refined and there are new filtering options for more precise data analysis. According to Google, the data is calculated differently than before. Individual page impression counts merged, search properties and devices were separated and image click count was reduced, along with plenty of other changes. It's always worth it to check out new tools to see how they can assist with analyzing traffic and conversions. This is definitely one to learn more about.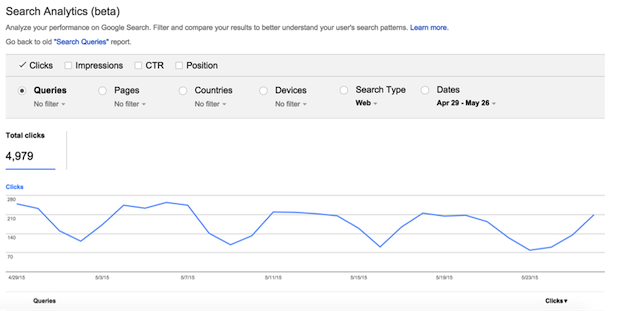 Bing App Index
With mobile on the rise, Bing has decided to add App Linking as part of its algorithm. Bing will help inform the user and assist with making app-purchasing decisions by indexing apps by content rather than app name. Using schema.org markup and applinks.org framework Bing will begin showing apps in mobile search results. Just another reason why it's becoming increasingly important to step up your mobile game!
Google & Bing Provide Actionable Links in the SERPs
Shortly after Bing added food delivery ordering links to search results, Google followed in their footsteps but stepped it up a notch by also adding links to book appointments and reserve tables. Google says these actionable links will automatically appear for eligible businesses. With built-in goal conversion opportunities living in the SERPs these links will be highly desired by most companies. Google has provided an interest form for businesses interested in this opportunity and the feature will most likely be built into Google My Business.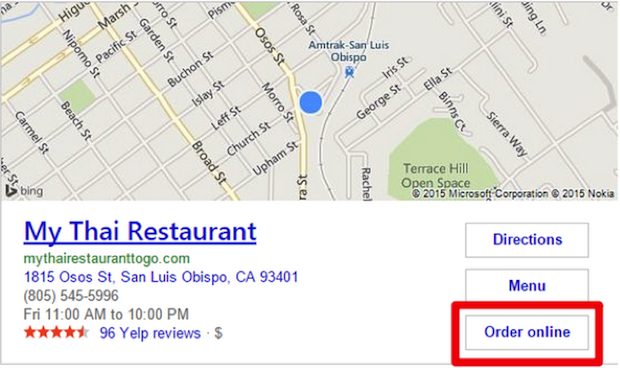 The Quality Update
Despite many webmasters believing a Panda Update occurred at some point near the beginning of May, it actually turned out to be "The Quality Update." Although Google won't provide specifics, we do know that, "there were changes to its core ranking algorithm in terms of how it processes quality signals." HubPages seems to think that the update targeted how-to sites but this has not been noticeable across other industries. Content is king and Google will continue to tweak its algorithm to benefit valuable, high quality content.
MozCon 2015!
And… a very special announcement about MozCon 2015! Our Director of SEO here at Nebo, Stephanie Wallace, has been chosen as one of the six Community Speakers at Mozcon this year! We can't wait to hear her discuss how PPC data can be used to influence SEO strategies. This is a huge accomplishment and Nebo is so proud to have such a talented leader for our SEO team! Give it up for Stephanie!