We're Obsessed with Google Ads Scripts, and You Should Be Too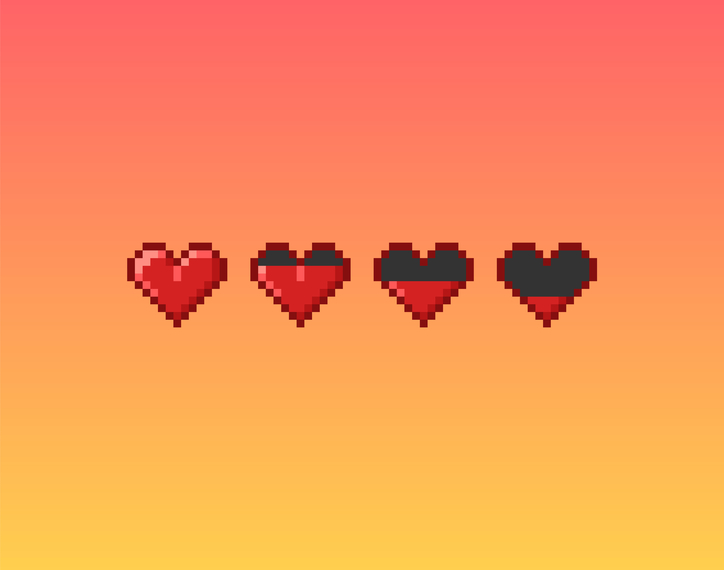 Everyone who knows me knows I'm OBSESSED with Google Ads scripts. Heck, it's even in my Twitter handle! (@PPCScriptQueen, if you were wondering.) They are one of the most amazing PPC tools available — for free — and not enough marketers are taking advantage of them.
In the past, marketers have been wary of using scripts to automate or enhance campaigns, since they couldn't be rolled out across multiple platforms. But now that Bing Ads has launched scripts, it is more important than ever to implement holistic optimization strategies across your Paid Media campaigns. This is why I spoke at PPC HeroConf and shared the automation tools that saved my sanity while working on complex accounts.
In my session, I discussed how to pinpoint areas of PPC accounts that can be enhanced with scripts, and how to launch new Bing Ads scripts. Additionally, I gave out three new updates to the best PPC scripts available.
These scripts will take your campaigns to new heights on both Google Ads and Bing Ads, and I'm giving them to you for free!
1. Advanced Weather-Based Scripts - Launches/pauses campaigns or alternates ad copy based on weather triggers
This script was developed to take our testing further. Instead of simply bidding up and down by weather as we had in the past, we wanted to alternate ad copy and launch specific weather-triggered campaigns. You can now use this same code to launch your very own weather-based copy testing.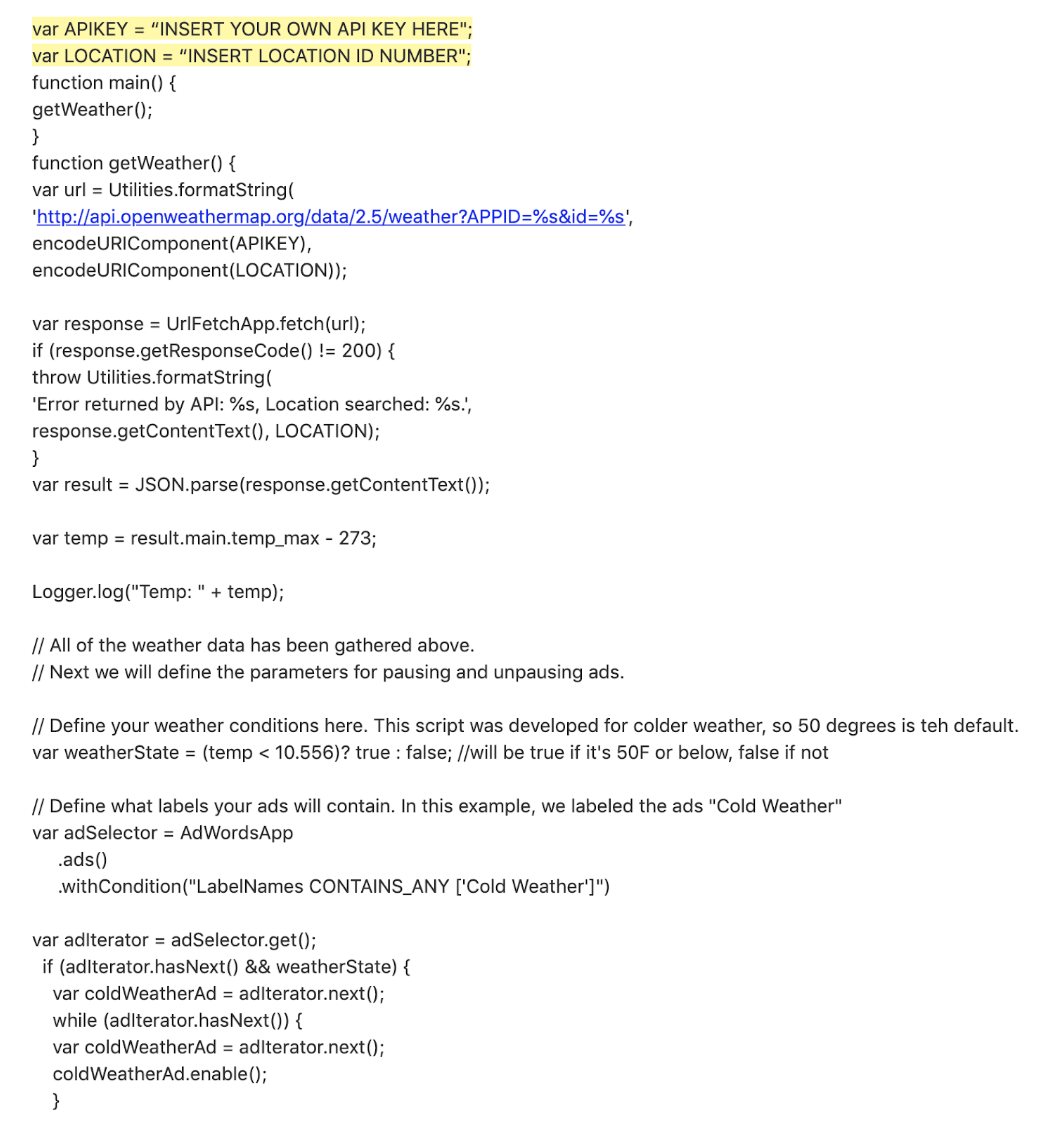 2. Automate Geographic 24/7 Bidding with Google Sheets
One of the biggest challenges in international accounts is ad scheduling across multiple time zones. In order to combat this, I modified two scripts by Dan Gilbert that use an ad scheduling heat map to create optimal bid schedules 24/7.
As a note, in order to make this script run efficiently in your accounts, add a geographic modifier to your campaign names. For example, my campaigns that are in African regions all contain "-AF" somewhere in the campaign name. This will help you to create a different iteration of this script for every region you are looking to optimize for.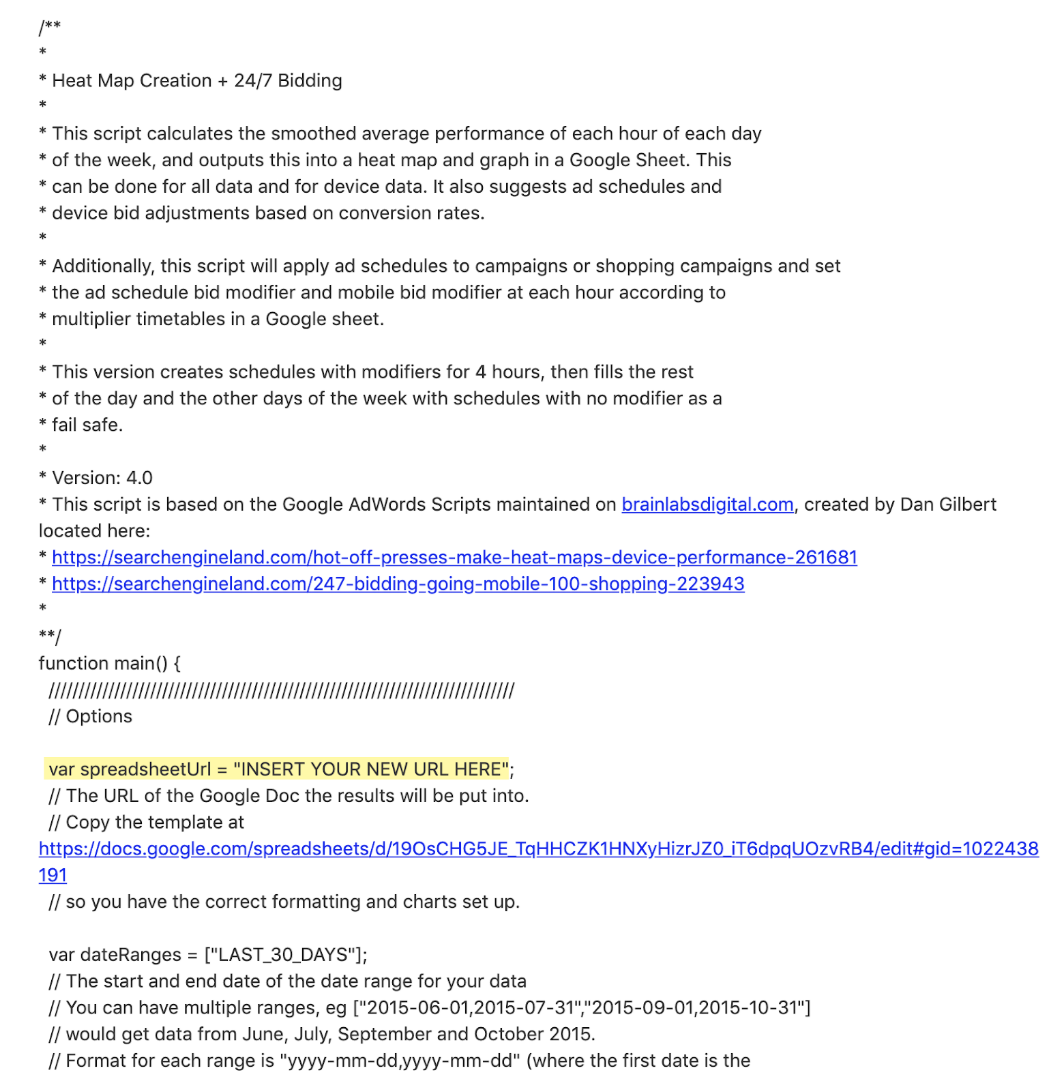 3. Maintain Optimal Daily Spend & Simplify Budget Maintenance via Google Sheets
When you have clients who have multiple brick-and-mortar locations, each with their own individual monthly budget, it can quickly become a nuisance to manage spend. Combine this with Google's lovely ability to spend double your daily budget, and campaigns can accidentally overspend pretty quickly. This script uses a Google Spreadsheet to take note of a campaign's current monthly spend and implement an "ideal daily spend" based on the amount of time remaining in the month. Additionally, this script will pause campaigns if they are close to reaching their monthly budget.
Pro-Tip: While it's not necessary to have, I would recommend using a service like Supermetrics to pull your campaign spend every hour. There are other options linked in the script documentation, but that has been the easiest method for me.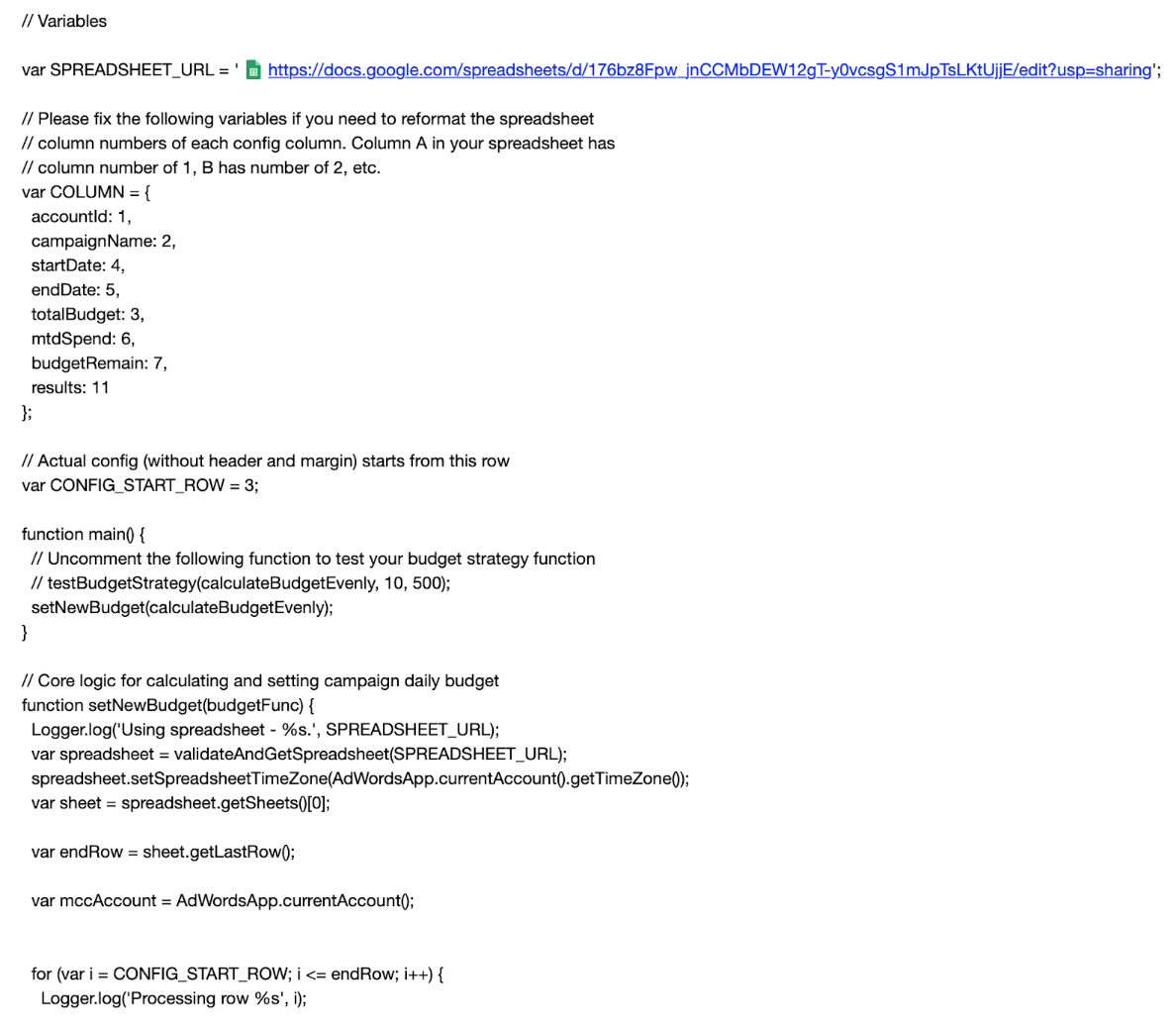 You can find the script code and instructions here.