The Travesty of BerkshireHathaway.com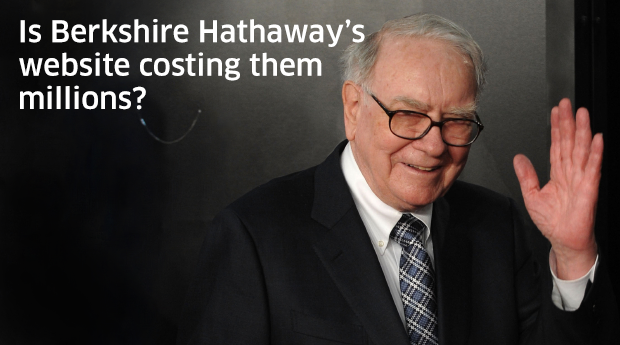 The internet is a lot like a boomtown. It was built around the resource vein of information, and it was quickly populated with every type of company prospecting for paydirt. As any boomtown, its housing was utilitarian at first: rows of canvas tents and Plain Jane HTML. Companies eventually found that they liked the place and decided to set a spell, improving their websites and creating the internet community we know and love today.
However, within this community there are companies and organizations with what might be considered not so much websites as historic sites. Some of these are kept for posterity (Space Jam); some are just inexplicably bad (us.gov), though you get the feeling that they'll be renovated eventually as was whitehouse.gov; and some are jealously guarded by old, white-haired, hermit prospectors who refuse to be bought out, still shouting from their porch at passersby. The most heinous of these offenders has to be BerkshireHathaway.com.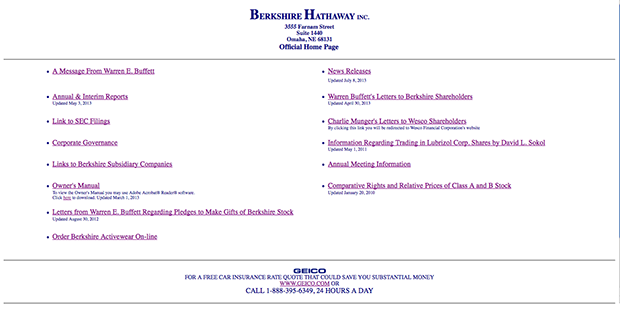 No, you didn't just step through the Wayback Machine. That's the actual website of the largest investment group in the U.S., and the white-haired prospector in this case is the inscrutable CEO, President and Chairman, Warren Buffett. As have many design firms, we offered to rebuild their site for free some years ago if only to make the internet a prettier place (and having Berkshire Hathaway in the old portfolio wouldn't be too shabby either). Alas, even free is too steep a price for Buffett and company to join the modern world.
BH has a website with no personal branding, no calls to action, no regard for user intent or experience and definitely no tracking because honestly, what would a conversion be on that site? The only means of contacting them is an email address in Lilliputian font in the page's footer, and even that comes with a disclaimer stating explicitly that your email won't get a reply and less explicitly that you can pretty much suck it.
The worst part, though, has to be the presentation. If I'm considering buying the most expensive stock in the world at over $100 thousand a share, then I expect a little more pomp and circumstance than a page that looks like it was designed with Word 95. Its boring, bland, Spartan and ugly as homemade sin; and many people, including some web designers, think it's perfect.
The concept of keeping a website intentionally under-designed isn't new—just look at Craigslist. A minimalist approach to web design can be seen as directly in line with Berkshire Hathaway's brand (if it has one). They are all about limiting expenses: they abhor flashiness; they have fewer than 30 corporate employees; they are headquartered in Omaha; and they would rather people focus on their assets than the holding company itself.
That's all fine, but a company like IKEA, which saves customers money by letting them assemble their own furniture, doesn't cut costs with a particle board website users have to put together with an Allen wrench. Likewise, a frugal company has never gained more customers through a frugally designed site. The uselessness of the BH site egotistically assumes that if people are serious about investing or learning more, they'll put more work in. The problem is that the egregiousness of the site is such that users might first think they've arrived at a parked domain. I know I did, even after being warned that it was a bad site.
Does it really matter, though? It's not like Berkshire Hathaway sells anything through its site beyond linking to a subsidiary that sells branded Oxford shirts with graphics of hundred dollar bills coming out of the pocket.
As we've mentioned before, there is no difference between the online you and the real you. How a person or business comes across online is how he, she or it is perceived overall. Looking at BerkshireHathaway.com, one gets the sense of looking at the old guard. It's outdated. It lacks transparency. It has the same level of concern for its appearance as a dad on vacation. This not only reflects badly on the brand, it reflects badly on its subsidiaries, some of which includes Geico, Helzberg Diamonds and Business Wire. If this is how the parent company comports itself, does the apple fall far from the tree? It may all seem ethereal, but experience tells us that these things impact real life dollars.
When dealing with a company that makes more money than the GDP of most countries, any percentage loss is astronomical. According to the SEC, the revenue of Berkshire Hathaway Inc. was $162 billion in 2012. Just for fun, let's say that their superfluously white-spaced site and lack of any real online presence resulted in a missed opportunity of .01% or 1/10,000th of their business. Though a small percentage, that's still $16,200,000. Again just for frivolity's sake, let's consider a comparable missed opportunity for the last ten years or the amount of time that two-thirds or more of the U.S. population has been using the internet. You're left with a theoretical $162 million.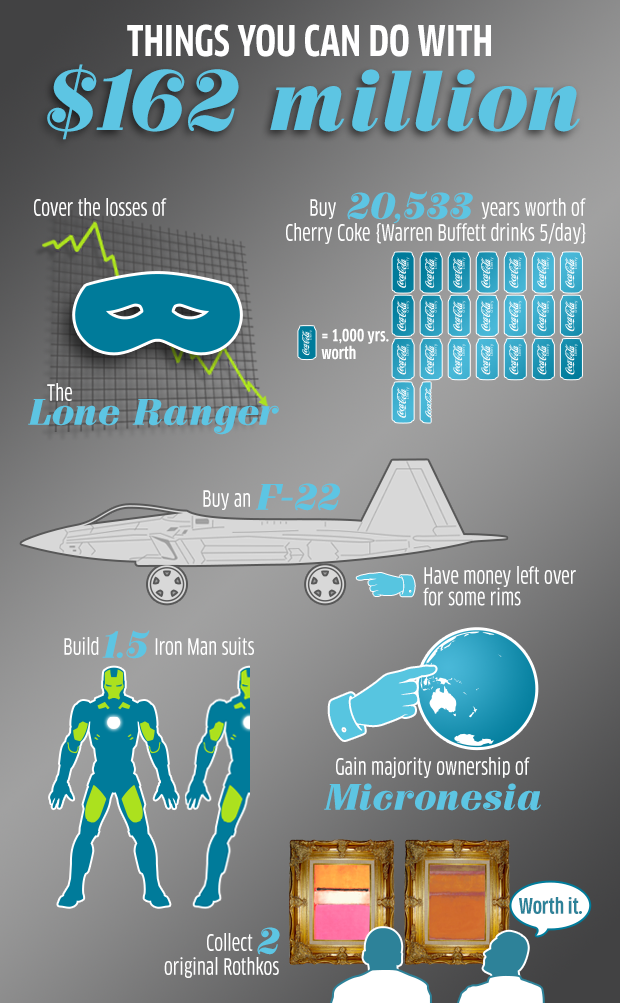 We know that all companies—B2B, B2C, small or large—benefit from a well-formulated online presence. We know that when sites are redesigned or adjusted with the user as top priority, the results can be staggering. We know that changing one button on a certain ecommerce site resulted in a $300 million revenue increase. We also know that with buyer journey mapping, analytics, SEO, PPC, social and PR, you can reach the exact person you're looking for at exactly the right time. We know that with the right story to tell, there are no limits to a brand's reach.
Berkshire Hathaway may not feel any real need to update their online presence, and maybe that's justified by the fact that most of their shareholders probably don't care what their website looks like; but they're definitely not doing themselves or their subsidiaries any favors. A well-designed site would lend them credibility. A stock ticker would create an air of transparency. A friendlier way to get in contact with them would make them seem warmer and not like an aloof, impersonal, out-of-touch conglomerate.
Online is the new paradigm. It's how people learn about and interact with companies. What Warren Buffett and Charlie Munger have created is truly amazing, but it's time one of America's leading companies had an online presence worthy of that distinction.