The People Behind Nebo's 10th Birthday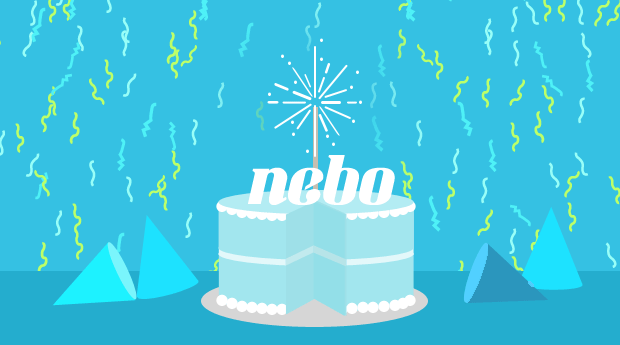 This year, we're lucky enough to be celebrating Nebo's 10th anniversary. Adam and I are incredibly proud, but we're not the ones you should be congratulating.
Let me explain.
Nebo was established in 2004 as a reaction against what we saw as the marketing industry's deepest flaws. We started by taking a human-centered approach to marketing as well as treating clients, employees, and vendors the way we'd want to be treated. Culture would be our competitive advantage. We'd prioritize long-term strategy over short-term wins.
We didn't know if we could make it. We definitely didn't know if our approach would resonate. But we thought we were young enough to recover if we didn't.
Flash forward 10 years and we've achieved more than we ever thought we could.
Since 2004, we've kept our promise to put people first. We've done things our way when many said it couldn't be done. And we've accomplished many of our goals, including:
Creating an amazing culture that prioritizes people over profit
Attracting, retaining, and growing 50 of the most talented people in the industry
Making the world a better place with passion projects such as Choose ATL, The Eames House 250 campaign, The Rescue Pledge, and more
Enjoying 10 years of consecutive revenue growth
Winning hundreds of digital awards
Never laying off a single employee
Don't get me wrong; the industry is still broken. We still have a lot to do. We have a long way to go to become a better agency. To become better people. But, as a callout to a Steve Jobs' stated goal, we've at least made a tiny dent in our universe.
We Didn't Do It Alone
It's funny; one of our illogical quirks as human beings relates to how we view our role in success or failure. We tend to over value our contribution when we succeed and down play it when we don't.
The reality is much more simple. We never succeed or fail alone. We're social creatures. We were all raised in communities. We were all educated by parents, teachers, and peers alike. We work best in teams (I've yet to meet a successful hermit).
Oftentimes people congratulate Adam or me on Nebo's success, but that's not what Nebo's 10th birthday should be about. It shouldn't be about us taking full credit for Nebo's accomplishments. Because the truth is that Adam and I have played a very small role in making Nebo what it is today.
Sure, Adam and I started the company, but there were so many people that helped. From our parents, loved ones, and friends, to our teachers and mentors. I was lucky enough to have four amazing bosses before we started Nebo. Marcel Kardol, Randi Knight, Patrick Gaul, and Dane Bamburry taught me so much, and Nebo's culture was partially born out of their mentorship to me.
We've also been very lucky to work with some amazing clients. An agency can only fill part of the puzzle, and frankly it's the smallest part. Our clients are what make us grow, build our portfolio, win awards, and allow us to collaborate on exciting projects. We are truly honored and humbled to work with such amazing organizations every day. They took a chance choosing us. They put their faith in us. They gave us a mandate to help them build their digital brands. And we'll never forget that.
The People that Matter
Lastly, and most importantly, are Nebo's employees. Both past and present. From our first employee, Patrick Kidda, who took a huge chance joining a fledging startup, to Laura Wood and Jean-Marc Dinghin who joined just last week.
An agency, at its core, is people and we're very fortunate that we have 50 of the industry's best inside our building. People like Kimm Lincoln, Emily Winck, Jenn Vickery, Heather Johnston, and Alice Jaitla have been with us over 5 years. In an industry where the average employee stays about 18 months, we're very lucky that we've been able to keep and grow so many of our team members.
But its not just about turnover rate or headcount. Our colleagues -- each of them, more so than me or Adam, even -- define Nebo.
Our Gratitude
I hope that I've played a role in Nebo's success. I know that Adam has. But we're both smart enough to realize that our 48 friends and colleagues at Nebo are responsible for 96% of the good things our organization achieves.
We've had an amazing 10 years, but we think our best days are ahead of us. We just hope that we can give back to all of the people that have made Nebo possible.
I don't have the words to truly express the depth of our feeling and gratitude. However, I can say thank you. Thank you to every mentor, employee, client, industry peer, and loved one in our lives. Our success isn't defined by a moment or milestone, but the collective effort of everyone in our lives.
Thank you.