The Misunderstood Battle of Data Privacy and Digital Marketing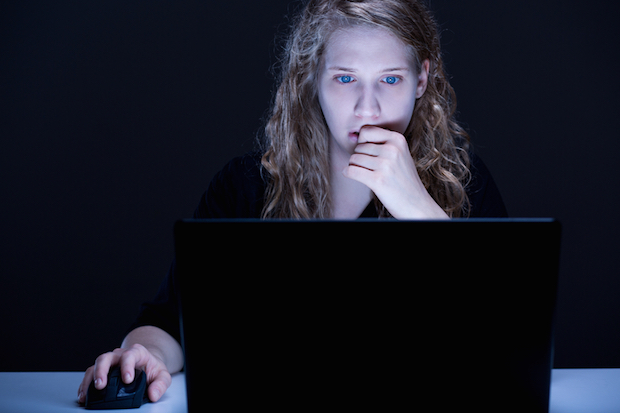 It's no secret that we have a vast amount of information at our fingertips. Marketers can craft detailed campaigns all without conducting a single customer interview (I don't suggest doing it, but hey, it can happen).
As a marketer, I think it's pretty neat. I geek out whenever Google Analytics gives me another way to learn more about a target audience. It only makes my content that much better.
And as a "digital native" consumer, I don't really think about it much. I don't surf the web and freak about the information I'm giving. As long as you don't ask for my social or credit card number at random, I'm pretty much good.
Then I stumbled upon this read from Inbound. Essentially, it's a bit of a "the sky is falling" to marketers who are obsessed with data (AKA all of us). It's also bound to give you the heebie jeebies in that little "consumer" part of your brain that thinks, "Wait. Are marketers really that creepy?"
No, we're not. At least, we shouldn't be.
Misconstruing the Issue
I get the concern for privacy. It may not bother me that much, but it bothers people I love (ask my mom her opinions of social media, I dare you). However, I don't think this is the conversation we should be having.
To say marketing analytics are reaching a stopping point in terms of data collection is a bit far fetched. Consumers value immediacy and convenience. To think we'll suddenly sacrifice our super-personalized digital lifestyles in order to prioritize privacy doesn't seem to fit the mold.
Furthermore, it's articles like these that actually make the issue worse. To compare personalized marketing to a "peeping tom" while underscoring the convenience we all value sensationalizes an already touchy issue. It assumes all personalized marketing is, at its core, violating human rights, which sets this industry up for scorn and failure from the start.
But is personalized marketing really the issue? Or is it that it's done inauthentically and without thought?
Isn't it the how that's really the issue here?
According to the PageFair and Adobe 2015 Ad Blocking Report, 50 percent of people surveyed would choose to use an ad blocking extension if they felt their personal data was being misused to personalize ads, and 41 percent would use one if the quality of the ads changed from what they experience daily.
The conversation shouldn't be about whether or not the data should be available for us to use — it should be about how we're using it.
The Real Disconnect Between Marketers & Consumer Data
Humans are incredibly complex. Each of us have unique hopes and dreams. We're rational and irrational.
So why don't we recognize this when we're marketing to people?
Our industry is known for pigeonholing consumers. We do it with the ads we create, the messages we share, how we retarget... the list goes on and on. We think in terms of clicks and conversions instead of thinking about actual living, breathing people.
We have so much data that we don't stop to realize that people aren't just a number.
Which is unfortunate, isn't it? Because really, we have incredible tools at our fingertips. Tools that enable us to make people's online experiences better. Tools that allow us to actually help customers — not just make a sale.
So instead of talking about whether or not we'll get more of that data — whether or not our analytical growth will falter — why aren't we talking about how we're using the data we have? Why aren't we focusing on how we make consumers feel uncomfortable when we abuse the data we have?
Really, the conversation boils down to one thing: how we treat consumers.
Marketers will never be in the clear if we don't learn to respect consumers and treat them as more than just conversions — whether we have unlimited access to data or not.
We need to be listening to our customers; a point the author gets to in the article, but doesn't truly emphasize. In reality, this is the most important point of all.
If we stopped and listened, I think we'd be surprised at what we would find.
We'd find that if marketing strategies were built to be more human-centered and actually treat consumers like humans (what a thought!), then perhaps these conversations wouldn't exist it the first place.
We'd find that if we actually focused on providing a great user experience for each customer instead of forcing a sale for a product someone saw five minutes ago, then perhaps consumers would feel better about how their data was used.
We'd find that it's up to us to lead the way in shaping protocol around data privacy because we'd realize what it takes to keep our loved ones safe. We wouldn't couch these conversations in legalese, but in morals. In values.
We'd find that just because we have the power to use and abuse data, doesn't mean we should. Just because we could take analytics further, doesn't mean we have to — at least not while data is continually used for anything but the customer's advantage.
But most importantly, we'd find the issue isn't that customers are giving us their information. It's that we use it against them.
The tone of this conversation needs to change, and, really, it starts with us.
As marketers, we have a duty to define our industry standards. The IAB has taken the lead with its Data Center of Excellence, which aims to develop standards, guidelines, and protocol around protecting consumer data, and the American Advertising Federation speaks to it in their Principles and Practices for Advertising Ethics, but we could do more as this issue continues to evolve. The rest of us can, and should, get involved.
We get to decide if we'll continue to make consumers feel uncomfortable about our practices, or if we'll step up and start putting protocols in place to protect our loved ones and their loved ones.
We get to decide whether we can handle the data we're given, or if someone else has to put regulations in place because we abuse the power we have.
Will we decide the fate of our industry, or will we leave it to someone else?