The Fallacy of the Funnel: How to Leverage the New Buyer Journey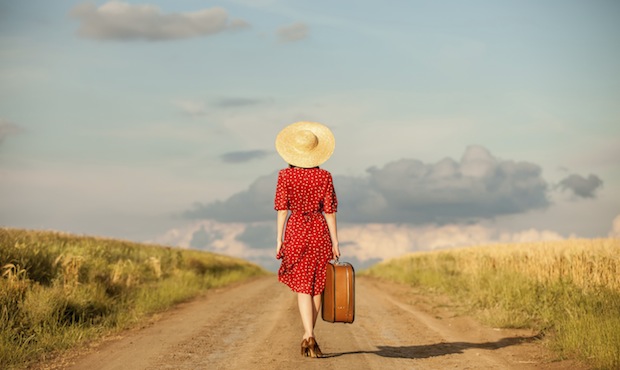 If you were to play buzzword bingo at a marketing conference this year, "the funnel" would be a guaranteed get.
It's a buzzword now, but the concept of a buyer funnel is not new. Back in 1898, a man named E. St. Elmo Lewis was credited (though not definitively) to have developed the first idea of a purchase funnel. He defined the stages of the buying funnel as follows: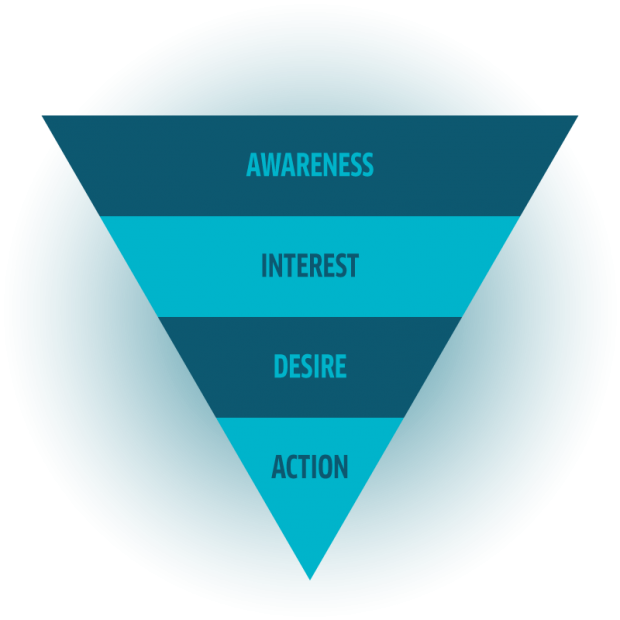 And you know what? In 1898, maybe it was that simple. Buyers had limited access to information and were somewhat constrained by what was available in their geographic location. If you had a need for something, how much research and consideration could you really do in 1898?
Things are different now. We have unlimited information right at our fingertips. If we need something, we can search for and find all of the products or services related to what we need, look at reviews, ask our friends for feedback on social media, find more products, do more research, comparison shop, and then have what we've bought delivered to our doorstep in a day. And in this new world of unlimited information, that neat funnel of awareness -> consideration -> interest -> purchase has been disrupted.
Marketers still like to talk about the buyer journey as if it's a step-by-step funnel that all audience members go through in a similar manner. The reality is that nothing about the buyer journey is neat and it's only gotten messier with time.
But not all hope is lost. People will always buy things and will always go through a buyer journey to do so. Just because their journey doesn't map to a perfectly neat funnel doesn't mean you can't have successful buyer journey marketing campaigns.
Here's how to do it in the new age of unlimited information.
Tell a Story
There was a time when brands could spend big money to saturate the market with their ads, and they could be successful doing it. In the 60s, people still trusted brands and would pay attention to magazine ads.
Now, we're bombarded with thousands of ads and marketing messages every day. We get to choose which messages we see or read. There is a lot of brand content out there and we ignore most of it.
Authentic storytelling still stands out. The power of story is that it gives you the ability to spark an emotion in your audience. Story transcends the buyer journey, offering value to your audience regardless of where they are in the "funnel".
Companies like Coke, Duracell, Intel & Toshiba, and Chipotle, all understand that story matters. It's not easy to do, but if you commit to the enduring idea that your marketing content should have an underlying story that conveys the heart of your brand, your audience will be much more willing to pay attention.
Do the Research
Successful buyer journey marketing campaigns are built on quality research. You need to talk to your audience to uncover the underlying psychological factors that play into their decision process. Talk to your sales people and customer service reps about the objections they usually hear or the questions they get asked the most. You can use this information to build out audience personas that are actually valuable. If you put in the work to understand the core motivations of your audience, their challenges, and their expectations, you can start to understand their decision making process and get a better picture of how the buyer journey differs between audience segments.
Focus on Providing Value
Buyers are more empowered than ever, and nobody wants to be sold to. Our job as marketers is not to sell, but to solve problems by providing relevant and valuable information when the audience needs it. It's not always an ad or a direct CTA that drives a purchase, and it's not always branding efforts and content that create awareness. Use your research and understanding of your customers' buyer journey to guide your decisions.
Your research should have uncovered the types of information that your audience wants to have available when they are making a decision. Combine this knowledge with your story to craft messaging that resonates as your audience is going through their journey.
Spread the Message
While there is no one simple step-by-step, ordered buyer funnel for your entire audience, it's true there will be a time when they know nothing about your brand (hopefully only once); different times where they are researching and considering their decision to buy from you, a competitor, or to buy at all; and a time after they make that decision—and they will do most of this digitally. In fact, a recent study suggested that 67% of the buyer's journey is now done digitally.
The good news is that your digital marketing efforts and content can speak to these stages, combining paid, earned, and owned campaigns to reach the audience as they are making a decision.
A successful buyer journey digital marketing strategy should be less about getting people into an awareness stage and driving them down a funnel and more about understanding how your audience makes decisions and how you can be there to support them and add value throughout the entire life cycle of their journey.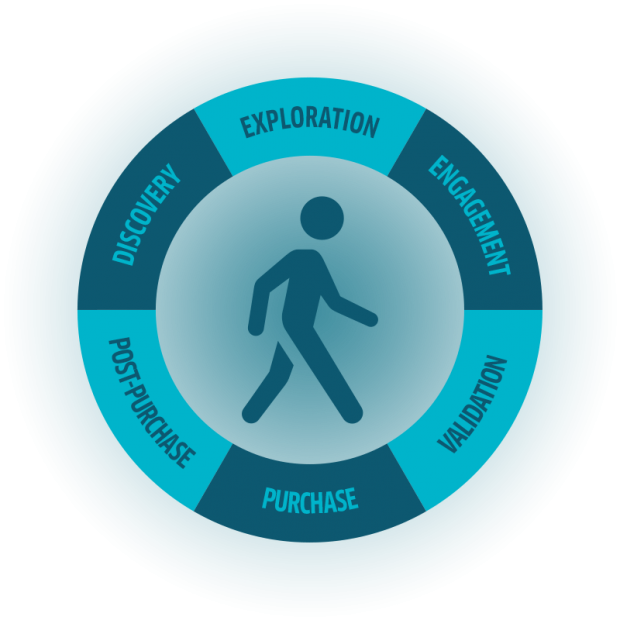 Once you know what messaging or content you should have, you can craft campaigns to deliver this content when it's needed or set yourself up to have a presence when your audience decides to take their own path.
Display, paid social campaigns, and PR efforts are a great way to get your story in front of an audience that may not know about you.
Paid search allows you to get in front of your audience as they are searching for related or competitor terms.
SEO efforts not only get you in front of your audience as they are searching for related terms, but off page and PR efforts can increase your visibility and spread your story as your audience is researching your industry or products on related sites.
Social campaigns provide an opportunity to engage your audience throughout their entire journey and give you the chance to tell a consistent story.
Email is a great way to keep your audience engaged and deliver relevant messaging to people who have opted in and shown some interest.
Retargeting allows you to segment your audience and show them the most valuable information based on how they have engaged with your brand or consumed your content in the past.
Marketing automation tools like Pardot or Silverpop make it easier to deliver the right message to the right person at the right time; but no matter the tool, no matter the channel, it's the message that matters. Create your landing pages and content with your story and your audience in mind, then build a plan to deliver it to them.
Engage and Reengage
One of the most important things to remember is that the buyer journey doesn't end at purchase. You can use channels like social media, email, and retargeting to keep your audience engaged. The messaging for this audience should be different, but if you continue to add value you can drive repeat purchasing and build brand advocacy that generates word of mouth results.
In Closing
While a step-by-step purchase funnel may have made sense in the past, we've all grown too sophisticated to think we're just buyers who are being pushed from one stage to the next, never to look back or question how we got there.
Remember, as a brand, you are telling a story to your audience. And, yeah, it would be nice if everyone sat down to read our stories page by page and in order, but they don't. Sometimes they'll skip ahead and sometimes they'll flip back to re-read a chapter. Sometimes they'll pick up other books and then come back to yours.
While we all go through a buyer journey, not every journey is the same. It makes sense to create content that maps to an ideal journey and to put a system in place to deliver that content, but you shouldn't be surprised when people decide to take their own journeys.
So build out your digital presence to support this thought, and be agile enough to ensure that you can follow along with your audience even when they take a turn you didn't expect. If the story stays interesting to them, they'll keep reading.