The Death of Last Click Attribution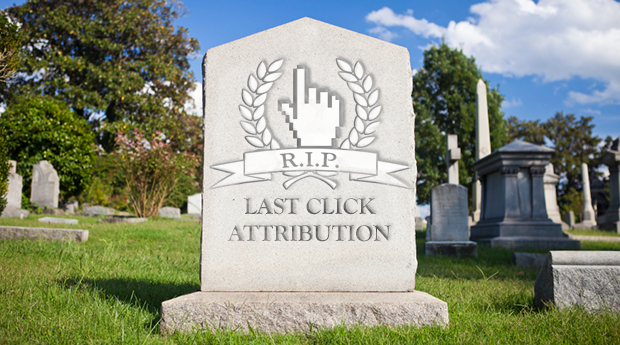 Almost everyone in digital marketing is slightly obsessed with Analytics. You might say that some of us are unhealthily obsessed. However, if you aren't the type of person who has nightmares about anthropomorphized bounce rates growing to giant sizes until the room can't contain them and they suffocate you (just me?), you may not be as familiar with the differences between "Last Click" attribution and "Multi-Channel" attribution.
What is Last-Click Attribution?
It may sound complicated, but it's actually pretty simple. Take a look at this example:
I want to buy a dress for an upcoming holiday party. First, I go to Google and search for "holiday party dresses". I click an organic listing for Piperlime and browse their selection. I don't buy anything, but I later come back directly by typing www.piperlime.com into my URL bar. Again, I don't buy anything, but I sign up for emails. Piperlime then emails me a sale promo, I click that email link, and I buy a dress.
In the past, Analytics was set up to give credit to the last action the user took before a conversion. In this case, the credit would be given to the email I received. But shouldn't organic search be given some credit, since it's what caused my initial brand interaction?
Despite massive shifts and innovations in digital marketing, Analytics has largely remained the same—a cookie-based tracking technology that offers up the same data (visits, time on site, traffic sources, conversions, etc.) that is has since its beginnings.
The problem is that this assumes that people are waaaay less complicated than they really are. Very few people buy anything after one brand interaction. We're comparison shoppers. We want the best deals. I don't buy anything until I'm sure I've found the best item at the best price.
Because of this, it's time we change the way we measure channel success. Optimizing based off last-click attribution just doesn't make sense anymore.
Multi-Channel for the Masses
Luckily, it's easier than ever to track users as they go through multiple touch points prior to converting. We typically call this the 'buying cycle'. Multi-channel tracking has been available for years; however, it's only recently been made available to a wider audience and to companies with lower budget resources.
Now, it's easy for any website to see their online buyer journey data with the free version of Google Analytics. Just open GA, click "Conversions", then "Multi-Channel Funnels". While you may need more advanced knowledge of GA to get to some of the really interesting data, Assisted Conversion information, Conversion Paths, and Path Lengths are all easily viewed from the main menu.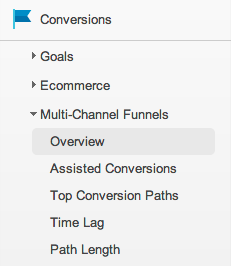 Multi-Channel Models
So, you have all this interesting data about customer buyer journey paths, but what can you actually do with it? And how does it affect your marketing budgets and bottom line?
This often depends on the attribution model that you choose to apply. Unfortunately, there are several models, and it can be difficult to determine which model works best for you and your company. The most common attribution models are Last Interaction, First Interaction, Linear, Time Decay, and Position Based.
To explain the differences in these models, let's go back to the Holiday Dress example. In this simplified example, there were three touch points prior to conversion, in this order: organic search, direct traffic, and email marketing.
First Interaction Modeling
First Interaction modeling gives 100% of the credit to the first interaction. In this case, that would be the organic search query. This can make sense, as it was the first touch point that drove brand awareness. However, it discredits any future marketing efforts. In my opinion, this model doesn't give enough credit to secondary touch points, which can ultimately drive that potential customer to become an actual customer.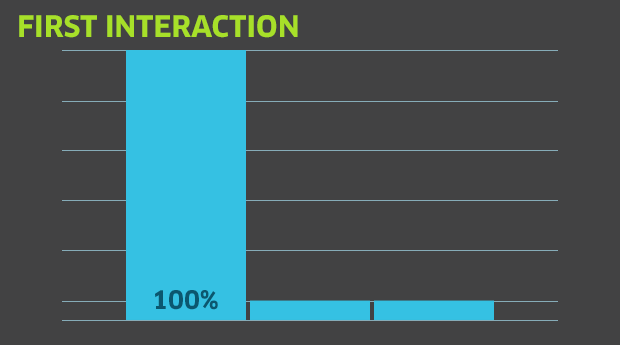 Last Interaction Modeling
Last Interaction modeling gives 100% of the credit to the last interaction prior to conversion. In our example, that would be email marketing. Personally, this is my least favorite model, but it can make sense in that it WAS the last thing that someone did prior to converting. So, you could make the case that the last interaction was the final driver to conversion.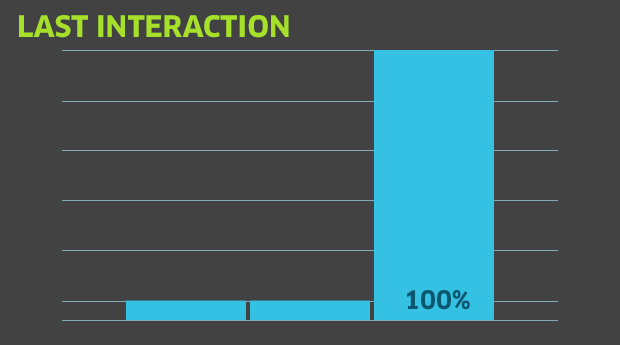 Linear Modeling
Linear modeling gives equal credit to every touch point. This can make sense if your campaigns are designed to target people at every stage of their decision cycle, and each campaign is designed to move the customer to the next step in their buyer journey.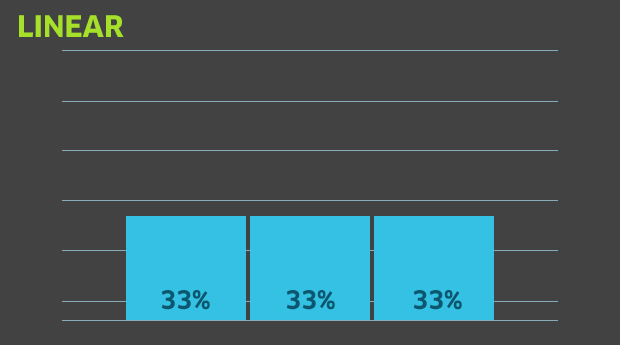 Time Decay Modeling
The Time Decay model assigns more credit as the customer gets closer to conversion. In our example, organic search would get the least credit, direct traffic would get more credit, and email marketing would get the most credit.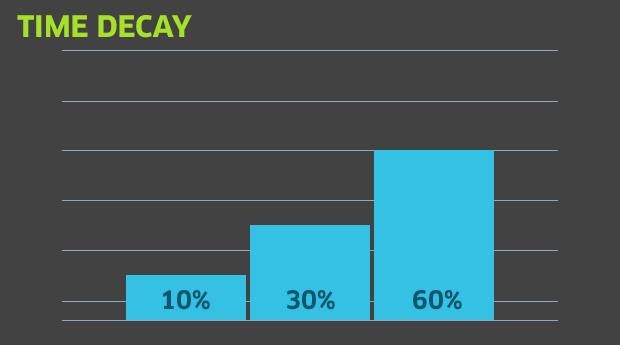 Position Based Modeling
A Position Based model allows you to give credit to touch points based on the position in the customer buyer journey. With this model, you can give more credit to the first touch point and the last touch point. I tend to favor this model, as it often makes sense to give more credit to the first campaign to drive awareness, and the last campaign that closed the sale.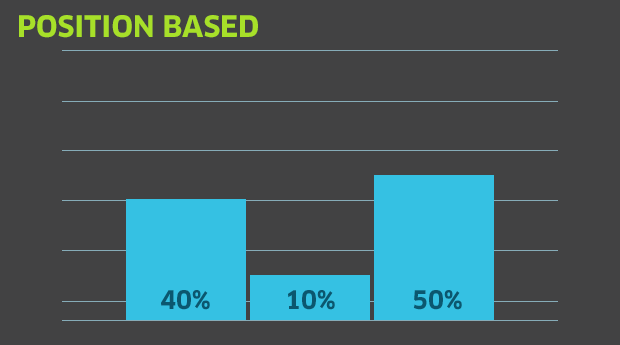 Choosing Your Model
It can be really difficult to choose which Attribution Model you should use. There is no right answer for everyone. When thinking about Attribution Modeling for your business, think about your marketing goals, your current marketing campaigns, and your sales cycle. These factors, combined with your intuition, are typically enough to determine the most appropriate model for you.
The good news is that, like most things in digital marketing, your attribution model decision doesn't have to be final. Currently, Google Analytics Premium allows you to easily evaluate your data with each model I've discussed.
If you are lucky enough to have GA Premium, just navigate to the Multi Channel Funnels section and select the different model types. Start with last click – this is how your data is typically displayed in most Analytics platforms. Then test out the different models. You might be surprised how much a certain channel contributes to end conversions. Keep an eye out for assisted conversions from social campaigns – this is typically an eye opener to the monetary value of social media.
[caption id="attachment_12410" align="alignnone" width="620"]

Assisted conversion value from Social Networks can be surprising, as seen here.[/caption]
If you, like most people, don't have GA Premium, don't worry! Google has announced that they will be rolling out this option to the non-paid version of Analytics in 2013.
Summary
Marketers have more data easily available to them than ever before. Are there still gaps in data? Of course. We still can't account for multi-device purchase paths, or perfectly reconcile offline purchase to online campaigns. However, isn't it better to optimize for the great information that we do have available than to move forward blindly?
Even without a modeling tool, multi-channel data can be extremely valuable in determining what keywords or campaigns are critical in assisting conversions. If you are solely relying on last-click data, you are missing out on the big picture – and could risk recommending that budgets are cut in channels that are vital to your bottom line.
So, what do you think? Are you using a specific attribution model? How has it changed your marketing efforts? Did you find any surprisingly valuable channels that didn't shine through in a last-click model?
If you haven't checked out this data, yet, please do so! I guarantee you'll find some interesting information. And, if you happen to work in social media, I accept thanks in the form of beer.