Sexism, Racism, & Ageism in Digital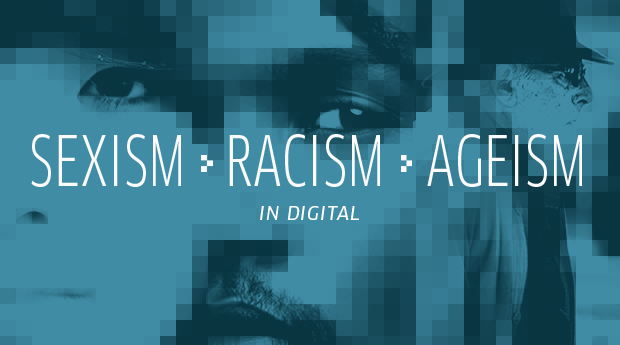 We all know digital marketing is an exciting, fast-moving, and extremely results-oriented industry. Generally, it has less bias and discrimination than many other industries. However, despite the progressive nature of digital marketing, disparities remain.
Workplace issues relating to sexual orientation, gender, race, etc., tend to not be as pronounced. Studies have shown that younger generations are more accepting of people different from themselves, and the digital industry skews younger. However, remnant underlying discrimination and historical bias still persist. And, even if they don't overtly exist, there may be underlying factors that influence hiring, promotion, and compensation practices.
Below, I examine sexism, racism, and ageism as it relates to our industry and Nebo. My goal is to have a conversation about what we're doing right and what we can improve in an unvarnished and honest manner.
Sexism
Currently, women in the U.S. are paid $0.77 for every dollar a man makes. In our industry, the numbers aren't much better, with women making $0.83/1.00. What makes these numbers so surprising is the fact that the ad industry is predominantly female.
The national workforce composition shows that women make up 47% of the workforce while holding 29% of executive / senior level positions.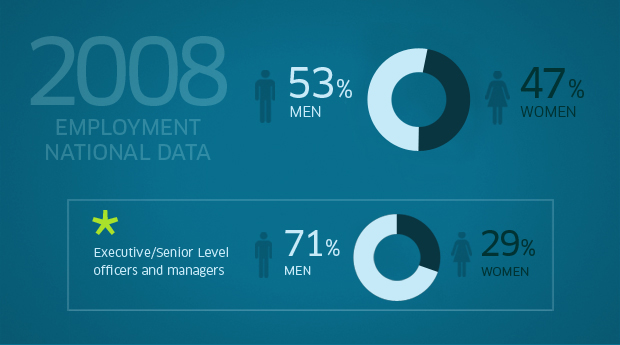 In contrast, the ad industry is 55.9% female. Yet only 39.9% of women hold jobs on the executive / senior level, with most holding sales and clerical positions.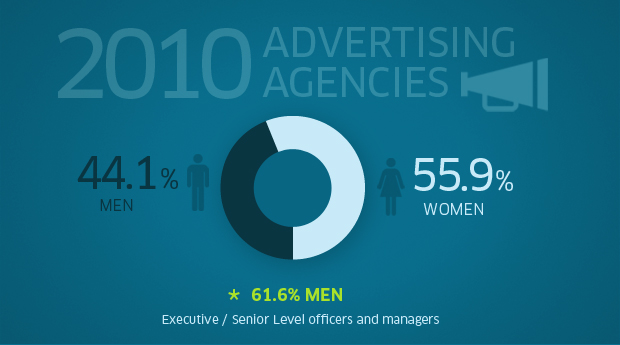 Sadly, our seemingly progressive industry isn't much different than the rest of the world. Too often we allow stereotypes to influence job roles. The PR woman. The SEO guy. The non-American .NET developer. The white male PHP developer.
I've had someone question a hire we've made saying, "Women can't code." Our Director of Web and Application Development is a woman. If we had allowed ourselves to be influenced by this particular nasty stereotype, we would have missed out on one of our best employees. I used to be a programmer, and she could run circles around me, even when I was at my peak.
The SEM industry is dominated by men; however, our SEM team is led by talented and driven women. Under their leadership, we've received dozens of accolades, have grown every year of our existence, and have been ranked the top SEO firm in the industry 2 of the past 3 years.
I'm not saying this to get a pat on the back, or to cheerlead Nebo. I'm simply making the point that we should all work to avoid stereotyping candidates. It might have been easier to let stereotypes influence how we hired, promoted, and grew our team, but our team would have been worse off for it.
The influence of stereotypes can be especially damaging early in people's careers when they are trying to embark on their initial journey. Too many talented women are sent in a client-facing direction. Shortsighted managers judge their looks first or assume they should be in a stereotypical career role before they delve into their intellect, capabilities, and interests.
I consider myself a feminist. That said, I know I'm flawed and have said and done many insensitive things over the years. I'm on a journey to grow, learn, and evolve. I don't expect to be perfect or expect Nebo to have perfect gender equality, but I do aspire for us to get as close as we can.
As it stands right now, women at Nebo make 1.79% more than the men at Nebo. However, this fluctuates as our team changes. Our goal isn't simply to employ overall equal pay, but rather, to provide equal pay for equal work (i.e. equal opportunity and equal choice).
Racism
I remember as a kid playing sports and competing in other team environments, wanting to be on the most talented teams – the winning teams. No one cared about race. When you're 12 you just want to win the game. Play with your friends. Get better and have fun.
Unfortunately, minorities still aren't afforded the same opportunities as their Caucasian counterparts in the work force. I'll be the first to admit that our industry has a lot of work to do here.
Ad agency labor force composition is 67% White and 23% Minority yet minorities only make up 11% of executive and senior level positions.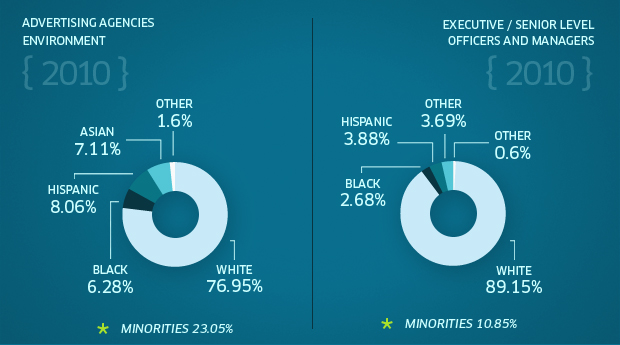 Disparities prove to be greater nationally despite the large gaps in ad agency labor presented above. National data shows a labor force composition that is 66% White and 34% Minority, however, minorities only make up 12% of all executive and senior level positions.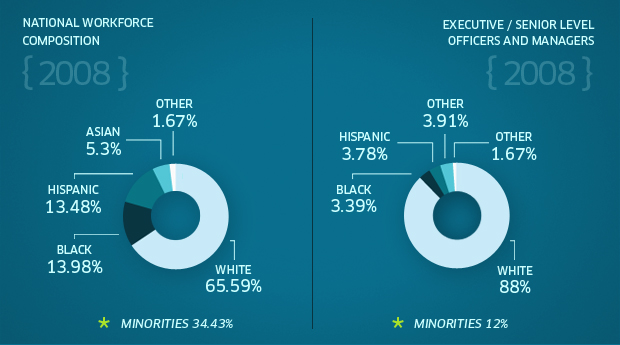 The racial imbalance isn't usually due to overt racism. And it's not just related to stereotypes. In many cases, it starts much earlier - in primary school throughout college.
Unfortunately, many minorities (and Americans in general) aren't getting science and technology educations.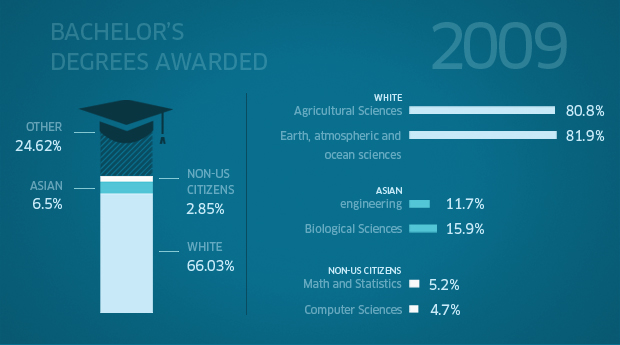 While our industry might not be able to fix the broader societal educational issues, we should strive for change nonetheless.
Let's start with Nebo - I would give our company a "C" on our racial hiring and promotion practices. It's not that we discriminate – we don't. It's not that we don't give equal hiring and promotion opportunities – I believe we do. We hire and promote the best people, period.
But simply hiring the best people is not enough. Our team consists of about 20% minorities, which probably reflects the numbers in the general pool of resumes and applicants we receive. Along with many other digital firms, Nebo needs to ramp its recruitment of minorities. This is especially important as potential employees begin their careers.
As I confessed above, we have a lot of work to do here. This post isn't meant to be a one-way conversation. I want others' ideas and thoughts. Like any competitive environment, we want to hire, retain, and promote the best people. What is your company currently doing to improve this racial employment gap?
Ageism
Ageism is the elephant in the room regarding discrimination in our industry. The digital industry skews young. This leads to younger applicant pools and discourages older, more experienced professionals to make the career jump into digital. However, not hiring and recruiting older employees is inherently destructive. Senior employees bring years of knowledge, experience, and intuition to the table.
Age skews younger in computer systems, design, and advertising when compared to employment across all industries combined.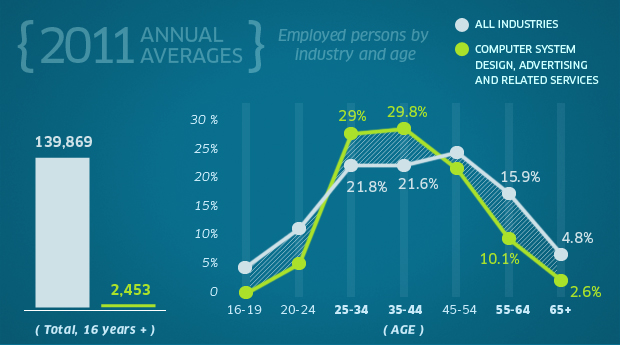 10 years ago, while working for a former firm, I had my first glimpse at age discrimination.
At this firm, I saw ageism aimed at the young and old alike. However, this case is in reference to an older applicant. We were hiring a Director of Business Development for the U.S. office, and a Senior VP from the corporate headquarters in Europe was in town to interview candidates. He took one look at the well-dressed, assumedly well-qualified applicant in the lobby and announced, "I'm not interviewing this guy."
"Why?!" I asked. Bluntly, in front of 2 or 3 others, he replied, "He's too old." One of the senior members of the U.S. staff quickly said, "You can't say that!" But it didn't matter. The gentleman was interviewed by 2 of the 3 team members, but not the VP. He didn't get the job.
6 months later, after hiring a younger sales manager, our sales started tanking and heads rolled – just not the Senior VP's.
Imagine if it was Steve Jobs applying for a senior digital creative position. Any firm would've been kicking themselves had they judged him by his age and assumed he didn't get digital.
Similar to my views on our hiring and promoting practices on race, I'd give Nebo a "C" here, as well. We have a very young team. We feel we give equal opportunity to the applicants and resumes we receive, but we also need to do a better job of recruiting those with more experience.
Additionally, we need to work even harder to make Nebo an environment in which more experienced professionals can see themselves growing and thriving. We'd be foolish not to bring on driven and experienced resources to help take our team to the next level, as any firm would.
However, the sad truth about ageism, at least in my experience, is that it's the one discriminatory practice people are least afraid of practicing openly. You're much more likely to hear someone say a potential candidate is too old or too young for the job than 'not the right gender' or 'not the right race'.
The funny thing is that we all get old, so why wouldn't we want to set up environments where we could flourish throughout our careers? Why wouldn't we want to tap into the wisdom of the previous generations? Why wouldn't we want to create corporate cultures that got the best of people throughout their lives?
Summary
Our industry is doing better than average when it comes to discrimination, but we're not doing enough.
The best firms work hard to not only hire the best applicants, but also to ensure they're recruiting from broad, diverse pools. As we were doing the research for this post and examining our own team, recruiting practices, and work environment, we realized we simply couldn't just comment on the subject. We need to make changes.
So, we're starting two separate initiatives:
We're instituting a minority recruitment program starting with broadening our college recruitment. This will be an evolving program, and it will also include a qualitative research component so we can do more than drive resumes. It will help us uncover insights to make meaningful changes to our hiring, promotion, and retention practices.
We're undertaking a study to help us better understand and create programs to engage and recruit more experienced employees. This one is more complicated in my view. The more experience someone has in a particular field, the less likely they are to make an industry shift. Hence, you end up with a cycle that perpetuates ageism, even if it's not intentional. Regardless, we're going to study the situation and implement change.
As I mentioned before, I've said and done many insensitive things over the course of my life and career. Frankly, we all have. No one is perfect, but we should all try to grow, evolve, and change.
One of the goals of this post was to spark conversations about what we're doing right and wrong as an industry. We understand we can't change things overnight, but we're hoping an open discussion will educate, inspire, and provoke change down the road. We encourage you to share how you feel about this topic. What is your organization currently doing to improve discrimination or promote fair pay? What are some of your thoughts and ideas? Feel free to join the conversation on our Facebook or Twitter pages.