A Second Look at Google+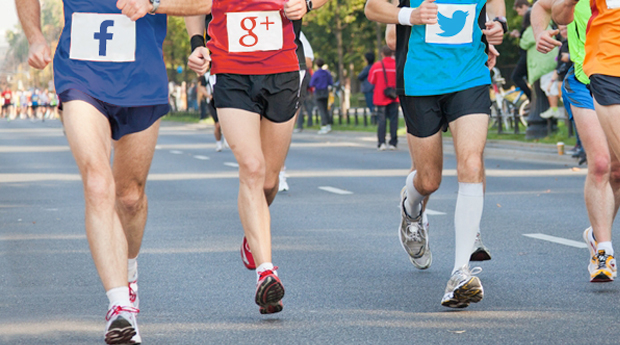 Since Google+ launched to huge demand in the summer of 2011, it has been ridiculed as a "ghost town" - as Google's sad wannabe social network. It's that social site that you accidentally check once a month - only to confirm that, yes, there's nothing still going on.
But in January, eMarketer confirmed that Google+ has surpassed Twitter to become the 2nd largest social network worldwide, behind Facebook, serving 26% of internet users - with 343 million active users according to GlobalWebIndex.
Even so, Google is smart enough to know that this race will be a marathon and not a sprint. After taking a second look at Google+, we think it's poised to become not necessarily the largest, but the most successful social network in the long run.
Google's Playing a Different Game
When Google+ launched in 2011, it was generally received as Google's "better" version of Facebook. The idea of having a Facebook profile without the hassles of Facebook (constantly changing privacy policies, etc) was a powerful motivator for many and drove much of the initial excitement throughout that summer.
And then the Network Effect reared its head. The network effect is the idea that the more people that use a network, the more valuable it becomes. It is seen in all industries, but is most exemplified in the tech industry where platforms and whole companies live and die because of mass adoption (or lack thereof).
That's why everyone has thought of Google+ as a failure – or at least an underachiever. Even though millions loved Google+ in theory, they didn't actively use Google+ because not all their friends were there yet, so they just stayed on Facebook. So, Google+ remained a ghost town.
But what people missed is that Google+ was never competing with Facebook head to head - or Twitter, Pinterest, or even mySpace for that matter. Google had already tried to compete head to head with Facebook back in 2004 with Orkut and failed.
It had already lost the general-purpose social network game so, like all good strategists, it decided to change the rules. It went back to its core mission - to organize the world's information. And part of the world's information is you and me - and all 7 billion of us.
Unlike Facebook, which wants to make the world open and more connected, or Twitter, which wants to connect you to whatever is meaningful to you, Google wants to be the 3rd half of your brain.
When you're logged into Google, Google knows what you actually search for (see your search history here), what websites you actually visit (see your ad preferences here), and what videos you actually enjoy (see your YouTube history here).
Google's goal with Google+ is not to win a head to head competition with Facebook or Twitter. It's to add a social layer to all of Google's services - to give users no reason to leave or log out.
Twitter wants to serve you ads based on whom you interact with; Facebook wants to serve ads based on whom you like and whom you are friends with. Google wants to serve you ads based on what you will need and want… before you know what you need and want.
And that means that Google can play to the competition very differently.
Google+ Is Product and User First
Since the goal of Google+ is to help Google understand you better than you understand yourself, it can focus more on features, designs, and core product than other social networks. Google can play the long game. It can use Google+ to make money in different and better ways (such as search ads) without interrupting your social life with display advertisements.
In the marathon of tech competition, this ability will put Google+ ahead of Facebook, not necessarily in number of users, but in innovation, mindshare, and overall profitability.
This scenario of a better product and a better focus breaking the Network Effect has already played out in another market. In the 1990s, Microsoft consolidated its dominance in the desktop and laptop market via the Network Effect to the point of nearly driving Apple out of business. But in the 2000s, Apple began focusing on brand, design, and inventing completely new products for consumers. Apple still does not have the majority marketshare in desktop and laptop operating systems, but it has become the aspirational brand, and the most profitable company in the space. It has created a whole new market where Microsoft is only a marginal player.
There is a similar parallel happening in the social space. Facebook's US growth has plateaued in the developed world and the company is now focused on exploiting the network it has. Pew recently found that a majority of teenagers "hate using Facebook" and only use it because they feel like they have to.
Facebook and Twitter are nearly 100% dependent on 1 finite resource to improve revenue - users' attention span. They are both trying to break out of this model, but are still knee capped by the tradeoff required to both improve user experience and show even more ads.
Google, on the other hand, makes money by providing answers to questions - which is a nearly infinite resource. It has a lucrative and growing revenue base that allows it to pursue its long-term strategy with Google+. Google+ can focus on solving problems, rather than pushing ads, which has allowed it to become the leader in design and innovative social products since 2011.
Google+ Hangouts, integrated photo editor, Circles, ad-free interface, Instant Upload, and integration with other heavily used products such as Calendar, Gmail, and YouTube are all examples of features that give Google+ an advantage over Facebook. In May, Google+ was able to relaunch a completely new, compelling design that can exist because it isn't tied to serving in-stream or display ads in the interface.
And yet, despite its growing popularity and hot features such as Hangouts, Google+ still can't shake its "ghost town" perception among mainstream users.
What Google+ Needs
Google+ may be playing a different game than Facebook and it may have a better product, but it still needs more users - especially active users. It needs to improve engagement and time on site, not just as an end goal, but because user data is what will allow Google+ to improve and become even more useful.
To achieve more engagement, it needs to do what Google has already been doing... only better.
First, Google needs to differentiate Google+ even more from other social networks. Explaining the social layer and universal integration doesn't work as a sound bite. Google+ has plenty of early adopters and potential evangelists - but it doesn't have a cohesive sales pitch for those evangelists to give to their friends and family. Until it does, it will keep growing, but will never hit the tipping point to fulfill its potential and will remain "Google's Facebook" in the eyes of the mainstream user.
Second, Google needs even deeper integration with all of its products, so that people end up using Google+ without even knowing it. For example, part of the reason my sisters started using Google+ was because they love Picasa and Gchat. Those products' seamless integration into Google+ Photos and Hangouts made them start to use Google+ even more without really making a conscious choice to. Google has a huge range of products that people use every day, like Google Now, which it can use to build Google+ use from without. In particular, YouTube is a huge opportunity here. It is the world's 2nd largest search engine and the 3rd largest social network. Seamless integration with YouTube could be the tipping point that makes Google+ inescapable.
But what Google+ needs most is for users to actively give it a second look. Find people to circle and interact with. Really give it a go for a week.
Facebook and Twitter aren't going away anytime soon - but Yahoo! and mySpace haven't gone away either. The race to tech dominance is a marathon, and even though Facebook got out of the gate with a huge lead - Friendster also had that lead at one time. For the rest of the race, Google+ looks like it's in a good position.