#Pride or #Greed? Brands and Rainbow Capitalism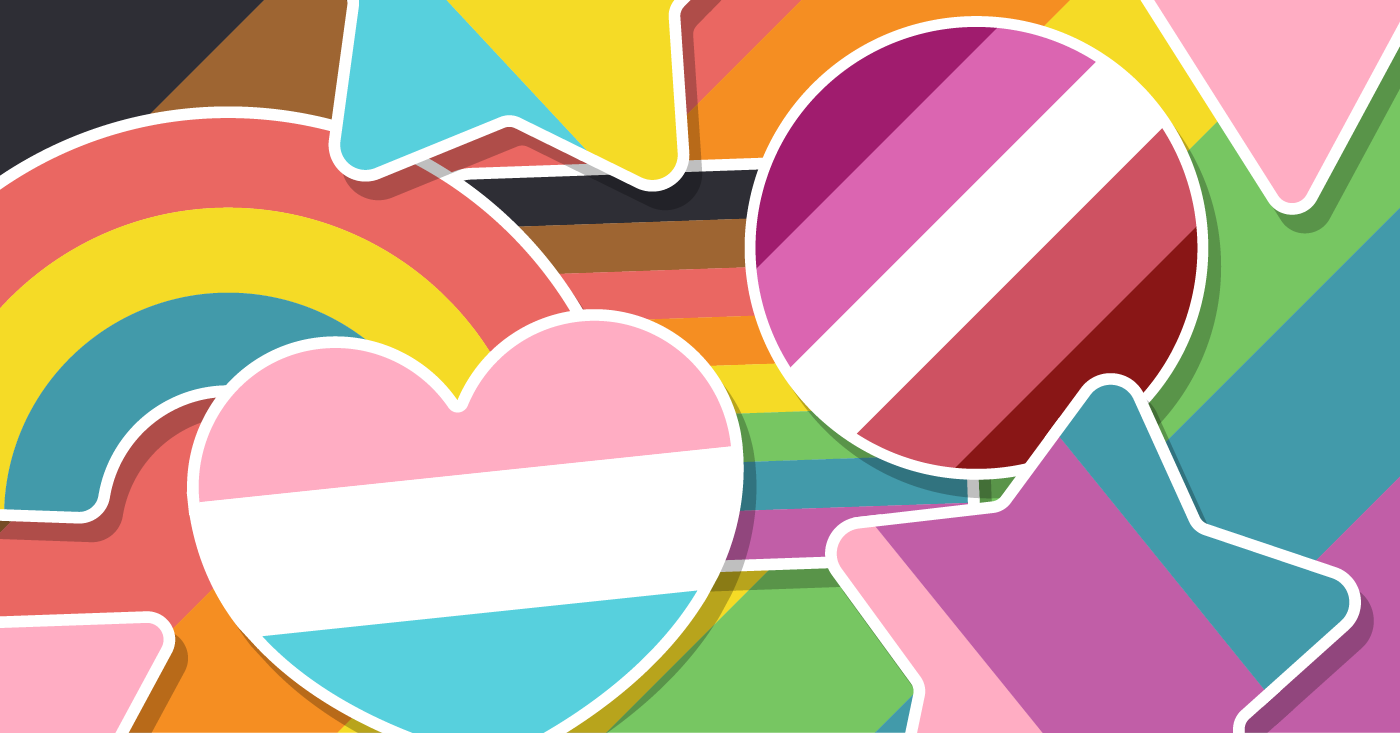 🎵It's the most colorful time of the year. 🎶
That's right, it's Pride Month. While the gays are dusting off their summer cutoffs, clacking their fans and readying their fanny packs, brands are more than happy to dive right into the wide stream acceptance our LGBTQIA+ community sees during this time of year. What better way to show that you're a caring, supportive brand than to hop aboard the Rainbow Capitalism bandwagon?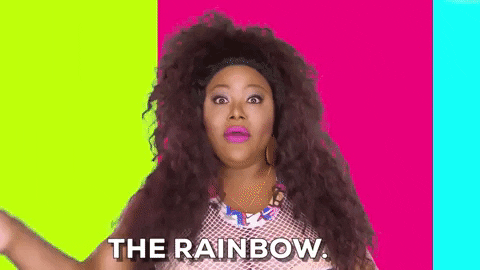 Source: Giphy
Finding a social graphic with big names overlayed on a traditional rainbow flag isn't anything new. It might have originated from a place built on good intentions, to show that they were decidedly on the right side of the fight for human rights and marriage equality. But in more recent years, brands with a lesser moral and ethical compass have learned that slapping rainbows on their product is not only a quick way to make a buck, it's also a lucrative PR move.
That's where it begins and ends for many brands, but as we evolve, consumers are becoming a bit more wily when it comes to making the distinction between an ally brand and one that's simply out to make a quick buck by exploiting the gay community and the rich history of our flag.
Unfortunately, but not surprisingly, I've experienced this first hand. As you can see from my inquiries into an ad I was served on Instagram, it happens with smaller brands hawking graphic T-shirts. Before the comments were deleted, @thehomet dismissed my concern by resting on the laurels of donating to a core cause.
(Read left to right)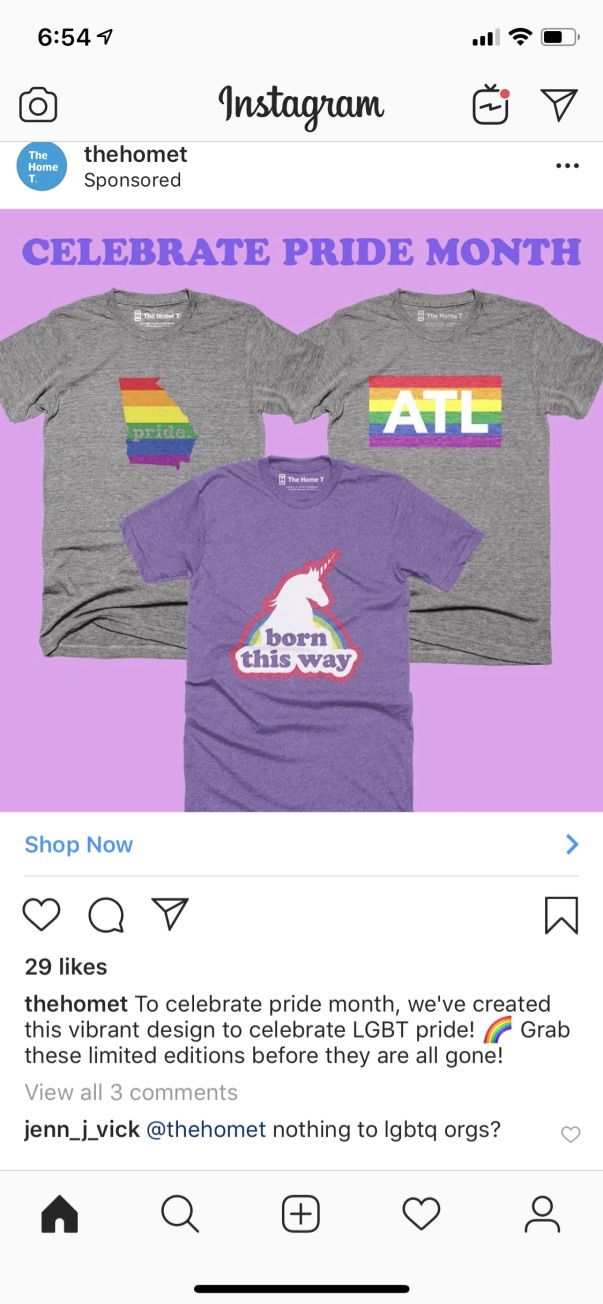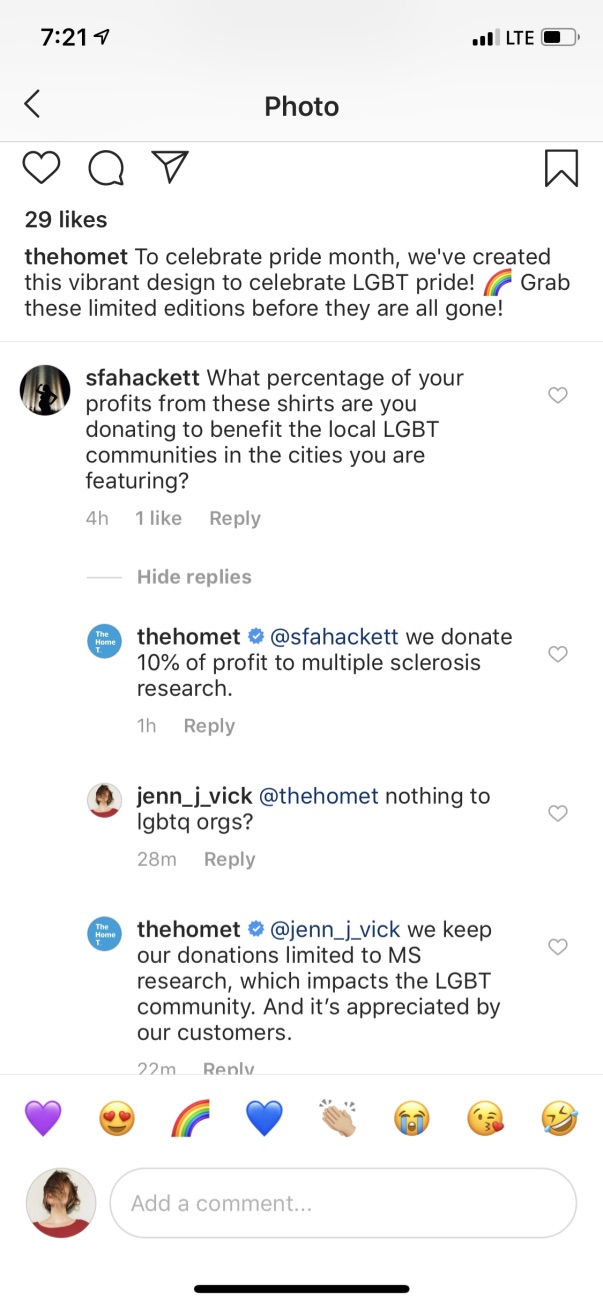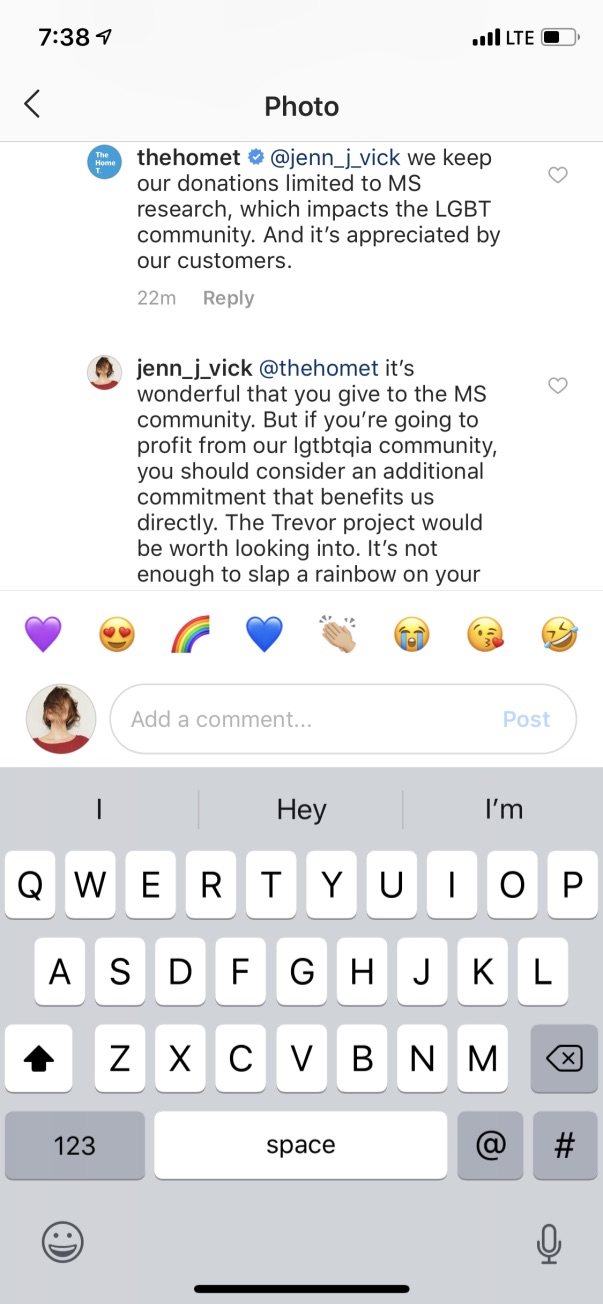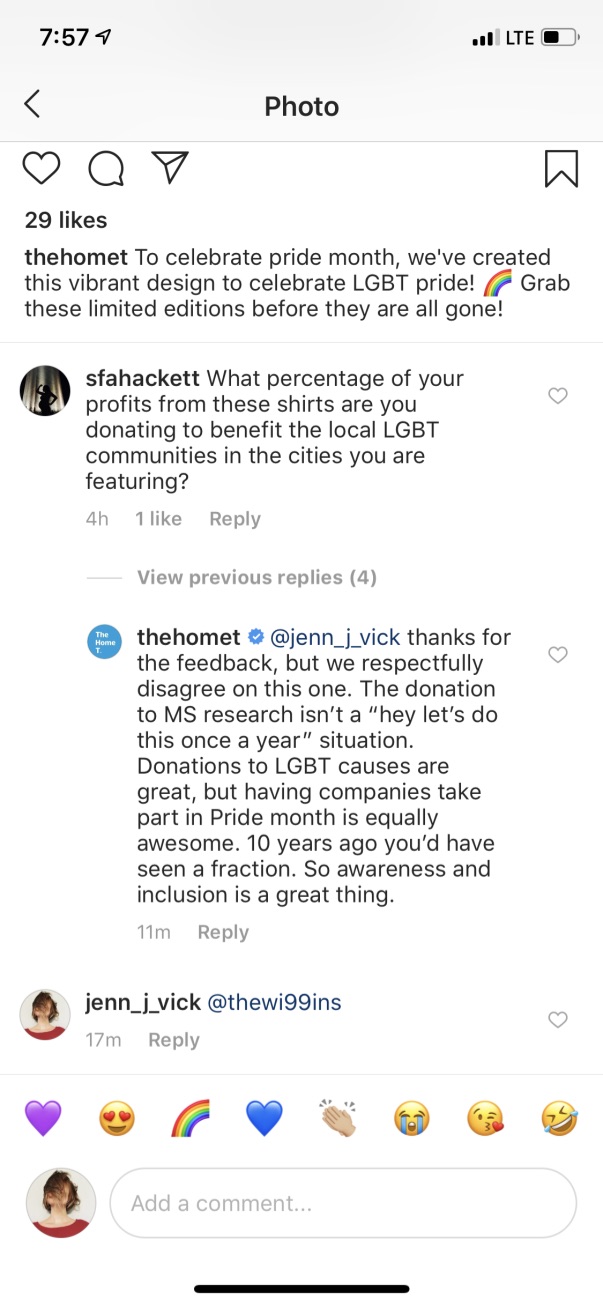 The next example was particularly hard for my partner, as it resulted in her breaking up with @chubbies. You can tell they are very cautious about their community management, but when she DM'd, they gave her the ol' canned 'thanks for your feedback' song and dance.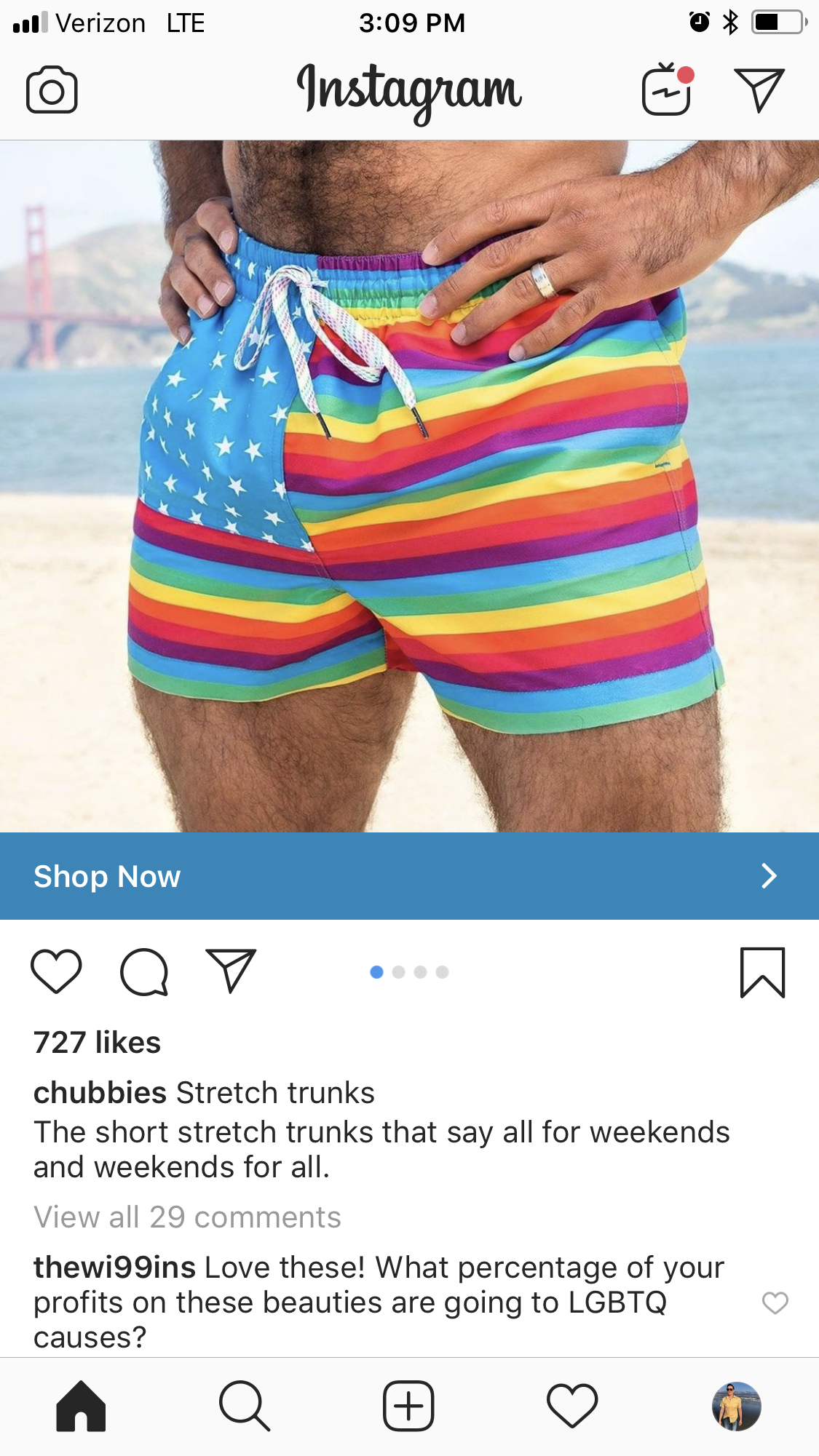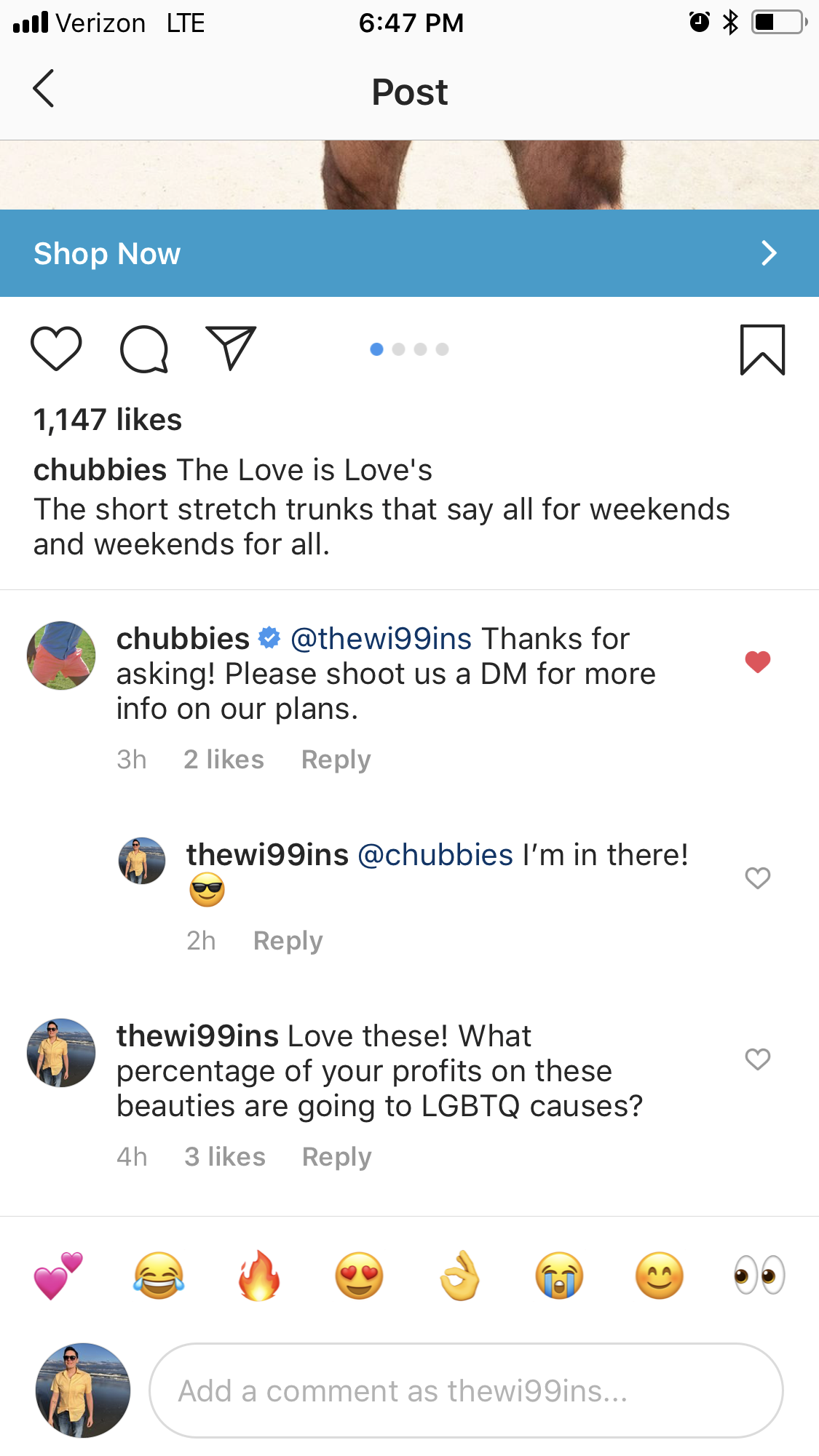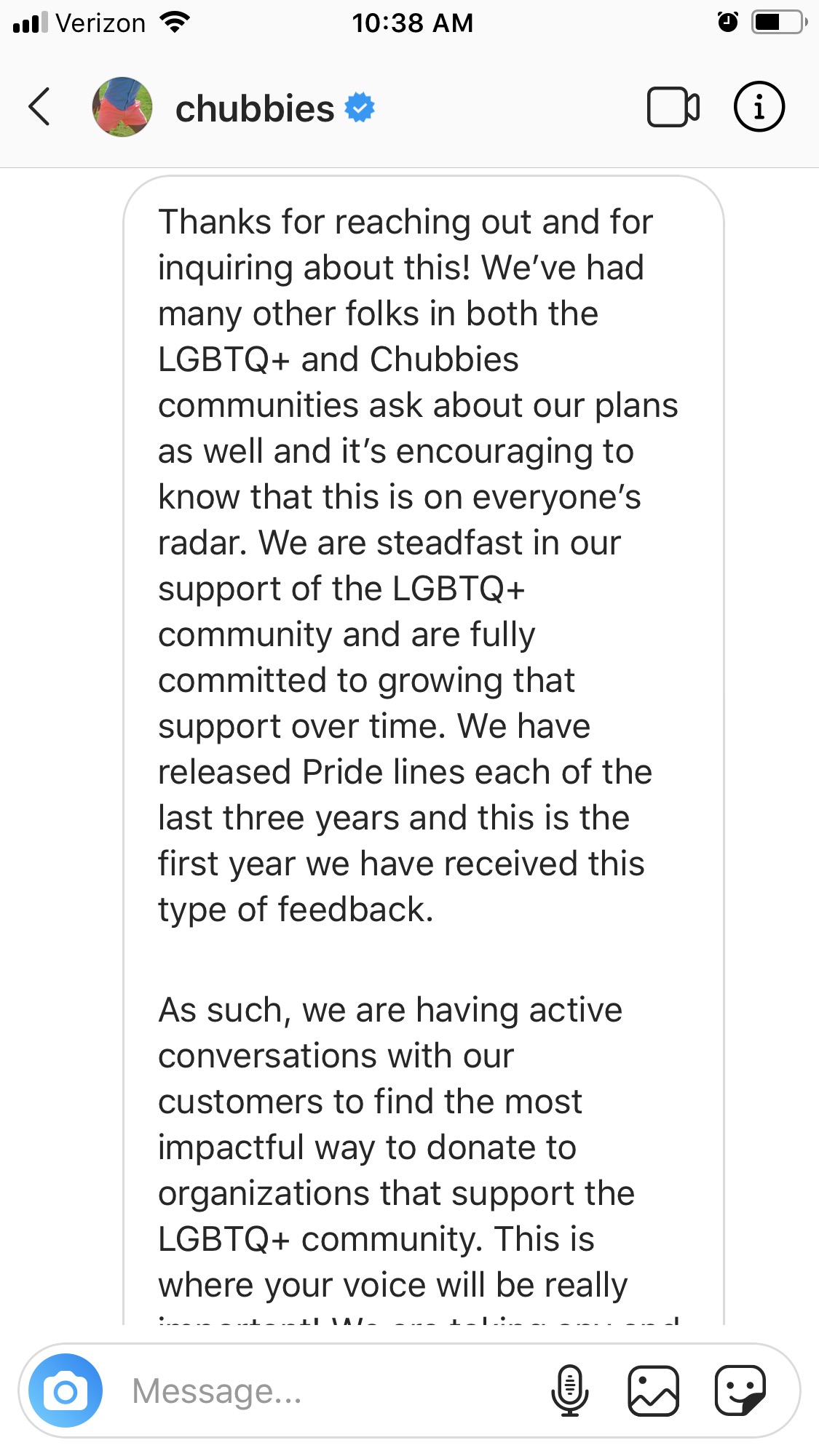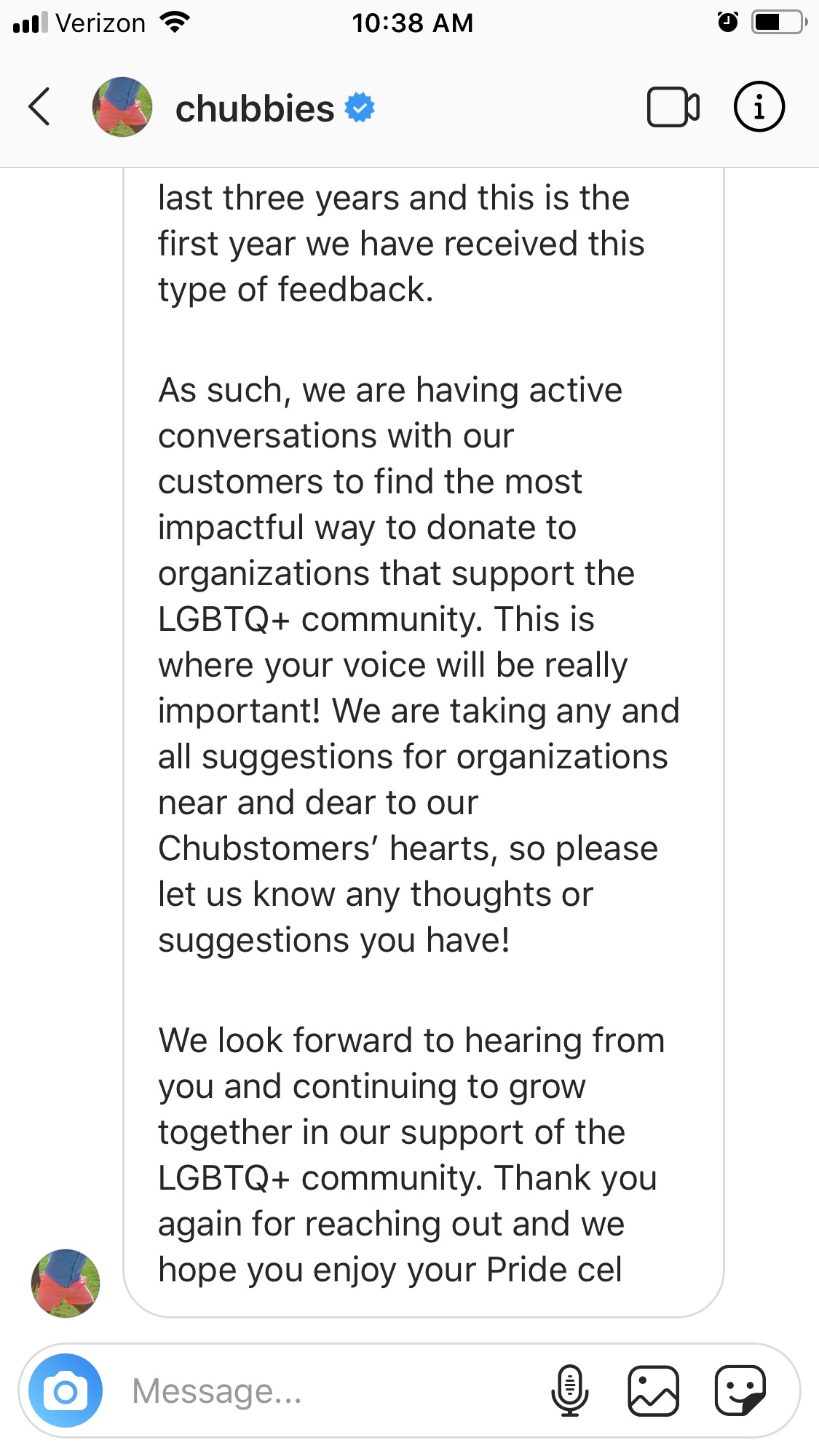 While you could argue that even this superficial show of support is progress for LGBTQIA+ people, what I take issue with is brands who are blatantly pandering, just trying to sell one more pair of shorts (lookin' at you, Chubbies), without giving back a single cent. For those of us who are catching on to this and are curious, it's especially disheartening to DM your go-to brands, to discover that they're not only keeping all the profits, but they haven't even bothered to look into the causes of our community. Ya know, so they could at least pretend they were thinking about donating.
This year more than ever, 🌈Rainbow Capitalism 🌈 has been (rightly) criticized. It's been written about, talked about, and dissected ad nauseam. And yet, here I am writing one more impassioned blog post. Here I am shouting into my small but mighty megaphone to encourage everyone to *respectfully* engage in the comments and slide into those brand DMs to get the facts. We need to call out the ones who are profiting without giving back, because it's the most modern way to stand up for transparency from corporate operations. It's also up to us to educate them about our needs if we aren't happy with a "thanks for your feedback" response. If that means memorizing youth suicide rates, so be it.
Here's a good place to start. According to the Trevor Project, LGBTQIA+ youths have 2 to 6 times higher rates of reported suicide attempts. Knowing this number, knowing that these children feel alone, knowing that they feel no comfort in their own skin; this is where we start, and from here, we only get louder and we tell everyone.
We face another epidemic. Black trans women are being murdered at higher rates than ever before. It's a crisis, and some of the women are being targeted within the same neighborhoods. Look at Dallas and Maryland. Yet, no one is saying enough about these lives lost. If you thought black lives were struggling to matter, you should see how the world feels about black trans lives.
In a recent statement released by the American Medical Association, board member S. Bobby Mukkamala shared, "According to available tracking, fatal anti-transgender violence in the U.S. is on the rise, and most victims were black transgender women."
If we do anything productive with this month, we utilize it to remind the people and brands that can blindly ignore these facts while they turn a cold, hard profit, that the rainbow flag isn't a novelty. It's not an ugly Christmas sweater. It is a beacon for our youth, a totem that stands for our love of one another, and a symbol of our resilience in spite of our oppressors.
Our community faces so many real issues, and the common theme is our people are dying. When it's not suicide, our people are murdered for something as innocent as leaving the safe spaces we've had to create to be ourselves. Even more sadistic, we are gunned down in our own safe havens. So when I see Chubbies selling rainbow shorts while not giving a damn about us, yeah, I'm going to get angry. Do we need to change our banners from rainbows to beaten-and-left-to-die-in-Laramie-blood-red to get brands' attention?
If that wasn't enough of a segue… I want to shift and speak more about how we individually prepare to have these conversations, on behalf of the LGBTQIA+ community. Let's start with a few tools to help make informed decisions about how we spend those hard earned dollah bills — whether you identify as part of the community or want to be the most effective ally.
Be Informed.
For the purpose of this scenario, you work hard and you're conscious about where you spend that dough. Let's say you go to a local donut shop every payday Friday, and you always toss $2 in their nondescript donation jar. You're happy, you've got a box full of sugar to share with office friends, but today, you happen to ask where the money actually goes. You find out this whole time the donation jar money has been going to organizations on a mission to eradicate swimming pools. Suddenly your heart is broken, because you love a good pool day, full of unicorn floats, booze and BBQ.
Gaaahh, who doesn't love a good pool day?!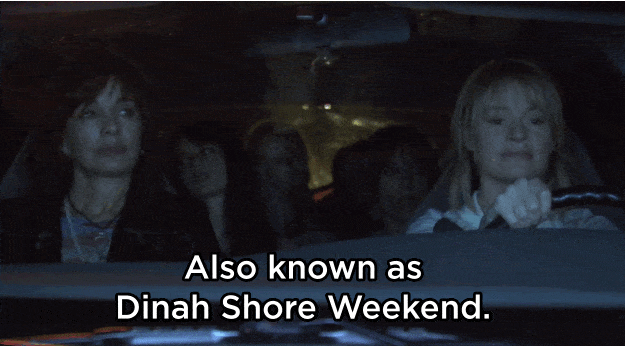 Source: Giphy
Now imagine the same scenario and substitute "pool" for "another human's right to the pursuit of happiness" and you'll almost be able to understand what it's like trying to avoid the Salvation Army Bellringer every day of every December.
Here in the South, Chick-fil-A is a beloved brand known for their peanut-oil fried chicken, crispy waffle fries, and Southern hospitality-inspired customer service. It's a Southern institution that is fiercely defended by its base, and attracts enough people to new store openings that seeing people camping out like it's Black Friday is the new normal. As I write this, I know that this will be the thing that inspires the most comments (that is, if the people who disagree with me make it down this far). But here's my problem: Chick-fil-A also donates millions of dollars to organizations that are known to be anti-LGBTQIA. Not only do they not intend stopping anytime soon despite backlash and boycotts, their executives claim that it's a "higher calling."
I'll stop you right there. It's not as simple as "don't eat at Chick-fil-A if you don't like their policies." In fact, I've got to hand it to them for opening a few doors in Florida on the Sunday morning after the Pulse massacre. You've probably guessed by now that doesn't hold enough weight with me when they continue to give to orgs that don't care for me. So even when a brand takes advantage of what we'll call a one-time kindness, it's still important to bring the reality of consumers' choices to the forefront.
The Human Right Campaign (HRC) is always a wonderful, dependable resource for keeping up. They're the largest civil rights organization working to achieve equality for lesbian, gay, bisexual, transgender and queer Americans. Every year, they release the Corporate Equality Index, which they describe as "the national benchmarking tool on corporate policies and practices pertinent to lesbian, gay, bisexual, transgender and queer employees." It's the go-to guide on which of your favorite big brands are proactive, indifferent, totally sucking or actively hurting the LGBTQIA community. You might be surprised what you find.
PFLAG has a running list of anti-LGBTQIA organizations that you can cross check against top brand's charitable or political donations. Though there is no legal obligation to disclose this information, you can often find it in tax returns or Corporate Social Responsibility reports.
All of this is fine and dandy, but it's up to you to decide if you want to be more purposeful about the brands you support or gently sweep all that uncomfortable stuff under the rug. Between me and you, I'm done with the notion of "ignorance is bliss."
Take Action.
So you want to show your allyship by wearing rainbow or sporting some #Pride swag? Start by getting your bandanas and tube tops straight from the (gay) source. Though there are too many to list here, below are a few that are making a profit, but most importantly, a difference:
Can't find your jam? Nylon put together a comprehensive list of brands that actually benefit the LGBTQIA+ community by giving back anywhere from 10 to 100 percent of proceeds to organizations, such as The Stonewall Foundation, The Trevor Project, and Trans Lifeline.
With so many resources at your giddy little fingertips, what are you still doing buying from those apathetic brands trying to make a profit from our pain? Be gone with your excuses.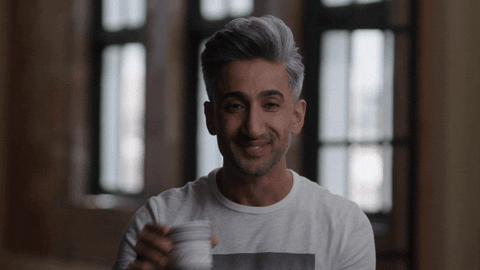 Dear Brands, Wake up.
We are stronger now, more than ever. We aren't mindlessly consuming anymore, even though we can purchase with more ease than ever before. We also have the ability to yield our mighty influence, but that doesn't mean we want to. You can avoid giving empty responses to real questions, and you don't have to wait until you're called out on public forum to make change or make excuses. I guess my genuine advice is don't be fucking lazy. Decide whether you want to be on the right or wrong side of history, but don't straddle the line. There's too much at stake, and you're gonna split your cargo pants.
I can't think of a better way to wrap this up than with a recent quote from the exquisite Indya Moore, "Celebrating Pride month is giving to queer, not selling to queer". Happy Pride y'all. 🌈🌈🌈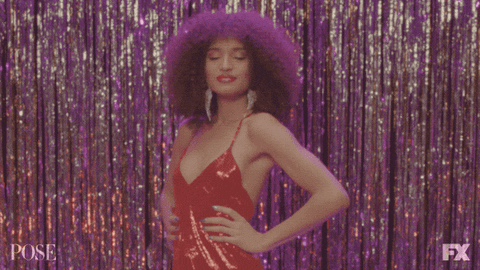 Source: Giphy
The Trevor Project is the leading national organization providing crisis intervention and suicide prevention services to lesbian, gay, bisexual, transgender and questioning youth. If you or a young LGBTQ person you care about is experiencing a crisis, please call the Trevor Lifeline at 866-488-7386. The call is free and confidential.