Penguin, Pinterest & Podcasts, Oh My! November 2016's Top Trends.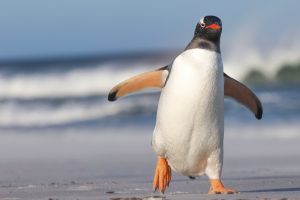 Flux.
If we had to describe digital marketing in just one word, that would be the winner. Between new platforms, new technologies, new dreams and desires, the digital landscape is in a constant state of change. As our needs and wishes evolve, marketers are always shifting and innovating, blazing new paths just to keep up. It's what makes working in digital so epic.
That's why we'll be keeping up with the digital world with a round-up of the trends and tech that are changing our industry and our society. So without further ado, here's what's up in the digital world — for now.
– Through click-to-message ad extensions, Google AdWords is making search messaging more efficient and effective. Users can now click and text companies directly from a search ad and start a conversation at their convenience.
– Pinterest is expected to become a formidable ad platform for marketers this holiday season, notes PPC Hero, due to the addition of four new audience-targeting features, including "actalike audiences," retargeting and customer list targeting.
– Snapchat also adopted Facebook-style ad targeting with the release of three new ad-targeting options, reports MarketingLand. Snap Audience Match, Lookalikes and Snapchat Lifestyle Categories are available to run between users' Stories, within Live Stories or within Discover channels.
– According to The Wall Street Journal, top-selling brands like GE, eBay, Purina and Spotify are experimenting with custom-sponsored podcast episodes and series as a story-forward form of sponsored media.
– "A man and woman searching for 'leather boots' online likely aren't looking for the same pair," WordStream writes, and now Google AdWords allows you to target these groups differently using new search demographic targeting by age, gender, parental status or income.
– Search Engine Watch reports that Google's site-ranking algorithm, Penguin, now treats pages on websites individually and in real time, penalizing specific pages rather than affecting the ranking of entire domains.
– According to Ad Week, Facebook's new "dynamic ads for retail" are designed to make ads more relevant to shoppers. Just in time for the holidays, these ads will display products that are actually available in neaby brick-and-mortar stores, bridging the gap between online and offline channels.