Niche Search: Where People Are Searching When They Aren't Searching on Google - Pinterest!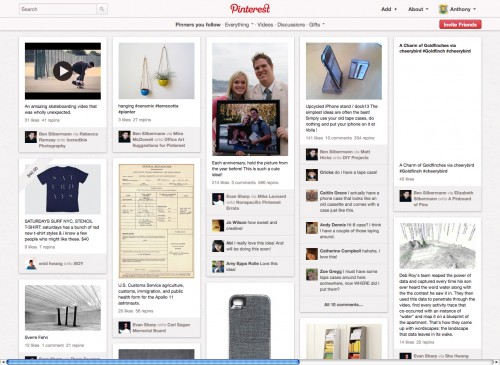 If you haven't heard, MC Hammer is starting his own search engine. Yes, that MC Hammer. His search engine, WireDoo, is a comedic reminder that there are other search options available besides Google and Bing. However, there are also quite a few interesting, alternative sites that are a bit different from the major, typical search engines. These places provide a more abstract, qualitative experience that, for some, is more interesting than the qualitative algorithmic search engines. Over the next few weeks, Nebo Agency will be exploring some of these niche sites that people use when they aren't searching on Google.
First up: Pinterest!
Pinterest and similar collection websites such as Svpply, Fancy, Piccy and the Gawkerverse, are online pinboards that allow users to "pin" images, products, recipes, and other online finds to a page and share them with a larger community. The site has been called a "discovery" engine, helping people find new things. Etsy, for example, receives considerable traffic from Pinterest. Users discover individual sellers they would not have otherwise known about. Pinterest has a large female following, and many of its more common topics include new recipes, fashion trends, DIY tips, home décor, wedding ideas and travel destinations.
For SEO, Pinterest provides a wealth of opportunity for link equity and developing user relationships. As a root site, Pinterest is very credible and would provide a hefty amount of value back to your site. Of course, being a community website, not all of that equity will be transferred to your links. Although the link strength is questionable, it still wouldn't hurt to give the site a shot to help increase your rankings.
If you want to experiment, create a company page on Pinterest and push out relevant content such as images and infographics that have correct descriptions, keywords, and helpful info that will "inspire" people to repin them to a larger community. Also, add a "pin-it" button to your website or blog.
In addition to your own images and link strategy, you should reach out to the Pinterest community to develop relationships. Look for images and people with interests similar to your products. For example, if you sell pet beds, look for people who collect images of dogs or dog products, engage them with contests or promotions, and provide links back to your site. People are already interested in your products, so as long as you aren't spamming them (and your interaction provides value) you should be fine.
As collection websites grow in popularity, they will have a stronger impact on search rankings. To gauge relevancy, Google has started taking a more serious look at social cues. This includes the buzz behind content, what people are talking about online, and liking and sharing. Pinterest has already shown similar traffic and popularity to Twitter, with no signs of slowing down. Eventually, activity on these kinds of sites will be another signal for relevancy. It would be smart for marketers to make sure their products are part of this growing conversation.