More Revolution Than Business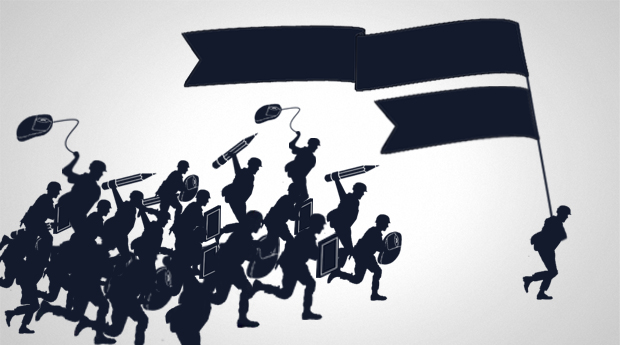 One of the most common questions we get asked is, "How did Nebo get its start?" Even though that's a good question, maybe a better question is, "Why did we start Nebo?"
Nebo wasn't started as a business. It was started as a revolution – a reaction against the failures and norms of the industry. We didn't have a business plan with 5-year forecasts or seek funding from investors. We didn't have unique intellectual property, proprietary tools, or knowledge. We simply saw a broken system, and we believed there was a better way.
At the time, there were practices in the advertising and marketing industries that just didn't make sense to us:
Agencies provided project estimates versus set project fees, so clients never knew what things were actually going to cost.
Retainer contracts were often 12, 24, or even 36-month agreements that locked clients into the agency's services regardless of results.
Companies were growing recklessly without regard for their culture or employees.
Core competencies such as design, development, and even search were being outsourced overseas to lower costs.
Most digital agencies were production houses without a core understanding of brand and marketing strategy.
Aging of invoices was a common practice – even for key vendors and partners.
And worst of all, there was a lack of respect for consumers.
So we decided to take a more human-centered approach and create an agency that treated clients, employees, vendors, and users the way we would want to be treated.
Although it seems like a no-brainer now, we realized every design, every campaign, and every keyword had to respect the user. It wasn't just about getting the user to click more or convert at a higher rate. It was about understanding the psychographic intent of the user. Understanding and respecting the actual human being that would use the site, click the ad, and actually engage digitally with our clients. How could we make that person's experience better?
With that thought in mind, we focused on revolutionizing the following practices of our industry:
We would provide project fees instead of project estimates. We'd take the burden of properly scoping the project. No surprises. No cost overruns. Just our word and our work.
All retainer projects would be month-to-month, rolling 30-day retainers. This would keep a healthy pressure on our team to perform, and it would promote sustainable, long-term relationships with our clients.
We would make a positive impact on everyone. It's easy to be successful when everyone you interact with is better for knowing you - clients, employees, vendors, competitors, friends, and family. Every relationship has to be symbiotic to be sustainable.
We wouldn't outsource core competencies. Providing lower quality work in an effort to cut costs is a recipe for mediocrity. We decided our core team would be located inside our office. We don't think you can outsource and keep the user experience. Good luck to those who try.
We would put a premium on strategy. Strategy would be the foundation of every campaign and website we launched.
Every design, every campaign, and every keyword would respect the user. We'd be the user's advocates, not just the client's.
We wouldn't cycle junior account people onto your account after the contract was signed. Our senior leaders would be involved in every project. Moreover, we vowed we wouldn't let a project come through the door unless one of our senior leaders vetted it personally.
We wouldn't allow cold calling – ever. Talk about something that kills the humanity and authenticity of a business. It's dehumanizing. We respect our clients and our staff too much.
We would pay our vendors immediately. Aging invoices isn't smart business. It's insulting to the vendor who did the work.
Not only do these practices allow us to keep our integrity, but they actually work. We've grown every year without laying off a single employee. We've never taken a dollar from VCs or outside investors. We've promoted from within. We've won some awards. We've shared food and drink with our team each week. We've made great friends and we've learned a ton.
We haven't made it yet. You never really make it, that's an illusion. But we've accomplished many of our goals. The most important of which is actually growing and thriving for 8 years while doing things our way. This vision of a better way – a more human-centered way – has been a large part of our success. We created a company that brings humanity back into the digital space.
We're proud of our team, our philosophy, and we're honored to have some incredible clients. There is still a lot of work to do, but I hope answering "why" we started as opposed to "how" we started gives a little insight into the revolution we call Nebo.