Meet a Creative: Jake Burk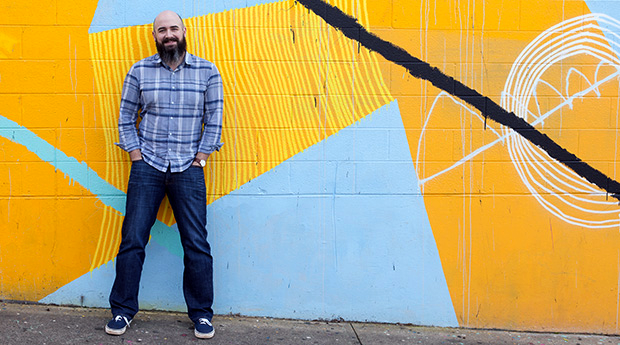 We've got some pretty cool cats at Nebo. Okay, let's be real... everyone at Nebo is a cool cat! And while you hear from us copywriters quite a bit, we want to show you the other men and women behind the curtain. So we're kicking off our "Meet a... " series. We'll be interviewing different team members around the office and highlighting them on the blog. First up: Jake Burk.
Nebo's Associate Creative Director Jake Burk is a self-described design addict. But he hasn't always been that way. He backed his way into advertising and design more than a decade ago, and now that he has the bug, there's no kicking it. Jake sat down with us to talk about his career as a designer and give some advice for young designers looking to break into the industry.
Did you draw or design as a kid?
Not at all. I grew up on a cattle ranch in Oklahoma and would have been considered a jock up through high school. I played basketball and was a three-time state champion. If you think of a small town Texas football school like Friday Night Lights, we were a small town Oklahoma basketball school.
What did you go to school for?
I started in computer sciences but eventually switched to a program in 3D animation and video editing.
How did you get from animation and video editing to what you do now?
It was a kind of meandering trail. Once I finished 3D animation and video editing I realized that it takes five to six years to create movies like Toy Story and Monsters, Inc. I didn't have the attention span for that, so I moved on to advertising because I thought I could transfer my video editing experience to commercials. I enrolled in Oklahoma State's advertising program, but it was kind of a dated program and housed within their journalism and broadcasting school. It felt like they were training me to be an art director in the 1970s, so I came out of there with a lot of bad magazine ads and storyboards — things that agencies weren't really looking for anymore.
What was your first design job?
After graduation I wound up attending a conference being put on by the Dallas Society of Visual Communications and somehow talked my way into an internship with an agency called TracyLocke. They were doing big campaigns for Pepsi, 7-Eleven, Pizza Hut, and Hasbro, companies like that. The internship was a good introduction because they let us rotate through a lot of their accounts. One week, I'd be working on point-of-purchase displays for Frito-Lay and the next I'd be sitting in a warehouse watching them film a commercial for some new transformer toy. After that I bounced around for about eight months, doing any sort of contract work I could find.
So you started working with big brands pretty early in your career. Did that help get traction for future gigs?
It probably helped a little bit because it gave me experience, but it was never the kind of stuff I would show off in my portfolio. I was paying my dues. But the networking through those jobs led me to other jobs with other agencies at that level. After a full year in Dallas, I ended up following my wife back to Stillwater, Okla., and that's where I took my first full-time graphic design job. It was at the national headquarters of a nonprofit organization. I did that for three years. It wasn't the most exciting work, but it gave me a chance to refine my skills and teach myself all the things I realized I didn't learn in school.
Were there any books or designers you came across that changed your approach to design?
The first time I ran into anyone in the creative industry that sort of knocked me off my game was when I was interning with TracyLocke. I set up a short meeting with the creative director on the Pepsi account because I wanted to get her feedback on my portfolio. I was probably 22 at the time. She glanced at my work and without blinking an eye said, "This is total crap." I'd been bouncing around departments getting people's take on the book, and I don't think anyone was amazed, but everyone was sort of nice about it. Giving me little tweaks and suggestions. This was the first time someone had been blatantly honest and it ended up being exactly what I needed. It knocked me out of the comfort zone I had as a student. I redid my entire book that year.
It's those people who push you the hardest who you look back on afterwards and realize, "Oh, that person really influenced me and I want to be a little bit like that."
What do you look for when hiring designers?
If I'm looking at a candidate's work, I'm asking myself, "What is its purpose?" If it's serving its purpose, then I can go onto evaluating more of the details. Do they know typography? Do they know how to work with colors? Along with a candidate's work, I evaluate how well they present the work. Presenting is a huge part of design and it's not really something that they teach in school. As much as you think you can put your work out there and let it speak for itself, it really won't.
What advice do you have for young designers?
Be patient and take this time in your career to figure out what you're passionate about. Falling in love with everything design is great until it turns into a lack of focus. Regardless of what you're tasked with throughout the day, if you find yourself gravitating toward interactive, print, branding, iconography, street art, environmental, or something completely outside of what you were hired to do — it's your responsibility to grow that. If you're fortunate enough to find a company that supports your passion, GREAT! But, there is too much information and opportunity readily available for young designers to just sit back and expect greatness.
In addition to his degree from Oklahoma State, Jake Burk has a master's of arts degree from the Savannah College of Art and Design. He has created award-winning work for clients including NAPA Auto Parts, The Home Depot, The Coca-Cola Company, Club Car, and the Georgia Aquarium.