Labor of Love: Designing for Atlanta Pride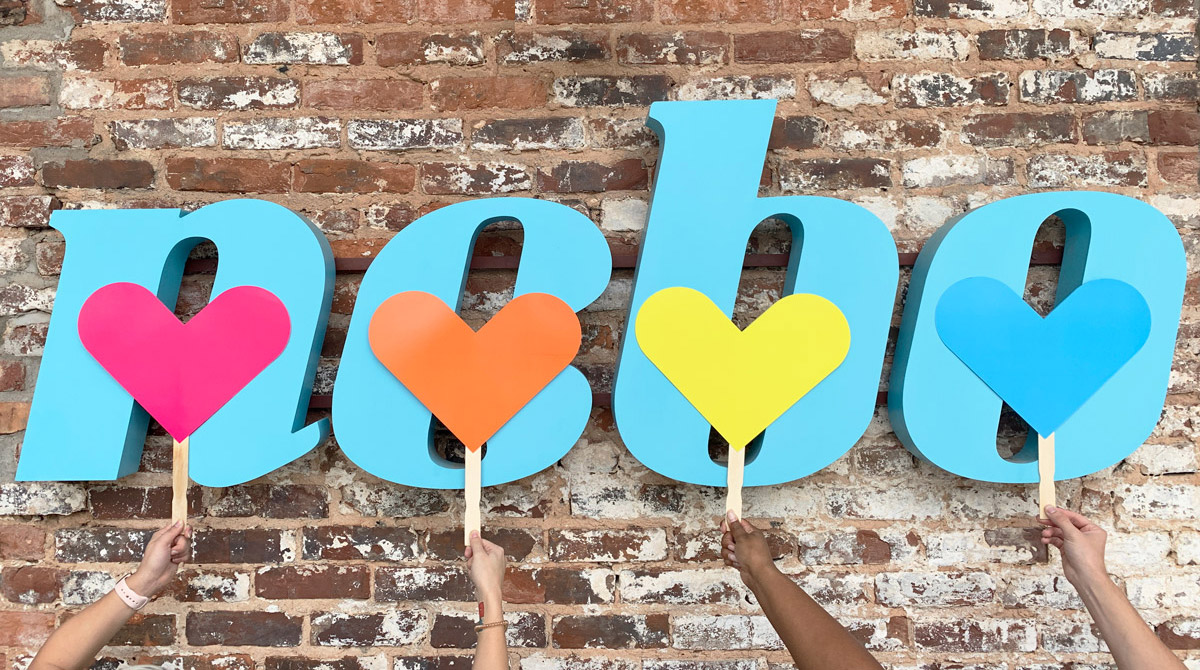 This past Sunday we marched in the 2019 Atlanta Pride Parade, complete with our very own, lovingly made parade float. Naturally, as soon as I found out about this very special project, I was ON it, mocking up designs, thinking of theme concepts, choosing materials and, of course, thinking about the perfect playlist.
Today, I'm so happy to use my love of design to participate in Pride. But it wasn't always this way.
For me, this project was personal.
Ten years ago, I definitely wouldn't have been jumping at the chance to celebrate being gay in front of the whole city. (Sidenote: Atlanta Pride falls on the weekend of my 10-year high school reunion. Sorry, for my absence, class of '09. Love you guys, and guess what? I'M GAY.)
As a kid, I was pretty quiet and very emotional, but I stayed to myself in most situations. There was a part of me that I knew wasn't "normal" like other people. Even in elementary school, having my last name emphasized on the \ ˈgaaaa- \ in \ ˈga-bri-el \ by kids on the bus wasn't something I could brush off or laugh with. Deep down, even as an eight year old, I knew that I was not like other boys.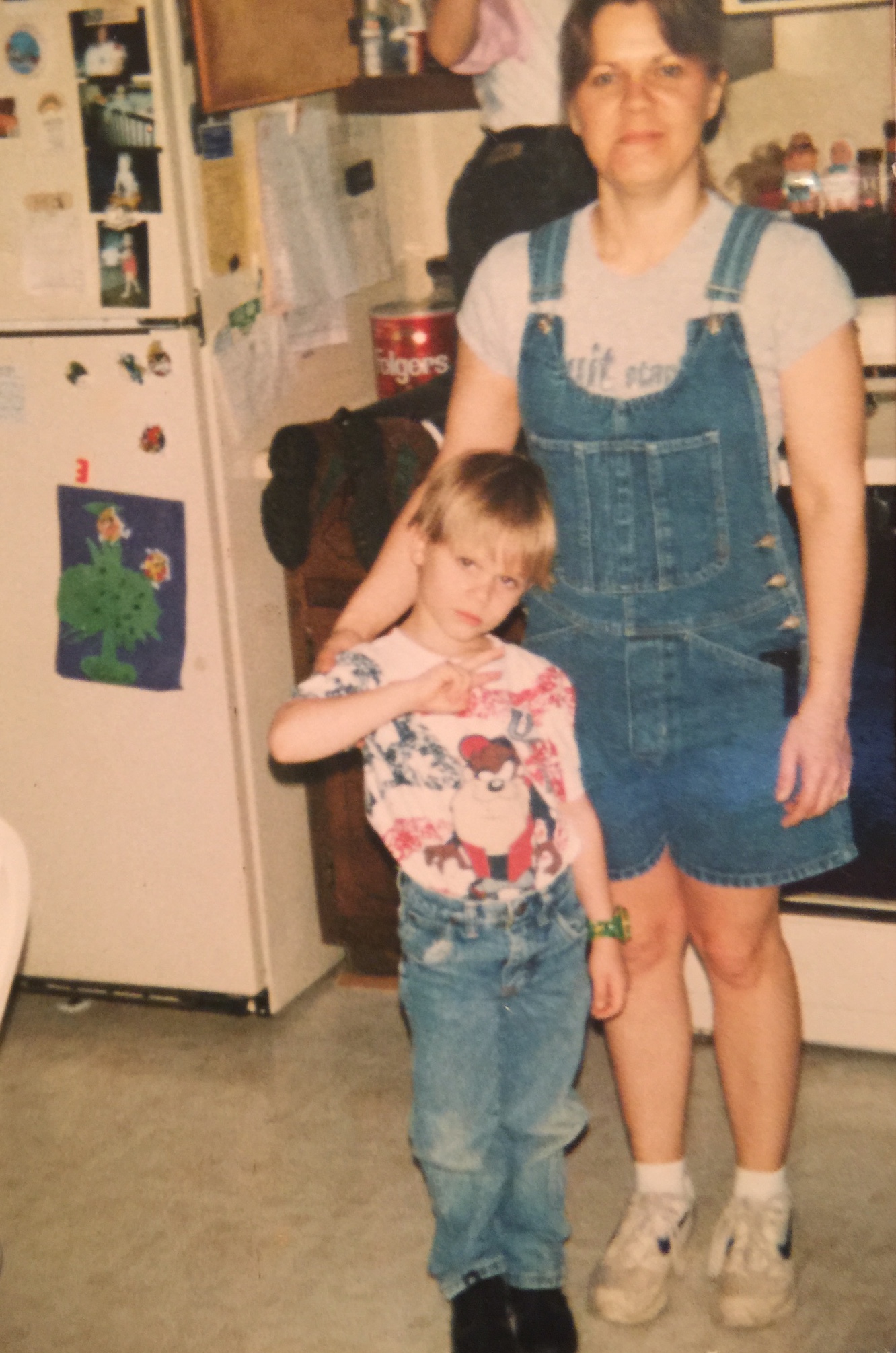 Me and my momma (who wants me to make sure you know she's proud of me).
I didn't want to bring more attention to myself after things like that. I was dying to fit in like everybody else. As I grew up, I became more open and outgoing, maybe even as a way to better fit in with everybody. I had lots of friend groups and enjoyed being the kid who everyone wanted a drawing from. I fit in. I was myself, but not fully. Even as a fun-loving teen, small microaggressions or off-the-cuff comments got to me.
Hearing those things and growing up queer does a lot of funny and sad stuff to you. It affects the way you look at the world, the way you see yourself. Even the way you move your body changes after someone once again bullies you for "being girly," or when strangers mutter nasty slurs under their breath as you shop for T-shirts.
As I grew up, I was constantly trying to change little aspects of myself to fit in. And fitting in meant hiding in plain sight.
In my early twenties, I made a big, life-changing decision: I decided to stop hiding. I came out to some of my closest friends and family (and was fully accepted <3). I also started making an effort to fully be myself at all times. And I have to repeat the most cliche, but most honest mantra: it gets better.
As a kid who thought he would be hiding in plain sight for the rest of his life, today I am ecstatic to be me. I love myself more than I thought I ever could. Coming out allowed me to exhale finally, and find love. Coming out has given me the chance to be the best person I can be for my partner (happy six years coming up, babe!).
The freeing feeling of not having to worry about being outed has also allowed me to be more honest and open in my work. I used to draw all the time as a kid to be in my own little world. Now I'm a full-time designer whose work involves communicating with others to understand and solve deeper, human-centered problems through interactive experiences. It's my job to talk to and communicate with all levels of clients and engage with the world. And even if I get super nervous sometimes, I am secure and confident in who I am, which makes me better able to think freely.
I'm basically living my best life, and I have one of the coolest jobs that I love telling my friends all about.
Nebo believes in love.
Since day one at Nebo, I've felt their support of everyone in the Atlanta community. Nebo has taken a dedicated stance to fighting ugly industry norms since they were founded: basing every business and cultural decision on thinking of the human first, and not seeing people as a commodity or a number or a statistic. Nebo has also been a role model for me personally, by being an industry leader on raising awareness for issues like the epidemic of factory farming, the stigma that shelter pets face in getting adopted, and serving as a community gathering spot for tackling issues that our future world faces in technology and in our society.
Nebo isn't just celebrating Pride because it's Pride month here in Atlanta. I feel that support from leadership and my coworkers every day, and in fact, we've spoken out about companies that use Pride as a cash grab or publicity stunt. And this month, it's important that we stand up for pride in our queer community, and come together to celebrate equality and defend the rights of everyone.
In 2019, hate crimes against LGBTQIA+ people are on the rise, according to data coming from the Human Rights Campaign and the FBI. And those are just the crimes that are reported.
According to the Southern Poverty Law Center, over 1,000 hate groups exist today. Forty-nine of them specifically target LGBTQIA+ folk, engendered by hate speech and discriminatory legislation that has been passed, including bans on trans military members and delays on passing the Equality Act to protect all from discrimination.
Just last Tuesday, the Supreme Court heard arguments on three cases of employees wrongly fired for being LGBTQIA+ — in states that offer no such protection. The Supreme Court will be deciding whether the clause "because of sex" in Title VII of the Civil Rights Act of 1964 offers protection for LGBTQIA+ employees on a federal level. The fact that this is even a question goes to show that there is a lot of hate across our country and our world.
What we wanted to do with this opportunity was make it known to everyone that we are here — all of us — out of love.
Ultimately, love is everything.
We came to this message after sending out a company-wide survey asking everyone at Nebo what Pride meant to them. We wanted to respect everyone's privacy, including any members of our team who aren't out yet, so we sent an anonymous Google Form survey.
Many of the themes that came from the answers to that survey were about acceptance — including those who don't fit into the stereotypical gay, out-and-proud archetype. There are people all along the spectrums of gender performance and sexual identity, and because of that, we wanted to be as inclusive as possible in our concepts.
We got to work creating a fun and challenging concept centered around LOVE. A few of our initial ideas included:
Celebrating 50 Years since Stonewall
In It Together
Free to Be Me
ATL Pride Flags
I'm a Human Being
This is My Superpower
Pride = Freedom

Exploratory sketches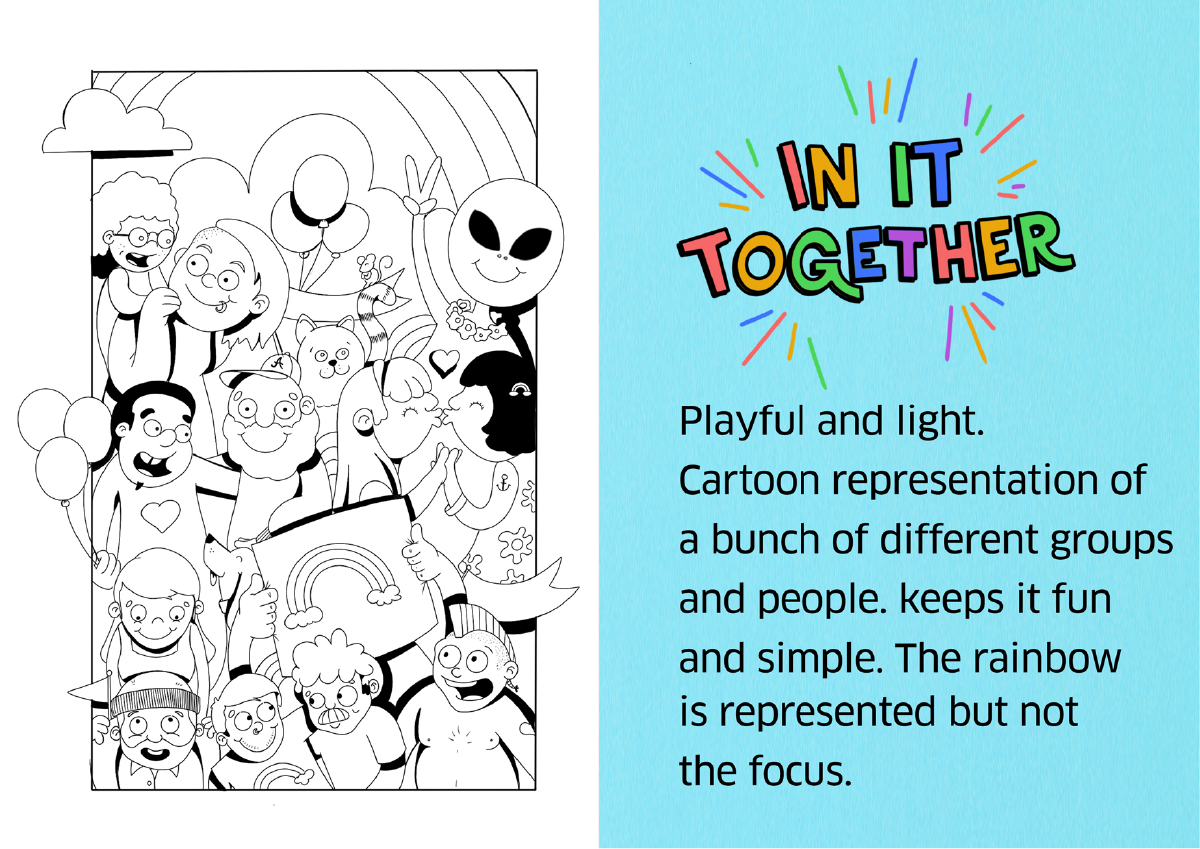 Concept: In It Together, designed by Mo' Safavynia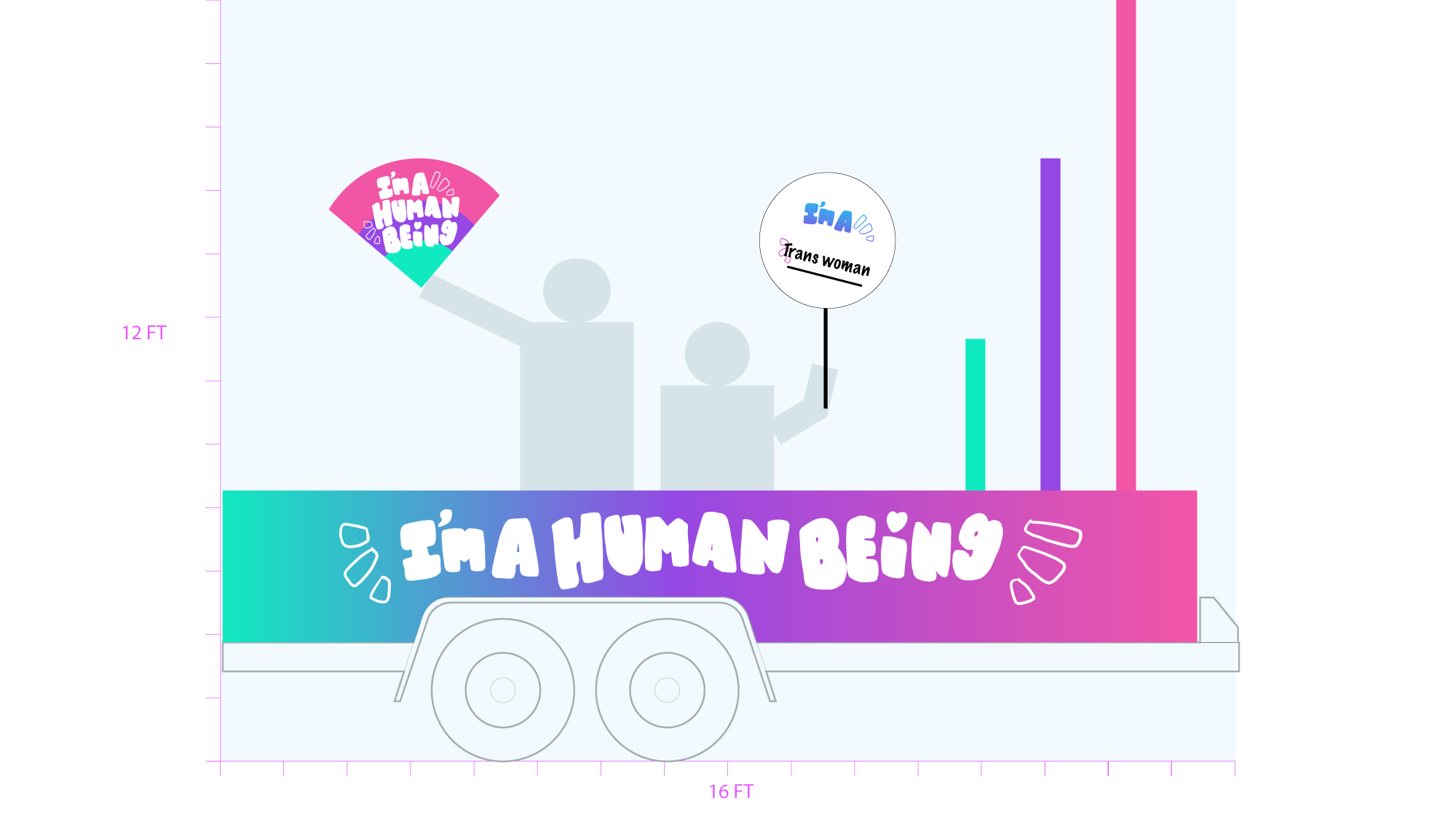 Concept: I'm a Human Being (from side)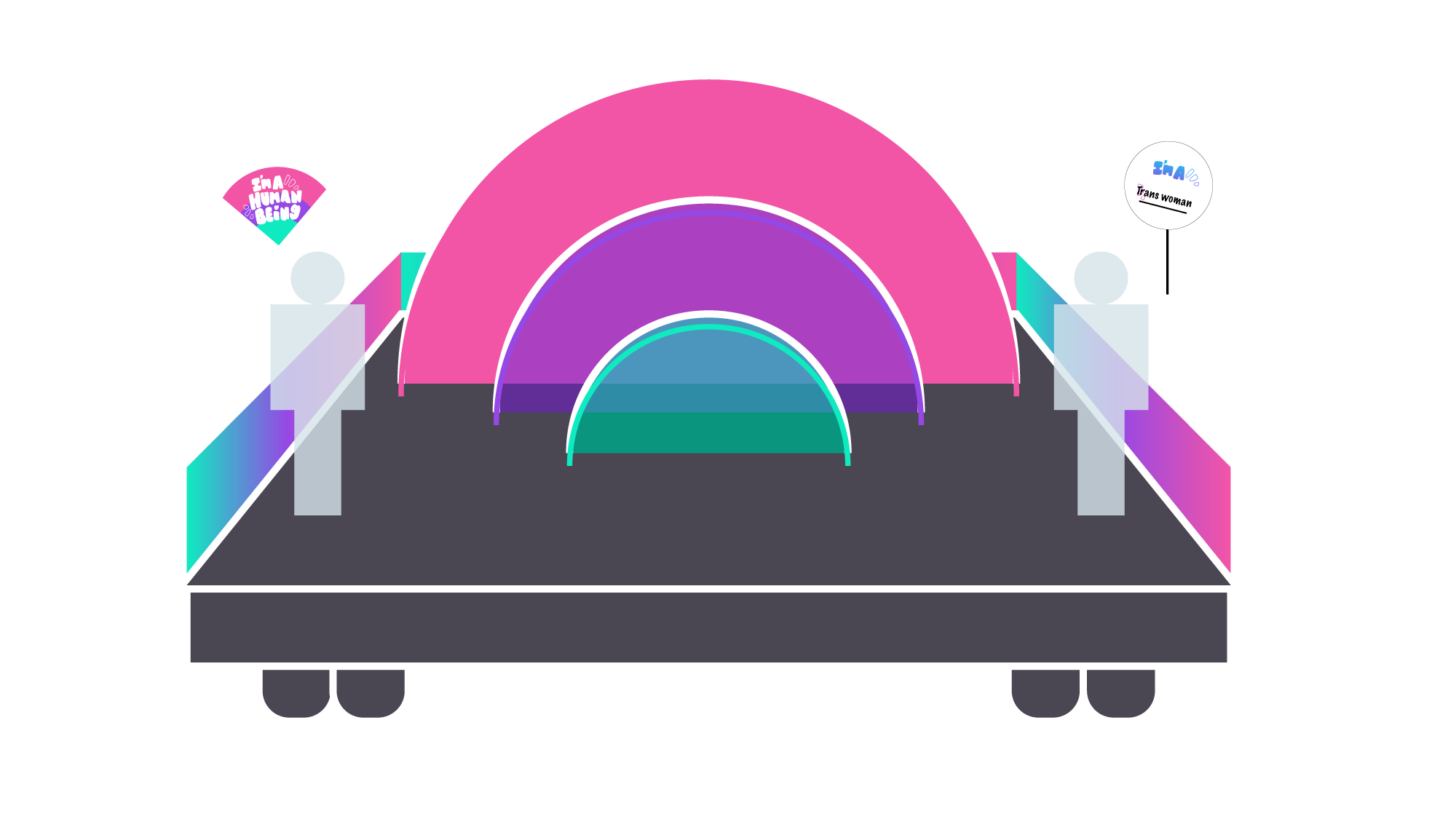 Concept: I'm a Human Being (from behind)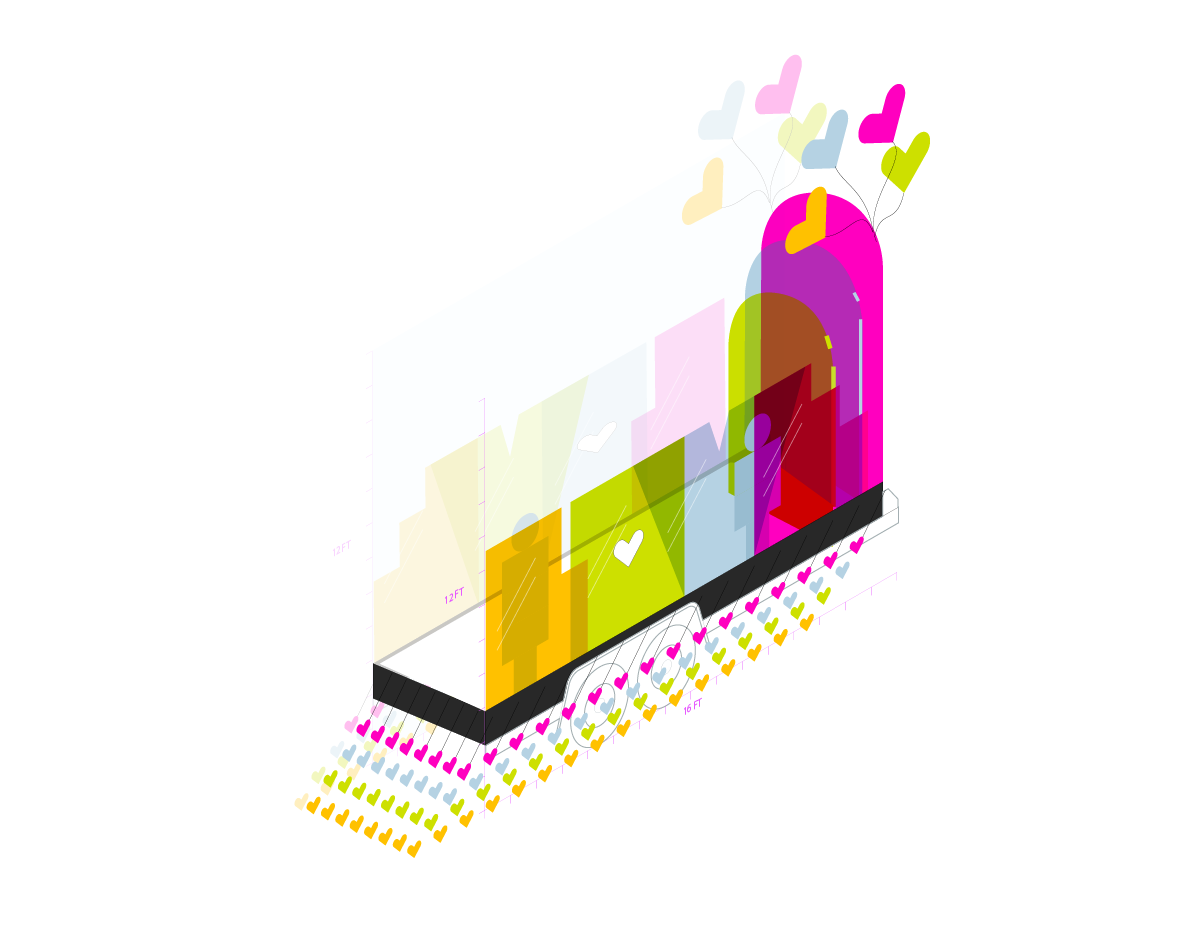 Concept: LOVE with rainbow arches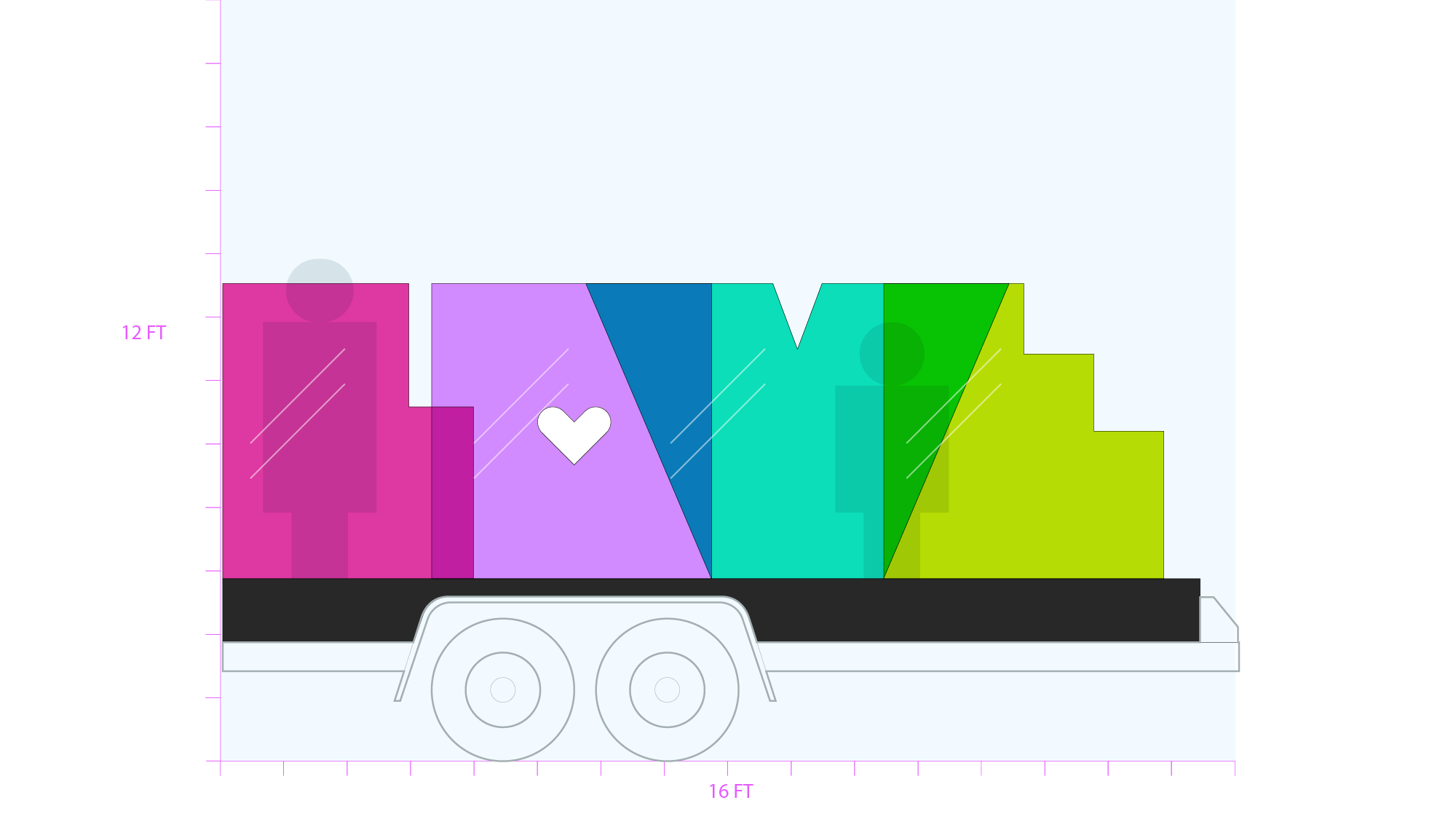 Concept: LOVE with towering plexiglass shapes
Based on some of these ideas, we narrowed down to something that was fully grounded in celebrating Atlanta, and celebrating the idea of equal love. It's the feeling that we all experience and hope for others to experience in our city: that Atlanta Does It For Love.
See us at Pride and watch how we brought our float to life.
The problem with having a big, crazy idea is pulling it off.
This project was a big lesson in becoming familiar with three-dimensional thinking, and construction — two things that I don't claim to be a genius at. I normally think on paper and pixels. To come together and build a stable float that is safe and creates the best experience that you have imagined in your brain, takes a lot of communication and a lot of asking for help. One of the scariest things about creating a design that doesn't live on the screen are the real-world implications of physically creating it.
To go along with our theme of acceptance, we wanted to choose a construction material that would let light in and allow us to be seen. In order to achieve that prismatic effect, we needed to find a product that was transparent and strong, and still vibrant in the sun. Colored plexiglass seemed to be the coolest and sturdiest material we could find. We ordered samples, did light tests, and were ready to pull the trigger.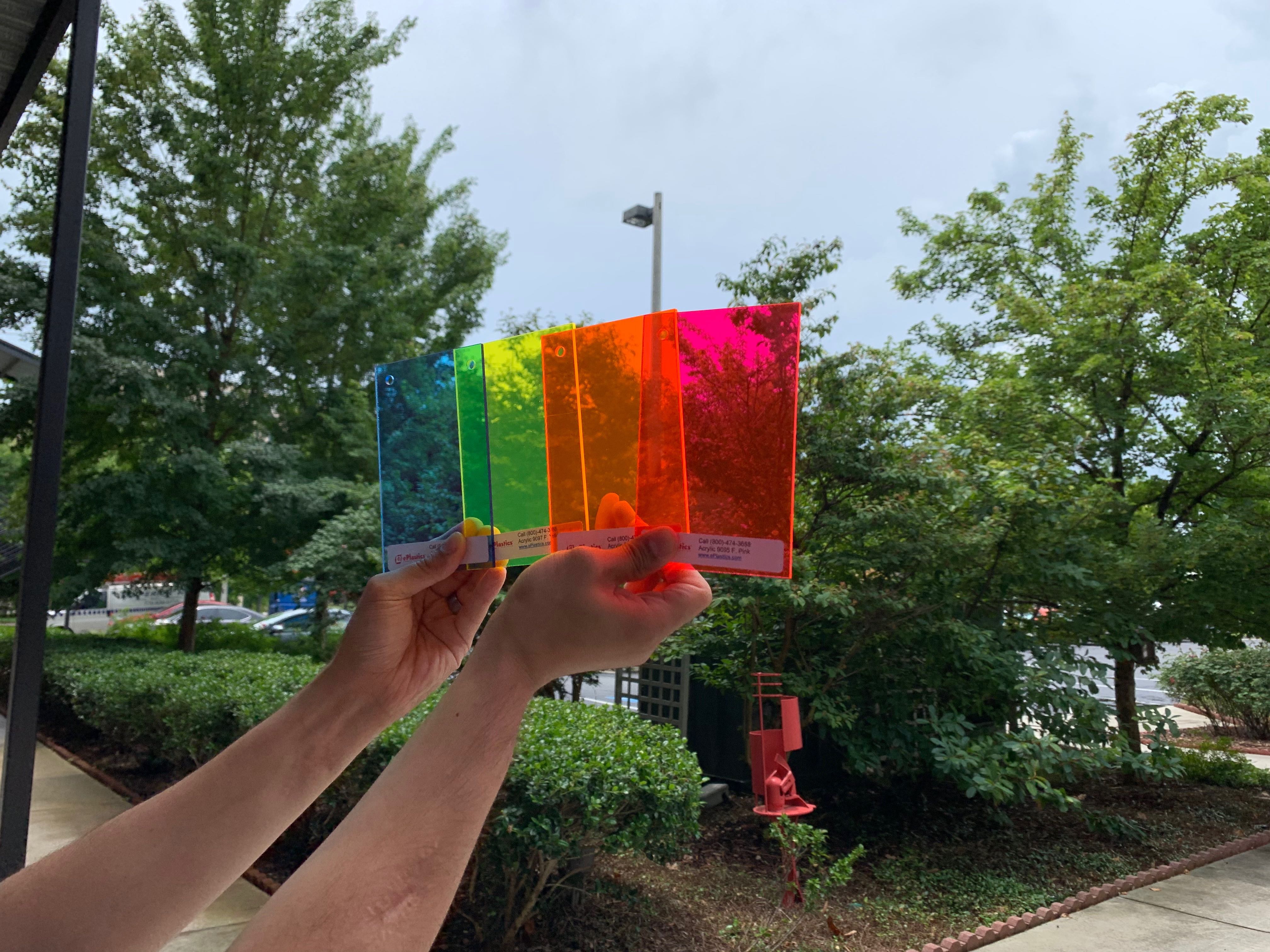 One of our initial light and color tests outside the office
Of course, nothing is as dreamy as it sounds. Consulting with a local shop that could cut the sheets into custom shapes to create our message, we learned that there were risks with ordering huge sheets of plexiglass from the opposite coast. Our CNC cutter was experienced and had seen large sheets of cast acrylic become damaged from long trips. It was a risk to our timeline, and also our pocketbooks.
With this news, and considering our Atlanta-centric concept, it felt right to work with as many local vendors as possible. So we ordered some acrylic from Austell and worked with Precision Fab Lab to cut our letters into the perfect shapes.
The intricacies of new mediums and its behind-the-scenes processes can make or break a designer's strategy. The type of paper that a business card is printed on, or the process of how the backend of a website is pulling information in, all require knowing the moving pieces of those processes to pull off a successful design.
We moved past this hiccup by having several backup options during our initial brainstorm. If we couldn't use plexiglass, we could still spread the message of love. But we would have to construct it from 2x4s or stretched fabric. The meaning would have been the same, but the execution would change.
Those were options, but there was also the option of keeping our transparent and vibrant material as our star: we could order clear plexiglass from a local vendor, and adhere colored film to that to create mostly the same effect… right?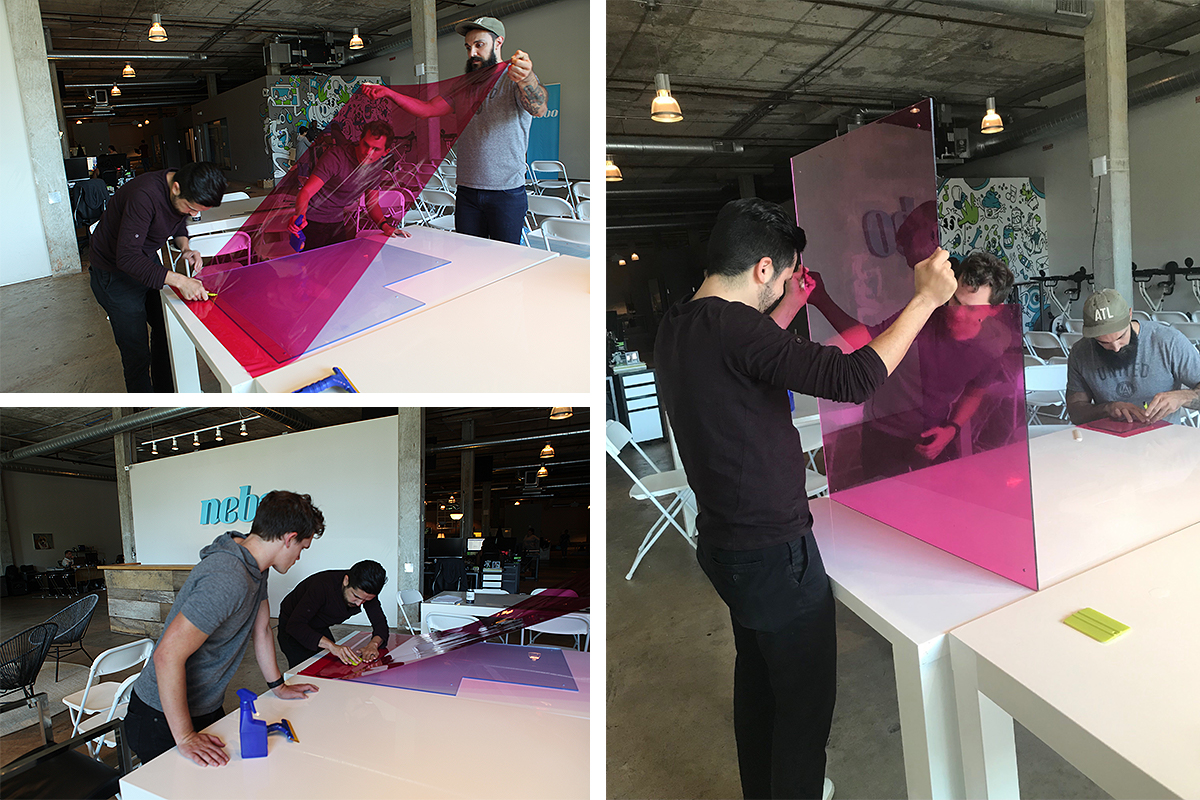 Laying down the first of our four colors onto the plexi
Some advice: order samples, even when your timeline is crunched. (Also, always plan for rain…) What I learned was that the word "transparent" means different things to different people. Some of the clear film we ordered was more textured than it was optically clear. Some sheets were thinner than others. This created a hurdle as we wanted to ensure our letters were all equally vibrant and clear, not emphasizing any one letter over another.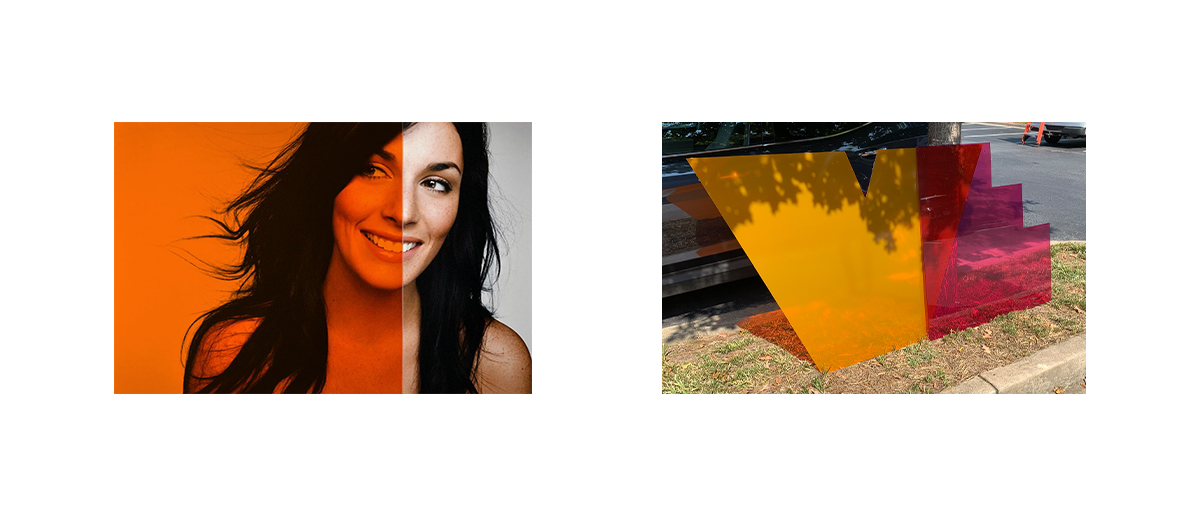 What I ordered vs. What I got. Not quite "clear" as expected...especially compared to our other colors.
In the eleventh hour, we had to go back and order another set of film. It was a risk, but we knew it would be the best move.
Don't be afraid to ask for help.
One of my last lessons from this project build — and a lesson I'm still working on mastering — is knowing that it is not only okay, but welcomed to ask for help. I physically cannot lay down 60 inches of colored film onto plexiglass by myself, much like I could not have designed this entire float by myself. In sharing creative ideas, thoughts spark and new possibilities come up for making the best possible product.
Having a big idea isn't just about the idea. It's making it real. Had I not asked for help from our creative director, Pete, I would have no clue how to even think about constructing these materials together. We thought about constructing the float with wood sandwiching the plexiglass into place, or plexiglass attachments to act as feet, but ultimately decided on a railing built of PVC, with zip ties holding the sheets together.
Had I not had honest conversations with my friend and fellow designer, Mo', about the concept of this message, we might have lost out on the importance of highlighting our Atlanta community directly in our float and come off too salesy, which is never what we wanted out of this celebration.
And it wasn't just the design team who helped out. We shopped some things around the office to see how people would read the letters on the float. Was it legible to everyone, or just to me because I knew what it said?
When I started my education in design and my career, I usually asked fewer questions because I was shy by nature, but I also wanted to come across as smart. What I've learned is that having all the answers is not only impossible, it's also not that important. It's asking the right questions that truly helps you learn more and achieve a better solution.
Fitting in isn't all it's cracked up to be.
As I was growing up, I felt like I had to hide in plain sight because of how I felt about myself, and how the world has treated people like me for generations. I wanted to fit in. But in the end, fitting in is a losing game. Life is about belonging — being your most vibrant, radiant self, and celebrating who you are every day.
Here at Nebo, we want everyone to feel that belonging, wherever they go. Because in Atlanta, we do it for love.
You don't have to struggle alone.
If you are an LGBTQIA+ person who's struggling to belong, you don't have to face your problems by yourself. You can always call organizations like The Trevor Project to talk to someone. The Trevor Project is the leading national organization providing crisis intervention and suicide prevention services to lesbian, gay, bisexual, transgender and questioning youth. You can call the Trevor Lifeline at 866-488-7386 — it's free and confidential.
And if you're in the Atlanta area, reach out to local LGBT organizations at the Rush Center or the PFLAG Atlanta chapter, or attend some inclusive events like Out on Film or Southern Fried Queer Pride.
PS. Just in case you missed out on seeing the float in person, relive the experience by jamming to our Pride playlist!