Keyword Insights in a World of (not provided)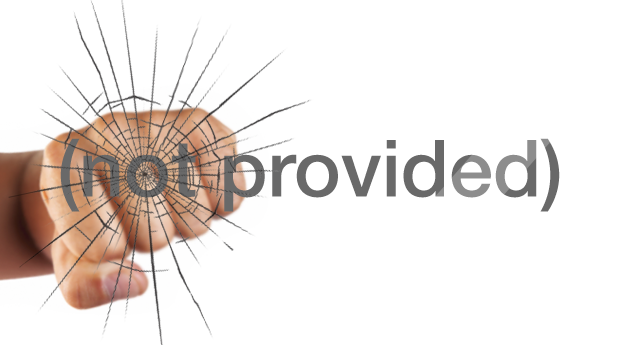 September 23rd, 2013 – A day the SEO world won't soon forget. Although Google has been weaning us off our keyword referring data since October 2011, earlier this month we learned that SSL encryption would be extended to all users regardless of whether or not they were signed in to any Google property.
In the new era of (not provided), we are forced to reexamine how we utilize analytics data to craft our marketing strategies. This change not only impacts SEO practitioners, but brand strategists, digital PR professionals, and any business owner who has a presence online; in other words: everyone.
Let's face it: we just got dumped. Google gave us the "It's not you. It's me" and left us feeling cold and alone. Rather than sending melodramatic text messages at 3 a.m. and looking to adopt a cat to fill this void left by our beloved keyword data, it's time for us to move on. Digital marketers are resilient and not unfamiliar with needing to pivot as times change and search engines evolve.
What's Next?
There's no denying that the loss of keyword data hurts, but in all honesty we knew this was coming. The AdWords tool was replaced with Keyword Planner, which gives far less keyword-level information. Google began cracking down on software providers offering rankings data. Smart marketers have been using alternative information sources for months, and now that approach has become non-optional.
The good news is we have lots of alternative information sources:
Organic Landing Pages
PPC Campaigns
Webmaster Tools Search Queries & Top Pages
Keyword Rankings Reports
I've written about Excel before as a problem-solving tool, and I had the opportunity to speak at SMX East about this very topic this week. Excel allows us to correlate these different information sources together to extrapolate insights about our keyword sources. We start by identifying the problem.
The Problem
This one is easy: we want to better understand the keywords that refer traffic to our website from search engines. We want this information to help us learn about our audience and how they interpret our products or services so we can better serve their needs. The problem is bigger than knowing what to optimize for; it is about shaping your brand according to the wants and needs of your customers. Your website is not a window to your business. It is your business. Seventy-eight percent of internet users conduct product research online. Eighty-five percent of consumers are searching for local businesses online. How people relate to your website is how they relate to your business, and as such, we want to make sure we're aligned with their expectations.
Criteria
As I mentioned above, we still have tons of great information to help us make data-driven decisions about our marketing strategies by correlating search query and top pages data from Webmaster Tools with your organic landing pages in Google Analytics. The following information will be used:
Search Query Impressions (from Webmaster Tools)
Top Pages Impressions (from Webmaster Tools)
Organic Landing Pages (from Google Analytics)
Title Tags (from Screaming Frog)
Using these criteria, we will better understand what keywords are impacting our overall domain traffic and identify opportunities for structuring marketing strategies moving forward.
Solution
The Keyword Insights tool, available for download here, is certainly not the only way to evaluate this information, but it will help identify high impact keyword themes in the absence of direct referring keyword data. This tool should be used to empower marketers to make data-driven decisions even without immediate referring keyword data.
Essentially, what this tool is designed to do is to is help marketers bridge the gap between keywords and the pages we optimize them for. One of the most fundamental SEO strategies is Title Tag optimization, so I chose to look at this as a way to associate keywords to particular pages. If I have included a keyword or keyword phrase in the Title Tag of a page, I know that page is relevant for that keyword. Using this as my key, I can now associate landing page traffic and keyword impressions based on this common denominator.
How It Works
To begin, follow these steps to import the necessary data sets and format the tool. From there, simply go to the "Dashboard" tab, enter in your keyword or keyword phrase, and voila!
Using information specific to your website, the Keyword Insights tool will allow you to see how many pages that contain my specified keyword or keyword phrase drove traffic, how much traffic these pages drove, and how that relates to the total number of impressions for those pages: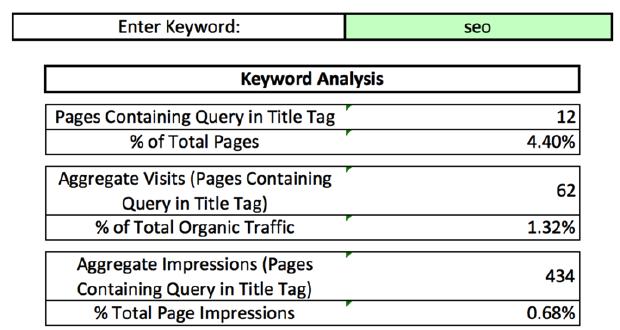 The tool also provides insights into keyword opportunities, showing how many queries contain your targeted keyword, the aggregate impressions of those keywords, and the number of related keywords relative to all available search queries):

Lastly, it provides some rankings analysis (using Webmaster Tools average position) based on how many related queries are ranked beyond Page 1, how many are within striking distance (ranked 11–30), and the number of long-tail keywords Google suggests have driven some traffic: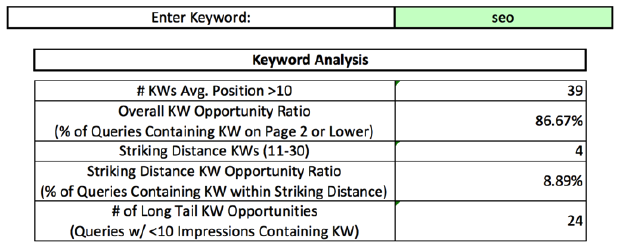 Please note the following:
Keyword Insights tool has been formatted to capture all search queries that include the keywords you enter as a Broad match so the phrase does not necessarily have to appear in its entirety in the Search Query report.

For example, if you enter "ppc management," the tool will capture "ppc management," "ppc management agency," and "ppc bid management."

Right now, the tool is only equipped to handle queries of four keywords or fewer.
Future of Keywords
Whether or not Google will ever return our keyword data, the fact of the matter is that in a few months we're unlikely to have any of this information left. Marketers of every discipline will be affected, but I'm confident we will endure. We will look to paid and social media for new insights into our audience and continue to craft a narrative that allows us to communicate directly with that audience. We will rely on our intellect and ability to extrapolate trends when developing campaigns. Qualitative insight will become invaluable, and relationships with people, customers, and business owners alike will dictate strategic direction. It's up to us to do what we do best: adapt, evolve, and prevail.
Once again, an explanation of how to pull the necessary data exports is available here, and the link to download the spreadsheet is here. If you have any questions, comments, or feedback on the tool, please let me know in the comments!