UNC's Reputation Was Impeccable Until it Wasn't: How the University Emerged from a PR Crisis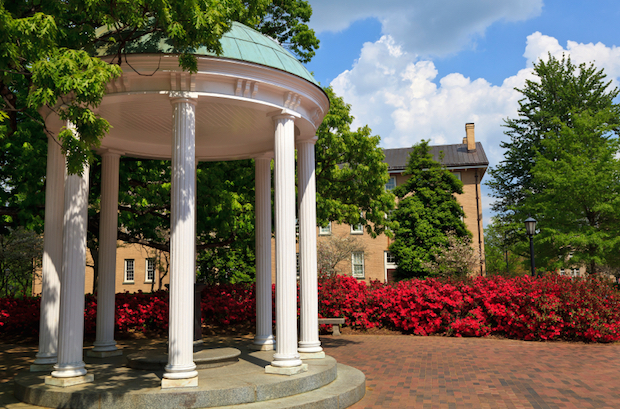 The University of North Carolina-Chapel Hill has given us household names like Michael Jordan and Dean Smith. The basketball team has made more NCAA tournament Final Four appearances than any other team in the country, and with 26 wins, the women's soccer team has more than doubled the number of national championship wins of the next closest school. Advancements in HIV research coming out of UNC have galvanized the prospects of ending the global AIDs epidemic, while professor Aziz Sncar's mapping of the DNA repair system in cancer cells won him and his peers the Nobel Prize in Chemistry. All of this history and prestige was almost undermined by an academic scandal that touched 3,100 students over the span of 18 years.
On Oct. 22, 2015, Kenneth Wainstein, a formal federal prosecutor, and his investigative team released a 131-page report detailing the "paper classes," or questionably graded courses, in the African and Afro-American Studies department of the university. A key theme throughout the document was improper academic assistance to members of the football, men's basketball and women's basketball teams.
No amount of press conferences or press r­­­eleases was going to salvage the reputation of the school. Students and alumni worried about a decline in the value of their degrees, and athletic programs at the school feared they'd never again be able to recruit quality players. The bounce back hasn't all been pretty, but there is a PR lesson to learn from how UNC handled the crisis.
I was a student at UNC at the time the results of the investigation were released. After boasting about UNC's greatness for most of my life, the "UNCheat" jeers from my friends contemporaries at Duke and NC State could no longer be waved off as unfounded and untrue.
The Carolina Way
For decades UNC was untouchable. We were a school known for both stellar academics and first-class athletic programs, all the while we never had any major controversies to detract from our prestige. In particular, legendary coach Dean Smith set the stage for playing clean and fair basketball. From his "point to passer" tradition, which has scorers publicly point to the guy who threw them the ball, to offering the first scholarship in the segregated South to a black athlete, Smith valued more than a win-at-all-costs team and earned extensive respect for Carolina's athletic programs. And he won games, which gained Carolina an incredibly loyal following. Under Smith emerged fierce players and role models, including MJ, Antawn Jamison, Vince Carter and so many more.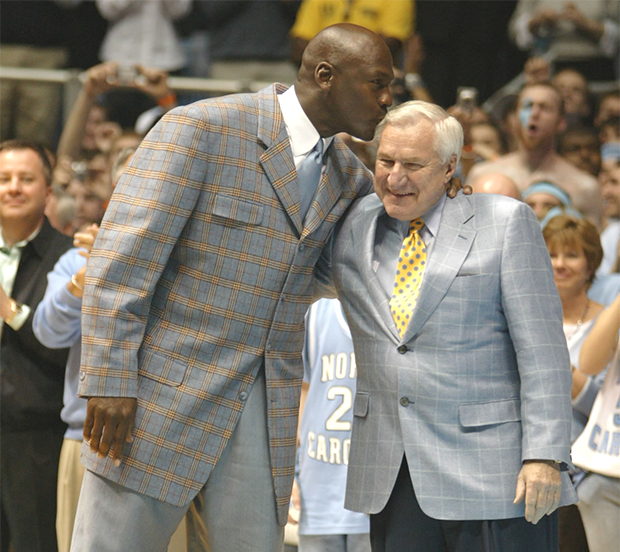 For one of the winningest programs in the history of basketball to take this punch was hard, and not just for Carolina fans. It was hard for anyone that wanted to believe in the integrity of college athletics.
The last two decades of misguidance and shady practices within the AFAM department were not an embodiment of Dean Smith's so-called "Carolina Way." Carolina haters engaged in schadenfreude far worse than the typical slights after UNC vs. Duke basketball losses. The university known often for its sanctimonious students had been knocked down a few pegs, and those who had grown tired of claims that UNC was a paradigm school for building great academic and athletic traditions in tandem were relentless in their attacks. Deservedly so.
I'll own this chip on my shoulder and say that Carolina has earned its reputation as a rigorously challenging institute for higher education. I tout my degree from UNC proudly, and not just because I share my alma mater with Mia Hamm and enjoy shout-outs in Drake lyrics.
UNC has made groundbreaking discoveries in treating breast cancer. Students are fiercely (and at times frighteningly) committed to uncovering social inequities and fighting for their resolutions. I spent countless sleepless nights in Davis Library preparing for unconquerable exams or writing 20-page term papers. For someone to joke that I cheated my way to a worthless degree is not just irritating – it's disheartening.
This is the effect the scandal had. This was the mess UNC had to clean up.
The Scandal
So how does an academic scandal of this magnitude play out? No one knows in full the specifics of how it began. It was a gradual process, albeit compounded by a pressure to produce all-star athletic teams that win national championships (and thus bring in more money for the university).
The Wainstein Report revealed that beginning in the late 80s, a few student athletes enrolled in AFAM independent studies. Initially these classes weren't the joke that they are known as today; they were stringently graded and required maximum effort, though on a more flexible schedule. Semester by semester, standards for these courses became less rigid, and eventually, eyebrows rose at the number of athletes declaring AFAM as their major.
This red flag was discussed but mostly ignored. Current head coach of UNC's men's basketball team, Roy Williams, who began his tenure in 2003, at one point called out this observation, but, as he believed his players were actually doing the work, he felt he had no reason to dictate what his guys could or could not study.
The situation was blurry. Academic advisors to the players did not challenge professors' curricula and grading standards. Coaches trusted these advisors. Professors felt compelled to keep star athletes eligible for play. And the players, under enormous pressure to carry their teams on the court or field, didn't question or disallow the extra help they received.
There is no one person to pinpoint as at fault. While UNC was caught red-handed for its violations against NCAA standards and its overall lack of academic integrity, there's no denying that similar instances are happening at universities across the nation. The intercollegiate sports system is broken in many facets, and unfortunately for Tar Heels, UNC must carry this large weight in moving towards higher standards for student athletes. Carolina's reputation has been unquestionably stained, and for a time, there was talk of the university losing its accreditation.
Responding to a Crisis
Newly appointed chancellor Carol Folt and her team put together a comprehensive public relations strategy to address the consequences of the scandal. The university began by hiring an external PR agency to conduct a full audit and internal investigation of the situation. Folt and the student body president sent transparent emails to the Carolina community, owning responsibility for UNC's neglect in the wrongdoings.
Many press conferences were held to answer questions about the report. The individuals who were identified as at fault were disciplined and fired. An internal checks and balances system has been instituted to monitor academic departments and http://www.carolinacommitment.unc.edu was launched to put on full display all the findings of the case and the actions the university is taking to prevent further instances of academic dishonesty.
Much of the public scoffed at the university's response to the report. It felt "weak" and "phony" and didn't point enough fingers at beloved coaches and Carolina players. While I tend to disagree, I also feel that it doesn't entirely matter what the public thinks.
Pause – a public relations specialist claiming the PUBLIC'S opinion doesn't matter? How will a university ever recruit promising students and support if the public disapproves?
Learning a Lesson
Note – I said it doesn't entirely matter. My main point being, Chancellor Folt and her communications team took care of their customers first – the students. When the report was released I was a senior looking to enter the workforce soon, and I feared the repercussions of the scandal. However, from the beginning of the investigation until graduation, I felt confident in and encouraged by my university.
The public relations strategy of Folt and her team prioritized the Carolina community and in turn provided some valuable takeaways for crisis communicators:
Be Transparent & Accessible: A transparent message owning fault after the fact might not have meant much to rival universities and critics, but it meant everything to a community in question of what to believe and what would happen next. Folt and key university personnel made themselves accessible to both media and students. In times of crisis, questioning stakeholders don't want to listen to rumors and half-truths about the situation; they want to hear from the source what has happened (and why, if possible).
Own the Issue: The University didn't try to deny the allegations or skirt around the problem. While it could have been argued that these instances are ubiquitous in college sports, doing so would have been an acknowledgement that not every student should be held to the same standards. In the midst of negative messages and attacks, deferring responsibility only makes an organization look guilty and disorganized.
Look at the Big Picture: Folt emphasized that the university was at fault, but that the wrongdoings of others should not compromise our accomplishments or time at UNC. The topic was not to be taboo, but we should hold on to the 221 incredible years of Carolina history above this disgrace. No company is perfect, and not a single brand out there will be able to please everyone. Disasters will happen, but the resilient entities are the most successful.
Reach the Right People: Those sitting idly by tallying the number of UNC faculty fired because of the investigation were never going to be pleased. Finding a message that would please the masses just wasn't a priority in this case. A university is built on its students, and ultimately, the draw of a school is not from the media or the number of championship wins – it's from the stories and experiences of students overflowing with love and pride for their school. Through the aforementioned examples, Folt and her team prioritized the needs of the Carolina community – a choice that will set the foundation for all that needs to follow in recovering from the scandal.
In the PR world it's tempting to get wrapped up in earning media placements and securing impressions numbers; consequently, we forget that our fundamental goal is to earn trust for our brands and their stories. Stories plagued by covered-up crises or disgruntled customers will be weighed down, at which point a headline feature in The New York Times means almost nothing. As communicators, we need not forget that the human experience is the most important to keep in mind when reaching customers, and to do this, we should not just be projecting messages out. We need to listen to our loyal customers and use their needs to inform our brands' directions and purposes. For UNC, that meant putting first the confidence of students, alumni and faculty in the future of the school.
Heels Lock In
Words will never fully explain why the first few bars of this song bring me to tears in a way that physically hurts my heart. Call me nostalgic, but I'd bet my "worthless" degree there are many men and women out there unashamed to admit the same. GoHeels.com writer Adam Lucas once reported, "Tar Heels in the NBA will tell you alums from other schools frequently ask them, 'What is it about Carolina?'" The scandal didn't taint any of UNC's magic for me. In many ways, it made me even more proud to be a Tar Heel. I felt my peers band together in disappointment of the truth – some went so far as to advocating for the '05 national championship banner's removal from the Dean Dome. Others came together with chins high at the opportunity to be the school bringing light to the abounding issues facing intercollegiate athletics. Of course I'm biased, but I truly believe that the University of North Carolina-Chapel Hill is a special place to experience college.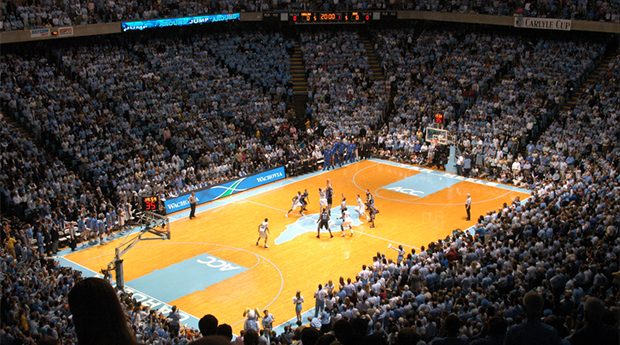 Photo credit: Anders Bronworth; CC license attribution 2.5
Many graduates who attended schools with successful athletic programs can attest to the fact that following your team through the ups and downs of a season can amplify love for your school and relationships with your peers in a way unlike any other. The 2016 UNC men's basketball team's journey has been unrelenting. From facing Roy William's struggle with Vertigo to mourning the recent loss of Dean Smith to carrying the weight of an academic scandal caused by those before their time, these boys have beat the odds to earn a No. 1 seed for this year's NCAA tournament. Games are now in full swing. Here's to hoping the good guys win.