How to Make Writer's Block Your New Best Frenemy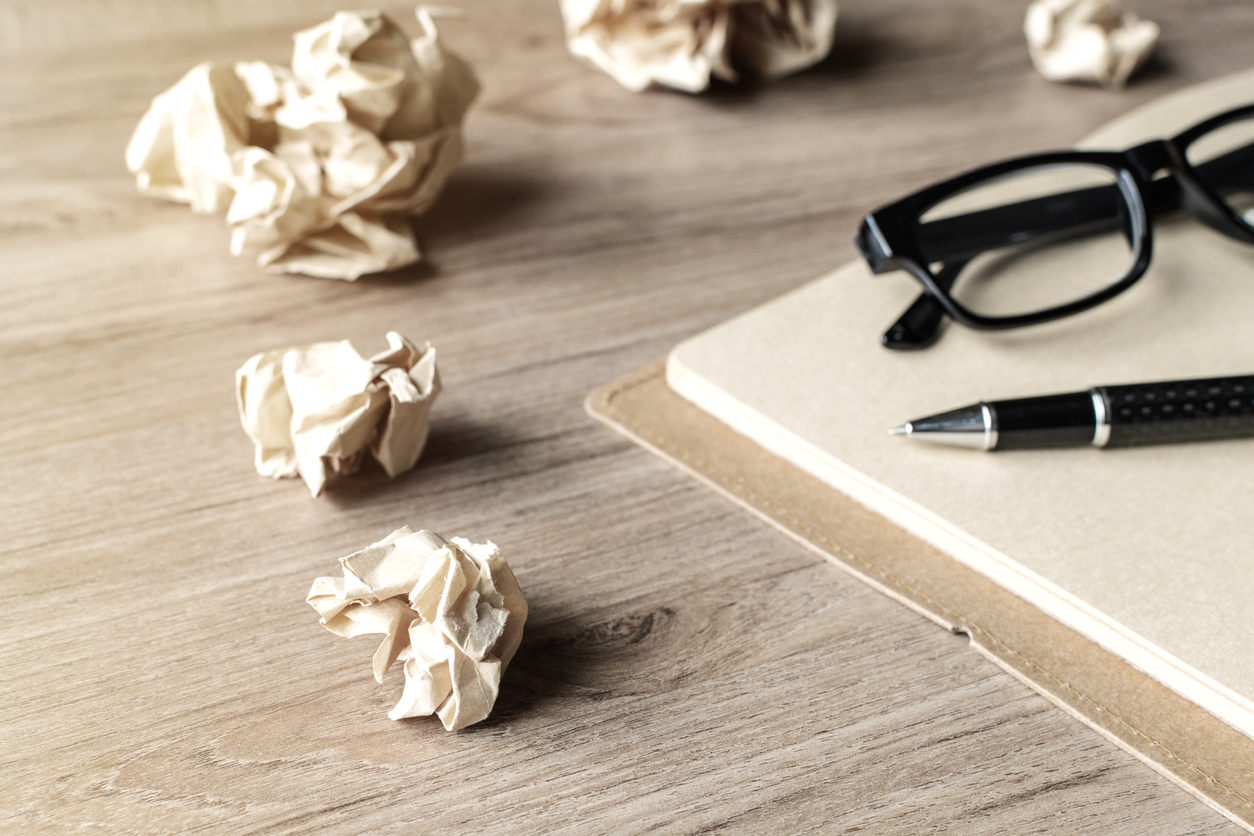 In every writer's career, there's a project that makes you want to take an axe to the wall — and I mean every writer. Just ask Stephen King, who once called The Shining "a little story about writer's block." Relatable content.
No matter how accomplished you are, writer's block is a natural part of the creative process. And what's more, it's not all bad. With the right mindset, writer's block can be an opportunity, a chance to pause, seek inspiration, face your fears, adjust your writing setup, and rethink your project.
Whether you're writing headlines, a blog post, or a novel, these tips from the Nebo's copywriters will help you turn your next bout with writer's block into a creative opportunity to get pen to paper — before you turn into Jack Torrance.
Productive Procrastination - Meghan
Ah, the blank page. It's one of the most unassuming sources of stress out there. Most people think writing is easier than it looks until there's a white void of nothingness daring them to be vulnerable. I'd argue that the pressure is worse when you're a copywriter because you can't turn in your work with a nervous excuse like, "Well, I dunno, I'm not a copywriter!"
So how do I get motivated when I'm feeling off? I procrastinate productively. Really. I skim design annuals and websites like Ads of the World to fill my brain with creativity. I read opinion columns by my favorite writers. I devour interesting articles about the subject I'm writing about. I reread the brief. I watch a YouTube video that makes me laugh. I walk circles in my living room. Then when I'm feeling inspired, or I can't put it off anymore and still meet my deadline, I write.
Other times I simply give myself grace, accept this isn't my day and try again tomorrow.
Music Makes the Mind Flow - Julie
The pressure of finding "the word" has been daunting writers since the beginning of time (was a blank cave wall a thing?). When my brain is blank, I'll open up my Spotify and get some tunes going. According to a study, listening to "happy music" enhances your creativity.
The music I listen to oftentimes mirrors the type of copy I am writing and energy I need to generate. If it's long-form copy that requires more time and focus, I'll jam out to jazz. If it's short-form copy that is creative and concise, I play my all-time favorite fun music: '80s pop. How can you not feel inspired by Madonna and Whitney? I find that by getting my mind to listen to music, it creates a flow of positivity that is just what I need to tune out the world and tune into my process.
If You Can't Write, Read - Audrey
Some of the greatest writers of our time cite reading as the skill that sharpens their pen. As for me, a mere copywriter, reading is also the thing that gets me out of a funk when I can't figure out what to write next. There are no rules for what I read, as long it's something engaging enough to jumpstart my brain. It can be a few pages from a novel I'm trying to catch up on. It can be an article with a particularly intriguing headline. Sometimes, I even find myself drawn to interview profiles of creatives and artists.
Reading serves a dual purpose in these instances. Not only does it take my mind off the stress of writer's block, it also gives me inspiration, whether it's in the way an author crafted a sentence or a word that sparks an idea. So, in a way, reading does more than just sharpen a writer's pen — it also acts as that little shake you give your pen when the ink is skipping.
Conquer Your Surroundings - Anna
There's no place quite like "in the zone." It's that magical arena where your ideas are just "wow" and you are the writing queen of the wor — STOP, THE DOG NEEDS OUT.
As fabulous as the zone is, it's as equally un-fabulous when you're ripped out of it by things you could've easily avoided. To me, it's like prepping for battle — setting your perfect scene for beating that blank page. Without this, trying to write ends up more like, "I need gum … it's cold in here … this sweater itches … where'd I put my drink … great, now Mom is calling me."
So, take time to mentally and physically set yourself up for success. If you're anything like me, the first step is always caffeine. Then let that set in good and hard while you start addressing the rest of your environment. Tend to the pets. Adjust the A/C. Silence your phone. And gather the necessities. A few things I like to keep in arm's reach: chapstick, snacks, water, pen and paper, tissue, and all chargers. Once you've accounted for every excuse to wander away from the zone, you'll be in the mindset to slay.
The 20-5-20 Method - Chelsie
In 2018, I wrote an entire book in one month for NaNoWriMo, a.k.a., National Novel Writing Month. After writing some 1,667 words every single day for four weeks, I finally achieved my lifelong dream of writing my first novel. Spoiler alert: it was bad, and no, you can't read it.
While I didn't come out of NaNoWriMo with a usable manuscript, I did come out of the experience with a priceless new skill, one that has since helped me accomplish both professional and personal writing goals: the 20-5-20 method.
For me, writer's block stems from perfectionism. My inner editor critiques every line in real time, leaving me no space to experiment, fail, play, and ultimately, write. But with 50,000 words to write in just 30 days, I didn't have time for that bullshit. So every morning, I set a timer for 20 minutes — long enough to accomplish something, but short enough that I could tell myself it'd be over soon. Then I'd write without stopping to edit. There'd be time for that later. When time was up, I'd stop for a five-minute break, then put my head down for another 20-minute sprint. More often than not, simply setting a timer and getting started was enough to get on a roll, and I'd skip the five-minute break entirely.
I've used the 20-5-20 method to write websites, social media calendars, emails, and blog posts, including this one. I'm also using it to write another book. This one's going much better.