How Moz Analytics Fits into Your Existing Toolset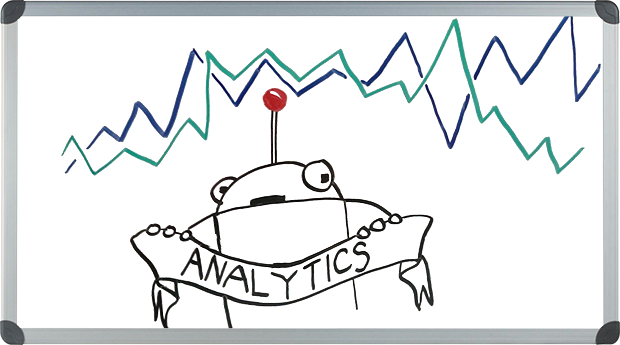 The long awaited Moz Analytics came out of beta late last year to initially mixed reviews. While most users agree that it looks great, the question is does it really provide substantive data and insights? This Moz Analytics review will answer just that.
The platform syncs with Google Analytics and pulls data on your site's inbound channels to provide different insights than what we're accustomed to from Google Analytics. Moz touts the tool as providing, "beautiful data visualizations over time with custom reporting, competitive insights to help with research, and actionable recommendations to improve your performance."
Obviously Moz Analytics isn't a replacement analytical tool, as it relies heavily on Google Analytics, but where it can fit into your existing analytics arsenal?
What does this tool provide that others don't?
Landing Pages
This brand new feature just launched on Tuesday and SEOs could not be more excited about it! Keyword (not provided) forced us to change our processes, alter how we use analytics data, and develop alternative strategies for reporting on the performance of campaigns. The new Landing Pages report in Moz Analytics gives us back some of those keyword level insights. This report groups your tracked keywords (more info on that feature below) by landing page and shows the correlation with ranking positions and visits. The more keywords you track the better understanding you'll get of those keywords referring traffic to your website.

The most notable part of this report is the Estimated Traffic share – Moz looks at everything from landing page traffic and ranking positions to search volume and average click through rates to deliver an estimate of the percentage of visits each keyword contributes to your site. While not a concrete metric, it does provide insight beyond just a ranking position; it helps explain the value of a ranking position. This level of analysis allows us to better measure the effectiveness of our campaigns.
On-Page Optimizations
The On-Page Grader tool evaluates any page on your site, or even a competitor's, and assigns a letter grade A-F. The grade is based on on-page optimizations related to a specified keyword. Moz really makes this tool valuable by detailing their analysis of the page and the contributing factors that led to your letter grade. I love this tool because it provides actionable insights – it outlines the issues & opportunities in order of importance and offers an idea of how difficult or easy their suggestion is to implement.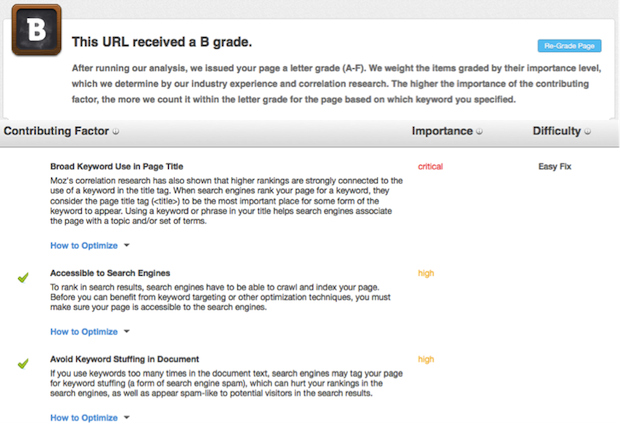 The report evaluates everything from title tags and keyword usage to canonicals and semantic markup. It even displays a target keyword for that page and the recent change in rankings. While this report may be a little basic for experienced SEOs, I think it's a great tool to get a quick, comprehensive look at the pages on a site.
Social Monitoring
The social media monitoring available with Moz Analytics is another aspect of the platform that I think sets it apart from the competition. By syncing your social accounts you can not only monitor interactions such as retweets and shares, but you can see traffic-driving retweets and shares. This level of detail simply isn't available from Google Analytics.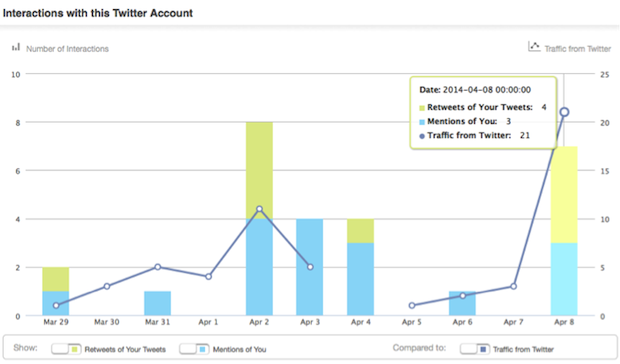 Radian6, arguably one of the most popular social monitoring tools, provides greater detail on engagement and conversations but the pricing model can also be pretty steep starting at $1,000/month, compared to Moz Analytics at $99/month.
Keyword Rankings
Lastly, the keyword rankings tool could prove invaluable. As SEOs continue to lose referring keyword data we're relying more than ever on rankings data. At the same time keyword rankings are becoming increasingly difficult get. Last year Raven Tools dropped keyword rankings from their platform, paving the way for many analytics suites to do the same. Those that remain are highly unreliable and it can be difficult to decipher how they approach personalization, local results, blended results, etc. The Search Query data available via Google Webmaster Tools, while helpful, doesn't fill the void for tracking pre-defined keywords rankings.
Moz Analytics allows you to monitor up to 350 keyword rankings, including 3 competitors, per campaign and includes universal results, local, images and videos as pre-defined options. Rankings are scanned weekly and can be compared weekly or monthly. What's unique about Moz's rankings tool is that you can compare the competition inline with your own rankings. This allows you to see those competitors you're outranking and those that are currently beating you in the SERPs. While this is possible with other platforms, such as WebCEO, competitor rankings are included in the initial cost with Moz. With many rankings tools the pricing structure is per keyword, per scan, which can seriously add up when you include 3 competitors.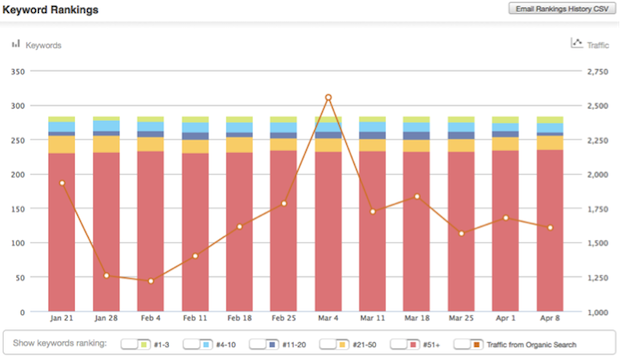 The main drawbacks to this ranking tool are that it only evaluates the top 50 positions weekly, whereas many tools pull deeper rankings results and have the ability to scan daily. While not a deal breaker for most, this could be for some agencies that monitor keyword rankings on a daily basis.
Where is this tool still lacking?
Tech Support
There are, no surprise, still some bugs with the platform. Bugs are okay, expected even, however you have to have a capable support staff to handle them. The first month of using this tool the traffic data was inaccurate, it simply did not match what Google Analytics was reporting. The tedious back and forth with Moz Support included multiple requests for only slightly different screenshots, a complete lack of knowledge regarding Google Tag Manager, and claims that we must have made changes to our filters in Analytics (I assure you, we did not). All of this until, magically, the data was corrected with no explanation provided. While thankful the tool is finally functional I would really like to know what the issue was in the first place. Was it a bug with Moz Analytics? Was there an issue with using Google Tag Manager? And will this issue persist across other campaigns? Unfortunately, I was met with little more than flip references to building a DeLorean to find the solution.
Brand Monitoring
The Brand & Mentions report is a great idea in theory. I would love to have a more analytical approach to monitoring web mentions than hoping for the best from Google Alerts. And I love that they include the percentage of brand mentions that have a link associated with them; if that number is low there is a lot of opportunity in reconciling those for links. However, this report falls short in execution. Even specifying exact match queries doesn't necessarily return relevant brand mentions from the web. There are a lot of irrelevant, foreign language and spammy looking sites listed in the report. Unfortunately, the results we've seen from Moz Analytics Brand & Mentions simply aren't that different from those of Google Alerts.

Is it worth the money?
In my opinion, the value of Moz Analytics lies in that it provides a more complete picture of digital visibility by integrating social & SEO metrics. The tool also provides more actionable insights and focuses on opportunity with features like Landing Pages, On-Page Grader and Keyword Opportunities. In light of Google's keyword encryption these features that allow you to estimate keyword traffic based on page-level performance will become invaluable to many SEOs. If the Brand & Mentions report also gets refreshed this tool will really become instrumental.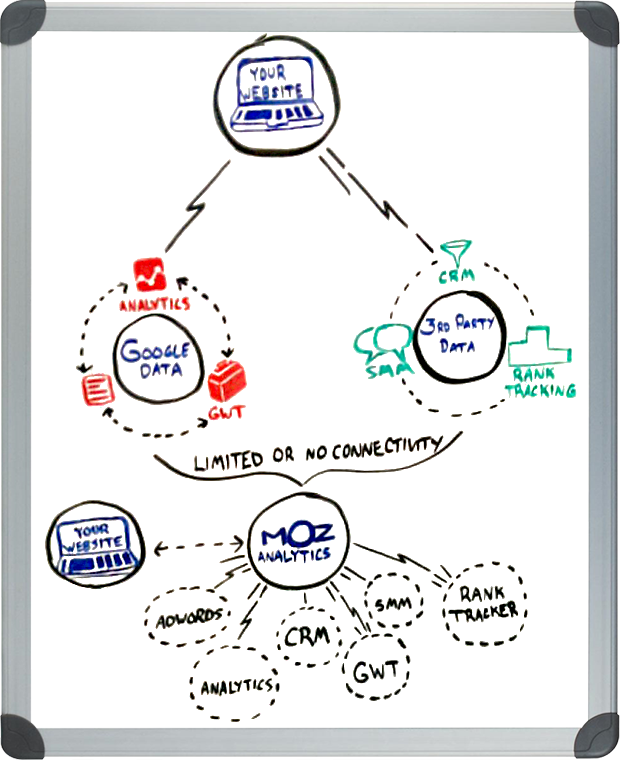 So is it worth the money? Absolutely! With packages ranging from $99/month to $599/month this is an accessible tool for search marketers, small businesses, and agencies alike. Moz Analytics is not going to replace anything but can, and should, be used in conjunction with existing programs to provide a more holistic approach and view to digital campaigns.