How Advanced TV Is Revolutionizing the Way We Advertise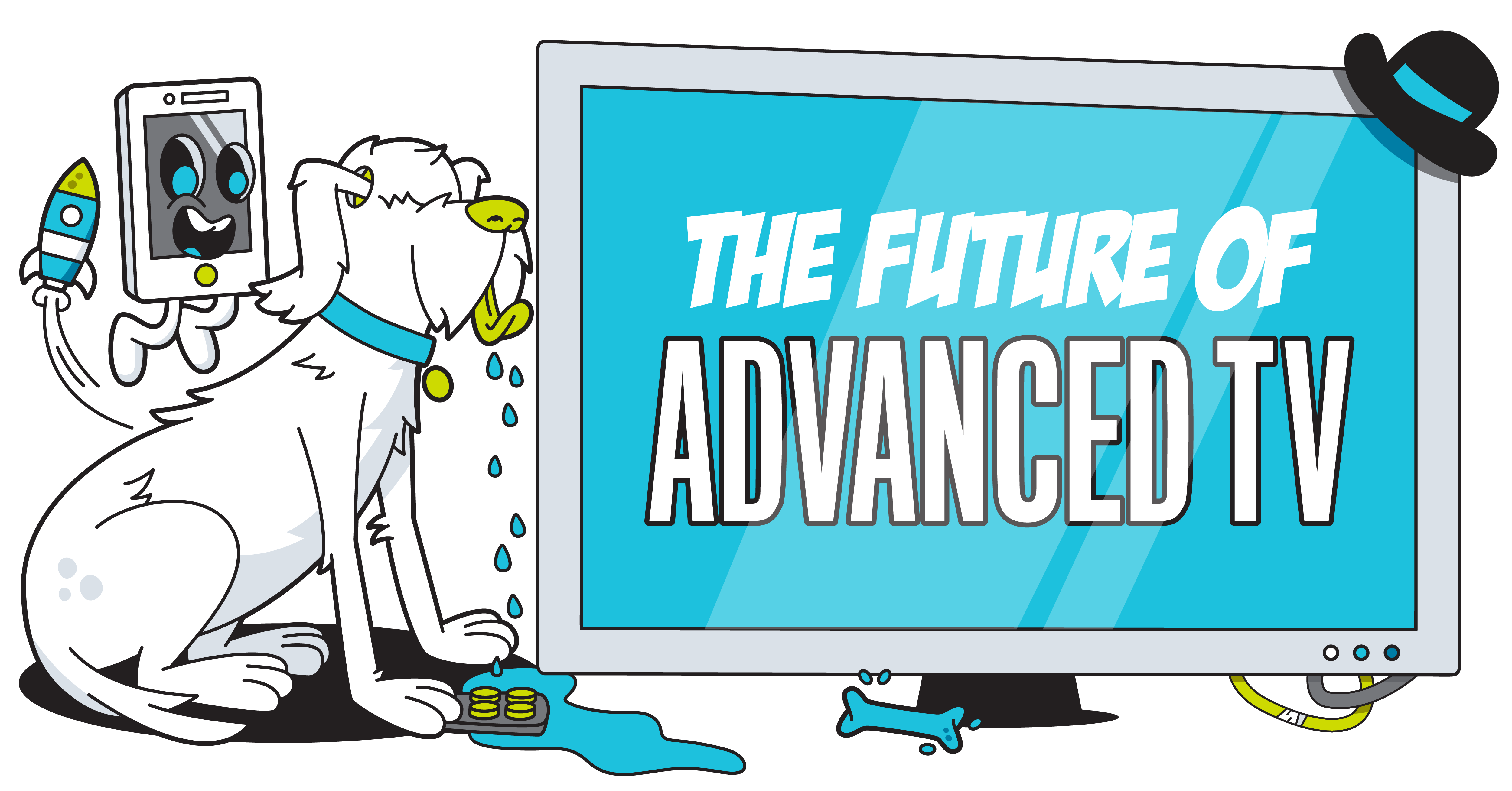 I don't mind TV commercials. There — I said it.
Before you call me crazy, hear me out. It's not that I love sitting through ten minutes of dancing hamsters selling hatchbacks. It's that I don't have to anymore. Thanks to the Internet of Things, TV ads are becoming increasingly targeted — which means they're becoming actually relevant to viewers like me.
A few weeks ago, I went on vacation and decided to turn on the hotel TV. Within an hour, I saw dozens of ads that I never see when I'm watching Hulu. The ads didn't resonate with me at all. I don't consume dairy — I haven't for a long time. In over a year of using connected TV devices, I have not seen a single ad for milk or yogurt. In just one hour at my hotel, I saw six different milk commercials from three different companies. Now that's bad ad spending.
Advanced TV is here, and it's changing the way we watch television forever. It's also revolutionizing the way we advertise. Over the past few years we have seen a major increase in advanced TV spending as more brands jump on board. Emarketer does not see this shift in spending slowing down anytime soon, either, estimating that CTV ad spend in the U.S. will reach $10.81 billion by 2021. In 2019, CTV spend accounted for almost 3% of advertisers' marketing budgets, and that number is expected to jump to 5% by 2023.
While issues come along with any digital marketing campaign (think fraud and frequency), there are still many advantages to implementing a connected TV strategy. The number of cord cutters has steadily increased, while linear viewership has fallen. CTV campaigns offer advertisers a chance to speak to their target audience, take advantage of their data and garner insights from campaigns. The digital OTT landscape is changing fast, but this is a roller coaster you should be climbing aboard.
What Is Advanced TV?
What exactly is advanced TV? It's the term used by marketers to describe today's streaming landscape of video on demand, TV network apps on streaming devices, programmatic television, connected TV and over the top media (OTT for short — we'll get into that later).
The television of today is leaps and bounds away from linear TV, which is the traditional television most of us grew up watching (think local TV, cable and satellite, no WiFI necessary). In the past few years, linear television has seen a massive shift of users transition to connected TV (CTV) devices. Most televisions on the market today are CTV enabled, allowing viewers to access shows, movies and entertainment through a WiFi connection.
The CTV industry has seen steady and rapid growth year over year, with budgets expected to increase. As more users become cord shavers and cutters, advertisers are shifting their traditional TV dollars to reach audiences on CTV platforms.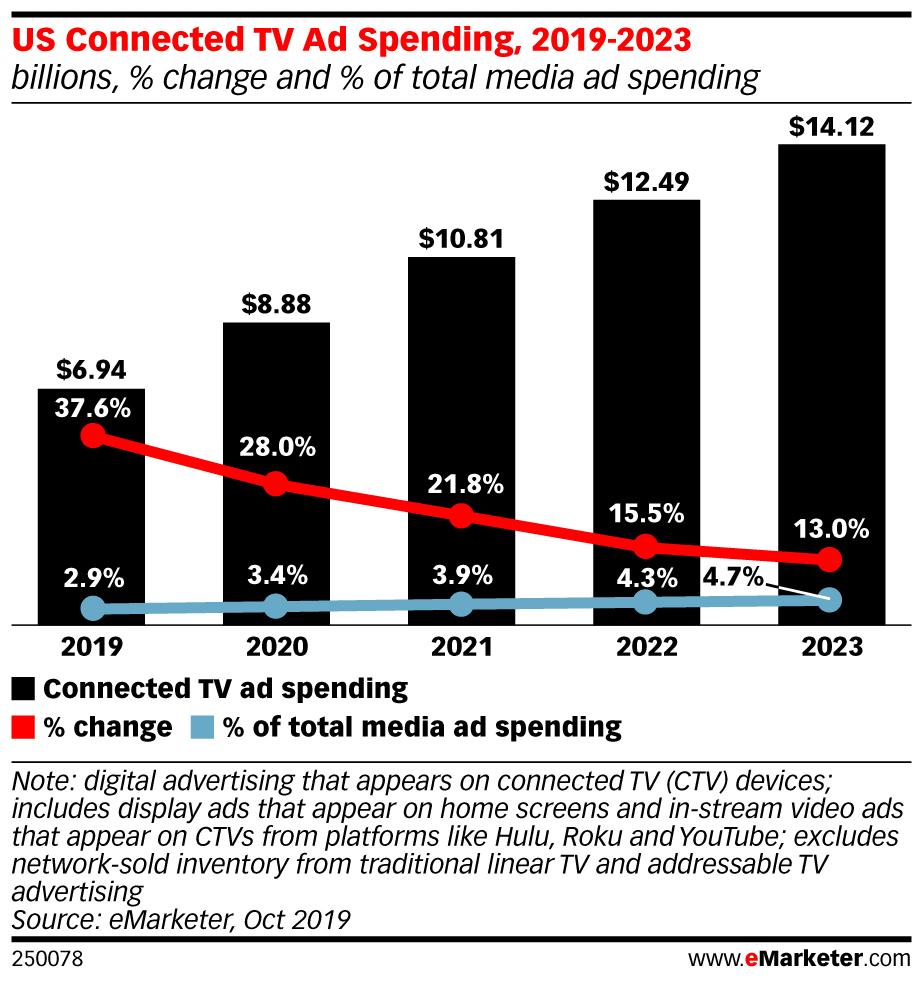 Source: US Connected TV Ad Spending Will Grow Nearly 40% in 2019
How CTV and OTT Are Shaping the Future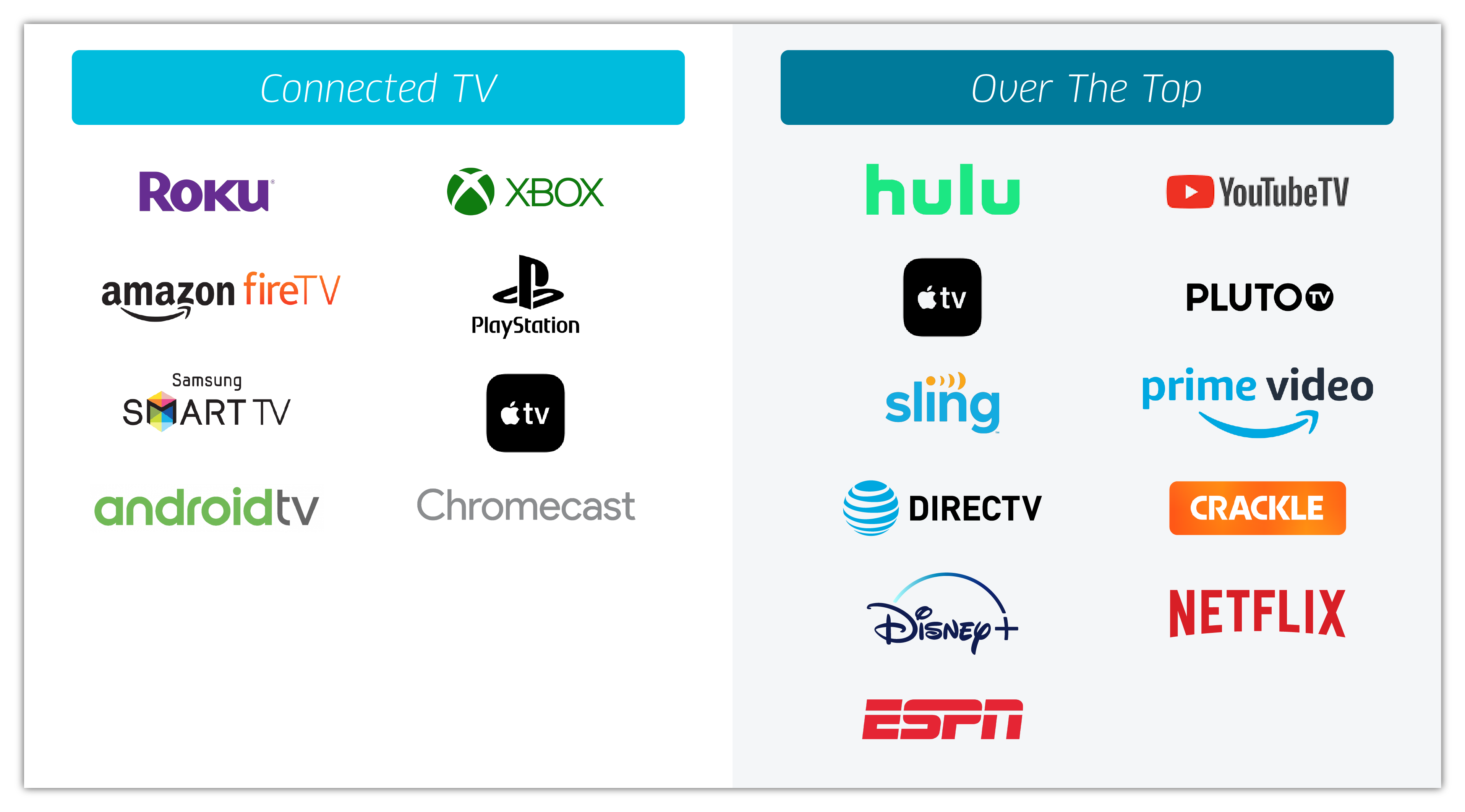 Let's get something straight: CTV and OTT are often used interchangeably in our industry, but there are a few core differences between the two acronyms.
Connected TV is a television that is connected to the internet. Smart TVs like Roku televisions, android, and apple TVs, as well as popular gaming devices, are all examples of CTV devices.
OTT, or over the top media, refers to the media itself rather than the device. OTT is media that completely bypasses the traditional cable method — think Netflix & Disney+.
Together, CTV and OTT have given rise to a powerful force: addressable TV, that is, the emerging art of targeting users at a household level. In the past, delivering relevant commercials and ads to consumers based on their online habits and interests was impossible. Brands and marketers are now able to optimize and spend their budget with reliable audience insights and targeting.
For advertisers, targeting is the key difference between linear television and advanced TV.
Programmatic, Platform and Publisher - Understanding Advanced TV Advertising Options
Much like the landscape of streaming itself, advanced TV is becoming more and more fragmented by competing companies and proprietary devices. There are many different ways to access CTV and OTT audiences. The three most common ways of purchasing inventory are programmatically, platform direct and publisher direct.
Programmatic
A wide reach into many platforms (Roku, Xbox, etc.) via DSPs and ad networks

Ability to implement a cross-screen campaign (CTV, instream video, retargeting banners)

Likely no guarantee of program-level buys

Limited access to clickable formats or platform takeovers
Platform
Lower rates by going directly to the platform

Access to broader native and clickable inventory
Publisher
Able to guarantee inventory in specific channels and programs

Some OTT apps have restrictions on working publisher direct, dependent on competitors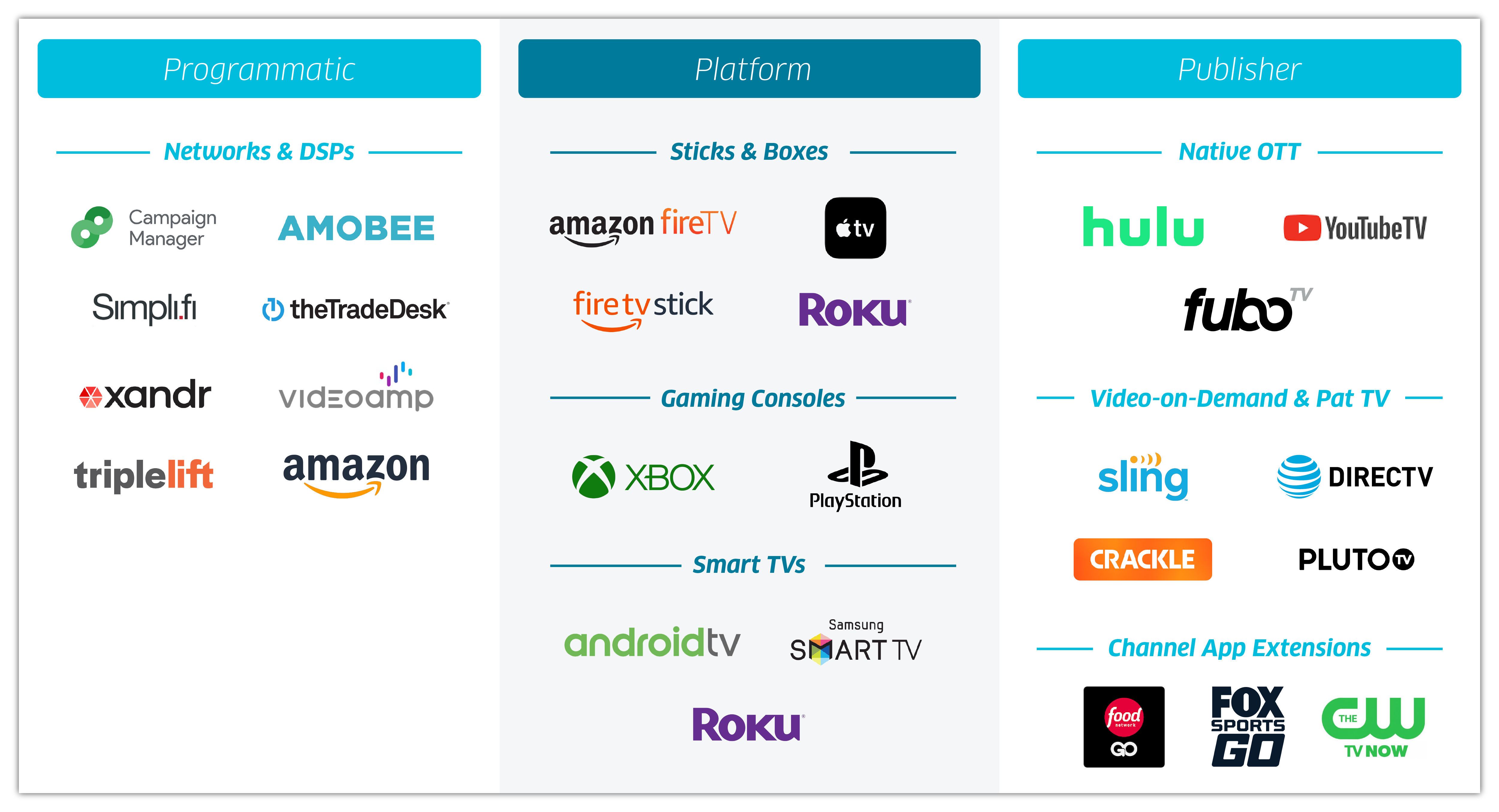 Targeting Capabilities
Gone are the days of buying your audience solely based on time of day and TV show. A main benefit of OTT campaigns is the ample opportunity to layer on multiple targeting tactics that can align with your overall digital media strategy. Utilizing a mix of first-party, third-party, retargeting and content-based targeting, brands are serving me ads that I actually relate to. Instead of reaching for the clicker when the commercials start, I find myself rapt by commercials (and their strategic underpinnings).
What are the targeting capabilities of advanced television? Here are the layers of CTV-targeting tactics marketers have to choose from
First-Party Data
You can import and layer on first-party segments from your DMP. For example, the DMP Neustar partnered with Tru Optik to provide OTT-targeting capabilities. This enables you to exclude current customers or build lookalike audiences based on top-performing behaviors from converters.
Third-Party Data
Increase the efficiency of your first-party data by layering on third-party data. Not only can you layer demographic targeting to reach relevant audiences, companies like Samba can provide real-time learnings across linear, OTT and digital, helping connect the dots between linear TV and digital. Nailing down your audience will help you decide which partner is right for you based on their third-party data offerings. A partner like Bombora is great for B2B marketers, while a company like Catalina would be a better third-party fit for CPG retailers.
Competitor & Content-Based Targeting
Companies like Samba and Alphonso TV have technology and data embedded into a high percentage of televisions and mobile devices. This enables them to "hear" or "view" all content — even a competitor ad — and then serve your video on the same device or serve your ad around highly relatable content. This also gives a higher level of audience information to your campaigns. To add another layer, Samba's technology tracks pixels on the screen. They can see what shows viewers watch, what video games they play and even determine if someone leans right or left depending on which media outlets they tune in to.
Retargeting
With advanced TV retargeting, you can now use television to keep your brand top of mind while users are in the decision-making point of the cycle. Retargeting can help you capitalize on air time. According to eMarketer, over half of Americans engage with a second screen while watching TV, with that percentage set to rise to over 70% in 2020. Showing retargeting banner ads after a user has seen a commercial through their OTT device may help maximize overall conversions.
When layering on your audience targeting, one thing to keep in mind is scale. Yes, it is entirely possible to layer on far too many and limit your overall reach. While CTV is a fast growing medium, it doesn't have the same extensive reach you will see in digital marketing. It's important to be realistic about the goals and expected reach for your OTT campaigns.
Common Advanced TV Misconceptions
Since OTT planning and buying falls in the digital advertising realm, some advertisers expect to see the same results as their other digital campaigns. That is not the case for OTT campaigns — they will not be DR drivers. The campaign should still be seen as an upper-level tactic, with the opportunity to spend dollars more efficiently thanks to first- and third-party targeting that you can layer onto your OTT campaigns.
You can expect typical OTT CPMs to fall into the mid-$20 to high $30 range with little direct conversions attributed back. OTT campaigns are very efficient at prospecting and adding new users to your retargeting funnel, where they will later convert through search, social or display. Brand lift studies and connected TV retargeting banners are good ways to measure the impact of your OTT campaigns.
Advanced TV Planning for 2020
With all the data at our fingertips, there's no reason to not capitalize on speaking directly to your consumers. Advanced TV campaigns will see a bigger shift to people-based targeting in 2020, where dynamic CTV ads will be the industry norm.
Leveraging more cross-screen tactics should be a priority for marketers in 2020. Marketers need to take notice that a majority of Americans are on a second screen while watching television. Harnessing that knowledge and speaking to your audience at the right opportunity is critical.
Between ever-evolving targeting capabilities and the growth of measurement for CTV campaigns, we have more insights and performance levers to pull than ever before.
If you make one thing a priority in your 2020 media-buy planning, make it advanced TV. Work with marketers who will help you harness your media buys and use the correct mix of targeting capabilities so that you can make the most of your advertising budget. If you keep thinking "This is just a trend," or "I'll wait until measurement is better," you will continue to waste your precious advertising budget on an audience that isn't interested in your product, while your competitor is running OTT and CTV campaigns, hitting YOUR audience while spending less to do it. And don't think they won't. According to IAB, in 2019 almost 60% of advertisers reported plans to increase their advanced TV budgets in the upcoming year. That means a majority of advertisers are starting to make the shift.
If I've recently been researching new cars, sure, show me car commercials! If I've been looking to book that beach house in Florida and see an ad from Visit Florida, I don't mind. Just please, please, I'm begging you, stop wasting your ad dollars on people who couldn't care less.