Google Analytics vs. Adobe Site Catalyst Round 2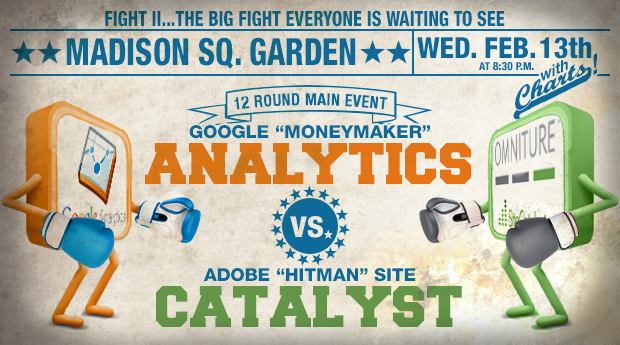 "Float like a butterfly, sting like a bee. His hands can't hit what his eyes can't see." While Muhammad Ali's famous quote addressed his strategy to defeat the reigning heavyweight titleholder, the underlying message is just as applicable when considering Google's approach to becoming the Analytics champ.
For a company worth billions in assets and infrastructure, Google has remained just as agile and unpredictable as in its heyday as a tech start up. By constantly offering new services and nimbly adjusting existing features in response to customer needs, Google remains an unexpected contender—hitting hard and hitting where it counts.
Google has announced many exciting new features coming for Analytics Premium in 2013, such as a new measurement protocol, custom metrics and better support for offline traffic and conversions over multiple devices. SiteCatalyst, however, has already rolled out many improvements in areas such as reporting with its recently released version 15.
Does Google Analytics Premium have the juice to knock out Adobe's updated SiteCatalyst, or does Adobe's product have the upper hand? As promised, we're taking another look at how our competitors stack up to see which analytics platform reigns supreme.
Accessibility
In our last examination of Premium and SiteCatalyst, Premium was by far the more accessible, and this hasn't changed. Premium is intended to be an intuitive, instinctive and user-friendly system, providing "analytics for all".
SiteCatalyst, on the other hand, is the polar opposite. Adobe's analytics platform thrives on providing depth along with completely customizable experiences, both of which require training to understand anything beyond basic metrics.
Where Premium touts ease of use, SiteCatalyst revels in complexity. These differences are core to each brand's positioning, which makes it unlikely that we'll ever see any major shifts in terms of accessibility for either platform.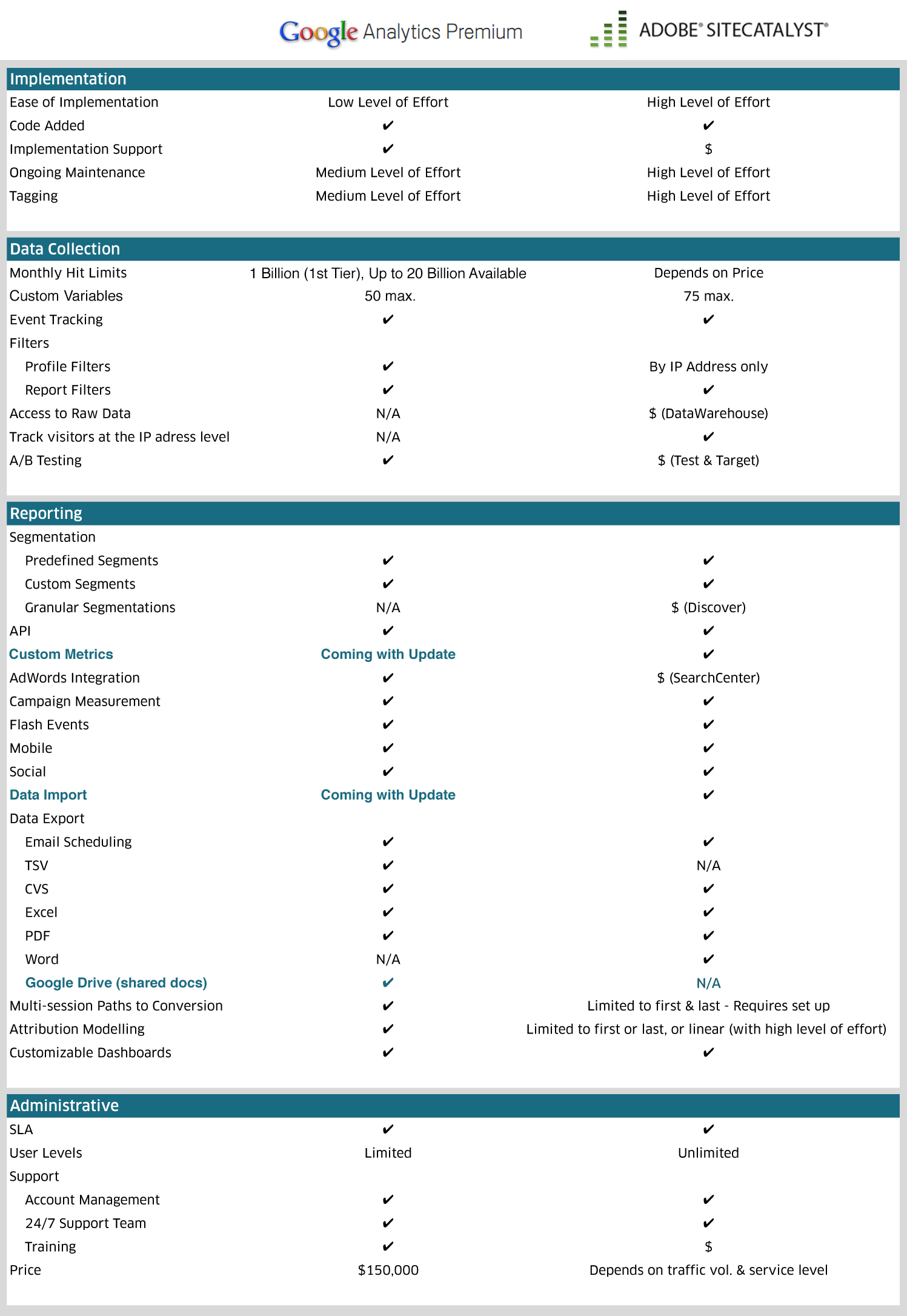 Data Manipulation
Data Manipulation is one area where Google has come back swinging. Realizing the difficulty of attempting to manipulate variables with an arbitrary numerical nomenclature rather than with terms indicative of function, the updated Analytics Premium allows custom variables to be named with meaningful titles. Clearly, this is an area in which Google has adapted in response to Adobe's offerings.
Affordability
Both tools retain their standard high costs. Analytics Premium, despite a hefty upgrade, still comes in at a flat fee of $150,000 per year. SiteCatalyst's price is a lot higher and can vary depending on traffic volume and service level. There is no clear winner in this area, as it all still depends on user needs.
Reporting
With version 15, SiteCatalyst has tremendously improved reporting capabilities. The updated platform now features custom and present segmentation, bounce rate and updated dashboards, giving it the edge in real time comparisons. In fact, many of SiteCatalyst's reports are beginning to look eerily like those of its distinguished competition. However, SiteCatalyst is still coming up short on visuals. Premium wins this round with customized data visualization, intuitive reporting interface and default variables that make reporting a breeze.
Where It's Headed
Before, the big differences between SiteCatalyst and Analytics were centered on data import, display and custom variable capabilities. Now that Analytics' data manipulation is approaching parity, and version 15 of SiteCatalyst has incorporated standardized metrics such as bounce rate, a comparison of the two options boils down to user priorities.
With Google Premium nearing SiteCatalyst in terms of flexibility and customization and SiteCatalyst attempting to improve usability, a look into the future suggests a choice between the two will teeter on factors that induced Analytics' updates.
Multi-Device Analytics
In our previous discussion, we mentioned multi-device analytics as a game changer. Marketing trends are adapting to consumer behavior and adopting a visitor-based model for conversions over the archaic session-based model.
While Premium is incorporating multi-device and offline tracking into their platform, SiteCatalyst is already capable of tracking users regardless of browser or device. However, as with most things regarding SiteCatalyst, it isn't easy. It takes a bit of finesse and IT creativity to achieve this task.
Once Premium incorporates visitor-based tracking, we anticipate them winning this round. Premium, as a newer product, has had the chance to learn from SiteCatalyst's mistakes and logically would better be able to implement the same capabilities. That, combined with the usability of the Premium platform, makes us forecast Google coming out on top...eventually. For now, this round might be a draw.
The Judges Scorecard
Assessing each platform's viability, both products have their pros and cons.
Adobe's product is still better at managing large amounts of data from multiple domains, but the depth of their offering comes at the cost of accessibility. However, as evidenced by the improved reporting capabilities, they're getting better.
Google, meanwhile, continues to introduce new features and learn from SiteCatalyst's mistakes. In terms of multi-device tracking, SiteCatalyst fails to offer an out-of-the-box option; but, in the same breath, we're still waiting to see how far Google goes with a visitor-based paradigm.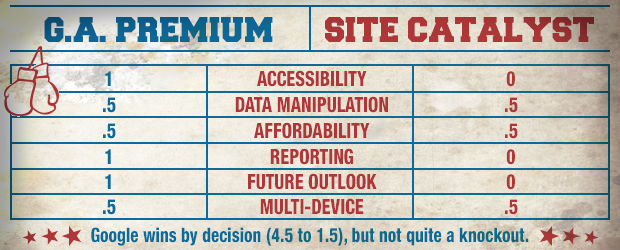 As the products continue to co-evolve, differences may become negligible at best or even indiscernible. At this point in time, however, we're putting our money on Google.