Google Analytics Premium vs. SiteCatalyst: Now and in the Future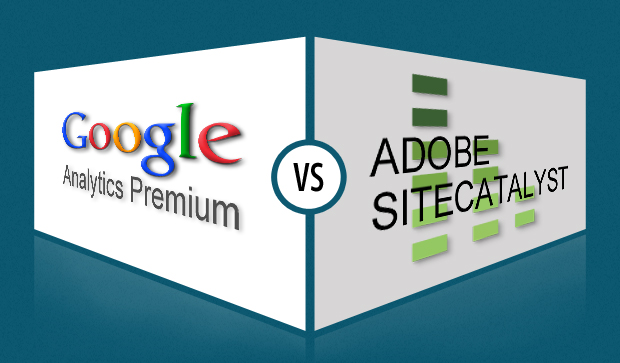 It seems there aren't many complicated tasks that can't be boiled down to pushing a button or reading a pie chart, these days. Automatic transmissions make shifting gears effortless. Point and shoot cameras eliminate the need for interchangeable lenses and aperture adjustments. And, in the web metric analysis world, Google Analytics makes evaluating site traffic easier and more intuitive than it's ever been. But what about those of us that want full manual control? What about those of us who know what we're doing and don't want to be constrained by ease-of-use features? Where do we turn when we want maximum performance, not just a pretty interface?
Until now, the answer had been SiteCatayst, an Adobe product. It's the manual transmission, the single lens reflex camera of web analysis tools. It offers powerful customization and unlimited control to educated users.
But things are changing, as Google Analytics Premium suggests you can have it both ways. The paid version of Google's uber-popular Analytics platform allegedly boasts superior functionality to SiteCatalyst, without sacrificing the intuitive usability found in free Analytics.
We all know something has to give. If stick shifts were easier to use, everyone would drive one. If consumer cameras could do all of the things pro cameras can with a single button, photographers would go out of business. So, the question is, where do you draw the line? Is the user-friendly Premium the stronger platform, as Google claims? Or does the raw power of SiteCatalyst remain unmatched?
Accessibility
Google Analytics Premium purports to make web analytics available to all users. SiteCatalyst, on the other hand, focuses on providing in depth, completely customizable experiences. What this means to anyone who isn't an Analytics Specialist is that Premium's data can be interpreted and intuitively understood without specialized training, and that SiteCatalyst requires an educated user to understand anything beyond the most basic metrics. The 'complex versus usable' theme extends through all aspects of the comparison between Premium and SiteCatalyst. From setup, to user interface, to reporting, Premium is intended to be an instinctive, user-friendly system, and SiteCatalyst is not.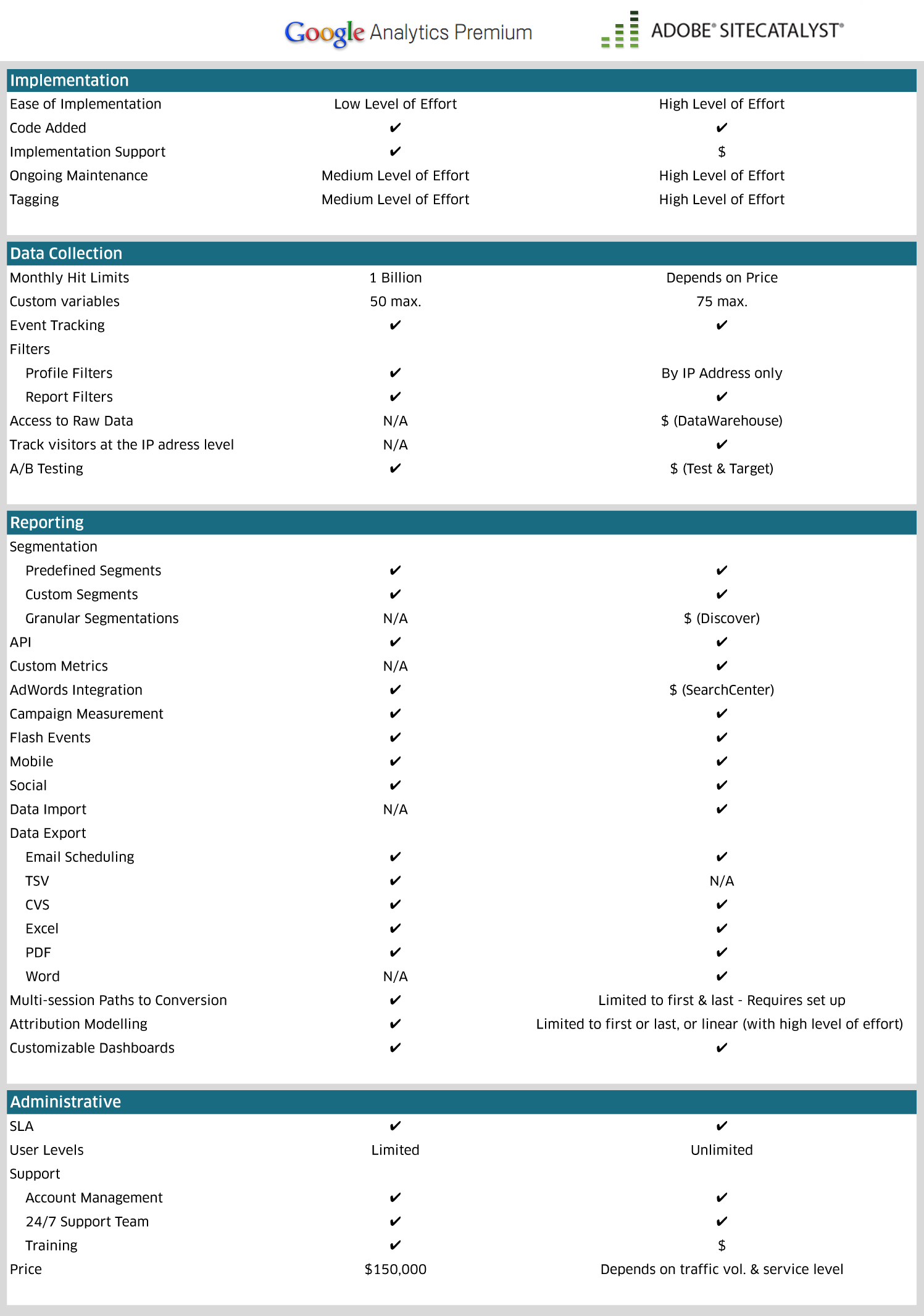 Data Manipulation
Where SiteCatalyst does have the advantage is in its customization. While, Google Analytics Premium matches SiteCatalyst's 50-customized-variable feature, SiteCatalyst's custom variables administration is far more straightforward than its competitor's. Custom variables, or eVars, allow you to create segments in real time on your site, as the action happens, and can provide immediate, detailed insights into user actions. Inside SiteCatalyst, each eVar is named deliberately in the admin panel rather than on the page in the javascript. With SiteCatalyst eVars, set the allocation and expiration as you see fit. For example, additional precision can be achieved by setting the eVar to expire after some custom event takes place. Metric application is more straightforward, as well. Metrics in SiteCatalyst are named according to function in reports rather than identified by number, as they are in Premium.
Affordability
In terms of pricing, both tools have high standard costs. Premium comes in at a $150,000 flat fee per year, and SiteCatalyst can cost even more depending on traffic volume and service level. Of particular consideration here are the additional costs in SiteCatalyst for implementation support (which you will need), inclusion of CRO testing through Test and Target, and AdWords integration. Although these are options in SiteCatalyst, it would be foolish of any company attempting to fully leverage their online presence to neglect any opportunity to increase conversions.
Reporting
There are two aspects to consider when examining the relative reporting capabilities of Premium and SiteCatalyst: First, the amount of data used to generate reports, and, second, how the reports are generated. The first consideration is based on the amount of traffic your site receives. Monthly visit limits for Premium stand at one billion, and reports offered are on unsampled data. However, the reports shown in the user interface are still based on sample data. To view the complete data, reports must be exported for further analysis. Although SiteCatalyst looks at all data collected, it remained at a distinct disadvantage in terms of reporting until the release of Version 15. The inclusion of custom and preset segmentation, bounce rate, and updated dashboards has given SiteCatalyst the edge in contemporaneous comparisons. The updated version of SiteCatalyst has made Adobe's metrics available for production of reports relatively similar to those of Google Analytics Premium. Regardless of the parity of metrics available between platforms, the ease of use in creating unique and customized visualizations of data (pie charts, comparisons, etc.) in Premium remains a distinct advantage for greater distribution and support of the achievements of marketing initiatives.
Overall, Premium is nimble, intuitive, and user friendly. SiteCatalyst is intensive, data heavy, and highly customizable. An ultimate conclusion on which option is superior presupposes factors that could sway a decision either way. What does seem clear is that SiteCatalyst is a powerful tool that requires at least one dedicated specialist to set up, measure, and analyze data. This places a great deal of responsibility on one interpretation, and can create bottlenecks when reports are needed quickly. Premium allows anyone to examine traffic data and offers an ease of use that allows dynamic and immediate interpretation of results.
Where It's Headed
We all know how quickly things can change.
In any mature market, competition drives innovation and continuous product improvement. It's interesting that SiteCatalyst's latest release, for example, included the launch of some features that have been part of Google Analytics for a long time, like unique visitor data for any timeframe and Bounce Rate as a built-in metric. Future SiteCatalyst updates will likely include full attribution modeling and multi-session path analysis, which are currently offered by Google Analytics Premium.
Still, while both products are likely to evolve as the competition plays out, the big picture will remain relatively static. Google and Adobe have different revenue models: Google's revenue comes from digital advertising, while Adobe's comes from selling licenses and software. Google Analytics will continue to stress its user-friendly interface and ease of use, while SiteCatalyst will continue to offer powerful analysis that requires great effort to access. Google will continue to keep costs relatively low, while Adobe will continue to charge for training and complementary products like SearchCenter and Test & Target.
For now, Adobe may struggle to maintain users as Google Analytics Premium gains momentum. SiteCatalyst will be forced to evolved if Google proves successful in taking away market share, but the ensuing competition will only result in stronger versions of both SiteCatalyst and Premium for users to choose between.
However, I suspect the winner of this matchup will be whoever wins the multi-device battleground. The current battle has largely been waged around a single-device, cookie-based world, although that world really doesn't exist anymore. Whoever best evolves to suit the new landscape will likely come out on top.