Georgia: No Longer the Peach State?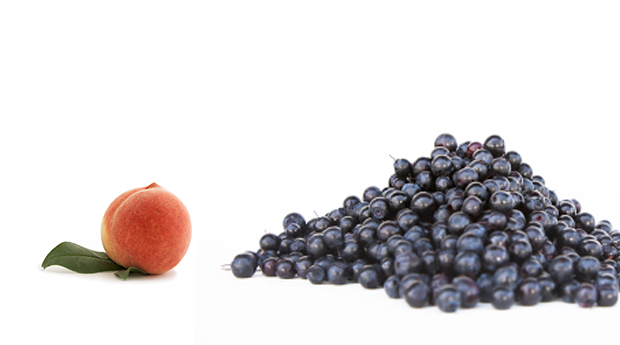 Take a look around Georgia and you'll see peaches everywhere. Not real peaches, mind you – streets called Peachtree, peach-inspired logos, and shops selling peach pie and peach cobbler and peach pastries.
But did you know that Georgia isn't the leading producer of peaches anymore? It hasn't been for decades. Since taking the fruit world by storm around the time of the Civil War, Georgia has since lost its national crown to California and even fallen behind places like South Carolina and China.
So why is Georgia still known as the Peach State? Isn't it a bit inauthentic? Is Georgia at risk of becoming the hole in the wall diner that claims to serve the world's best coffee? Or the flailing tech company that was cutting edge 20 years ago but hasn't innovated since?
Maybe it's time for a change.
Georgia wouldn't be the first brand to adapt its image to fit a changing market. Johnson, once famous for making baby powder, eventually had to start designing products for adults in order to stay afloat. Old Spice was on the verge of irrelevancy before they revamped their image and product line to appeal to a younger crowd.
So, is it time for Georgia to follow in the footsteps of these once dying companies? Is it time to rebrand Georgia?
Georgia: The Blueberry State?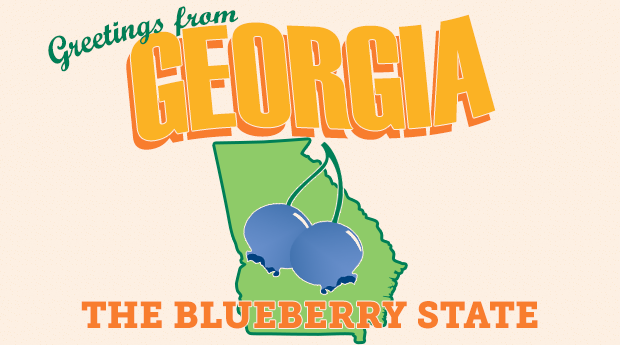 It's not as if Georgia's lacking options for a claim to fame. While peach production might be down, there are plenty of exports to pick up the slack.
For example, NBC News recently reported that blueberries have become Georgia's new top fruit. In 2012, the blueberry crop was more than three times as valuable as the peach crop. Calling Georgia "The Blueberry State" would technically be more accurate.
Better yet, Georgia is the leading peanut exporter in the nation, producing half of all peanuts in the United States! With the peanut as its state crop, why is Georgia not the "Peanut State"? It's also known around the world as the home of Coca-Cola, a must-see attraction when visiting Atlanta. Why not the "Coke State"?
A lot of Georgians don't realize that Georgia didn't officially become "The Peach State" until 1995, when peach crops were already plummeting. The decision to adopt the name, and the brand image, was clearly a conscious one that was about a lot more than annual peach yield.
More Than a Name
What comes to mind when you hear the phrase Georgia Peach? For some, it might be a fuzzy, juicy fruit or a row of peach trees ripe for the picking. For most of us, though, a Georgia Peach means a sweet southern girl in a sundress or a glass of sweet tea and homemade cobbler.
According to dictionary.com, the informal meaning of "peach" is "a person or thing that is especially attractive, liked or enjoyed." The peach, the Georgia Peach in particular, has become a title, a feeling, a memory. It's how Georgians identify themselves. It's what they pride themselves in.
The Georgia Peach is so engrained in the south that the state capital of Atlanta has named seemingly every street after it (71 to be exact), as well as a county in Middle Georgia, hundreds of businesses, transportation, the lottery, and more. It's everywhere.
And it's not just Georgia. There are many other businesses across the country named after this popular phrase, including over 300 song/album titles. There's national recognition. The Georgia Peach is part of American culture.
Georgia's brand has little to do with the goods it ships around the country. At its heart, Georgia's signature brand is its residents' casual lifestyle and pleasant demeanor. It's what they're known for, at home and across the nation.
So, why cling to the name? Because it's the warm, fuzzy feeling Georgians get when they talk about their home state. And they couldn't be more proud.
Sticking to Its Roots
Some brands evolve over time to cater to their market or win a new demographic, and they should. But more important than a brand's new product line or the font it uses in its logo are the things that it stands for. A brand means nothing without a consistent voice, without a purpose.
"The Georgia Peach" is a brand, an identity, and it always will be. Yes, Georgia is the national leader in pecans, blueberries, Coke, peanuts and cotton, but try changing its state fruit or its reputation… and see what happens. I doubt those Georgia Peaches will be too "peachy-keen" about it.