False Thought Leadership & The Evolution of the Copywriter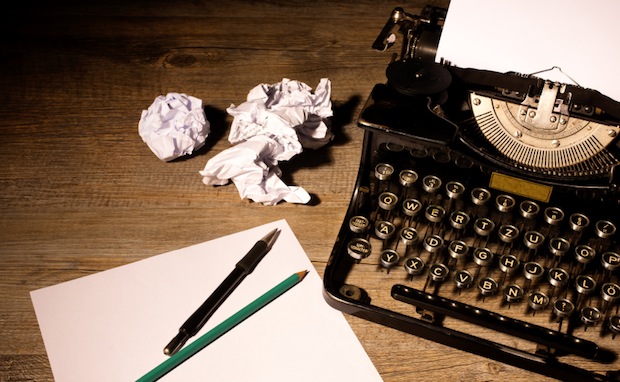 We talk about "quality content" like it's a destination.
Like all it takes to be a great content marketer is consistently clearing some imaginary hurdle, or reaching the top of a hill somewhere where you can exclaim to the world, "We've done our research! We've brainstormed topics! We've written "quality content"! Now give us all the audience!"
But what happens when you get to the top of that hill and, instead of a megaphone, you find every single one of your competitors clamoring for elbow room?
What happens when pretty much everyone in the world is writing "quality content"?
It's bound to happen eventually. And then what?
The answer, I think, is that someone is always going to be better. Someone is always going to be the best.
Right now, many businesses are still hiring overseas writers on Elance for a dollar an article. So, today, leaning on a team of talented copywriters that understands research, strategy, and craft might be enough to vault you ahead of 90% of the field.
But soon, I don't think even that will be enough. And as a result, we're going to see a new breed of copywriter before too long.
Two Types of Content Marketing
One of the frustrating things about content is that it's so hard to define. There's literally not a single adequate synonym for it. Content just means "stuff" – it can be writing, video, photography, interactive tools, conferences, podcasts, and everything in-between.
So, when we talk about content marketing, we should say what it is we really mean.
On the one hand, it can mean creating "content" (I know, that word again) that's creative, engaging, funny, shareable, or practical. Think insightful data visualizations, How To guides, or videos that elicit a specific raw emotion through effective storytelling.
On the other hand, it can mean content – usually the written word -- that helps position a client executive as a thought leader in their field. Think articles that spotlight industry trends, take a stand, or shed new light on current issues. Most CEOs, Presidents, and VPs are busy, you know, running their businesses. So they lean on agencies, ghostwriters, or an internal team to create this kind of thought leadership content for them.
But there are a number of problems with the latter model that make it ripe for change.
The Problem of Transparency
We live in an age of nearly limitless information and, frankly, people don't like being misled. But more than that, we live in an age where the source of a piece of content (namely, its author) is increasingly more important than the content itself.
Consider Guy Kawasaki, one of the most prominent and prolific thinkers on the web today, who found himself in some hot water a few years back when he admitted to using ghostwriters on his Twitter account. He later published a forensically detailed piece about where exactly his social content comes from in order to put the controversy to bed.

Now, it's not exactly a secret that celebrities and public figures often hand their social media accounts over to PR firms or assistants. And it may often go unspoken, but I think we all realize that it's VERY difficult to Tweet dozens of times a day, publish multiple blog posts, work on a book, and run a business at the same time – and that many of the people that do this have hired help.
But there are a couple of important distinctions to be made between what constitutes good ghostwriting and bad ghostwriting:
First, if a well-respected leader has a ghostwriter, you better believe he or she works extremely closely with them.
When Guy Kawasaki disclosed his ghostwriters, it became clear that these were not "content experts" farmed out from some mega firm. They were hand selected individuals – a grandmother from California and a book-worm from Idaho -- whose voice and world-views had been personally vetted by Guy.
In other words, people like Guy Kawasaki don't entrust their personal brands to a legion of mercenaries who spend their day slipping in and out of various editorial voices and industry lexicons.
But the second distinction between good and bad ghostwriting, I think, is even more important. And it's this fact that's going to ignite a major change in content marketing, and content marketers, over the next few years.
True Leaders Create
More so than their Tweets, or the curated pieces they share with their audience, today's leaders are defined by the content they create.
Can you imagine the fallout if Avinash Kaushik, for example, admitted that he didn't write one of his signature posts? His Two Ladders article, for example, was shared nearly 3000 times across various social channels, and is a key cog in his platform as a writer and thinker. If his fans were to find out that those words – or worse, the ideas – weren't his, but came from an agency content strategy document, the consequences to his brand could be enormous.
Of course, this would never happen. Because I don't know many copywriters that could effectively pose as the world's leading voice on analytics.

So therein lies the problem.
True thought leadership can't be faked.
A good copywriter informs himself through research and writes great content around a defined message. We do our best work when the message is emotional, philosophical – when it taps into universal truths and approaches the subject from a human perspective. We're often just not equipped to properly explore technical ideas that attempt to redefine or advance industries. Not without the close guidance of someone who really knows the field and wants to disrupt it.
But not every client executive is Avinash, or Guy Kawasaki, or Seth Godin. In reality, the people we work with represent a broad spectrum of philosophies – from those that care about telling their own story and are willing to put in the work to do so, down to those that view content as a checkbox and a lead gen tool. And everyone in between.
So despite the fact that true thought leadership can't be faked (or bought), and that checking the "quality content" box is becoming more the norm and less a differentiator, those clients at the bottom of the spectrum are going to continue coming to us, as agencies. They're going to continue asking for our help in producing content that better positions them in the market.
So how do we do it?
The Evolution of the Copywriter
By now, we know that the next step in content – what happens after everyone masters "quality" and we need a new way to stand out – is that it needs to become more than just coherent. It needs to be more than useful.
It needs real authority and expertise. It needs the authentic voice and insight of someone who lives, eats, sleeps, and breathes the ideas inside of it.
Because that's what great writing is really about.
Not words. Ideas.
If you can't be remarkable, perhaps you should consider doing nothing until you can. ~Seth Godin

— SethGodin Quotes (@Godin_Quotes) July 25, 2013
With that in mind, there will always be a spot for writers that can turn a phrase. Brands will always have a need for strategic thinkers who can digest research and output a snappy headline, or copy experts who can make a bland product description into something fun and exciting.
And there will always be a place for the creatives. The writers that know how to access emotion through great storytelling. The writers that can be funny on command, or make you weep by conjuring visceral images.
It's the content writers, the ghost writers, that will need to evolve.
This new breed of copywriter should be tasked with helping aspiring thought leaders and CEOs generate content ideas, challenging them to think in ways that will disrupt and ignite discussion or educate on a deeper level, and then shape those ideas into narrative.
We should be journalists, letting our subjects dictate the content of the story, instead lending our expertise to things like structure and narrative and flow. We should use research and strategy to guide the true experts toward objectively amazing content that fits their brand goals.
More than anything, the future of the copywriting position is going to call for gifted storytellers.
Some brands will never change, though. They won't value their own story and they'll continue to think of "quality content" as a stationary target -- a To-Do to be done. And for them, we will do our best. We'll do as much research as we can, and we'll aim to write content that connects with people as often as possible.
But we'll do this knowing one thing:
Someone will always be better. Someone will always be the best.
For that reason, the future of copywriting means putting an end to just checking boxes – when we can. Putting an end to approaching content like a college research paper – when we can.
The future of copywriting means finding writers who know how to get a story straight from the source.
And ones that can challenge and bring out the best in their clients.