Crimson Hexagon vs. Sprout vs. Meltwater. Who Wins the Social Listening Showdown?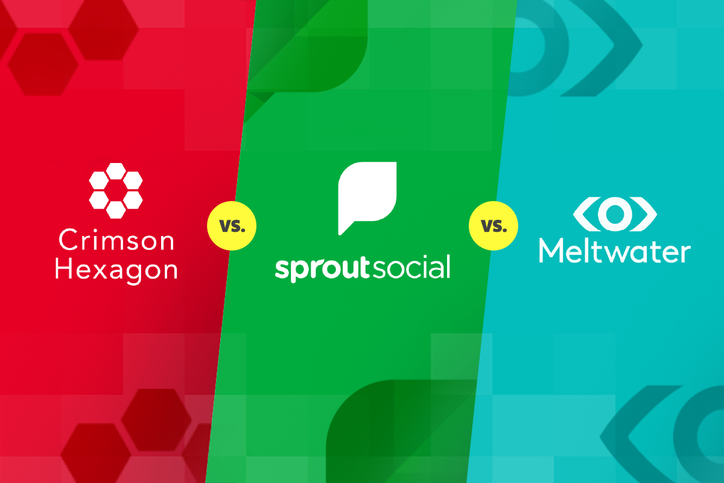 Listen up, folks.
Marketers have historically struggled to tap into what consumers think of their brands. We all know that a brand isn't what you say it is — it's what the people buying your brand say it is. Not that long ago, marketers would spend their days (and their dollars) fine-tuning focus groups and making educated guesses on where their target audience might be found.
Enter social listening.
Social listening is a 20th-century marketer's dream. Brands everywhere are now able to be a fly on the wall to the constant stream of conversation flooding across news outlets, blogs, social platforms and more. It helps monitor your own brand presence, your image, your share of voice, competitor insights, industry trends and other key phrases essential to your product.
Social listening layers the most basic aspect of marketing — storytelling — on top of more traditional, numerical metrics. This combination provides a clearer view of the impact of your various marketing efforts. And instead of taking more than three months, if your brand is in crisis, you know right away. Marketers don't have time to fail slowly anymore — three hours is a social media lifetime. When your brand blows up negatively, you need the tools to be able to react.
On top of that, social listening puts humanity back into social media marketing. It has transformed advertising from a business where brands speak at people, to one where brands start meaningful, valuable conversations — creating lasting connections with people on the other side of every ad. By truly hearing what people want, social listening is a tool that can help launch your company above the competition. If you're not already using it, you're obsolete.
If you're wondering where you can find this magical, wonderful martech tool, or, if you've heard of social listening but you're wondering which ones you should actually use, I've gone through and evaluated three of the most prominent social listening tools on the market today. You're welcome.
Before you dive deep into a few of the platforms the market has to offer, remember to keep a couple things in mind. What level of research do you really need? In-depth raw data your analytic whiz kids can filter through, or a survey of overall sentiment for your PR rockstars to peruse? Consider the scope of the brand(s) you work with, since one of the main differences between the platforms below are the depth of raw information available.
Note that pricing is tricky. Most platforms will work with you on creating a unique package based on your needs. Instead of listing out a price range, I've included a scale of prices below.
Price: $$$
Description:
This enterprise-level tool has a depth of data unmatched by any other platform on the market. Over the years, social listening platforms have split their resources between developing a user-friendly interface and compiling a backlog of information. Crimson focused on building out the latter, much to the chagrin of users struggling through their dated interface.
With the recent purchase of Brandwatch though, Crimson is addressing user experience and plans on combining the ease of Brandwatch with Crimson's depth and scope. However, by their own estimates, these changes will not be fully implemented until 2020 or 2021. Its machine learning and AI are huge selling points for social listening users, as are its image analytics and name recognition features.
Recommendation:
Crimson's robust analytics and drive to develop more user-friendly and precise social listening tool shows. It has great client support and accurate tracking that keeps Crimson and its customers ahead of the latest trends. However, it is still very clunky and can be tricky to use, and its data visualizations are lacking. Also, most brands do not need the depth of insight that Crimson offers.
Most social listening platforms make up for their lack of depth with strategic sampling that gives a more accurate level of analysis than a full data crawl will. Carefully consider whether or not this level of platform is right for you and your brand. If you're trying to stay nimble, this might not be it.
Price: $
Description:
Sprout has had limited social listening for a while, but the company didn't make a robust platform that could hold its ground against the Crimson's of the world until last year. Sprout now has in-depth social listening tool with insights that are on par with its competitors. Its user interface and data filtering tools are intuitive and aesthetically pleasing, and it even has limited competitor comparison tools built into each dashboard.
Users can discover and compare audience interests by product, buying propensity, competitor and more with Sprout's pre-set segmentation for multi-dimensional analysis. And best of all, these new capabilities are built into a platform that already has scheduling, reporting, analytics, and community management capabilities.
Recommendation:
Sprout is a smaller scale brand or agency's dream. Everything in one place, easy to manipulate data and accurate data visualization? Sign me up! However, if you're looking for massive amounts of raw data instead of data sampling, you might want to check out Crimson's offerings!
Price: $$
Description:
Meltwater is intuitive, easy to use and has great data visualization. Its data pulls similarly to Sprout, in that it's not as built out as Crimson, but still generates accurate data samples. It also includes community management inboxes so you can monitor your brand's conversations and respond in real time. It doesn't have the full social management capabilities of Sprout, nor the robust capabilities of Crimson, but it does have great reporting and process flow capabilities.
Recommendation:
Meltwater is a great option for an easy-to-use, robust social listening platform. Especially if your company doesn't use Sprout's additional capabilities or need the depth of Crimson. This is a great social listening tool to use on top of your current social management platforms. If that's your sweet spot, then this could be the right tool for you!

And that's all for now folks! Thanks for tuning in, and enjoy the wonderful world of social listening! Remember, your consumers can build your brand, and they can tear it right back down. Make sure you're truly hearing what they have to say, and using these insights to adjust your marketing strategy — and your business strategy — to better connect with people. After all, we're all humans who want to be heard (in a non-privacy invading way. Looking at you, Facebook 👀).