Choose ATL Launches Next Phase of Campaign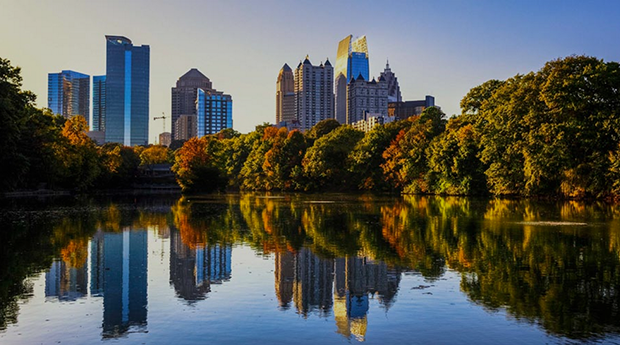 The ChooseATL campaign started as a grassroots effort to change perceptions of our city. It was a completely volunteer-driven effort made up of several people that wanted to better tell Atlanta's story. The original task force was comprised of the most talented people from Atlanta's biggest brands, including other agencies, startup leaders, government representatives, non-profit partners and more.
The first phase was an incredible success. We drove more than 40 million media impressions, our social campaign led to thousands of photos and tweets shared using the #ChooseATL hashtag, and we even threw a flash-mob style lantern parade right in the heart of South by Southwest interactive.
But, one of the questions we've come across more recently was how will we build, grow and sustain this effort? Working with Metro Atlanta Chamber and their partners throughout the 29-county region of Atlanta – along with BBDO and Porter Novelli – we're proud to announce the launch of the next phase of the campaign.
BBDO designed a new logo, and ad campaign. We worked closely with them to bring their creative to life online and built a new ChooseATL.com. The campaign is changing, but the goals remain the same.
For people who live outside our region, we still want to use authentic truths about Atlanta to change perceptions. For people that live here, we want to remind people why they love it. To accomplish these goals, the campaign is launching a new version of the website that highlights the people, places and opportunities that make this place special. It tells Atlanta's story through those that live here, showcasing the diverse people that are making an impact in Atlanta. The campaign also highlights noteworthy locations, and allows users to explore and learn more about each place. Not just in the city, but across the region.
The campaign will continue to use social media to help showcase what life's really like here, expanding on the thousands of people who have already tagged their photos and tweets and are now feeding into this live stream of city pride.
A key new element of Choose ATL will be a paid media campaign with ads that showcase surprising facts about Atlanta. Facts that show our strength in: walkability, our food scene, the fact we're a startup hub, as well as other surprising and eye-opening facts. These ads will run in cities across the nation. This will help us reach the talent we need for our region to stay competitive and improve perceptions from coast-to-coast.
For those of you that call Atlanta home, when you find those moments in life where you look around and think "if this isn't nice, I don't know what is." – share them on Twitter or Facebook, or post a photo on Instagram with the #ChooseATL hashtag. Give the people in your social circle an authentic picture of what you love about this city.
It's up to all of us to tell Atlanta's story.