A Community-Driven Effort To Change Perceptions of Atlanta
Challenge
Show the world why Atlanta inspires and attract top talent and businesses to the city.
Solution
Used authentic truths to change perceptions of Atlanta via social media, paid media, print ads, a contest and more.
Result
Hundreds of earned media placements and over 100 million earned media impressions.
Telling Atlanta's Story
ChooseATL started in 2013 as a grassroots movement to shine a light on what makes Atlanta special.
Brand & Audience Insights
The concept for ChooseATL was first sparked during a conversation between fellow digital marketers, comparing Atlanta's growth to the rise of Silicon Valley.
Although Atlanta has the 10th largest economy in the United States, is poised to have nearly 500,000 tech jobs by 2020 and is the most entrepreneur-friendly economy in the nation, people are largely unaware of the city's potential. Through audience research, Nebo discovered that people think of New York and San Francisco for big opportunities or Seattle and Portland for high quality of life. Nebo needed to show the nation that living in Atlanta means having it all: an affordable lifestyle, a wealth of career options, the highest percentage of tree canopy and green space in the nation, access to world-class talent and more.
Solving the Problem
When the campaign launched in 2013, Nebo worked with key local influencers to tell this city's untold stories. We crafted a brand and a website to highlight why Atlanta is the City of Dreams and Dreamers and started a social media movement around the #ChooseATL hashtag.
Nebo also spent eight days with key partners to create a video that would serve as a love letter to Atlanta and hosted a campaign kickoff at the Atlanta Tech Village to bolster local support. The city rallied behind the campaign, and key outlets ran print, broadcast and online coverage promoting it, including the Associated Press, Atlanta Journal-Constitution and 11Alive.
But that was only the beginning. The campaign gained momentum and continued to build and grow, so marketing efforts needed to grow with it.
Scaling Up & Reaching a New Generation
To help scale the campaign Nebo began working with the Metro Atlanta Chamber. Since then, ChooseATL has reached millions of young professionals and left them inspired by our city's unique mix of culture and opportunity.
The latest iteration of ChooseATL.com was designed to engage the Gen Z audience with authentic messaging, useful interactive tools and a slick look.
Results
This grassroots effort has gained an overwhelming level of support from major brands, start-up leaders, government representatives and nonprofit organizations to leverage the city's pride and spread the word. The campaign has garnered more than 100 million earned media impressions and 400 earned media placements, and more than 10,000 social media posts have been shared with the #ChooseATL hashtag on Facebook, Twitter and Instagram.
Key outlets ran print, broadcast and online coverage promoting the ChooseATL campaign, including the Associated Press, Atlanta Journal-Constitution and 11Alive.
A Love Letter to Atlanta
The ChooseATL campaign launched with a love letter to the city we call home. Originally conceived as a grassroots effort, this video helped spark a movement in our city and was the first expression of the brand.
Comparing Cost of Living
Using an API with detailed data on the cost of living in hundreds of metro areas, we created an engaging tool that lets visitors compare the cost of living in Atlanta to other major metros.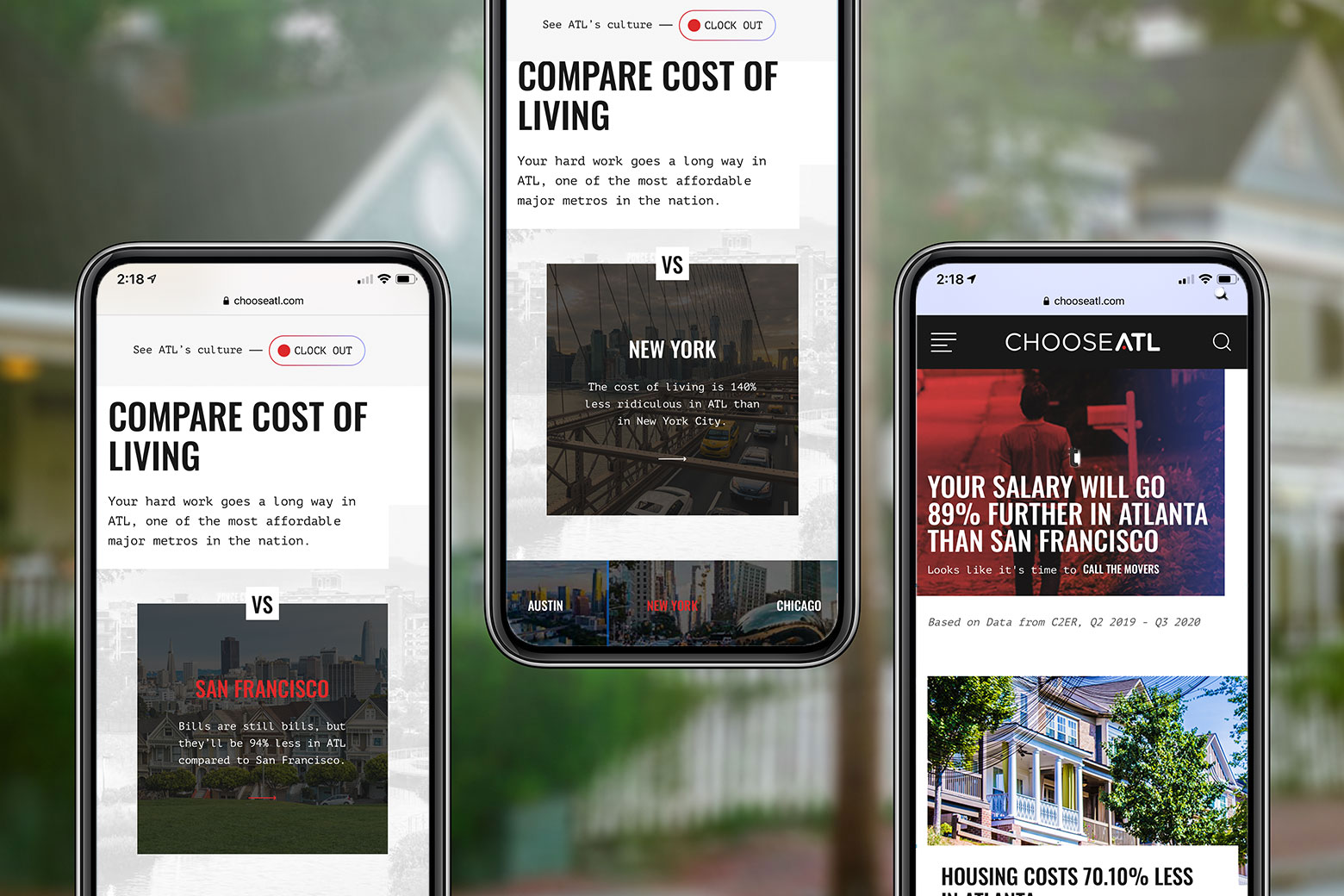 Finding The Perfect Neighborhood
We analyzed the unique attributes of over 110 Atlanta neighborhoods (and took photos of each) to build a Buzzfeed-style quiz that would help you find the perfect place in Atlanta to call home.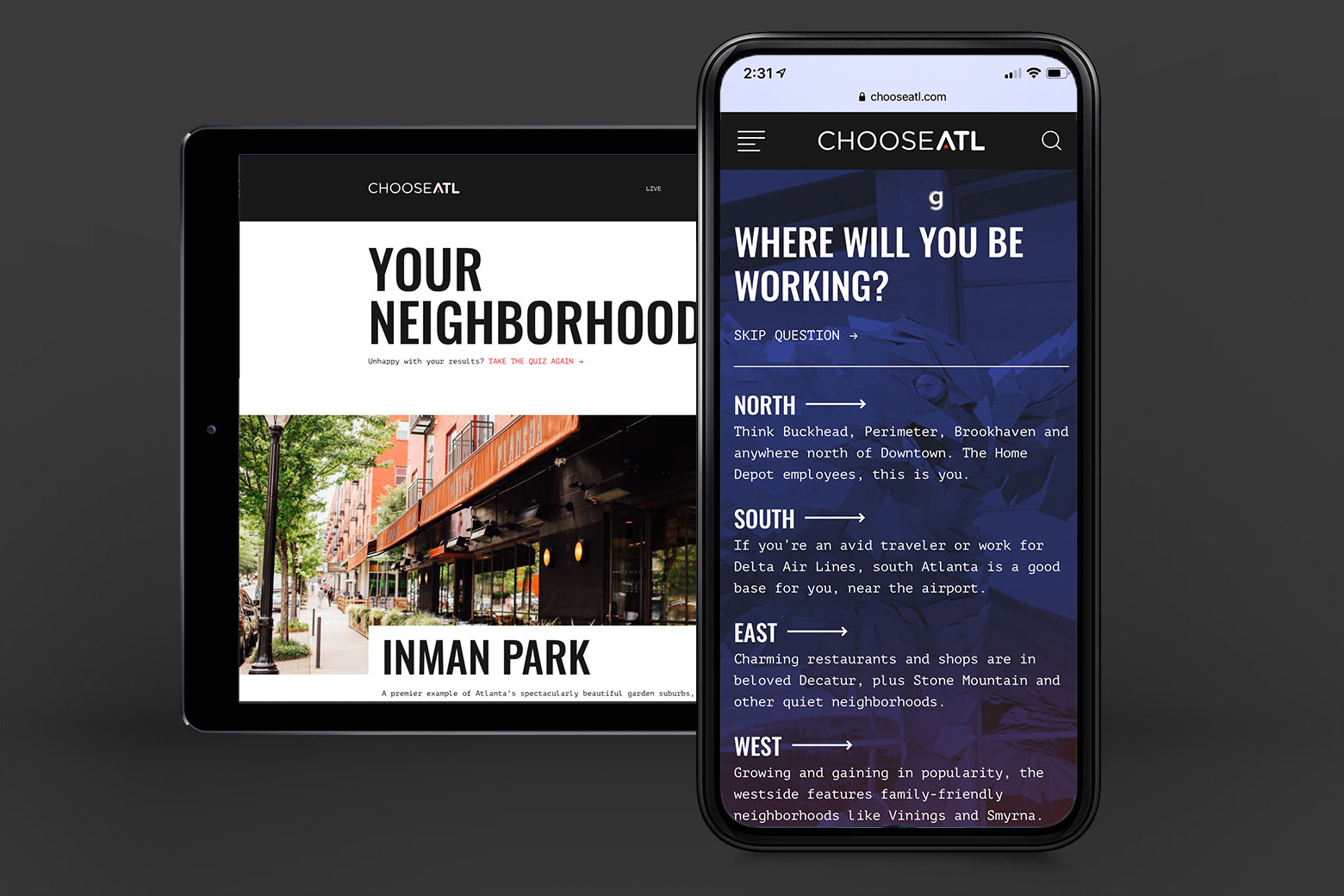 Telling the City's Story
Editorial content brings the idea of Atlanta to life. Showcasing key facts and telling stories that communicate what it's like to live & work in ATL.