A Community-Driven Effort To Change Perceptions of Atlanta
Challenge
Show the world why Atlanta inspires and attract top talent and businesses to the city.
Solution
Used authentic truths to change perceptions of Atlanta via social media, paid media, print ads, a contest and more.
Result
Hundreds of earned media placements and over 100 million earned media impressions.
Telling Atlanta's Story
ChooseATL is a community-driven effort to brand Atlanta as the nation's best place to live, work and start a company. In launching the campaign, we hoped to inspire creative minds, from students to interns to executives to entrepreneurs, to make Atlanta their first choice.
Brand & Audience Insights
The concept for ChooseATL was first sparked during a conversation between fellow digital marketers, comparing Atlanta's growth to the rise of Silicon Valley.
Although Atlanta has the 10th largest economy in the United States, is poised to have nearly 500,000 tech jobs by 2020 and is the most entrepreneur-friendly economy in the nation, people are largely unaware of the city's potential. Through audience research, Nebo discovered that people think of New York and San Francisco for big opportunities or Seattle and Portland for high quality of life. Nebo needed to show the nation that living in Atlanta means having it all: an affordable lifestyle, a wealth of career options, the highest percentage of tree canopy and green space in the nation, access to world-class talent and more.
Solving the Problem
When the campaign launched in 2013, Nebo worked with key local influencers to tell this city's untold stories. We crafted a brand and a website to highlight why Atlanta is the City of Dreams and Dreamers and started a social media movement around the #ChooseATL hashtag.
Nebo also spent eight days with key partners to create a video that would serve as a love letter to Atlanta and hosted a campaign kickoff at the Atlanta Tech Village to bolster local support. The city rallied behind the campaign, and key outlets ran print, broadcast and online coverage promoting it, including the Associated Press, Atlanta Journal-Constitution and 11Alive.
But that was only the beginning. The campaign gained momentum and continued to build and grow, so marketing efforts needed to grow with it.
Launching Phase II
Nebo originally set out to use authentic truths to change perspectives about Atlanta, and that remained true into the launch of the next phase of the campaign. We partnered with the Metro Atlanta Chamber of Commerce, BBDO and Porter Novelli to show the ways in which the campaign had grown, starting with the creation of a new ChooseATL website.
The updated site features new videos to introduce the world to the people who are making an impact in Atlanta. It also highlights noteworthy locations and the things that differentiate our city from other places in the nation, including the outdoors, music and food. We created interactive neighborhood maps and a Find Your Neighborhood tool to help locals and transplants find their ideal part of town.
A new video, "Falling in Love", was written, produced and edited by the Nebo team to tell the story of falling in love with our brave and beautiful city.
With the second phase, Nebo created the Ultimate Job Interview contest. Recent grads were encouraged to submit a 90-second video about how they'd make their mark in Atlanta, and three semi-finalists were chosen for an all-expenses-paid trip to Atlanta to interview with top executives and win cash prizes up to $10,000.
Paid media campaigns and print ads ran in collegiate cities across the southeast to reach the talent needed for Atlanta to stay competitive and improve perceptions from coast-to-coast.
The contest generated over 28,000 votes across the 16 semi-finalists and culminated in a live competition event where the top entrants showcased their talents to the city at large.
Results
This grassroots effort has gained an overwhelming level of support from major brands, start-up leaders, government representatives and nonprofit organizations to leverage the city's pride and spread the word. The campaign has garnered more than 100 million earned media impressions and 400 earned media placements, and more than 10,000 social media posts have been shared with the #ChooseATL hashtag on Facebook, Twitter and Instagram.
Key outlets ran print, broadcast and online coverage promoting the ChooseATL campaign, including the Associated Press, Atlanta Journal-Constitution and 11Alive.
A Love Letter to Atlanta
The ChooseATL campaign launched with a love letter to the city we call home. Originally conceived as a grassroots effort, this video helped spark a movement in our city and was the first expression of the brand.
Comparing Cost of Living
Using an API with detailed data on the cost of living in hundreds of metro areas, we created an engaging tool that lets visitors compare the cost of living in Atlanta to other major metros.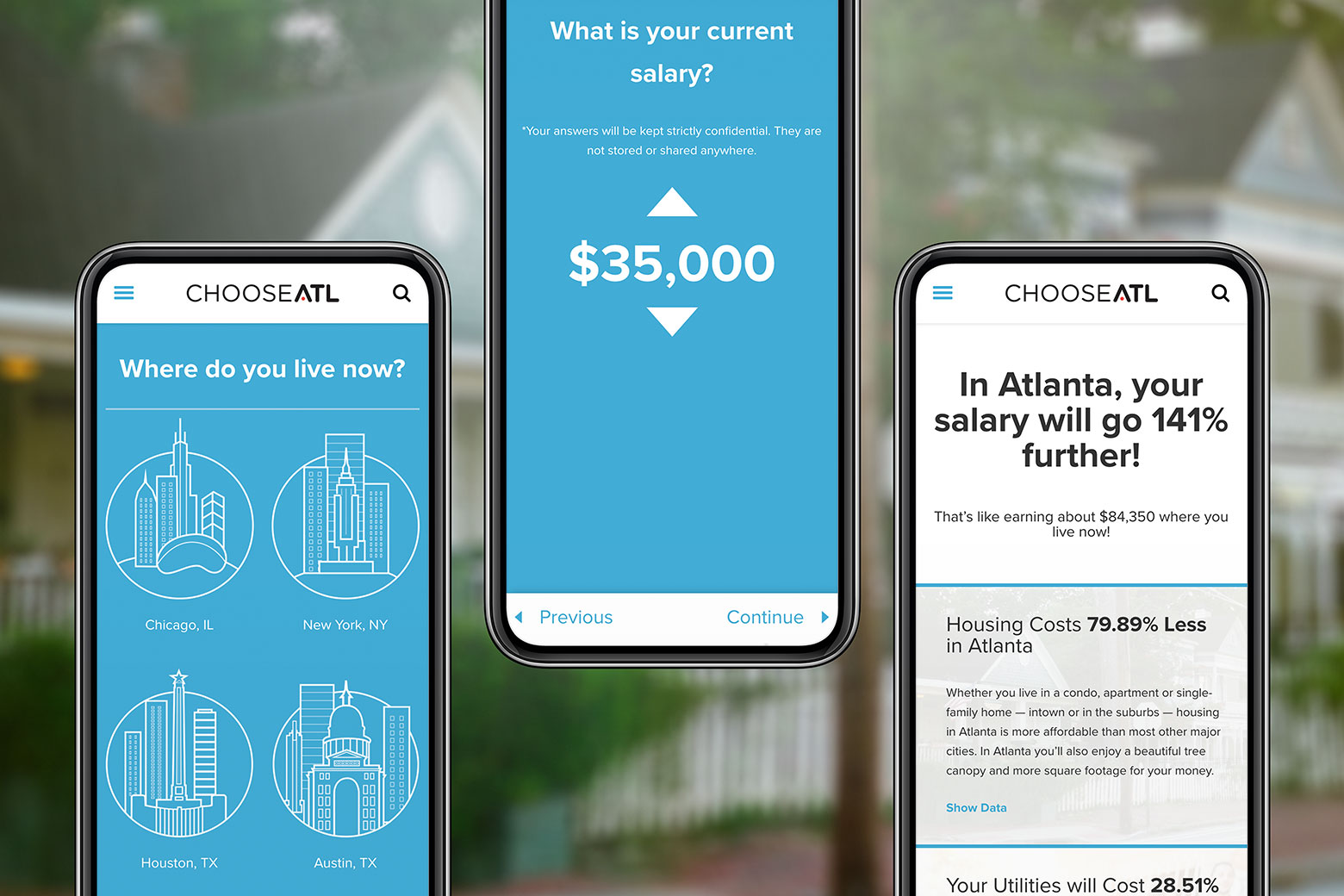 Finding The Perfect Neighborhood
We analyzed the unique attributes of over 110 Atlanta neighborhoods (and took photos of each) to build a Buzzfeed-style quiz that would help you find the perfect place in Atlanta to call home.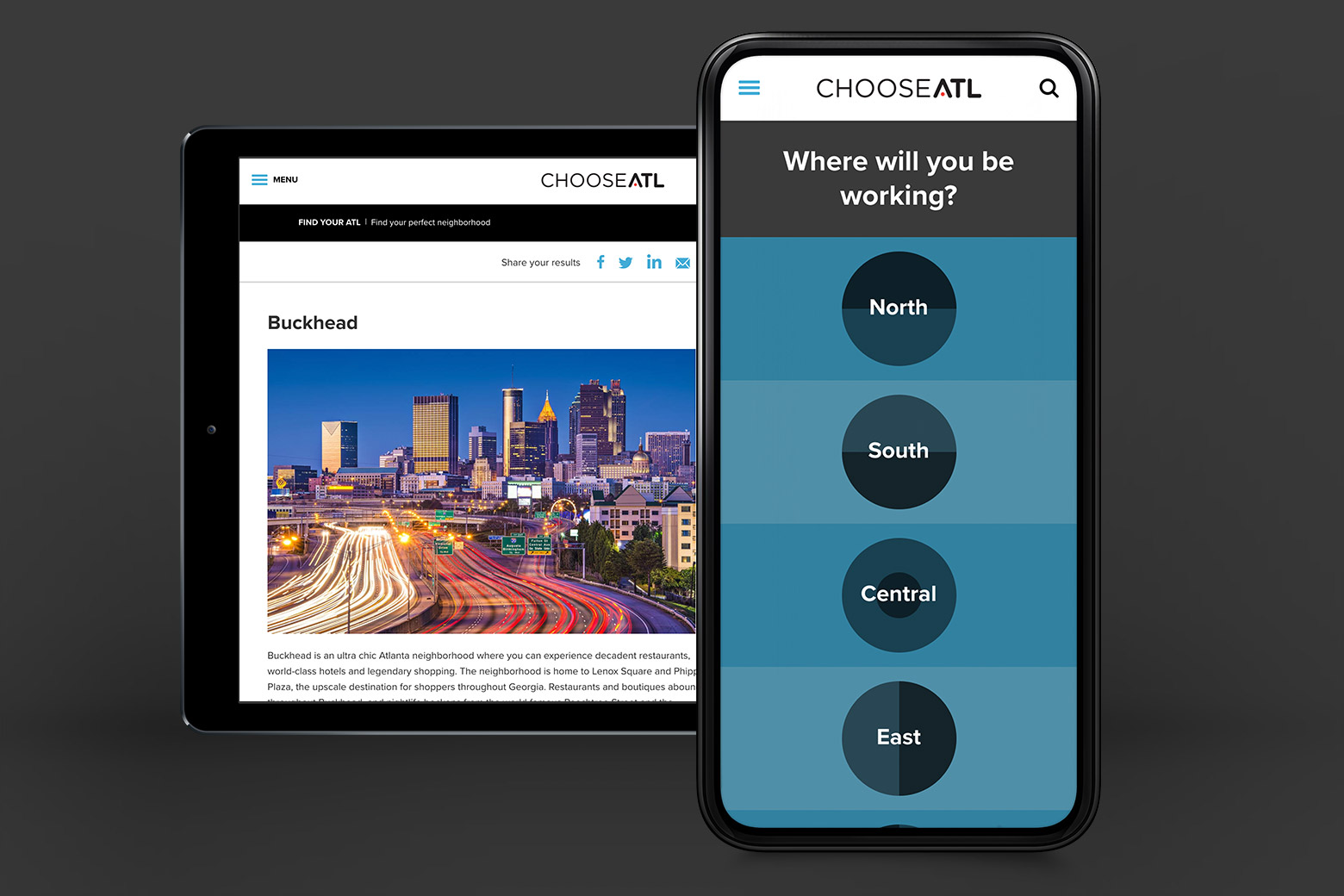 Telling the City's Story
Long-form editorial content helped tell stories about Atlanta. From highlighting the roots of the BeltLine Lantern Parade to telling the story of Atlanta's culinary transformation into a chef-driven city.