Can Netflix Take On HBO?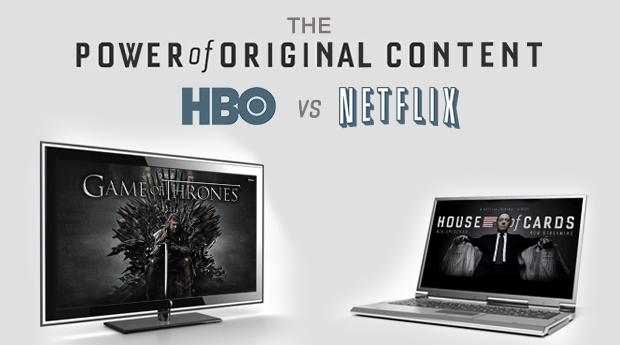 Do you remember what you were doing the day that Netflix died?
During the summer of 2011, Netflix announced that it would be splitting its DVD-by-mail and streaming services. The streaming service would continue to be called Netflix, while the DVD service would be renamed "Qwikster." Not only was this a bizarre and confusing choice, it also essentially created a price-hike for loyal users that had been signed up for both services. Consumers were outraged. The move was dubbed a giant "FAIL" by the collective masses, and CEO Reed Hastings quickly scrambled to put the toothpaste back in the tube, so to speak. Qwikster was scrapped, and prices returned to normal, but it seemed Netflix had done irreparable damage to its reputation. They were as good as dead…
http://www.youtube.com/watch?v=c8Tn8n5CIPk
… only the funeral never came. Fast forward two short years later and here we are, with Netflix generating all kinds of positive buzz and gaining hoards of new subscribers and awards. They're profitable and popular, and all of a sudden Netflix is a must have again. Need proof? Google's new Chromecast initially came packaged with a free Netflix subscription, but the offer had to be pulled due to overwhelming demand. So what's going on? How did Netflix manage to pull off such a drastic turnaround?
The short answer is that they've done it with exclusive, original, critically acclaimed content. Shows like House of Cards and Orange Is the New Black have quickly launched Netflix into a new stratosphere. No longer are they being judged against the likes of Hulu and iTunes and other on-demand/subscription services. Now they're being compared to powerhouse content creators like HBO. And the million-dollar question is:
A lot of people want to know if Netflix can become the next HBO. Before we can answer that question, we have to define what "the next HBO" really means.
HBO is one of the most powerful media companies in the world and is best known for its high quality original productions. They're not just "the movie channel" anymore. Now when you think HBO, you think The Sopranos and The Wire and Game of Thrones and Girls and Curb Your Enthusiasm and Eastbound & Down and Boardwalk Empire and Flight of the Concords and Rome and Entourage and the list goes on and on and on.
HBO has churned out hit after hit after hit with remarkable consistency. Their shows have become so deeply engrained in our culture that you're essentially a social outcast if you're not up to date on them—which is incredible for a network that used to be considered a luxury at roughly $15/month on top of your basic cable bill.
You can feel that kind of buzz building around Netflix originals. People are talking about these shows more and more. But it's going to take more than a handful of successes for Netflix to achieve "elite" network status.
Just look at one of the lower-profile premium channels: Starz. One of the network's earliest original series, Party Down, was critically well received. Spartacus has also done well with critics and audiences alike, and there have been other highlights along the way. But Starz has nowhere near the profile of HBO because it hasn't been able to replicate HBO's unbelievable combination of longevity and consistency (for reference, Starz has about 20 million subscribers versus HBO's 28.7; this article from Variety, however, points out that Starz is often offered for free by cable providers as a signup incentive, which inflates its subscriber numbers).
The conversation around Netflix, at this particular moment, is exciting and positive and optimistic. But can they sustain it? Look at HBO's track record—the premium network has been racking up viewers and awards for two decades. Can Netflix survive for that long? As their budget for original content grows and the expectations soar, will they be able to continue making smart creative decisions? Or will they go the route of Starz, producing a few good shows here and there, but never really reaching elite status? Can Netflix become the next HBO?
Maybe the better question is:
Do they even want to be HBO?
CEO Reed Hastings recently told GQ, "The goal is to become HBO faster than they can become us."
Sounds simple on its surface. But what does that really mean?
Netflix has adopted a progressive, long-term view of entertainment. According to the company's Investor Relations page, within the next 5 years the world of media will be entirely multi-device, with almost all content delivered on demand. There will eventually be so much content on Netflix and Hulu and iTunes that paying for a bunch of garbage no one watches (or about 90% of what you get with cable) will seem insane.
At some point, every user will be faced with a decision about where to consume their favorite shows. If you're a Breaking Bad fan, would you prefer to watch it on Netflix? Hulu? iTunes? Somewhere else? Does it even matter?
That's the difference between the questions facing Netflix and HBO. For Netflix, original content isn't a platform. It's a differentiator.
You go to HBO almost exclusively for their original programming. Period. And while Netflix wants to produce great shows, the spine of their service is going to remain the same: Netflix wants to curate tons of content from all over the entertainment-sphere. They want to offer something to every viewer across every demographic by constantly fine-tuning their algorithm to make even more accurate content suggestions. For instance, Netflix recently introduced Profiles, which separate a single Netflix account into multiple users to help their platform make even better suggestions on a per-user basis.
The Profiles move proves that content aggregation is still a huge part of Netflix's long-term strategy. They're banking on a future without cable, and they want to position themselves as the best place to find great shows and movies. Original content is their way of offering something that no one else can in a world of unlimited choices.
In other words, you'll eventually be able to watch Breaking Bad anywhere. But there's only one place to see the new Arrested Development. Wouldn't you rather get both for one price?
The Lesson
There are more lessons for marketers in the Netflix saga than you can reasonably point out in one article. This is a brand that owned up to and valiantly corrected a massive blunder. This is a brand that understands the future of its medium and has built a flexible and adaptable business model in order to ebb with the tide. This is a brand that puts a premium on user experience, data analysis, and critical feedback.
But you ultimately have to point to content creation as the biggest reason for Netflix's turnaround. Netflix has a lot to lose by pouring a healthy chunk of its budget into original content and, although they mitigate that risk by constantly working to understand their audience's preferences, the risk is very real. But the best brands in the world know that great content is the best way to inject themselves into the public consciousness and win long-term users.
It's why Whole Foods runs an entire content empire of blogs, magazines, and newsletters that add value to their food and health products. It's why Coke isn't content to sit back and rest on its brand recognition alone when it very easily could, but rather continues to churn out compelling, emotionally engaging content.
Netflix is still about delivering the best entertainment options from all across the globe to the right users at the right time, but they've learned to harness the power of original, exclusive content as a means to pull in an even wider and more loyal audience.