Can Artificial Intelligence Make Marketing More Human?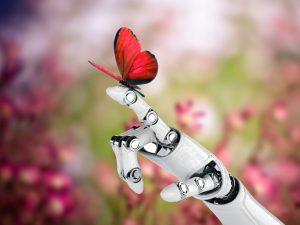 The topic of artificial intelligence and machine learning is making headlines across the world. While everything you know about AI may have come from Westworld, it's a market that's growing and being adopted by multiple industries. Right now, the AI market is estimated to reach $5 billion by 2020 (up from a mere $5 million in 2014).
With examples of machine learning like Facebook's chat bots, Amazon's Echo, Tesla's self-driving car and IBM's Watson gaining in popularity, companies in many fields are trying to figure out how they can use new AI tools to their advantage and to get ahead of competitors.
But what does all this mean? The way some marketing and news outlets tell it, if you're a student right now studying web design, graphic design, journalism, advertising, or even fields outside of marketing and communication, you'll likely be out of a job before you graduate. In fact, we all may be out of a job.
And it's easy to see where that depiction of the future comes from.
Look at the world right now. The Associated Press (AP) releases about 3,000 articles a quarter generated solely by algorithms — not journalists. Japan is home to an advertising agency that developed the world's first artificially intelligent Creative Director. Google's AI program can currently lip read better than a professional. And IBM's Watson is nearly ready to overtake some human doctors by providing up-to-the-minute treatment recommendations thanks to its ability to tap into mass amounts of cutting-edge research data.
So should we all be dropping out of school or quitting our jobs and just living off the grid? Not at all.
The Power of "And"
While there is a science to every profession, there is also an art. Yes, it is very likely AI will soon know data and science better than humans (if they don't already). AI can analyze large quantities of data faster than we ever have been, or will ever be, able to on our own. But when it comes to humans, we also have abilities no computer will ever master.
We understand things like cultural references. And jokes and sarcasm. We also understand human emotion and subtlety.
Most of the jobs robots are set to take in the future are ones that are repetitive or mindless for us (like content entry and creating data charts), similar to the way jobs were lost due to factory automation in the Industrial Revolution. There are articles out about what that world would look like — where no one had to work and how a basic income might become necessary — but that world is a ways off still.
Overall, giving away those thoughtless tasks to AI frees us up to have more time to be creative and use our brains. We shouldn't approach Artificial Intelligence with an "us vs. them" mentality. As we move ever closer to this world of integrated AI, we need to go into it with an "us AND them" mentality.
Data and creativity will always go hand-in-hand, no matter the technological advancements. Data interpreted as insight informs creativity. Data can also be used to inform which creative route is likely to have the best impact.
Often, too many people say "I'm just interested in creative" or "I just want to deal with data and analytics." For example, a student who studied PR was interviewing once and said he didn't need to know math because it wasn't something that applied to his job. But in today's world, especially in the field of digital advertising, we all need public relations AND math. We need design AND data.
It's when machines and humans come together that we gain the power of mass amounts of data along with human wisdom. In all areas when man and machine work together, both become more powerful than anything else.
Why is this important?
The Need to Adapt
Learning to quickly combine data and creativity in all things is absolutely essential, because modern consumers' exceptions have changed. Everyday we're bombarded by mass amounts of content and ads — on TV, on YouTube, Facebook, billboards, which means time and attention are our most scarce and valuable resources.
As much as I hate using this word, "millennials" especially know this. We're told we have the attention span of a goldfish. And that we're lazy. And impatient. But who can blame us? Brands bombard us with content all day, and most of the time it just isn't relevant to us (or more likely, it's just not any good).
Tactics that worked in the past for marketers just don't work anymore. You can't simply publish a billboard with a slogan and sell products, or create a minute-long jingle.
Unlike other generations, we know what our time is worth. We won't spend it on content that doesn't immediately appeal to our particular interests at the right moment in time. (There's a reason ad blocking is growing at crazy rates.)
All of this means marketers need to stop interrupting and start doing our jobs the right way. And we need to do it right the first time. That margin for error is so small — a couple seconds of attention is all we get. Consumers today have complete choice as to what they consume. They're fully empowered.
So whether you're in public relations, marketing, web design, product development, or any other field, you should be constantly striving to make consumers' lives better. To help them by building a relationship with them.
To do this, you need to start embracing as much technology as you can to keep your decision-making agile and informed.
Only by accepting AI as a way to become more efficient will we be able to focus on the real task at hand of entertaining and informing today's modern consumers. Of layering on the humanity in all things.
AI and Netflix
One of my favorite examples of how companies are using AI data to inform creative decisions is Netflix. Netflix took a big creative bet on their data-driven strategy when they chose to purchase two seasons of House of Cards for $100 million. This was their first major acquisition of original content, and they chose to do so only after looking at their mass quantities of consumer data.
Upon examining their current service subscriber base, they noticed many of their users had watched Director David Fincher's movies from beginning to end. They also noticed their customers watched the British version of House of Cards. And they knew that those who watched the British version also watched Kevin Spacey films and/or films directed by David Fincher.
This trifecta lead them to pull the trigger on the purchase. But Netflix wasn't done with data yet. To promote the show to their subscribers, they made 10 different cuts of the trailer with each geared toward a different audience. The trailer shown to customers was based on their previous Netflix viewing behavior. If someone watched Kevin Spacey films, they saw a trailer featuring him. If someone watched a lot of movies starring females, they saw a trailer featuring Claire or another woman in the show.
If this seems creepy, you don't want to know what else Netflix knows about you. But the way they use this data is always to the users benefit — allowing Netflix to curate their thousands of films and shows to make your viewing experience as perfect for you as possible.
Subscription services have pretty low brand loyalty due to the low cost of switching providers, so Netflix strives to keep the attention of subscribers as much as possible. They do this by drawing insights from consumer data which then inform creative content and approach, like with House of Cards.
The Future Is Now
In the future, this use of data won't just be for entertainment content. There are already companies using AI who can personalize a website to each user and that have almost 72 percent accuracy in predicting a your next likely purchase on the site based on behavior, past purchase history and demographics.
There's no reason for us to fear Artificial Intelligence. We should embrace and be excited by it. Imagine all content on a news site or social media feed (including ads) is 100 percent of interest and relevant to your current emotional mood and location. Or picture walking into a room where your TV will use AI to turn on the correct content for you. This is all going to be possible with the power of AI — and it's going to be informed by humans in the background pulling the levers.