First Annual Nebo Agency Chili Cook- Off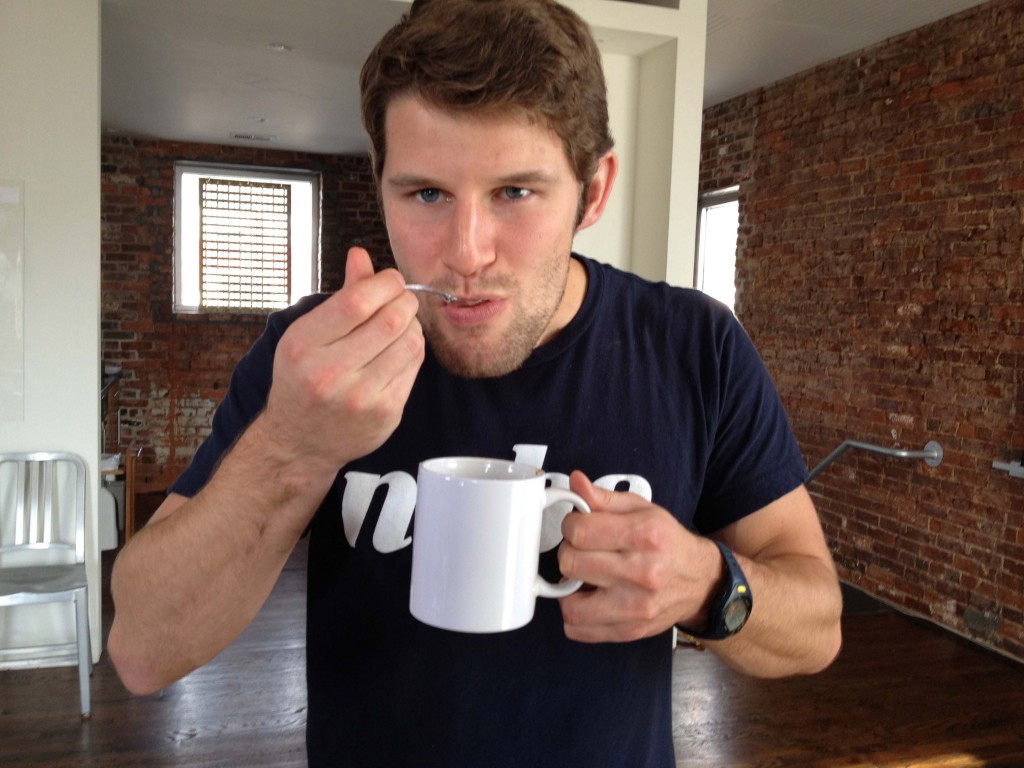 As the weather begins to cool down, even here in Hotlanta, the Nebo offices have elected to stay warm with one of our favorite comfort foods, chili. The First Annual Nebo Agency Chili Cook-off was held today, pitting officemates against each other for the prize of the Golden Ladle.
Some brought the heat. Others brought the sweet. And some just brought some left over pork they had in the fridge. All shared some wonderful dishes that were enjoyed by everyone. Here are the recipes from today's event for you to enjoy and share. Oh, and if you feel like you have an award winning recipe (or would like to challenge us to a throwdown), talk to us in the comments below.
First Place: Adam Harrell's 3 Meat Texas Style Chili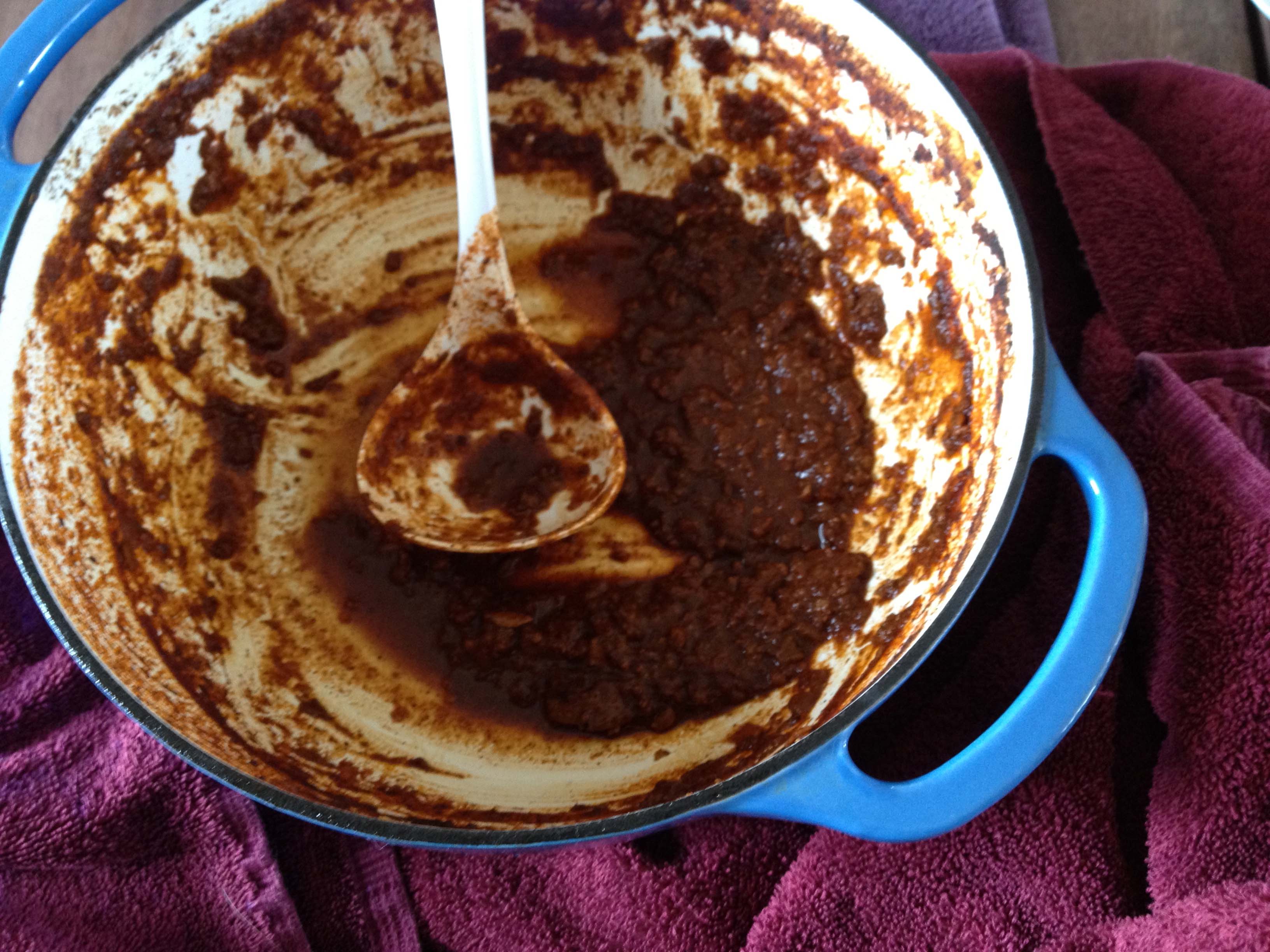 While Texans may not understand BBQ, (which should be pork and covered in a vinegar-based sauce), they do understand how to make a top notch chili. It shouldn't contain beans and it shouldn't have vegetables (other than a bit of onion/garlic). The multi-phase process used in this recipe was inspired by George Swick's "Swick & Swick Chili" recipe.
Phase One:
Cooking Oil
1.3 lbs of grass fed ground beef (preferably Harrell Hill Farms brand)
1.3 lbs of venison stew meat (preferably shot by your 95 year old grandfather at Thanksgiving)
2 tbsp chili powder
1/2 large onion chopped
10 cloves garlic
32 oz chicken stock
2 lbs smoked beef brisket (prepared prior, or you can order from the New Braunfels Smokehouse if you don't own a smoker)
Phase Two:
4 cans of green chiles, chopped
16 oz beef stock
1 cup of tomato sauce
Phase Three:
1 cup of Chili Powder (mix at least 4 different types/brands of chili powder if possible)
3 tbsp ground cumin
1 tsp salt
1 tbsp molasses
Cooking Directions:
Coat beef and venison in chili powder. Heat oil and cook meat till browned. Remove meat and drain extra fat. Add onion and garlic. Cook for 2-3 minutes. Deglaze pan with chicken stock. Add back the meat, and turn pot to low and simmer for 1 hour. Stir occasionally. After first hour, add phase two ingredients (chiles, beef stock, tomato sauce). Simmer for 1 hour. Stir occasionally. After second hour, add phase 3 ingredients (chili powder, cumin, salt, molasses). Simmer for 1 hour. Stir occasionally. Taste, add any additional chili powder or salt if needed.
2nd Place: Chris Allison's Left Over Pork Chili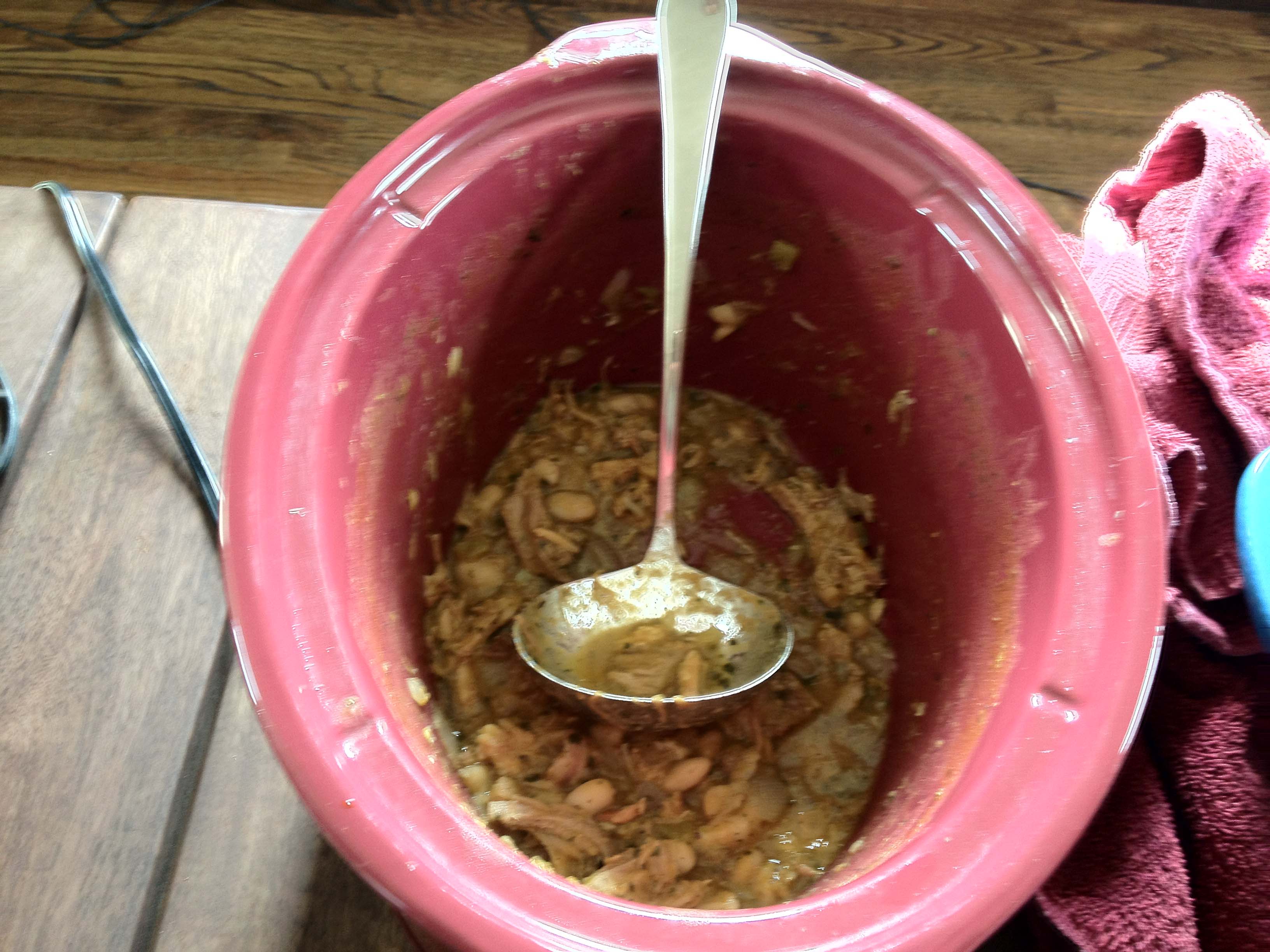 Start with a free-ranged, organically fed and ethically treated Berkshire-Tamworth cross hog. Make sure it has woods to forage in, and then butcher it. Rub with liberal amounts of salt and pepper. Roast it over hot coals until the internal temp reaches 160 degrees. Flip halfway through. Keep ambient temperature between 225-250 F. Throw a party and gather the leftovers.
Proceed as follows
Saute 1 onion with a wallop of butter. When the onions turn translucent, add 2 lbs of leftover pork - taking care to choose good pieces. Also throw in a few cloves of minced garlic. Stir around for just a bit to get the meat juices flowing again, and then add 2.5 cups of mushroom broth, 8 ounces of diced green chiles, 4 teaspoon ground cumin, 2 teaspoon dried oregano, 2 teaspoon cilantro, 1/2 teaspoon cayenne pepper, 1 15 ounce can of cannellini beans (do not drain). Crucially, submerge large hunks (0.5 lbs) of leftover pig skin and gristle in the chili. Bring to a simmer, then reduce heat a tad and let sit for 45 minutes uncovered. Add cover for last 15 minutes. Remove pig skin. Stick in fridge over night. Reheat and add Monterrey Jack and diced green onions for garnish.
3rd Place: Ken's Chuck Roast Chili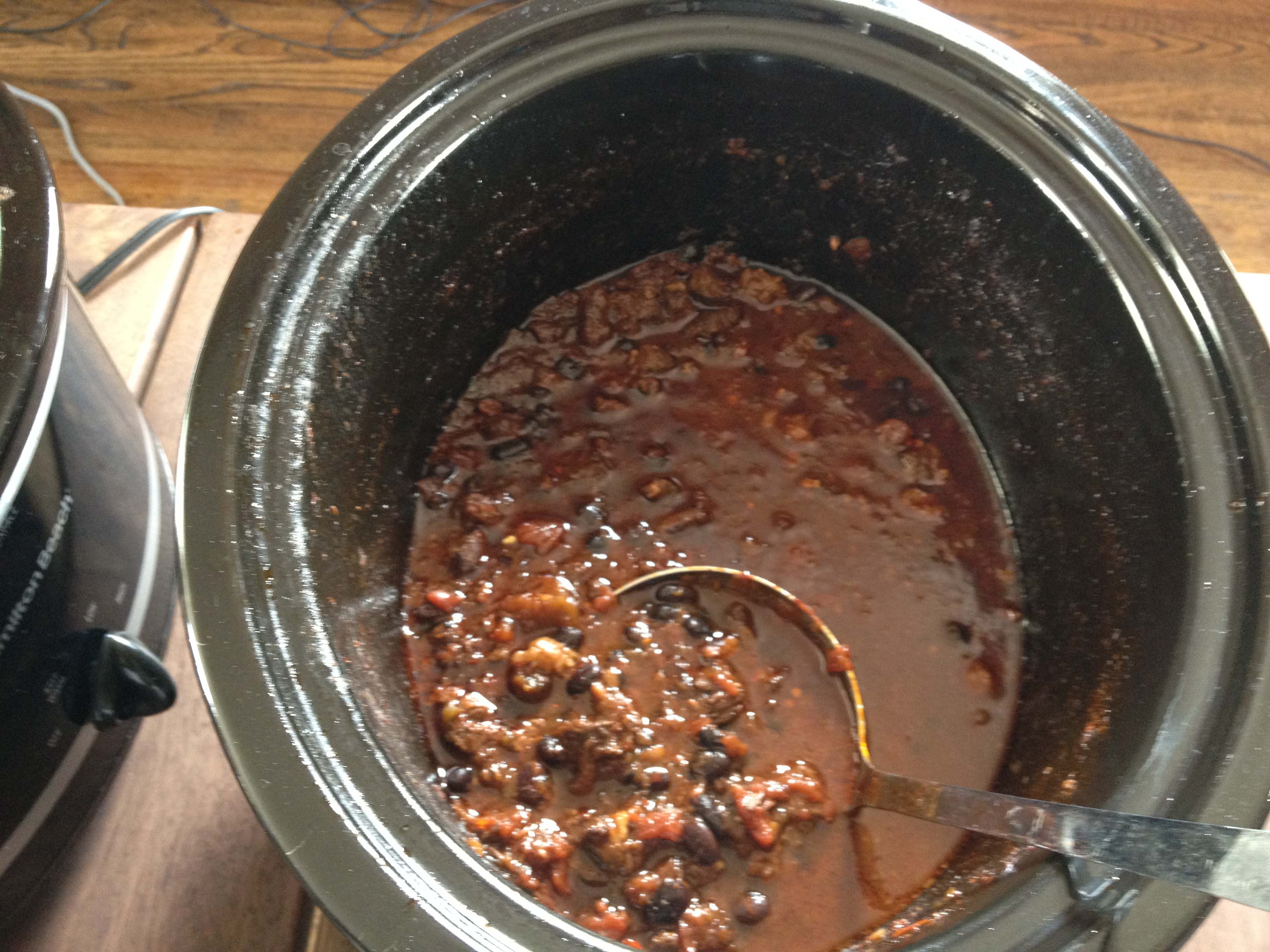 Originally appearing in Cook's Illustrated as their favorite chili, this recipe has been continually adapted for perfection and taste by multiple cooks. Or at least by me and the writer of the blog I got it from. It's a bit of a process, but it's worth it in the end.
Ingredients
Table salt
1 bag of dry beans, or 2-3 cans of beans of your choice
6 dried ancho chiles (about 1¾ ounces), stems and seeds removed, and flesh torn into 1-inch pieces
2-4 dried árbol chiles, stems removed, pods split, seeds removed
3 tablespoons cornmeal
2 teaspoons dried oregano
2 teaspoons ground cumin
2 teaspoons cocoa powder
2½ cups chicken broth, divided
2 medium onions, cut into ¾-inch pieces (about 2 cups)
3 jalapeño peppers, stems and seeds removed, cut into ½-inch pieces
3 tablespoons olive oil, divided
4 garlic cloves, minced
2 (14.5-ounce) can diced tomatoes
2 teaspoons molasses
3½ pounds chuck roast or any other cut of meat, cut into ½-inch pieces
1 (12-ounce) bottle milk lager, such as Budweiser
Directions
1. If you are using dry beans, soak them overnight, or any other prep you usually perform if you're making a pot of beans. If you're using canned beans, rinse and set aside for use later.
2. Adjust oven rack to lower-middle position and heat oven to 300 degrees. Place ancho chiles in a 12-inch skillet set over medium-high heat; toast, stirring frequently, until flesh is fragrant, 4 to 6 minutes, reducing heat if chiles begin to smoke. Transfer to bowl of a food processor and cool. Do not wash out skillet.
3. Add árbol chiles, cornmeal, oregano, cumin, cocoa, and ½ teaspoon salt to food processor with toasted ancho chiles; process until finely ground, about 2 minutes. With the processor running, very slowly add ½ cup broth until a smooth paste forms, about 45 seconds, scraping down the sides of the bowl as necessary. Transfer the paste to a small bowl. Place the onions in the now-empty processor bowl and pulse until roughly chopped, about four 1-second pulses. Add the jalapeños and pulse until it is the consistency of chunky salsa, about four 1-second pulses, scraping down the bowl as necessary.
4. Heat 1 tablespoon of vegetable oil in the large Dutch oven over medium-high heat. Add the onion mixture and cook, stirring occasionally, until the moisture has evaporated and the vegetables are softened, 7 to 9 minutes. Add the garlic and cook until fragrant, about 1 minute. Add the chili paste, tomatoes, and molasses; stir until chili paste is thoroughly combined. Add the remaining 2 cups chicken broth and the beans; bring to a boil, then reduce heat to a simmer.
5. Meanwhile, heat 1 tablespoon of the vegetable oil in the 12-inch skillet over medium-high heat until shimmering. Pat the beef dry with paper towels and sprinkle with 1 teaspoon salt. Add half of the beef to the skillet and cook until browned on all sides, about 10 minutes. Using a slotted spoon, transfer the meat to the Dutch oven. Pour off any liquid in the skillet into the sink and return to the heat. Add ½ of the bottle of lager to the skillet, scraping the bottom of the pan to loosen any browned bits, and bring to a simmer. Transfer the lager to the Dutch oven. Repeat with the remaining tablespoon of oil, steak, and lager. Once the last addition of lager has been added to the Dutch oven, stir to combine and return the mixture to a simmer.
6. Cover the pot and transfer to the oven. Cook until the meat and beans are fully tender, 1½ to 2 hours. Let the chili stand, uncovered, 10 minutes. Stir well and season to taste with salt.
Honorable Mention: Ben's Chocolate Espresso Chili Con Carnage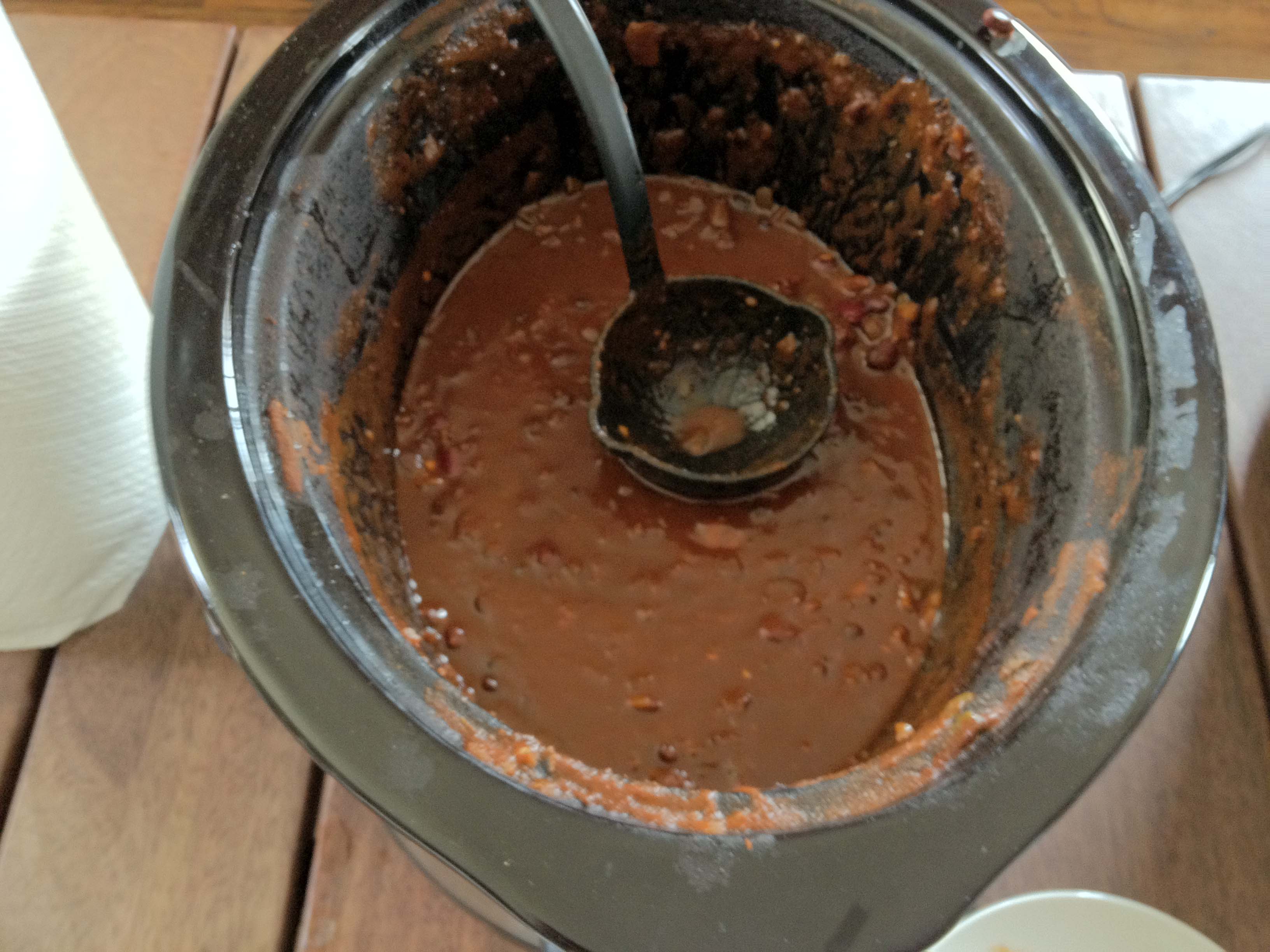 Ingredients
2 teaspoons oil
2 onions, chopped
3 cloves garlic, minced
1 lb ground sausage
1 lb thick bacon (cut like pancetta)
3/4 lb beef sirloin, cubed
1 (14 1/2 ounce) cans diced tomatoes
1 bottle of stout beer
1 pint of brewed espresso
1/2 cup semi-sweet chocolate morsels
2 (6 ounce) cans tomato paste
1 cup beef broth
1/4 cup brown sugar
3 1/2 tablespoons chili sauce
1 tablespoon cumin
1 tablespoon cocoa
1 teaspoon oregano
1 teaspoon cayenne
1 teaspoon coriander
1 teaspoon salt
1/2 teaspoon vanilla extract
2 (15 ounce) cans kidney beans
2 (15 ounce) cans black beans
4 jalapeño peppers, chopped
Directions
Heat oil. Cook onions, garlic and meat until brown. Add tomatoes, beer, coffee, tomato paste, chocolate and beef broth. Add spices and stir in 2 cans of beans and peppers. Reduce heat and simmer for 1 1/2 hours. Add 2 remaining cans of beans and simmer for another 30 minutes.
Devour.
Honorable Mention: Damon's Shot Gun Willie Chili take from Carol & Dave Hancock 1985 ICS World Champion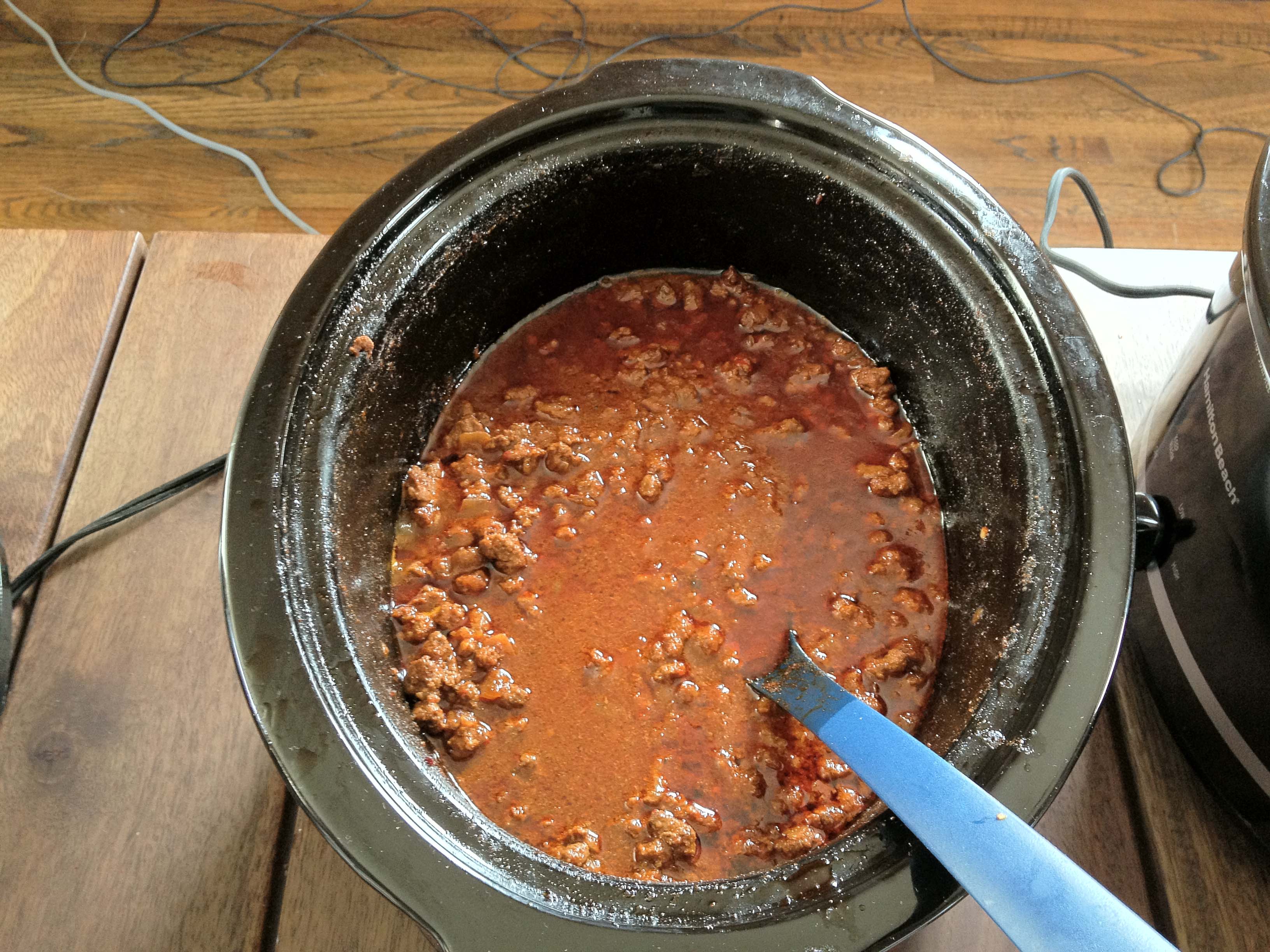 A couple of notes about my recipe. I was sincerely disappointed with the results of my entry as previous batches were much more flavorful and awesome. I think it had to do with the freshness of the chili powder and the amount of garlic. I need to get better chili powder and use 14 large cloves of garlic. Oh, and I always leave out the MSG. This is chili, not Chinese food. Also, this is the first time I used ground beef as opposed to cutting my own steak. It takes an hour to cut all the meat, but it makes a much, much better chili.
Next year... next year...
Ingredients
6 lbs Prime Beef, cubed or coarse ground
4 medium onions, finely diced
1 15-oz can Hunts Tomato Sauce
6 New Mexico dried pepper pods
6 Pasilla dried pepper pods
4 cups beef broth
2 tablespoons vinegar
1 teaspoon Tabasco
16 tablespoons Gebhardt Chili Powder
2 tablespoons ground cumin
1 teaspoon cayenne pepper
1 tablespoon MSG
½ teaspoon sugar
14 garlic pods, crushed- use remaining pulp
1 cup water
1½ tablespoons oregano leaves
2-3 tablespoons Wesson Oil
black pepper
salt to taste
Procedures
Remove stems and seeds from pepper pods and boil chili peppers in water for approximately one hour until pulp separates from skin. Scrape pulp from skin, mash into a paste. Use 1½ cups of this paste in recipe.
In the 1 cup of water, bring the 1½ tablespoons oregano leaves to boil, steep like tea. Strain, add the strained liquid to chili mixture.
Brown beef, a small batch at a time in hot oil adding onions and black pepper to each batch. Remove meat to chili pot as it browns. Add remaining ingredients, blend well. Cover and simmer 2 hours, stirring occasionally.