A Visual and Marketing History of Santa Claus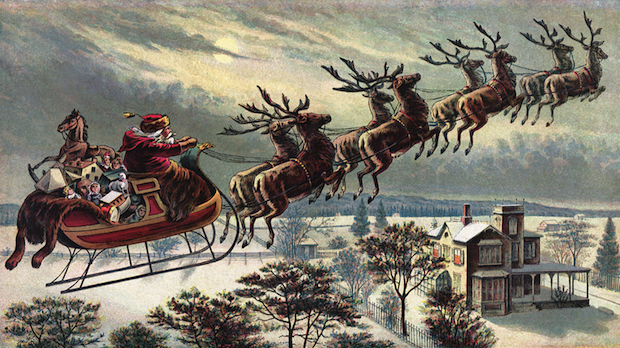 If there's one thing you can say for certain about Santa Claus, it's that he's a giver.
Most famously, he brings us toys and gifts – sliding down the chimney on Christmas Eve and bringing joy to all of the children lucky enough to make his "Nice" list.
He also brings us great deals on razors, sports drinks, and jewelry through an onslaught of holiday advertisements, as seemingly every brand on the planet is keen to cash in on the jolly red elf's popularity once the holidays roll around.
But even more than that, Santa Claus brings us incredible insights into our past. Throughout the years, he's been a unique reflection of art, culture, history, and religion --somehow, looking at old iterations of Santa Claus is like looking at a snapshot of our world at a specific moment in time.
So while, today, Santa may be an iPad-toting, wise-cracking, cookie-gobbling icon, he wasn't always this way. He's had quite a journey -- through wars, and depressions, and technological revolutions -- to get here.
And so have we.
The Beginning
Back in the early 1800's, Santa was a far cry from the plump, bearded fellow we know today. Portrayed as a thin man dressed in green, this Dutch (and clearly colorblind) St. Nick was focused on protecting children and sailors. That is until Clement Clarke Moore decided to write a poem in Santa's honor and take a few liberties. In the poem "A Visit from St. Nicholas" (or as you probably know it "The Night Before Christmas"), Moore describes St. Nick as "chubby and plump, a right jolly old elf", and gives him a few flying reindeer and the super-natural ability to climb chimneys at lightning speed.
If you found this description amusing, you're not the only one. In the late 1800s, American cartoonist Thomas Nast liked the description enough to draw a series of illustrations for Harper's Weekly. You can see in this piece from 1863 that Santa more closely resembles his modern self.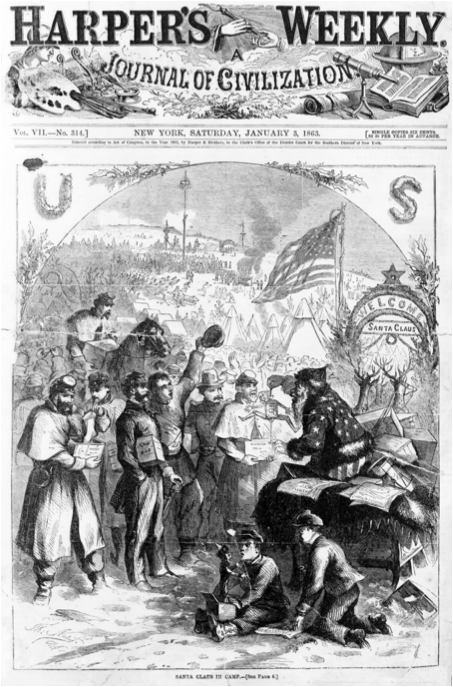 Over the next few years, Nast's depiction of Santa in Harper's Weekly came even closer to the modern Santa Claus.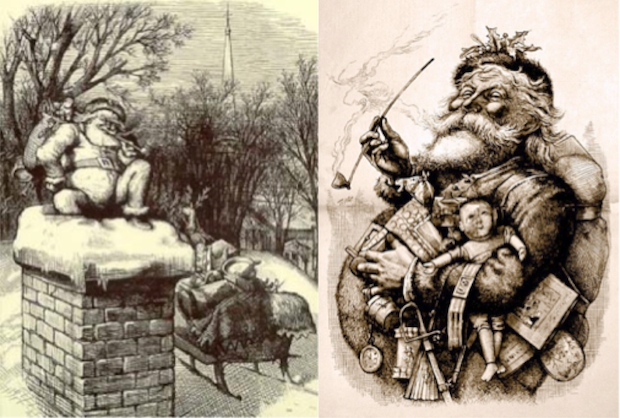 Jolly ole' St. Nick now had a face and a mission: to bring toys to all the good children of the world. Unfortunately for the man in red, before he could even remember all the names of his reindeer, advertisers began to use his depiction. Santa sold soap, he drank non-intoxicating wines, he drank intoxicating scotch, and he even overlooked the toys his elves made in favor of giving children's Tinker toys.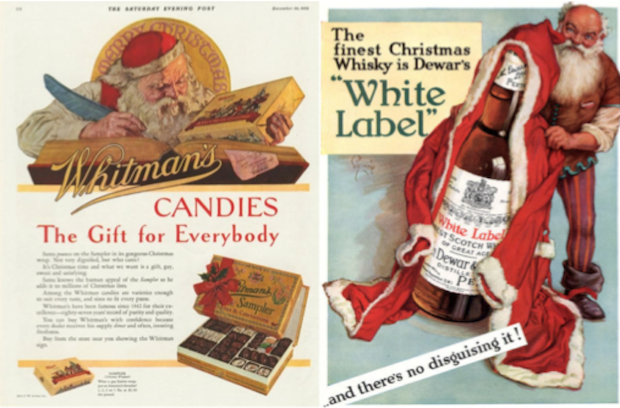 Images courtesy of Vintage Ad Browser
Despite all of this, Santa overall carried on in illustrations as a benevolent, thin fellow who was always seen wearing red. And only occasionally seen stealing children.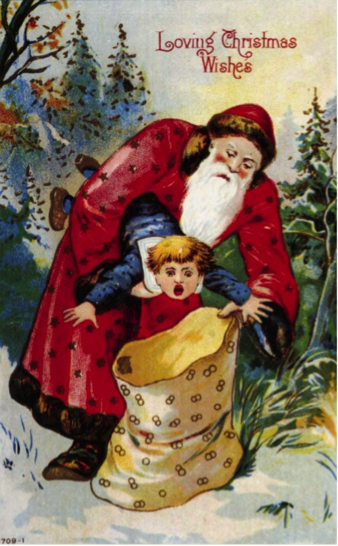 Image courtesy of Simone Gallina
Some of the most classic illustrations of Santa come from Norman Rockwell's covers for the Saturday Evening Post. He often depicted St. Nick as a thoughtful, grandfatherly man, in line with historical depictions.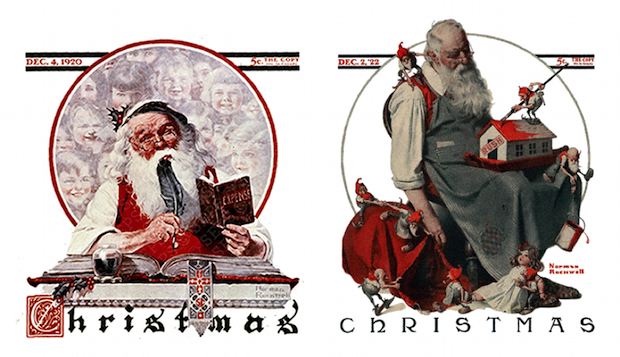 The real defining moment in modern day Santa's life came in 1931 when Coca-Cola recruited illustrator Haddon Sundblom to paint a version of Father Christmas for their winter advertisements. Coca-Cola's Santa was a warm, joyfully plump man complete with red coat and white beard. Over time, this Coca-Cola version of Santa Claus became the only version of Santa Claus.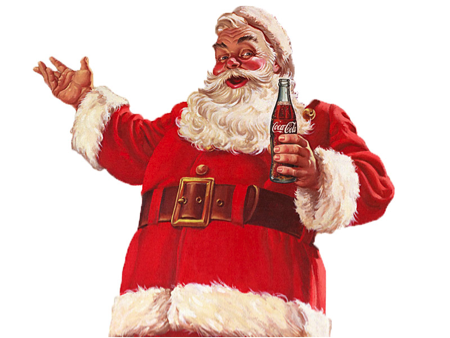 Image courtesy of Retrofestive
Since that turning point, Santa has annually appeared in holiday advertisements, some naughty and some nice. During WWII Santa helped out the soldiers by encouraging people to buy Bonds and Stamps.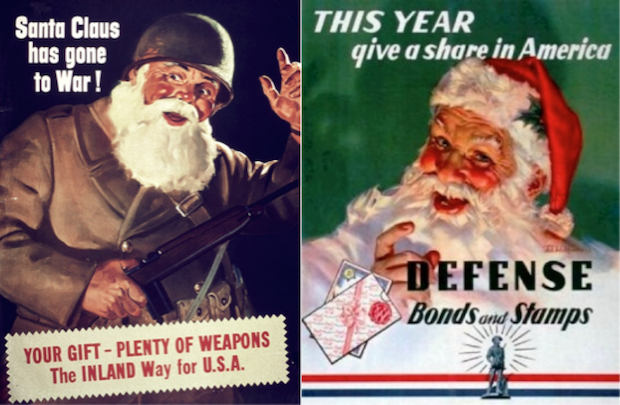 Images courtesy of The National WWII Museum & The New York Times Store
There was also a brief period of time when it seemed children might be in danger of not receiving their gifts as Santa was a serious smoker and had to take frequent cigarette breaks. This went on for a few decades but, fortunately, Santa eventually moved on to other vices -- like guns, booze, and women's lingerie.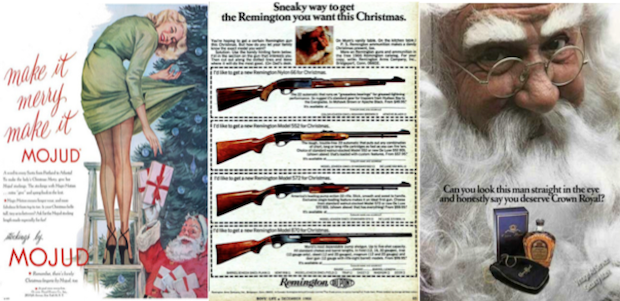 Images courtesy of Flickr user Jon_Williamson & Vintage Ad Browser
Yes, Santa was even a little sexist in a time when women were expected to stay home and take care of the house.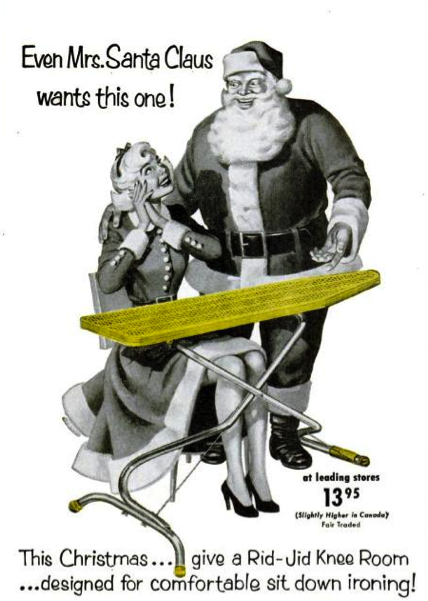 Image courtesy of eBaum's World
Brands like United Airlines and Shell Fertilizer, who seemingly didn't have anything to do with Santa, shoehorned him into their holiday brand messaging. Santa was an essential part of the holiday season and brands wanted to take advantage of that by tying themselves to his holiday cheer.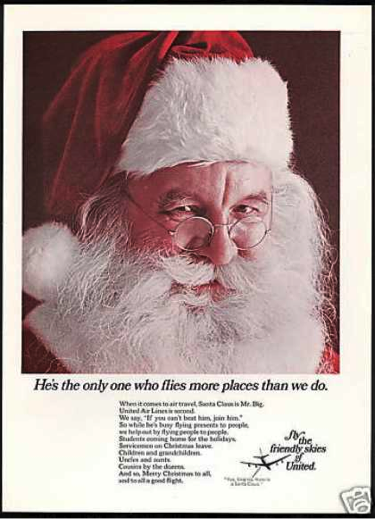 Image courtesy of Vintage Ad Browser
As the years passed and Santa became more a part of the culture of the holidays, Santa's understanding of technology grew along with ours.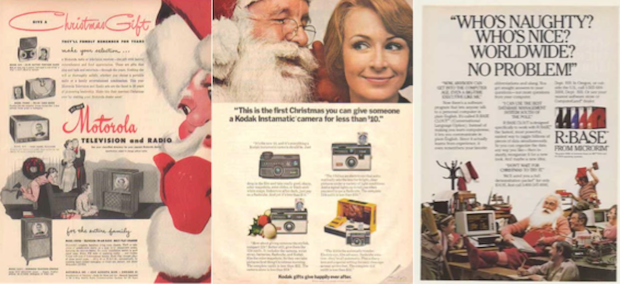 Images courtesy of Vintage Ad Browser
Yes, Santa even has an iPhone. Because modern day Santa knows what he wants and isn't afraid to retaliate if he doesn't get it.
But modern day Santa is more than just the Coca-Cola Santa with new gadgets. He drinks Red Bull, he takes Aleve to keep up with the workload, he lifts weights. He even uses the bathroom.
Simply put, today's Santa is a far cry from the Santa of the 1800s. But we are also a far cry from the society of the 1800s. You can see it reflected in the way Santa is used by brands to market to us.
Some might say that Santa has become too commercialized. That he's on the verge of becoming over-branded. Of dying out.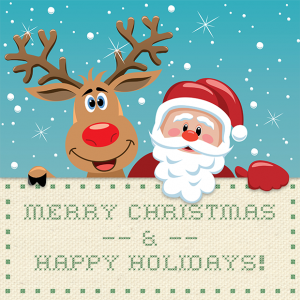 But that's not true. Because Santa Claus is more than a Hallmark-y symbol of capitalism. He's a representation of the best of human nature — our challenges, our struggles, our triumphs, and yes, even our deepest flaws and vices.