10 Campaigns from 2017 That Inspired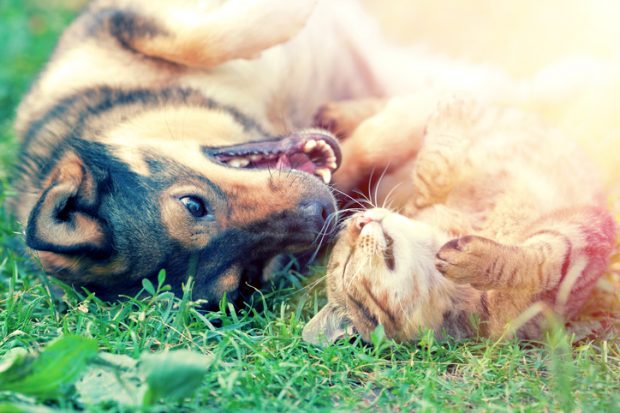 Advertising at its best does more than promote a product or precisely target a demo. It does more than generate impressions or make us laugh during the Super Bowl. Great advertising inspires. It uplifts. It brings out what is best in us and who we want to be.
With that in mind, we selected 10 campaigns created by brands and agencies across the globe that inspired in 2017.
Earth (Shot on iPhone) - Apple and Carl Sagan
Apple took a stand against climate change with a beautiful and inspiring tribute to the planet we call home. The spot features audio of late Carl Sagan reading his '94 book, "Pale Blue Dot: A Vision of the Human Future in Space," and sweeping nature footage shot on iPhone cameras.
The World's Most Remote Pop-Up Shop - WIP and 37.5
For those who wanted to get away from 2017… like, really far away… WIP agency and 37.5 created the world's most remote pop-up shop. The cliffside shop handed out free climbing gear to anyone willing to make the 300-foot climb to get there. The pop-up served 70 brave climbers over two days, raised $15,000 for climbing route improvements and drew attention to the issues of public land preservation America faced this year.
Let's Be Real - Barton F. Graf and Hinge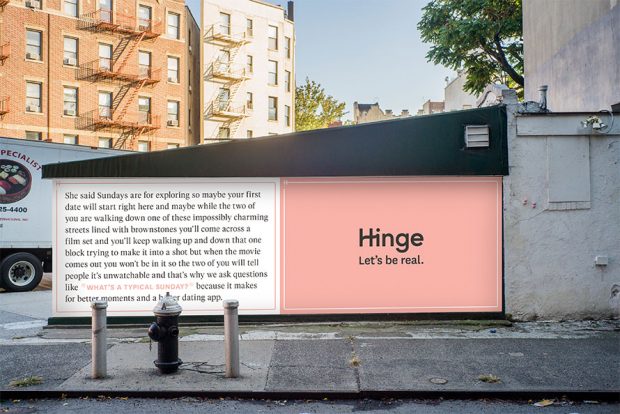 Even when the world is falling apart, love lives on. These long-copy, site specific ads popped up in NYC to remind us that there's a reason to keep going… or at least keep swiping.
This is an Apple - Figliulo & Partners and CNN
In the wake of a year full of fake news and misconstrued facts, CNN showed the world it's committed to telling the truth with its refreshing Facts First campaign.
Cards Against Humanity Saves America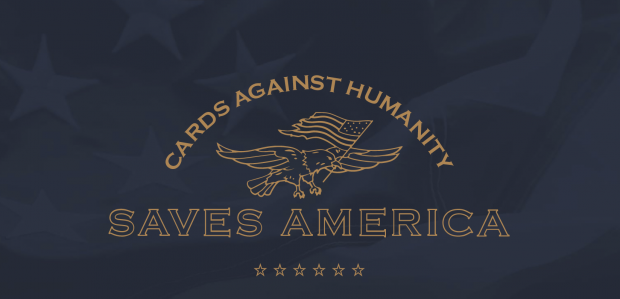 (Screenshot from Cards Against Humanity)
Saving a nation is a daunting task, but someone's gotta do it. As a self-proclaimed "complicated holiday promotion," Cards Against Humanity took $15 dollar donations from 150,000 players. Then, they did some pretty cool things to make America great again. Like destroying homework by funding learning programs, saving baseball, and buying land on the border — just to make things really complicated and annoying for anyone who may want to build a wall there. Cards Against Humanity claims that they are not becoming politically correct, but rather, "regular correct."
What Do They Think About You? - Nike Middle East
What will they say about you?

Maybe they'll say you showed them what's possible. #justdoit pic.twitter.com/NZbQLC1JuB

— Nike Middle East (@NikeMiddleEast) February 18, 2017
Nike is notorious for empowering commercials, and its Middle East branch lived up to the company's pledge to equality in 2017 with this ad. Featuring female athletes in hijabs, the spot addressed the discrimination female Arab athletes face every day.
Yes Good - Barton F. Graf and Emerald Nuts
At least something was good this year. In fact, it was the best campaign tagline ever — period. And it all came from a single Amazon review.
Everything on the Denny's Twitter Account
zoom in on the syrup pic.twitter.com/omRBupjrXq

— Denny's (@DennysDiner) March 1, 2017
Whoever was running the show at Denny's this year was really feeling the pulse of the nation. Their Twitter account was on point, capturing the hearts and stomachs of diner-goers both young and old.
Pass the Heinz - David Miami and Don Draper
50 years later, and we still don't believe you should settle for fries without Heinz. #passtheheinz https://t.co/OpJNjMLwGM pic.twitter.com/FjfLS70xUZ

— Heinz Ketchup (@HeinzKetchup_US) March 14, 2017
2017 was a good year for Don Draper. 50 years after pitching to the client, Heinz finally came around and featured his print ads on billboards in NYC and across social media. Congrats, Don (and David… whoever that is).
Year in Search 2017 - Google
Rounding out our list is Google's inspiring end-of-year spot. Search queries show that as much as we were collectively flipping out in 2017, we were also trying really hard to make the world a better place. Google's ability to find the positive message in a year of gun violence, devastating natural disasters and overwhelming uncertainty is commendable and much needed.