Why RankBrain Shouldn't Change Your Approach to SEO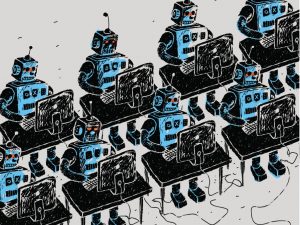 RankBrain is Google's machine-learning artificial intelligence (AI) program that helps process the massive amount of searches Google receives. RankBrain was first announced in a Bloomberg article in October 2015, though Google said it had been using it since April 2015. By June 2016, Google said that RankBrain was being used to process every search made on their search engine.
Google has been fairly vague about the specifics of RankBrain, but we have been able to determine some aspects of what RankBrain does from observation and the comments Google has made over the past few years. Simply put, RankBrain is used to process long-tail and ambiguous queries in order to determine search intent and provide the best content for the user. Despite being used to process every search, it does not affect the results of every search, just "lots," according to Google.
What does RankBrain do?
When RankBrain was first announced publicly in the October 2015 Bloomberg article, Google's Greg Corrado provided us with some insight into how RankBrain worked. Here's an excerpt from the article explaining how RankBrain makes its decisions:
RankBrain uses artificial intelligence to embed vast amounts of written language into mathematical entities — called vectors — that the computer can understand. If RankBrain sees a word or phrase it isn't familiar with, the machine can make a guess as to what words or phrases might have a similar meaning and filter the result accordingly, making it more effective at handling never-before-seen search queries.
Corrado also revealed that despite having only been active for about five months, RankBrain had already become Google's third-most important ranking signal for determining the results of a search query.
In its first year, Google said that RankBrain was used for less than 15 percent of searches. However, by June 2016 it was used to help process every search. From all we have learned about RankBrain since its rollout, it seems to be used as a query refinement tool. That is, the AI processes searches, and if it's not immediately certain what the search query is, RankBrain tries to decide what other searches the query is most similar to so that it can return results from the familiar search.
For example, someone may search for "ATL marketing agency". RankBrain may recognize that this is a similar search to the more popular search "marketing agencies in Atlanta" and thus return the results for the more popular search, since it is more confident in the quality of those results.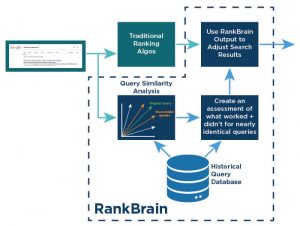 At SMX Advanced in 2016, we also learned that RankBrain works well with modifying words like "with" or "without." For example, a search for "can I beat Mario Bros without using cheats" in the traditional search algorithm might ignore "without" and provide results about using cheats. However, thanks to RankBrain's machine learning, it understands that "without" is important to that query, and Google returns results about not using cheats.
In 2017, again at SMX Advanced, we learned a little more about the current status of RankBrain. Gary Illyes explained that RankBrain uses historical data to better understand what the best result for a given query would be. Additionally, it is live in all languages, and Google has no plans to change it or launch new attributes anytime soon.
What doesn't RankBrain do?
RankBrain is doing some amazing things for Google and its users, but the integration of AI with search engines has led to some misconceptions in the industry about what it does and what affects it. Search Engine Land has a great article that covers some of these myths about RankBrain. I have included them here:
Is RankBrain affected by advertising spend?
Ad spend will not impact the way RankBrain views your content. Regardless of whether you spend thousands of dollars on AdWords or nothing, your organic search ranking will not be affected.
Does social media affect RankBrain?
The number of times your website has been shared via social media does not affect RankBrain. Both Gary Illyes and John Mueller of Google have said that social signals are not used for either RankBrain or Google's regular search algorithm.
Does market competition affect RankBrain?
No, RankBrain does not have a different impact on high-competition markets than low-competition markets. It is just as likely to impact the results of low-competition searches as it is to influence the results of high-competition ones.
How to Optimize for RankBrain
As an SEO Specialist, I'm always thinking of how to optimize content so that it ranks well and drives qualified traffic. Google has been transparent with its top three ranking factors: Links, Content and RankBrain. Links and Content are fairly clear on what you need to do to effectively optimize for them, but how do you optimize for RankBrain? At SMX Advanced 2016, Google's Gary Illyes said simply, you can't. However, he did say that if you write in natural language and make sure the user gets the content they are looking for, "then you're all set." The key takeaway here: we should be optimizing for users, not just search engines.
The next step is figuring out what writing in natural language means and how to tie that in with writing quality optimized content. Search Engine Land and Search Engine Journal have both written strong guides on how to optimize for RankBrain. Based on these existing guides and what I've learned from personal experience, below is a step-by-step process for creating content that both RankBrain and users will appreciate.
The Basics of Optimizing for RankBrain:
Always optimize for the end user

Regardless of anything else you do, you should always be thinking about the end user as you plan and optimize your content. If the content doesn't provide value for the end user, RankBrain won't view it as valuable content.

Write in natural language

One of the easiest ways to write for the end user is to write in natural or conversational language. If you read your content out loud and it sounds funny grammatically, sounds too repetitive or robotic, it's probably not written in natural language.

Don't keyword stuff

Instead of writing for one specific keyword, think of a group of related keywords to incorporate. Don't force content to fit the exact keywords you choose. It's all right to change the order of words or add modifying words into keyword phrases. Google understands semantics. As my coworker Michelle says, you want to make sure it doesn't sound "SEO-y."

Imitate industry leaders

Look at the leaders in your industry and format your content the way they do. Google recognizes leaders in certain industries and looks for other sites structured the same way. For example, Google recognizes WebMD as a leader in healthcare. When RankBrain finds other health sites structured similarly to WebMD, those sites benefit by association

Simplify URLs

Keep your URLs simple and focused on the content you are serving.

Provide value

Quality content that provides value to a user is always the best way to rank well with RankBrain.
Final Thoughts
RankBrain is machine-learning artificial intelligence used to help process every search made on Google. It works best with long-tail queries, never-before-seen queries and queries with modifiers like "with" or "without." RankBrain makes its decisions based on historical queries and if it thinks it has better results for a similar query with the same search intent, the AI will give the results of that query instead.
As an SEO, it can be easy to think that machine learning in search engines could put us out of work. The reality is that it's pushing us to provide better content and think more about the users. There are no more "easy" tactics for boosting your search engine rankings. You have to put in the hard work to provide high-quality content the meets the needs of your users. If you've learned nothing else from this blog, remember that your content exists to provide some kind of value to a real person. Make their day better by creating content that provides the value they are looking for.