What's New in Digital Paid Media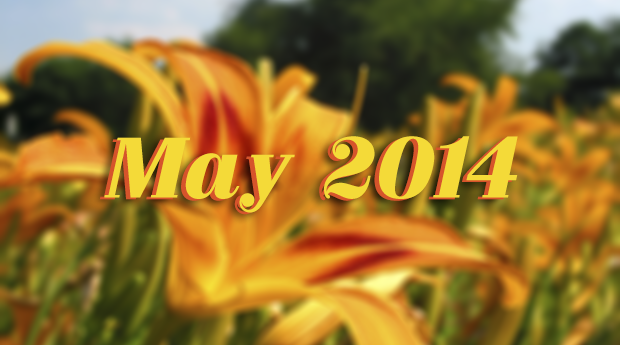 You're not a true PPCer unless you are constantly taking the industry temperature, but Paid Media moves so quickly that sometimes it's hard to keep up! Rest assured, we've compiled the latest platform and industry updates to keep you informed so that you can concentrate on applying these updates and optimizing your accounts.
PPC Platform updates in April
"It's not about the devices. It's about the people."
If you didn't catch the "Step inside AdWords" webinar this month, here's a quick recap:
Google is all about the apps. With the data coming out that says 60 percent of apps are never installed and 80 percent are only used once, new AdWords innovations aim to track the app buyer journey. App keyword suggestions and deep linking in search results, in-app install ads and YouTube TruView companion ads will promote app installation and engagement as well as in-app purchases. These new features will allow us to measure and optimize across an app's entire lifecycle.
Other updates include some vague improvements to Estimated Total Conversions and a few new tools. The Bulk Actions feature borrows some functionality from Editor, allowing a user to upload and edit thousands of campaigns at once within the AdWords interface. Personally, I think I'll be using Editor for as long as they allow it to exist, but this feature will be useful to AdWords newbies.
Automated bidding will also be integrated into the AdWords interface, with the goal of bringing an enterprise solution to every advertiser. We'll be able to set goals for ROAS, CPA, clicks, etc., and Google will do the optimizing.
I'm excited to play around with the new Enhanced Reporting feature, which Google is coining a "multidimensional analysis tool" within the AdWords interface. You'll be able to create custom tables and charts using live AdWords data with just a few clicks. The AdWords Experiments feature will also get a facelift with the ability to create draft campaigns and get real world estimations of their impact. If you like what you see, you can apply the changes, and they'll go live!
PPC Hero published a transcript of the webinar, which you can view here.
Shopping campaigns are getting an upgrade. Bid simulators and the ability to create multiple ad groups will be part of this update. Also, heads up: the current PLA format will retire in August. "With Shopping campaigns, you no longer need to create separate ad groups or product targets to track your impressions, clicks and cost. You can analyze and report on your PLA performance by product attribute or by individual items in the Dimensions tab, regardless of your campaign structure."
Google recommends starting from scratch to upgrade, but they released a tool to help you upgrade if you want to use your current PLAs as a starting point. Here's a one-sheeter to get you started, and here's the blog post.
The Keyword Planner got a facelift. In April, time comparison features, location and device information, bid adjustment previews and updated filters were added to the Keyword Planner.
+Post ads are now available to all advertisers. This allows you to use your Google+ content and create engagement ads on the GDN. They also support Hangouts on Air and automatic promoted posts.
Bing
Bing continues to roll out new improvements and features, with several updates announced in April. These include:
Product Ads available in the US
Keyword Click and cost estimates
Broad Match opportunities tool (a way to increase reach based on your phrase and exact match keywords—I'd say test with caution)
Performance trend graph updates in the Campaigns view
No more charges for call forwarding.
Read more and keep up to date on Bing's improvements as they announce them.
Facebook
With the success of Newsfeed ads, Facebook is giving right rail ads a facelift to increase their performance and engagement. Right Column ads will resemble the Newsfeed ads with larger images and similar proportions, so advertisers can use the same images for both ad types. According to Facebook, "some advertisers will begin seeing this new option later this month, with all advertisers being rolled over later this year. During this transition phase, we will support the old and new formats."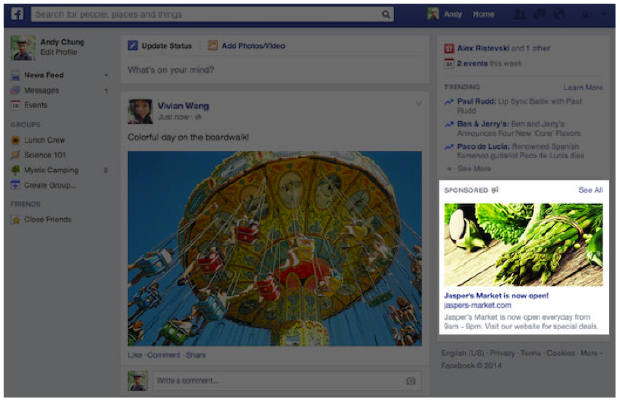 Twitter
Twitter's new Website Card will allow advertisers "to easily surface website content within a Tweet and drive relevant traffic to any page of their site, such as their home page, product page or an important blog post." With the use of Twitter's interest, keyword or audience segments, users can discover new content that interests them while advertisers drive traffic and site conversions.
Twitter is also promoting efforts that will allow marketers to drive app installation and engagement through its partnership with MoPub. "Advertisers can now choose to run simultaneous marketing campaigns to more than 241 million active users on Twitter and to more than 1 billion mobile devices off-Twitter through one interface at ads.twitter.com."
After four months of testing, MoPub publishers can now benefit from new programmatic native ads. "Monetization through native ads can deliver a considerably better experience for users and also a better ROI for marketers."
Digital Advertising Industry Updates in April
Need a commercial break distraction?
Checking Facebook on your phone may not provide the ad-free diversion you're looking for. Ad Age discusses this in a recent article about Sync, a new program developed by the programmatic platform Xaxis. The program gives television advertisers the chance to connect with audiences even if they've tuned out during commercial break. Brian Lesser, the CEO of Xaxis, discusses the growing number of people who simultaneously play on their mobile devices while watching TV. Sync allows advertising messages to reach even these distracted consumers by using behavioral, geographic, and satellite data to serve ads on mobile devices.
The benefits of this are that it not only lets advertisers engage with those who might have tuned out momentarily, but it also provides a more tangible way of measuring the success of television ads. They do mention in the article that "The science is inexact," but I think this could be a really powerful tool for advertisers so I'm interested to see its growth and upcoming product improvements.
Native in-stream ad budgets are growing
A recently released BI Intelligence report outlines the growing popularity of native social advertising. Business Insider recaps the report and notes that social platforms like Facebook, LinkedIn and Twitter have seen success with their native ad formats while also suggesting that others will likely follow suit. The report estimates that, "Native will be at least 40% or more of over $10 billion in social media ad spend by 2017".
While native ads are said to improve user experience by unobtrusively incorporating ad messaging into on-page content, there are many ways marketers can get it wrong. To learn how to be successful with native advertising while following industry standards, check out the IAB Native Advertising Playbook.
New standards in digital ad viewability
On March 31st, 2014, the Media Rating Council (MRC) lifted its viewable impression advisory for digital ads. This means that they no longer advise against selling ad inventory based on a campaign's viewability metrics. This lift is accompanied by newly released viewability standards created by the IAB, who say that they will help transition the industry from a "served impression standard to a viewable impression standard".
Adweek notes that many publishers are not happy about the change and argue that, "It stands to devalue their inventory." The same Adweek article also outlines the most important things advertisers need to know about viewability, including how long a viewable impression must last in order to count (a blink of an eye) and what to consider a "good" viewability rate (60 percent or higher).
More mobile ad data is coming
According to the Wall Street Journal, both Nielsen and comScore are hard at work to deliver more data about consumer activity on mobile devices. Despite the continuous growth of mobile advertising, the article addresses a lack of reliable mobile ad tracking tools available to advertisers. The two rivals are now working to fill this need, with comScore's program scheduled for a Q2 release and Nielsen's coming in Q3.