The Story of How I Ended Up Writing a Book and How You Can Get a Free Copy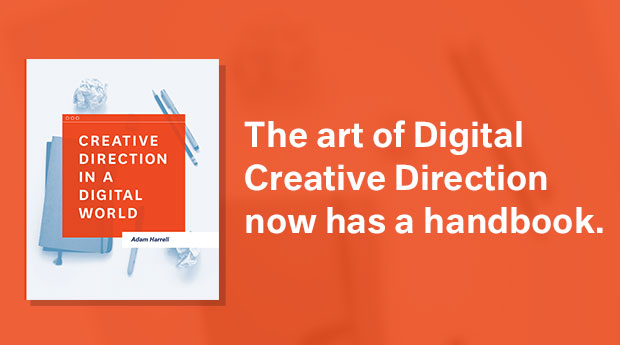 It's been 20 years since I built my first website and 12 years since starting Nebo. And while I've learned a lot over the course of my career crafting digital experiences and teaching interactive design, writing a book wasn't something that I had planned to do.
The story of how I came to write a book began in May of 2014. I had just finished giving a talk at Web Visions in Portland, Oregon on the topic of Changing Behavior by Design.
As I sat down to get caught up on email, a gentleman named David Bevans approached me and asked if I'd ever considered writing a book. David was an editor at Focal Press and said he thought it was something I should consider.
Later that day we sat down for a discussion. Over a cup of coffee, he explained the process of writing a book. We ended up spending the majority of the time talking through potential topics. By the end of our meeting, we'd put together a quick outline of a book proposal.
I spent the next month polishing the proposal. It ended up being a 23-page document that sketched out the contents of the entire book.
Luckily all my work wasn't wasted, and after some short negotiations on contracts, we inked the book agreement. Since this was a trade book, the advance was minimal, but I was able to negotiate the return of ownership if the book ever went out of print.
The publishing process was one that I wasn't familiar with. After the contracts were signed, I got to work. For the next 8 months, I spent every weekend working on the first draft of the book.
The draft was finished in Spring of 2015. From there it went into peer review/technical edit.
When asked who I wanted to help with peer review, I had a couple of key criteria: 1) I didn't want it to be a Nebo employee. I just didn't feel that someone whose paycheck I signed would be able to give completely honest feedback. 2) I wanted someone who was actively working in the trenches as a digital creative director and whose work I respected.
I immediately thought of Mason Brown. Mason is a freelance creative director whom I'd collaborated with in the past, and at that time, he ran the new Interactive Department at Creative Circus. He was smart, loved to read and knew the topic inside and out.
He agreed to read my first draft and provided detailed notes/suggestions. His input truly made the work stronger, and I'm truly thankful that he was willing to help.
From there, the book went into copyediting, imagery permission sourcing and fact checking.
During that same time period, I started work on the cover design. When it came to designing the cover, our design team overloaded. I didn't want our team working nights and weekends on a personal project, so I reached out to one of our former art directors, Zach Graham to see if he was interested.
Zach took on the project, and we immediately started working on concepts.
The initial concept we decided on was based on the idea that digital creative directors are mapping new territory in an ever changing world.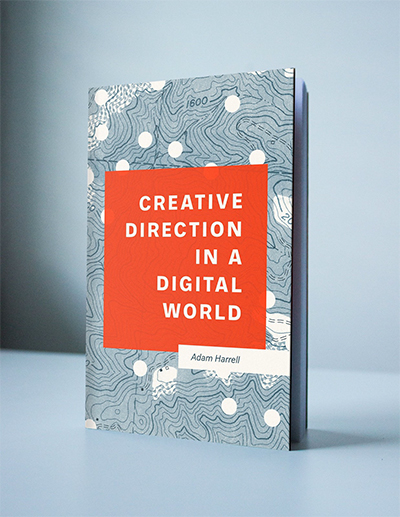 The initial high-fidelity book cover concept.
I really liked the overall composition of the cover but wanted to create a stronger visual cue to the actual content of the book.
We accomplished this in two ways. We brought in an abstracted browser window as the red background for the title, and we changed the imagery from a topographical map to a photograph of a creative director at work.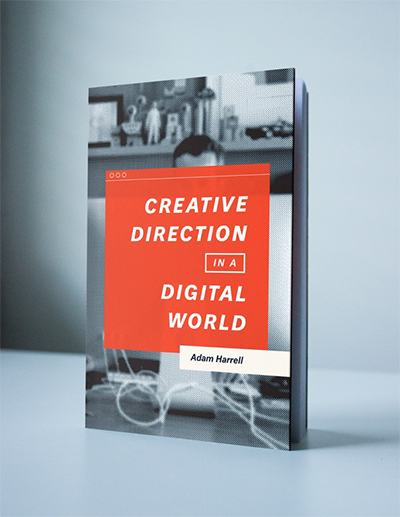 The next iteration of the cover design.
While we really liked this approach, we continued to explore other image options. Our big concern was that the cover would feel really dated when the iMac got redesigned in the coming years.
At that point, Zach had been sketching and working for a few weeks on the cover and he had the idea of abstracting the workplace in a background image. He took an overhead shot of his desk with his 'tools of the trade' artfully arranged and dropped that in as the background. It was a simple and elegant solution. We finally had our cover.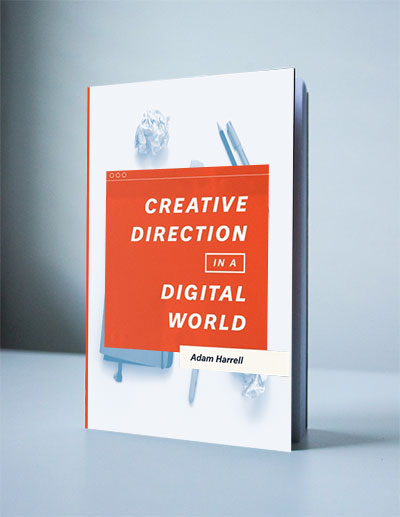 The final high-fidelity book cover concept.
Once the production process started, the book was copyedited a final time. Typography and layout were selected, and in spring of 2016 I was able to review and approve the final proofs.
On July 27th this year, the book will officially be released and available for purchase at major retailers. Now, nearly two years after I started writing it, you'll soon be able to hold a copy in your hands. And I'm proud to share the trailer promoting its launch.
I wrote this book to be a guide for those trying to master the art of digital creative direction. There are no shortcuts or secrets. Just advice and tactics learned over 15 years of designing human-centered experiences and crafting brands.
As a special offer to all those who have supported me along the way, I'm offering 100 free advance copies to the first 100 people to request a copy on my website. I hope you enjoy it.