Reddit Users: Completely Unpredictable Liberal Ninjas
A while back I hacked together a script to scrape Reddit users in order to see what the top submitters were doing. I took three top Reddit submitters: maxwellhill, qgyh2, and MndVirus and started compiling data from my scraper. Some of the things I looked at were:
url
title
score
category
root domain
time of day
I was expecting to find more commonalities than I did, which is why I am publishing this post, but some of the common denominators of their submissions are:
Emphasis on Programming
Libertarian Politics
Global Topics
Descriptive (long) titles
Use of Place / Names
Use of Controversial Political Issues/Liberal Politics
Submitting post between 10am - 12pm seemed to gain the most momentum
Also, they submit a hell of a lot!
Other than that, there were no major conclusions from the data; which is why I am opening this post up to comments and would love to hear some feedback and ideas on this topic. Here is a version of the tool I used to get the data, feel free to test it out.
In terms of the keywords used in the title (keep in mind this was done at the end of February) here are the most popular keywords: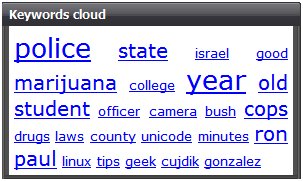 As far as categories are concerned, politics, world news, and pics got the most pickup as you can see by the chart below (the data is based off of a compilation of all three users over a period of 4 days).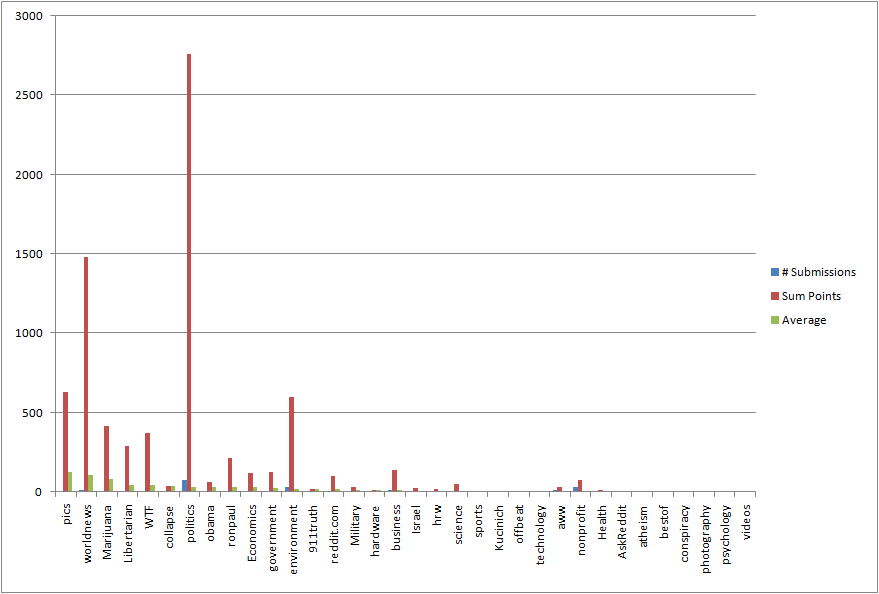 I would really like to hear from the Reddit community on this. What really makes a good Reddit user?
Written by
James
on June 23, 2009