Rabushka's Rules: Pinterest Etiquette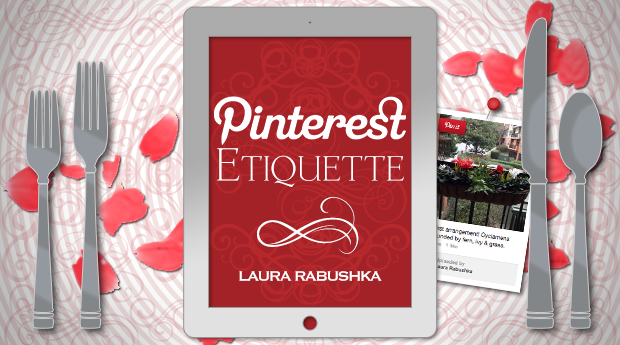 Last week, I had to dig up an old deck we'd created in 2011 to pitch Pinterest to our team internally. I'm sure you all know the drill – a new social platform appears and at first you don't trust it… convinced it'll die in a matter of weeks. Then, given it lasts past the 6-month honeymoon period, the distrust turns into simple skepticism. More time passes, and the stats and growing popularity give you no choice but to accept the channel as legit and consider it for your business. The deck reflected the skepticism period for Pinterest at Nebo. At the time, a platform made up of mostly visuals was a tough sell for anyone besides B2C brands that wanted to grab the attention of users with pretty pictures of products, etc.
But, as we all know, Pinterest would go on to prove us wrong. Its popularity grew at an exponential rate - since 2012, Pinterest users have increased by 145 percent. According to Nielson's 2012 Social Media Report, Pinterest shows the most growth of all social platforms year-over-year at +1,047 percent. So, Pinterest isn't going anywhere. But so many companies are still having a difficult time achieving their goals there.
I believe I've discovered why and the reason relates directly to lack of attention to social etiquette: Pinterest is interest-focused, whereas most other social channels are relationship-focused.
Companies need to adjust their strategies for Pinterest. Consider the end user. If you were on Pinterest where pretty pictures and funny captions are what strike your attention, you're not going to care about "getting to know someone" or how many friends you have in your social circle. You are interested in your own collection of boards and pins and finding more things to pin to those boards. Brian Solis, digital analyst, once tweeted this little nugget of wisdom that I think applies here perfectly - "Successful communication is about understanding what people want to know rather than what you want to tell them."
People are inherently selfish on Pinterest, but that doesn't mean your brand should be. Being empathetic, understanding and thoughtful will help you get the most out of the interest-based platform:
Think first, act second. Be sure to think about your goals and objectives and really analyze what you're trying to achieve on Pinterest specifically. The last thing you want to do is to assume your brand's goals and objectives with haste. It's important to define, refine and re-refine your goals for the platform. Consider your brand's needs, but more importantly, after you've considered the users' goals. Should you even be on the platform? Would users find boards and pins of yours valuable? If you aim to build authority, brand loyalty or drive people to your website and thought leadership, then Pinterest is the place to be. In fact, it's the most trusted social source AND it drives more referral traffic to blogs than YouTube, LinkedIn and Google+ combined [source]. Consider your audience and know what they're pinning and liking. If you've given the hard questions some quality thought, the execution and idea generation will be easy.
Measure quality over quantity. It's better to have ten loyal bffs versus one hundred acquaintances. Pinterest isn't a popularity contest. Don't try to be everybody's best friend. Be selective with your followers and who you follow. Consider that your Pinterest audience may only be a segment of your entire brand audience (consumers in X demographic bracket, industry thought leaders with X amount of influence, etc.). The best part about the users on Pinterest is that they won't feel left out or even notice if you ignore their follows. They're more focused on themselves and the things they're pinning rather than forming relationships. So, this is the place to strategically filter who you give friendship rings to. Only accept followers who support your brand's message. Especially with Pinterest's collaborative boards, your brand's content will be shared to your followers' followers, too. Don't you want that content being shared with the right people? Better yet, don't you want the right people serving essentially as ambassadors of your content?
Build trust through what you post, not what you say. Let your content speak for itself. Be authentic and consistent. We just talked about being selective with your audience, so once you've selected them, you'll want to keep them, right? Gain their trust through quality content and resourceful information they'd benefit from that equally represents your brand. Catch their attention first with strong visuals, and then keep it with good content that backs up those visuals – and content doesn't always mean copy. For instance, infographics and videos garner a lot of interest from users on Pinterest and are different ways to connect to your audience and spread thought leadership. Build a variety of boards that support your company's culture, work, interests, etc. Pin content that your company respects and deems inspirational to build mutual trust between your brand and other brands. Re-pin and share what your audience is pinning. You have to earn trust, and actions speak louder than words.
Create content that inspires, informs or entertains others. Think about what draws you to pictures and what visuals make you want to share them with your friends. Think about what doesn't. People go to Pinterest for very personal reasons like to explore a new interest or find a new idea for their favorite hobby. It's important to understand that the last thing they're looking for are ads marketing a company's products or services. If you're trying to monetize your brand, Pinterest is definitely not the place. Avoid any self-promotional pushes. If you really want to make an impact and make a difference in your industry, your content will reveal that and your goals will be achieved naturally.
Be both self- and socially-aware. As I said earlier, do your research on a user and look at their pin history before any "follow action" happens, and don't forget to monitor the new content they post. Although you want to interact by sharing boards, re-pinning and liking pins, make sure everything your board collaborators share aligns with your brand's purpose. I'm sure you don't want to accidentally be associated with a #whatshouldwecallme gif just because you added that user months ago based on one funny infographic you liked. Be proactive, not reactive. Being self-aware and socially-aware go hand in hand, and it's important to have a good balance between both a. how you perceive your brand and b. how your brand is perceived by others.
Hopefully these soft skills with help you create a long-term, sustainable Pinterest strategy for your brand. If you're empathetic and view things from the eyes of your target users then the rest will naturally fall into place. Remember to adjust your goals based on the right audience motivators – the posts themselves are more valuable to users than forming relationships. Even though Pinterest is unique to other channels (interest-based versus relationship-based) the biggest takeaway for every channel is pretty much the same. As I stated for LinkedIn, always consider your audience and remember to treat followers as human beings, not accounts.
I've learned that being polite and considerate in this digital age is a rarity and there is an art to doing it well. But once you've mastered that art and started practicing it on a daily basis, then communicating and reaching your audience online should be a breeze.