Rabushka's Rules: LinkedIn Etiquette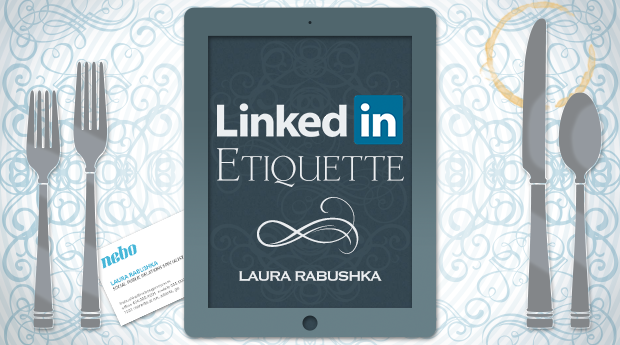 As PR professionals, it is often a large part of our daily responsibilities to manage our firm's social media channels. If you're new in the field, there can be some growing pains as you try to understand the different platforms and the messaging appropriate for each channel while still maintaining brand authenticity. If you're a bit more experienced, it can be very easy to forget the small things that make big differences in your social strategies. In this series, I'm exploring some of the most popular social channels for brands to present one of the most commonly neglected elements of brand messaging: social media etiquette.
Today, LinkedIn will be the center of attention. I want to discuss good manners for social marketers who manage their company pages, share common best practices and outline the general do's and don'ts for interacting on behalf of a company on this professional networking channel.
That said, I want to stress that this post's intention is not to teach you how to manage your company's LinkedIn account. There are tons of resources out there that already do that. (Here are some I've found particularly useful - Mashable's LinkedIn article archive, an article about best practices for brands on LinkedIn from Hootsuite and, of course, the obvious yet under-utilized LinkedIn-sponsored resource center for company pages.) The purpose here is to highlight proper LinkedIn etiquette. You'd think good manners would be obvious, but many become oblivious to social standards when they have their company's agenda in mind. I never cease to be surprised at some of the inappropriate content I see on LinkedIn — from start-ups to Fortune 500 firms alike. Hopefully, these tips will recalibrate you to be more human-centered in your online engagement.
Share your firm's thought leadership at every opportunity
In an article by Hubspot that analyzed this recent study, LinkedIn was determined to be the most effective social media channel for lead generation, overshadowing both Facebook and Twitter. Why wouldn't you take advantage and make positive connections and associations between your brand and those job seekers, thought leaders and potential new customers out there? People go to LinkedIn to investigate professionals they've met or brands they admire. They crave your advice. They want to learn from an experienced firm. They are interested in the services you offer. So don't lose credibility with carelessness. Here are some common mistakes I see:
Lack of purpose
Share content that is targeted. Think about whether anyone would care about the stuff you're sharing. Sure, it may be company news, but would anyone click your link to a press release announcing your attendance at a conference? Observe what content works and what doesn't. For example, you may find that blog posts are like candy to your LinkedIn audience, yet your followers overlook new hire announcements. Be valuable and consistent so followers look forward to future updates.
Lack of presence
If you're going to have a page, use it. Nobody likes a Silent Sally who hangs with the group but never contributes or provides value. Share content, leverage all of your page's tabs (especially the product tab, which is a great way to promote services and products modestly), engage with peers and industry leaders and participate in groups. In fact, try creating your own group to reinforce what your company stands for and spread its philosophy. At the end of the day, not saying anything is worse than saying the wrong thing.
Lack of acknowledgement
Reciprocate a shoutout. Share a user's post who shared one of yours. Respond to comments - and don't wait until someone talks to you! Get out there and be proactively involved in the thought leadership and conversations surrounding it. This quote is a personal favorite, and although the last sentence may be a little deep for a social etiquette lesson, it relates nicely to the importance in expressing gratitude and is a good tip about communicating with grace:
"Make it a habit to tell people thank you. To express your appreciation sincerely and without the expectation of anything in return. Truly appreciate those around you, and you'll soon find many others around you. Truly appreciate life, and you'll find that you have more of it." – Ralph Marston
Don't forget about internal advocacy
Don't force employees to help promote the company account and its content, but make sure your colleagues feel included in the LinkedIn strategy—they will be more willing to participate and seed content that will spread your company's assets to users outside of its direct follower-base. Also, encourage employees to update their personal pages to make sure they share their responsibilities and the firm's offerings with accurate and positive descriptions.
Don't be boring
Think outside the box. For instance, your interactions on LinkedIn are not limited to the company page. You can leverage individual accounts to share the same information with an expanded audience. Personal accounts allow individuals to tag other users and brands by using the "@" symbol preceding the user or company name. This feature is not yet available for brands, so enlist your employees to share company updates and utilize these tagging features to get in front of targeted users.
Be careful though. A helpful filter for appropriate tagging on any social media channel is consideration: Are you thinking about the other user? Don't tag people as an accessory to your post just because it reaches your goals; tag them because what you are sharing benefits them. If they're happy, you will be happy.
Quality always trumps quantity
If you have something valuable to say, say it - but try not to post more than 3–5 times per week. LinkedIn is not Facebook, and it's definitely not Twitter. This crowd has less patience for fluff like pictures and company wellness updates. People are more focused when consuming info on LinkedIn. They have specific goals: "I'd like to connect with so-and-so whom I met last night at this marketing event." "I want to search for 'X' job openings." "I'm curious to learn more about 'X' subject." Unnecessary chatter will dilute the value of what you share when you actually have something interesting to say. A healthy absence makes users' hearts grow fonder...
Let your PR skills shine
LinkedIn is my personal favorite platform to use professionally and personally, too. It's not high maintenance, and the Spartan tone is great for most PR professionals, many of whom share a formal writing background. You know our kind: we usually get disapproving looks from the creative team and, of course, the copywriters because of our tight writing style. Of course I'm somewhat kidding, but LinkedIn's style is more succinct because it's professionally-driven and professionally-consumed. There's a certain expectation for high-value content in which users specifically go to LinkedIn to consume. The social standards for appropriate messaging are as follows:
No-nonsense: The less confusion the better. Don't get fancy - just be straightforward.
Concise: Get to the point or your message will be lost.
Neat: Think creative but orderly.
Leverage the platform to recruit the best candidates
This is a no-brainer. LinkedIn holds a sea of potential talent. Take advantage of this pool to promote job openings creatively. The key is to be real and maintain brand authenticity in all your posts. Of course you're looking for the brightest and most talented candidates, but you're also looking for the best fit culturally, and your tone should reflect that. Utilize LinkedIn Ads and encourage managers to spread the word via individual accounts.
And, please avoid stalking potential hires with constant direct messages. This makes your company look desperate and spammy. Instead, be yourself (or your "brand-self" in this case), cast a wide net and provide an inviting setting that entices applicants to come to you. Lastly, even when you're not trying to fill a specific position, consider sharing content relevant to job seekers. For example, a post with resume tips is beneficial and attractive to new talent without being fake or trying to market to them.
Hopefully, these tips help you manage LinkedIn with more regard to proper social standards. The biggest takeaway that I can't stress enough applies to all channels: Always consider your audience and remember not only to treat followers as human beings by respecting their intent, but also to convey your brand's unique personality and culture. There's absolutely nothing more important in marketing than honesty and authenticity. The key to effective communication, as I stated in my first introductory etiquette post and will continue to state, is understanding the power of respect, modesty and genuine intentions and using those principles in your everyday social interactions.