Project Management 101 Meets Parenting 101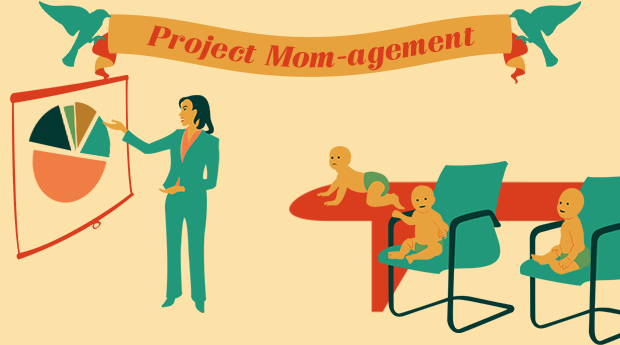 It's no secret that, like many moms who work outside the home, there are times when my roles blur. How often have we made a quick call to the pediatrician's office in between meetings? Or answered a work email while feeding dinner to our children? Living in a digital world has given us tremendous flexibility to multi-task and to be plugged in more often then ever.
But what has surprised me as I've learned to juggle these two demanding roles – digital marketing project manager and mom – is how many correlations exist between them. I've started to realize that it takes a specific set of core skills to be great at both.
Being a mother has been the most rewarding and difficult job I've ever had. Before my son was born, I felt so many emotions. Nearly six years later, I'm enjoying this wild ride, with so much still to learn.
So, in honor of this coming Mother's Day, here are a few things I've learned about project management from building a relationship with my absolute neediest client… my five year old.
Know Your Audience
As marketers, we all understand the importance of understanding your target audience. At Nebo, we work with our clients to conduct market research, dive into Google Analytics, and gather insights into the buyer journey.
As a mom, you know your child better than anyone else… or at least you should! You need to know what inspires your child, how they respond to discipline, whether they're quiet or talkative, how they like to play, and so on.
In marketing, project management, and parenting, it's important to adapt your messaging, delivery, and tone based on what you're trying to accomplish and with whom you're talking to. I had one client that needed a regular in person meeting over a cup of coffee. We accomplished more in those work sessions than we ever could have in a conference call. Knowing your audience is the first step towards effective communication.
Plan Ahead and Have a Goal
Marketers concentrate on how we want consumers to think of our brand. We have to plan and strategize how to deliver this experience through marketing tactics, messaging, and through actual customer interactions.
There's an old saying that your goal as a parent is to raise adults who are independent of you. If you want your child to be responsible, hard working, creative, or whatever values you hold dear, you have to think ahead. Our DNA determines certain aspects of our personality but as a parent you need to provide the experiences and life lessons to guide your children onto a positive path. We want our kids to be good people and it's up to us to provide that framework.
With my clients, my two biggest goals are to help them meet their business objectives and to make sure they have a superb experience while working with Nebo. As a project manager, I have to manage schedules, but I also have to plan for the unexpected and think about potential obstacles.
Planning and thinking ahead with a specific goal in mind will help you as a professional and as a mother.
Listen
Great communication skills are crucial in project management. Discussing project statuses, issues, schedules, and dependencies are all important. However, listening is an art that is just as important as how and what you say. Your internal teams are experts in their areas. When they tell you that they have concerns about a project, take a step back and truly tune in. Respect their experience and knowledge.
Similarly, you have to listen to your kids. My son can go on and on about Star Wars, Skylanders, and Teenage Mutant Ninja Turtles. I honestly don't care what Shredder did after Mikey hit him with his nunchucks, but I listen anyway. I want him to know I value what he says and he can trust me. Also, sometimes those silly conversations lead to more important discussions about school, life and growing up. As he enters the teen years, I want him to be able to talk to me about anything and everything.
I talk to my clients and internal team about our projects, but I'm also interested in what's happening in their personal and professional lives. I value what they have to say and am truly invested in them. As we work together, I want their trust and for them to know that we're all a team. Communication, especially listening, is key.
Stay Organized
As a project manager, you have to know how to get things done. We're usually juggling multiple projects with multiple moving parts. There is a delicate balance of firmness and flexibility that project managers have to tow.
As a working mom, being organized is the only way to keep your sanity. Just about every mom has that emergency stash in their purse or trunk of wipes/tissues, snack bars, towels, stickers, or whatever you need if you're in a pinch. As your kids get older, their social and extracurricular schedules can have you running all over town. Life is hectic enough and being unorganized only makes things worse.
Project managers have different ways of staying organized. Does this sound familiar?
The trusty to-do list
The Excel spreadsheet
A quick sticky note on your monitor
Calendar reminders
The voice memo on your phone
Organization and preparation will guide you to success personally and professionally.
Lastly, being a project manager and being a mother is all about heart. It's about sending a client a bouquet of flowers when there is sickness in the family, or reading the same bedtime story five times a week because your child just has to hear it again. Both jobs are ultimately a labor of love, and I'm sure all of my fellow marketer and project manager moms will agree.
So from the bottom of my heart, I wish you all a well-deserved and happy Mother's Day!